We're Excited About "Opulence," Raymond Gutierrez's Fabulous Marie Antoinette-Inspired Halloween Party
Cake isn't the only thing going to be served at this celebrity gathering
Marie Antoinette, history's most party-obsessed teenage Queen, is turning in her grave—with delight! The cause? Raymond Gutierrez's upcoming Halloween bash for the ages called "Opulence: Let Them Eat Cake," a sexy, cheeky, deliciously irreverent take on the life of excess and never-ending partying the French monarch became (in)famous for the world over. The brainchild of Raymond, events specialist Ash Rye, and La Belle Fete events, this party at Solaire Tent is already raising the bar for holiday parties even before it's started.
Raymond teased at the concept over the last few days with Instagram posts showing him all dressed up like a member of this Queen's royal court, albeit in the style of Sofia Coppola's 2006 film Marie Antoinette that completely departs from typical period film fashion and instead, washes every scene in pastel, glitter, and faux fur, all sewn together by a killer soundtrack and modern dialogue.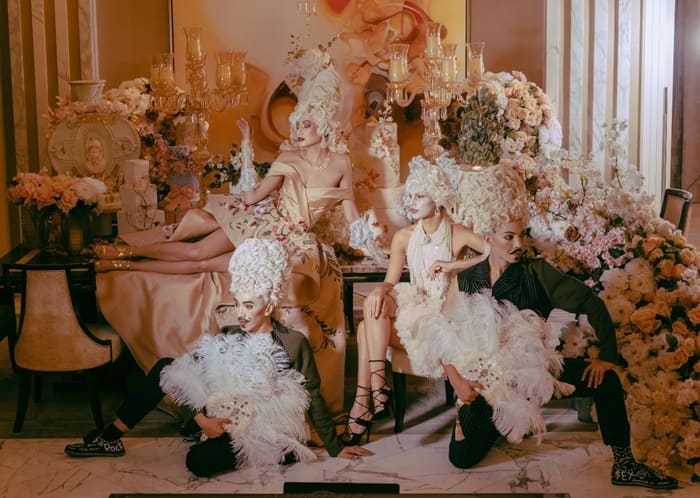 It comes to no surprise that the line between historical accuracy and its artful interpretation will definitely be blown to oblivion at this event that appears to harbor no rules (men wearing skirts and women wearing bedazzled lingerie as outfits in themselves? We're there for it).
The whole thing is already a production to be marveled at as early as today, what with pre-event photo shoots, pre-prod meetings, and promotional dance numbers filling Ramond's feed and the party's official Instagram account @opulence_letthemeatcake, too.
Dressed in nothing but a chest-revealing vest accessorized with a pocket square and an 18th century feathered hat, Raymond himself has posed for his event and it looks uh-mazing.
And the official teaser video that shows the kind of flamboyance to expect come the party (can you spot Jess Wilson and other famous faces painted to look like ladies and lads in waiting?):
If we're to believe what the event's following posts have suggested, Opulence is essentially going to recreate Marie Antoinette's world at its best (or worst, depending on whose side you're on), massive wigs, towering cakes, questionable deeds behind closed doors, fallen chandeliers and all.
But of course, all great ideas come from somewhere and Raymond's was birthed by a Halloween party abroad that he was lucky enough to attend.
To illustrate Raymond's love for (and talent at) playing dress up for Halloween, in 2018, he was at an A-list Halloween party in Los Angeles where he showed up wearing a Wild Wild West/cowboy-inspired ensemble that showed off all his best assets (hello, lean torso!). It then comes to no surprise that he's more than confident at throwing his own celebration and making sure it equals, or even surpasses, the events he's attended.
Inspired by the, well, opulence at parties like that one and more, Raymond decided to throw his own ball and show everyone that here in the Philippines, we don't let Halloween pass without making a lasting impression!
Only nine days to go until we see what "Opulence: Let Them Eat Cake" has in store for us!
Do check back Metro.Style's website, Facebook, Instagram, and YouTube accounts for more exclusive updates and content on this exclusive Halloween party.
Photos courtesy of Raymond Gutierrez
Video by Fold Canela
Produced by Raymond Gutierrez, Ash Rye, and La Belle Fete
Photos by Andrea Beldua and Meetkeso
Styling by Charmaine Palermo and Eldzs Mejia
Makeup by Sylvina Lopez, Cats del Rosario, and Khrystine Soriano
Hairstyling by Cats Del Rosario
Production design by Gideon Hermosa