ICYMI: Metro.Style Cover Star Regine Velasquez-Alcasid Did A Live Stream Interview On Kumu's FYE Channel
The cover reveal was done on the live stream! There, Asia's Songbird also talked about returning to work after quarantine, falling in love with cooking again, the joys of unlimited family time, and what it means to be beautiful at age 50
There's always a first for everything no matter how many successes you've enjoyed in life—even for Asia's Songbird Regine Velasquez-Alcasid!
The multi-awarded singer, actress, and record producer found herself on live streaming platform Kumu on July 17, Thursday, for the very first time to chat with Metro.Style about her life's most special events to date: her recent 50th birthday, learning to embrace domestic and family life, sharing singing's healing powers with others, and of course, finding hope in a time when it's most difficult to do so.
Regine also took the time to talk about her second Metro.Style cover since returning to ABS-CBN in 2018 and what it meant to return to the spotlight after a four-month pause.
Read on to see everything Regine shared with us below!
This is Regine's second Metro.Style cover.
Metro.Style first had Asia's Songbird on its November 2018 cover when she officially became a Kapamilya artist again. The story covered her career highlights so far, her emotional experience of returning home to a network that's loved her throughout the years, as well as her future plans for herself and family. (Read the story here).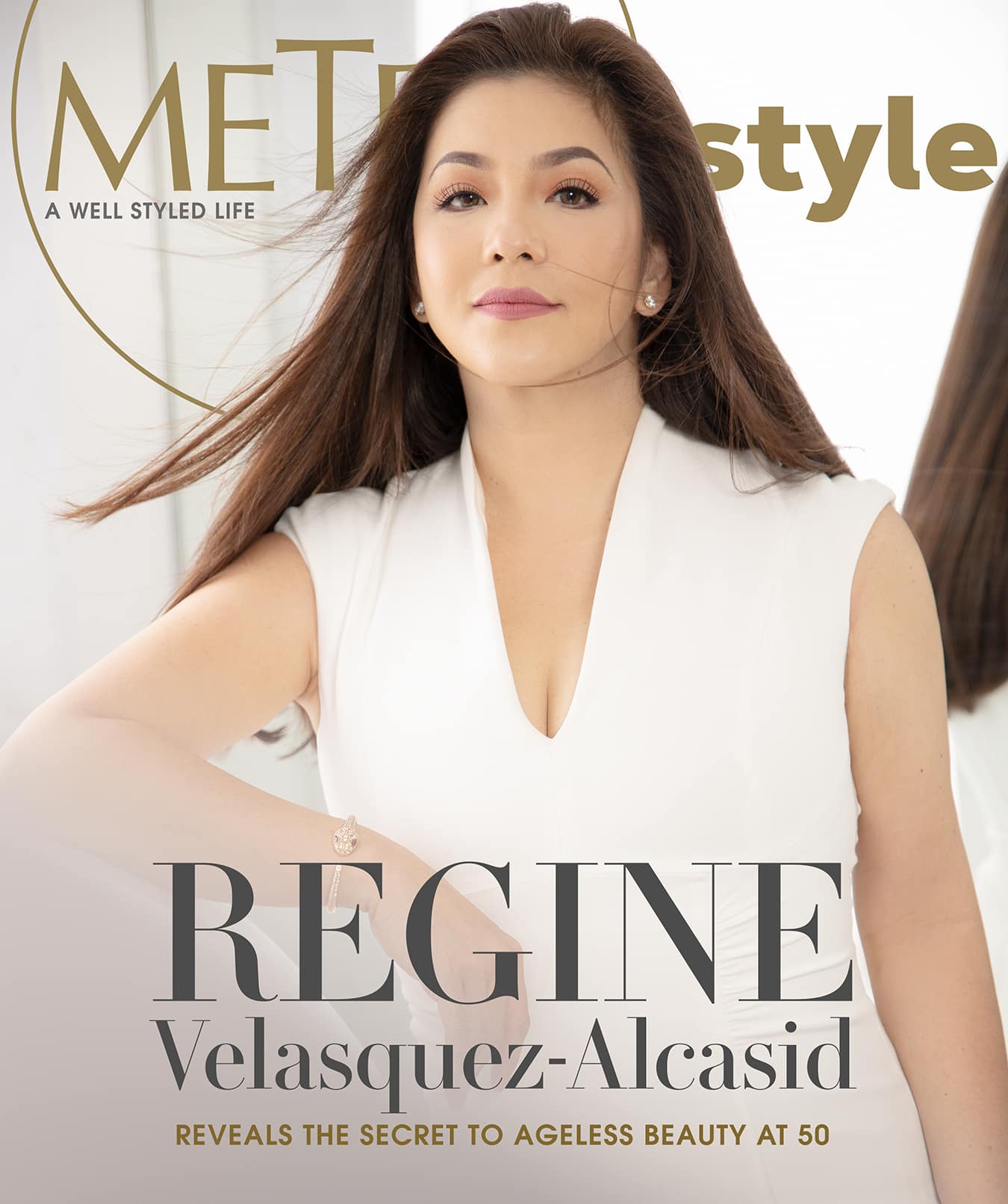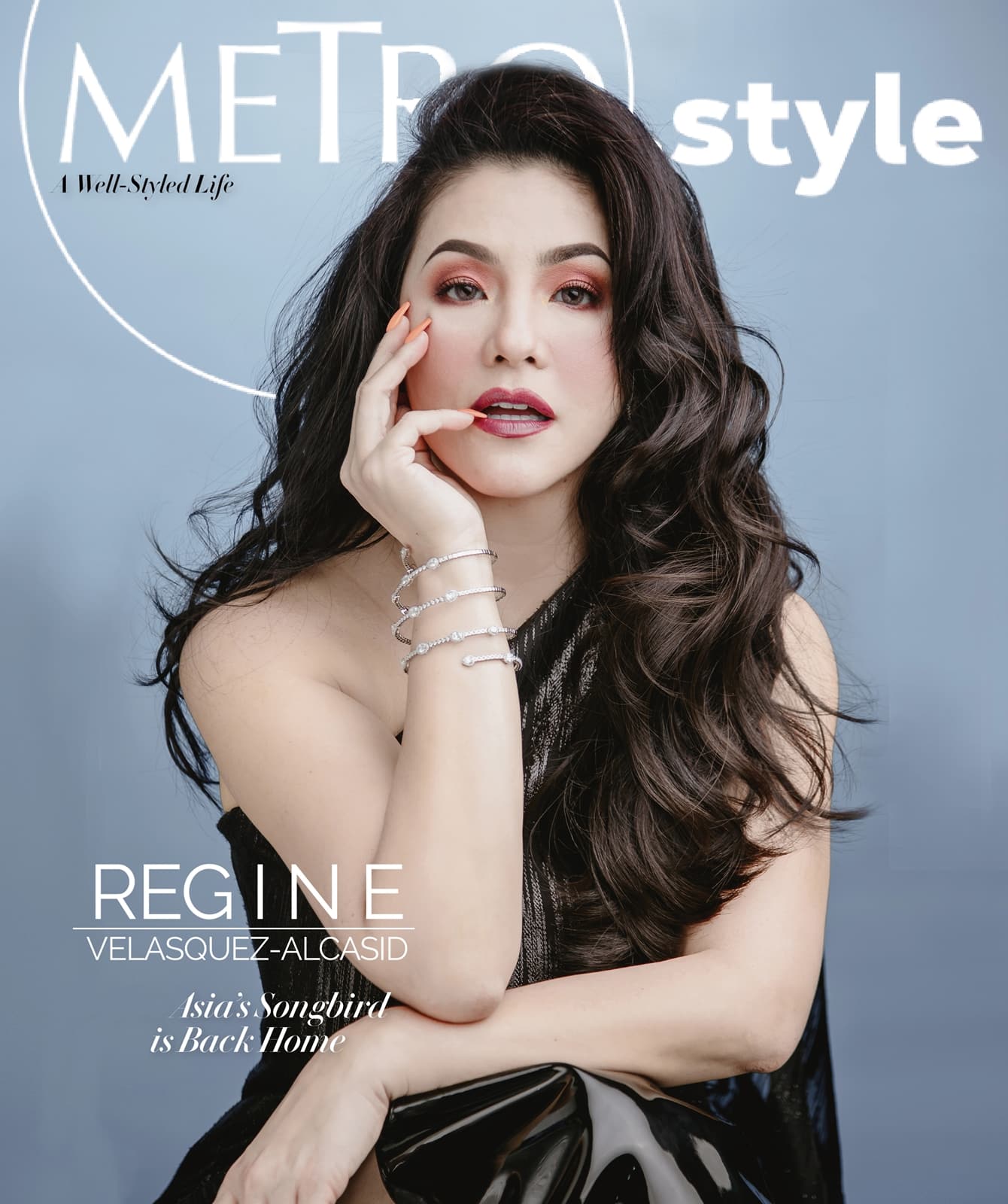 Regine made Metro.Style history with her Kumu interview.
Not only was it one of Regine's first times to participate in a magazine interview on the live streaming platform, but it was Metro.Style's first "Metro Chats" Kumu episode, too! Fans flocked to Kumu and bombarded the event with comments of praise and well-wishes for their icon, their "queen," featured on the show, all of whom were pleasantly surprised to be treated to a live conversation with Regine. The live stream event wasn't just to interview Regine, however, but to launch her second Metro.Style cover that focused on her thoughts on turning 50, life under lockdown, and the hope she chooses to keep in difficult times. (Read the story here).
Regine does her own makeup regardless of the occasion.
Most women might cringe at or shy away from the idea of doing their own makeup for big events, let alone stage shows with thousands in the audience, TV appearances, or major photo shoots—but not Regine! She has the confidence, and most importantly the skill, to paint her face beginning with moisturizer, to primer, to foundation and a spot of concealer, all the way to blended shadows, her favorite lippie, and a dab of finishing powder. (She did her makeup for both of her Metro.Style covers!).
Her second Metro.Style cover shoot was a taste of magazine life under the "new normal" protocols.
A number of Kapamilya artists returned to work in July to continue projects they abruptly and unceremoniously left when quarantine was imposed in mid-March. Regine, for instance, returned to taping Sunday noontime musical variety show ASAP with some of her fellow artists, albeit without a live audience. After one of her tapings, Metro.Style met up with her and pulled off one unique photo shoot; that means that only a photographer, a creative director, and a couple of assistants were physically present on set. Normal cover shoots have a lot of people on set, including the photographer and his assistants, the editors, the creative director, the hair and makeup teams, the styling team, the videographer, the writer, and the editorial assistants. It was also Regine's first photo shoot since March, showing that the whole thing was adaptability and resilience for Regine and the Metro.Style team at their best.
Regine considers it a "privilege" to be on the cover of Metro.Style.
Despite her illustrious career that's only gone up and forward since she entered showbiz, Regine exudes a kind of humility rarely seen in stars of her caliber. She described the experience of being featured on Metro.Style as one of its cover girls again as "special."
She embraces her age but explains that her line of work requires her to take great care of herself.
"It's a visual business," she begins. "You're a singer, at pagka nasa TV ka, ano'ng makikita sa iyo?" she continues. And while she has no qualms in admitting that she turned 50 years old last April, she explains that she looks (and feels) as good as she does because she eats as healthily as possible among all other habits she takes up to care for her physical self, and also considers her mental health. "When you're stressed, it will show!" she laughs. Best of all, she says that looking young is not the goal (because gravity will eventually catch up no matter what, she teases), but being holistically healthy is.
Regine missed being the "queen" of her household.
For most of Metro Manila's 120-plus day quarantine, Regine was her home's one (wo)man team! She had sent all her household staff home to be with their families not knowing that quarantine would last this long and was left alone to cook, clean, do laundry, care for her son Nate and husband Ogie, do groceries, and all other things she could once depend on her househelp to assist her with—all this while shooting and recording her Zoom performances for ASAP before live shows returned! It was fun to some degree, she says, as these were things she hadn't done in ages, plus it was all part and parcel of spending quality time with her family with zero interruptions.
Just like the rest of the world, Regine is bothered by the uncertainty brought about by the COVID-19 crisis.
However, she points out the silver lining of the pandemic in her life: family time, all the time. It's something she didn't used to have a lot of time for, but had all the time for during quarantine. They had meals together, sang together, and hung out together.
In line with July being the beauty month for Metro.Style, Regine shared her no-fail beauty and skincare tips:
She washes her face twice a day in a fuss-free process. Just soap and water does the trick!
Choose a night cream and moisturizer that works. And by "works," she doesn't mean pick the most expensive brand or the most highly endorsed product; if your skin is hiyang with the formula, that's what matters the most.
Pimples are her number one telltale sign of a product not being right for you. Pay attention to how your skin reacts and don't force a product if your skin disagrees with it.
To moms out there: take your time in the bathroom if it means getting to relax in these times when moms have a million and one responsibilities!
Scrubs—invest in them. They're a lovely way to pamper yourself when you need an extra boost in your day.
She gave a sample of her newest song!
The single is called Istorya and it was released a few weeks ago. The official music video will be released tonight at 7PM.
She shared her thoughts and feelings about the non-renewal of ABS-CBN's broadcast franchise.
It's impossible not to feel emotional about recent events, she reveals, and she admits to shedding tears over the thought of an uncertain future. She herself, despite being one of the network's most bankable stars, expressed fear of not knowing what was next. However, she advised everyone to not lose hope and hang onto faith as she believed that they would be cared for by a greater good and a stronger, Divine, kakampi.
Produced by Kat Cruz-Villanueva and Grace Libero-Cruz
Photography by Seven Barretto
Creative direction and interview by Kat Cruz-Villanueva
Styling by Verone Gonzalez
Special thanks to Cacai Velasquez-Mitra and Diane Roque