Relationship Goals: 5 Tips We Picked Up From Megan Young And Mikael Daez's Podcast
Because Valentine's Day is coming up, we were in the mood to hear some practical lessons all couples have to learn and be constantly reminded of
Ten years is a long time to be together.
In ten years, you fall in love, you feel the butterflies, and you feel the soft, warm glow of love. But, you also figure out who's better at budgeting than who, whose bathroom habits need improvement, and who's more likely to procrastinate or follow deadlines!
Megan Young and Mikael Daez have a podcast, #BehindRelationshipGoals, where they discuss all these things and more and how they've navigated life together as partners. They have been together for a decade—engaged for five years and married for one—and in that time, they've learned that behind the fun and kilig are real-life lessons they needed to master to be able to keep their relationship happy and thriving.
We're glad to know that Megan Young and Mikael Daez have a podcast that helps out other couples (and the happily single, too!) gain perspective on relatable issues and ultimately, prepare for a future with a partner for life.
#BehindRelationshipGoals was launched in Christmas of 2018 and new episodes are uploaded regularly.
Because Valentine's Day is coming up, we talk about five lessons we learned (and loved!) from Megan Young and Mikael's podcast below.
1. How to stay happy, fulfilled, and in love in the long run
Megan Young and Mikael Daez pretty much spent the entirety of their 20s together. That's a lot of living, changing, and discovering things about themselves and each other from when they first got together and where they are now. They'll be the first to tell you that while it was a lot of fun, all that growing up together can either bring you closer together, or, the sawa factor could kick in.
For Megan, what truly helped her stay happy and in love all this time was to remember to keep her personal identity intact and not allow the relationship to be her. Having your own life outside "couplehood" doesn't make you any less invested in your relationship or less attentive to your partner. In fact, it keeps your partner's interest in and admiration for you alive because you're continuously pursuing new things to get excited about, discovering new things to share with him, and finding new things to bond over.
In the same vein, it's more than okay to enjoy things you do alone, too. Not everything has to be a mutual thing with you and your partner. This way, you still have your own life, and your relationship becomes one of the best parts of it, rather than your relationship becoming your entire life and risking your partner feeling smothered by this—and then wanting out.
As for Mikael's advice, it's to accept that there will be difficult conversations that need to happen. Relationships aren't built on painless romances; falling, and being, in love comes with acknowledging that there will be growing pains you and your partner have to live through. If your partner prefers to sweep things under the rug all the time, you might want reevaluate your relationship.
2. How to let go of baggage from old relationships and life in general
Isn't it the absolute worst when your current boyfriend or girlfriend still can't move on from their previous relationship? Whether they're always making comparisons, talking about memories, or even being sad from time to time about an ex, it hurts. Megan and Mikael have joint advice for this one.
It's that you must accept that you will be sad! According to Mikael, he didn't even fully recover from an old girlfriend until six months into his relationship with Megan. He won't be the only person to feel this way, and one way he successfully handled the feelings was to accept that he's sad about losing someone important to him, but to also allow himself to enjoy the new moments with Megan. Little by little, all his memories with Megan replaced the old ones, and he found himself fully focused on his present with her, and no longer in the past.
Repressing big, heavy feelings like this is the most unproductive and unhealthy thing you can do for yourself, and for your relationship. Doing so raises the risk of having so much sadness build and fester within you, until one day, it all flows forth like lava and destroys everything in its path. If you allow yourself to grieve on the other hand, you'll feel sad, for sure, but it also allows you to heal and recover.
Losing a relationship is like losing a person (i.e.: to some people, the feelings are comparable to dealing with the death of a loved one), which means there is a process of grief to go through. This is normal. Allow yourself to go through it, because it isn't permanent. It might take a while, and you might go one step forward and two steps backwards on some days, but it too shall pass, and you can once again find happiness with someone new.
3. How to work together as a couple and as business partners
Here's something that has the power to make or break many relationships! Some people are great together as boyfriend and girlfriend, husband and wife, but things can get sour real quick when they become business partners if they don't prepare for it.
There's no one size fits all solution for a situation like this, but speaking from experience as a couple whose careers, interests, and monetized hobbies all intersect, Megan and Mikael concentrate on three things.
First and foremost, you have to mentally set boundaries. It's a matter of acknowledging that work can mean "productivity over intimacy." Brainstorm and get checklists done now, lambing and cuddles later. There's a time and place for everything, and when deadlines are looming, couples need to be responsible enough to know what needs to get done, and when. Also, if you happen to be the partner who's more conscious of these things, don't hesitate to be the one to set the limits. And if you happen to be the partner who often gets reminded that it's time to get serious, respect this subtle calling out, too, and even better, practice the art of self-discipline.
After that, you have to accept that the stakes are higher should you choose to overlap romantic and professional relationships. It's really not a setup for everybody, so for couples who do go down this path, it's crucial to understand that doing so opens up more avenues for misunderstandings, arguments, and yes, even near-breakups. If you're not ready for those risks and you're unable to mitigate them, veer away from adding the dimension of becoming business partners.
Lastly, don't be so hard on yourself! There are definitely couples who thrive together as partners in a business, and as much as you want to make them your goal, you won't necessarily achieve what they've achieved. You will stumble and you will make mistakes, some big ones, and you won't only be figuring out how to make a business work, but how to work together in the business. There's truly so much going on and so much to learn, which means it's okay to mess up in the beginning—or even much later on. Learn, then try again.
4. How to manage money
A mistake that many young couples make pre-marriage is only talking about money matters after they've tied the knot. Megan and Mikael don't blame them; it's a challenge to be one hundred percent real about your spending habits (or debt, more so), how much you've saved, or even how much you earn. But this transparency is essential if you're going to live together, manage a household together, and ultimately merge your lives.
Megan admits that it's Mikael who's done most of the work in this area of their relationships by coming up with a system that works for them, while her role is to make sure she sticks to the plan. So what is their plan? It's one that Mikael has been following since he was single and started making money for himself for the first time.
The formula is simple, but the magic is in how strict you are with yourself in adhering to it. It's composed of three steps: first, when you get any kind of paycheck or collection, save at least 20% of it. That much goes to your untouched, long-term fund. Next, budget your unavoidable expenses (think utilities, food, transportation, pet care, and staff salaries if any). Whatever is left can go to your "luxury" expenses or your "wants"—things you don't need and can live without.
As an extra tip from Mikael, this "wants" fund does not have to be spent! If there's nothing you want to buy at the moment or if you don't feel like shopping for whatever right now, that's great. Save the money. Having extra money does not mean that you have to spend it.
This has been a rule that Megan and Mikael have been following since they moved in together when they got engaged, and it has worked without fail.
5. How to move in together
Something that couples have to keep in mind is that "moving in" doesn't mean just physically transferring your things into a new place. It means changing your house habits and preferences to make room for someone else, learning to live with your partners' (sometimes) annoying quirks, and knowing that this is the way it's going to be for the rest of your life!
Because of the very real and very big changes moving in together can bring about, it's important to first assess your reasons of wanting to live under the same roof. Megan and Mikael say you can't just do it purely because it's cute and makes you feel like a couple from the movies. You move in for practical reasons too, and often, they should outweigh the romance behind the decision.
Think about the following: Does having an extra head in the home mean that you get to split rent equitably? Is it a load of your families' shoulders if you live independently? Does it help you survive work burdens by living somewhere closer to where you work, or having an extra set of hands to help you with work from home struggles? Most importantly, do you have enough money to live away from your primary providers, and do you have more funds to last you than just two three, or even six months? If one person was to move out for whatever reason, would you have enough financial independence to make it on your own?
Next, make sure the decision is mutually beneficial. Moving in cannot be for the joy of just one party and at the expense of another.
And of course, allow it to be an exercise of patience and understanding! You will discover things about your partner if and when you move in with them—some pleasant, some not so much. But that's part and parcel of sharing your life with someone.
Check out this gallery below for some of Megan Young and Mikael Daez's cutest photos together: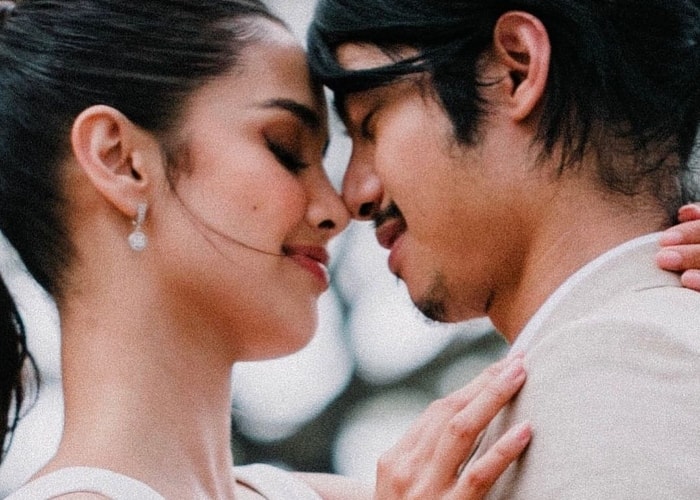 Relationship Goals: Megan Young and Mikael Daez
Relationship Goals: Megan Young and Mikael Daez