Check Out How Mom-To-Be Ryza Cenon Pulled Off Her At-Home Baby Shower!
Even with the challenges of prepping for the day, Ryza wasn't going to miss this milestone for the world!
If there's a will, there's a way. And that's especially true for expectant moms wanting only the best things to remember their pregnancies by, and for first-time mommy-to-be Ryza Cenon, that meant overcoming the challenges of hosting a baby shower during a pandemic!
Ryza and her boyfriend, Miguel Antonio Cruz, organized a home-based party for four—just for them, their fur baby, and their baby boy! They would've loved to celebrate with an intimate group of friends and family, but safety protocols came first.
With the help of event stylist Flourish and Frills and NicePrint Photo, the excited parents-to-be were treated to an IG-worthy setup at home. A cozy corner dressed up with pastel-colored balloons and pretty potted plants, plus an eye-popping sofa overflowing with gifts from loved ones, was what it took to bring a smile to Ryza's face.
Ryza's home-based baby shower is the most recent celebration in her maternity journey. She announced that she was expecting in July when she was five months into her pregnancy. By August, she and Miguel moved into a new home to prepare for their growing family, and in November, their baby boy is expected to arrive.
Check out scenes from their baby shower below!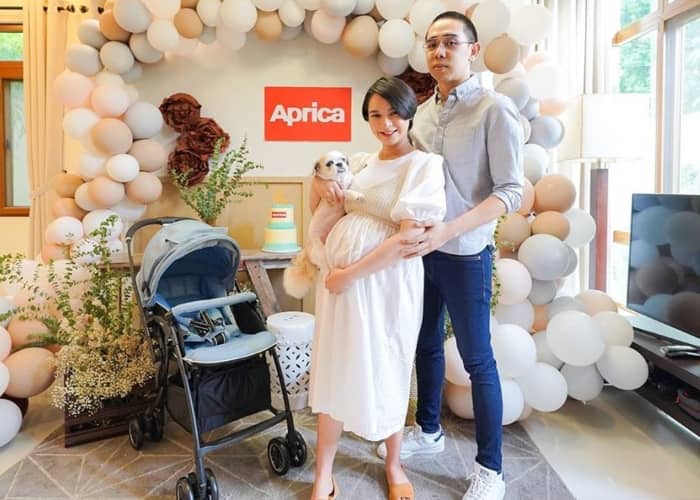 Ryza Cenon's baby shower
Ryza Cenon's baby shower
That's not the only thing this glowing mommy has in store. Working with NicePrint Photo founder Charisse Tinio, Ryza was part of a second maternity shoot that had her channeling some serious drama! Charisse herself gave a sneak peek of the day with a couple of BTS snaps from the shoot.
Making the most of this memorable time in her life, Ryza is showing everyone what it's like to embrace motherhood and all its joys!
Photos from NicePrint Photo via @iamryzacenon