Celebrating Sunshine Cruz's Birthday With Some Of The Most Inspiring Things She's Said About Motherhood, Love, And Empowerment
Happy birthday to this powerful force of a woman!
It's Sunshine Cruz's 44th birthday!
The actress and mother of three starts another awesome year of life this Sunday. And to celebrate with her, we highlight some of the awesome things she's said and done over the years. To make Sunshine Cruz's 44th birthday extra special for all her fans, we remind you of this birthday girl's most powerful moments, from when she was showing the importance of women empowerment to proving just how brave of a mom she is.
What's more, as a surprise for her, we chatted with her daughter, Star Magic artist Sam Cruz, who shared fun and heartwarming anecdotes about the most important woman in her life. Read the exclusive interview in the gallery below.
She has always courageously defended her three daughters.
Sunshine Cruz's daughters Angelina, Sam, and Chesca have one heck of a mom to call on when they need her! Over the years, we've seen Sunshine's mommy superpowers in action; every time her daughters have found themselves in a tight spot, she was there to publicly take their side and protect them from evildoers in person and online, too. It's a responsibility she's embraced wholeheartedly as her daughters have grown from kids into young women, with teenage life exposing them to more and more experiences, both good and bad.
For instance, in 2019, her eldest, Angelina, became the subject of a heated discussion on Instagram. Her outfit at Mavy and Cassy Legaspi's debut invited unsolicited commentary from a netizen who expressed disapproval about her dress' style, suggesting Sunshine was in the wrong for letting Angelina wear a piece that was a tad bit too mature for a girl of her age. (It was a strappy silver dress with a low back, by the way). Sunshine—along with a multitude of her supporters—came to the defense of Angelina and wrote, "She's 17 years old. Attending a Hollywood-themed party. Ano problema sa suot nya if I may ask?" (The drama ended there, FYI).
Come 2020, when Angelina's little sisters Sam and Chesca were catching up with teenage life, this fam of four learned that several online groups had been openly sexualizing all of them. Sam and Chesca were minors at the time, making it extra enraging for Sunshine. She went on to Instagram to pen the following message:
Sunshine's daughters clearly took after their brave mom who speaks up when she knows something merits confrontation and correction. All three of them took to Twitter to address the disturbing revelation, calling out members of the online communities for blatant disrespect and harassment.
Finally, just this year, Sunshine was back in the headlines for accusations made about Angelina. On an unofficial Facebook page of her university, Angelina was targeted by a fellow student who seemed to want to out her for being an irresponsible groupmate. Both Sunshine and Angelina had something to say about the accusation, and the issue was quickly put to rest.
"If this is indeed true, reveal yourself. I know how hardworking my daughter is when it comes to school. She won't be a dean's lister for nothing. Be proud of other people's achievements and stop bringing them down," Sunshine said, while Angelina herself wrote, "I KNOW I do my parts, and groupmates of mine, past or present can vouch for me. I really don't see the point of targeting me just because you're hidden behind anonymity."
The lesson Sunshine stands by is self-love.
With the way life turned out for Sunshine, the lesson she hopes to teach to all women, including her daughters, is self-love. Self-love is what allowed her to find the strength to break free from an abusive relationship, to rediscover her confidence as a single woman, to raise three children by herself, and of course, to be more discerning of her next romantic relationship. (The mom of three has been in a relationship with businessman Macky Mathay since 2016, and the pair has been #RelationshipGoals ever since).
It's something she wants to instill in her daughters as they maneuver a delicate time in their lives as young women; with their ages ranging from their mid-teens to early 20s, Sunshine's kids are ripe for the rites of passage of falling in love, and maybe somewhere along the line, getting their hearts broken, too.
And while Sunshine knows she can't (and shouldn't) keep her daughters from going through these inevitabilities, she wants them to always remember that how they live their lives and who they chose to love should always be according to them.
Her advice to them? To take their time with their love, to never feel pressured to commit, to make the most of the here and now, and to make self-respect a non-negotiable no matter what.
She sets a great example for women that a life reboot is possible.
One of the biggest fears of women who find themselves moving on from dissolved marriages is that they feel lost. So much of who they are becomes intertwined with the life of another person, that when that person is cut out from the picture, the feelings of loss, confusion, and hopelessness can be very overwhelming.
Take Sunshine as a perfect example. She'd talked about about she was essentially jobless from 2000 (the year she got married) to 2013 (the year she finally got her marriage annulled). She was 23 when she got married and supposedly reaching the peak of her showbiz career, yet her growth as an actress was stunted.
When her marriage was legally over, Sunshine was happy to be free—but also terrified of having to rebuild her life with three little daughters in tow. She had so much self-doubt for how she could pull things together.
And yet, in the years that followed, Sunshine signed project after project to restart her career, and even more impressively, earned a special college degree in Psychology from Arellano University and raised a wonderful family in the process.
She's constantly a work in progress.
Sunshine's life wasn't perfect, and it still isn't. It's a lot better than it was before, but even so, here's a woman who's always looking to improve herself even amidst all the progress she's made. She takes things one step at a time.
In the past, she concentrated on reconstructing family life. She's always been honest about putting her daughters first, even if it meant temporarily trading in personal pursuits for being a mom who was always available and present. But when her girls were a little more grown-up, she had a conversation she had with her showbiz BFF Ara Mina that made her realize that she wasn't just a mom, but a whole person who deserved to experience life in its entirety. She wasn't just a parent, but she was also a woman, an actress, a friend, and more. This change in perspective was exactly what she needed.
This openness to new experiences and never allowing herself to be held back by the past has made Sunshine an outstanding student of life. Almost anyone will say that she has succeeded at giving herself a second chance at happiness, but Sunshine knows there is still much more to learn and appreciate as life takes her to new and exciting territories.
If she was once afraid of the unknown, Sunshine now embraces things left unexplored as she knows she's bound to pick up nuggets of wisdom from them.
At 44 years old, Sunshine is as bright as ever!
In the gallery below, we put together some of this birthday girl's best moments with the best gifts she could ever ask for—her daughters! Plus, in an exclusive interview with Metro.Style, her second daughter, Sam, also honored this "cool mom."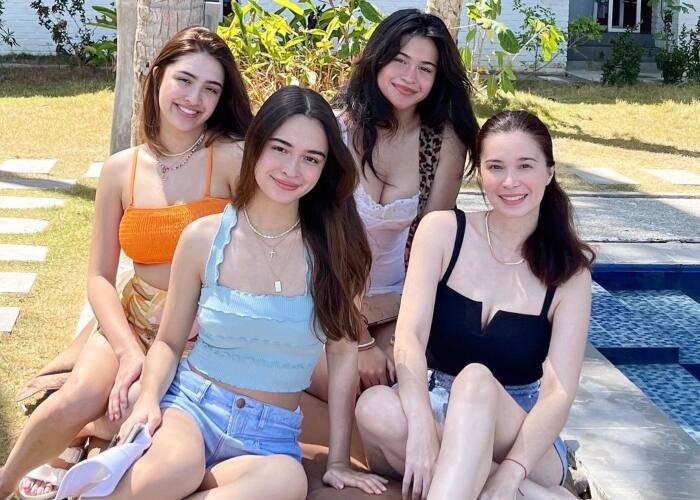 Sam on Her Mom Sunshine
Sam on Her Mom Sunshine
Photos from @sunshinecruz718 @angelinaisabele
Interview by Grace Libero-Cruz