Check Out Sarah Lahbati and Richard Gutierrez's Pre-Nup Shoot In Palawan
Hold your breath! The soon-to-be Mr. and Mrs. Gutz took pre-nup photo shoot to a whole new level
It won't be long before longtime couple Sarah Lahbati and Richard Gutierrez tie the knot, and as they wait for their special day, they're surely choosing some pretty awesome ways to count down the days!
So far, Sarah has had a series of pre-wedding activities including a pink-themed bridal shower, bachelorette party in Hong Kong, a bridal shower organized by Drs. Aivee and Z Teo, a bachelorette vacay in Siargao, and a photo shoot with Richard for Metro.Style.
The couple's latest pre-"I do" activity? An underwater photo shoot with celeb fave, wedding photographer Pat Dy!
The photographer traveled with the couple to Palawan where they spent time perfecting the oceanside and underwater shots. It comes to no surprise that this couple chose the tropical retreat as the backdrop for this special shoot, considering that they're both divers and have campaigned to save the world's seas.
The ocean is so special to them that they even chose an ocean-themed party for their youngest son, Kai!
Check out some of the stunning photos below, including the beautiful underwater shot Pat described as needing a ton of takes to get right: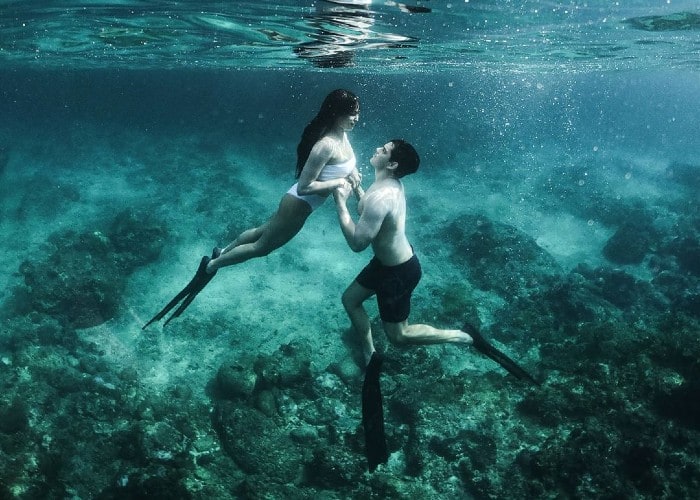 Sarah and Richard's pre-wedding shoot
Sarah and Richard's pre-wedding shoot
Photos from @patdy11 @teampatdy @caliberking @chissai