Sarah Lahbati And Richard Gutierrez Gave Their Wedding Flowers Away
With the help of their event stylists, the couple was able to brighten up the day of those who received the flowers they were supposed to use for their postponed wedding party. Small acts of kindness go a long way
In case you missed it, Sarah Lahbati and Richard Gutierrez were supposed to have a big wedding celebration last Saturday, March 14. They waited three years for the big day since getting engaged in 2017, but no matter how in love or excited you are to become Mr. and Mrs., neither gives you the superpower to predict the future and in this case, to see how the COVID-19 outbreak can hit the breaks on your wedding day!
On March 12, they announced they would be postponing the occasion.
In place of the grand ceremony and what would have surely been an epic after-party, Sarah and Richard held a civil wedding instead with a select group of friends and family members to witness their union—because when you're as in love and as excited as these two to become husband and wife, nothing stands in the way of happily ever after.
Meanwhile, hundreds of thousands of Filipinos faced uncertainty at the same time; the coronavirus outbreak has dampened spirits, pushed the country's healthcare system to its limits, and interrupted businesses, schools, transportation and essentially every facet of daily living.
How do you make it better? How do you help? Can you actually help, to begin with?
Of course, yes, you can. With a bit of creativity and a heart full of thoughtfulness, newlyweds Sarah and Richard, along with their event stylists and florists Gideon Hermosa and Teddy Manuel, gave new meaning to the phrase "help in your own way" when they made the decision to spread happiness and joy to those who need it the most right now.
They decided to give away the flowers that were meant to bring color to their ceremony and reception venues, photo booth, and tablescapes.
Before it was announced that Luzon is under "enhanced community quarantine" in the effort to handle the coronavirus outbreak, Teddy (whose expertise the couple sought to style their intimate reception venue after their civil wedding) delivered every single stem of flowers himself to Hospicio de San Jose homeless shelter, Asilo de San Vicente de Paul orphanage, and Philippine General Hospital, to brighten up the days of those in those locations.
Ruffa Gutierrez, event stylist Gideon Hermosa (who ended up dressing up the venue of Sarah and Richard's civil wedding), and the other suppliers also documented the process of setting up as early as two days before the supposed wedding party, then having to do an emergency egress on the evening before the big day. Here are also some snaps from their last-minute civil wedding ceremony and reception.
Though it was a heartbreaking decision for everyone involved, everyone agreed that it was for the best. Besides, the real celebration here was Sarah and Richard finally becoming husband and wife—the rest, though meant to make the day beautiful, are just bonuses next to that!
Check out what they shared in the gallery below: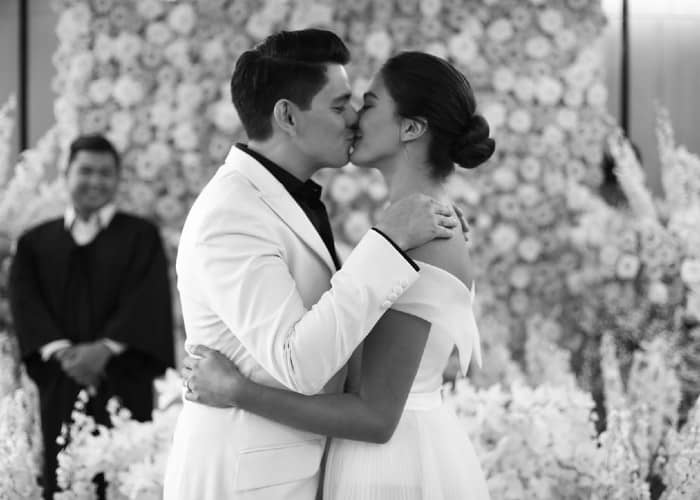 No matter how heartbreaking it was to have to postpone this wedding, we're sure that when it finally happens, it'll be even better than originally planned.
Besides, you can't consider it a total bad day when you're able to lift people's spirits and brighten up their day during these trying times.
Photos from @sarahlahbati @teddymanuel @gideonhermosa @iloveruffag