In Photos: Scenes From Alex Gonzaga's Tropical-Themed Bridal Shower
Her sissums Toni Gonzaga made sure to organize this for her, of course!
Alex Gonzaga is now Mrs. Mikee Morada, but before they tied the knot, her loved ones, especially her sister Toni Gonzaga, made sure to throw her a bridal shower so she could officially bid goodbye to singlehood.
Actress, host, vlogger, and author Alex Gonzaga shared that she's already married to Mikee Morada last January 16, which happens to be her 33rd birthday as well. They actually tied the knot in November last year but wanted to keep the happy news to themselves at first. Her wedding reveal was done through a vlog on her YouTube channel, which immediately became the platform's #1 trending video in the Philippines and is still holding that spot; as of this writing, the said video now has 6.9 million views.
Now that the secret's out, her loved ones and the suppliers who helped put together her bridal shower can now share photos from that special day. Thanks to event stylist Gideon Hermosa, we were given a closer look at the beautiful, vibrant details of Alex Gonzaga's "tropical lush"-themed bridal shower. Gideon also styled the church and reception venue of Toni Gonzaga and Paul Soriano's wedding back in 2015.
Check out the gallery below to see the photos from Alex Gonzaga's bridal shower: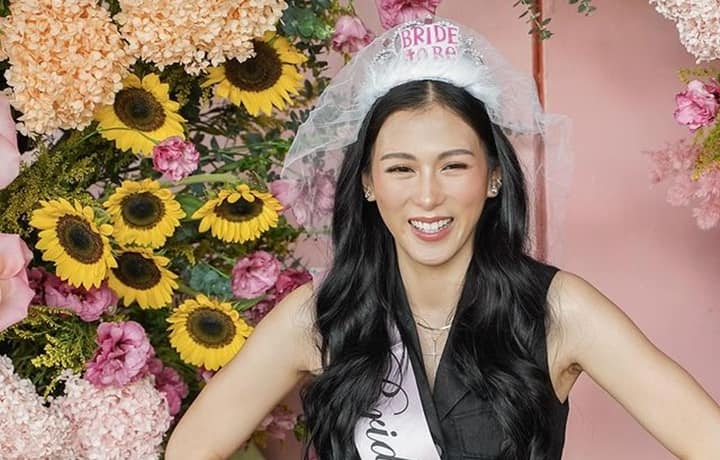 Alex Gonzaga's Bridal Shower
Alex Gonzaga's Bridal Shower
In November 9 last year, Toni posted a photo of her reuniting with her mom Pinty after months of being separated because of quarantine. Because they were both wearing white and looked like they were at an event, people were quick to assume that Alex may have gotten married already. As it turns out, they got to reunite, thanks to Alex's bridal shower.
It was a more meaningful reunion, as Alex revealed through a vlog published last October 24 that she, mommy Pinty, daddy Bonoy, and then fiancé Mikee Morada tested positive for and recovered from COVID-19.
Alex and Mikee got engaged in December 2019 during a trip in Hong Kong. She revealed their engagement through a vlog in January 16, 2020 as a way of celebrating her 32nd birthday.
Photos from @gideonhermosa