Jisoo and Jung Hae-In's Sweetest Instagram Moments
Plus, all the times they took photos of each other and shared them on social media. What a way to show their millions of followers how close they were behind the scenes of K-drama "Snowdrop"
Jung Hae-in and Jisoo are making many viewers ship them so much. Not only do they have great chemistry in K-drama Snowdrop, they also seem to be really close off-cam as their social media posts imply.
K-drama stars love Instagramming photos of themselves behind the scenes of their series, but not a lot of them actually dedicate several posts with or about their on-screen partners. This is why fans of Snowdrop leads Jung Hae-in and Jisoo are so happy to see extremely kilig content from the two, with each of their posts gaining millions of likes.
JTBC's Snowdrop was released last December 18 and concluded its 16-episode run on January 30, 2022. The series is set in 1987, a historic year in South Korea that saw a nationwide pro-democracy movement. Jung Hae-in plays the role of Lim Soo-ho, a mysterious North Korean agent assigned on a mission in South Korea, who is living as a graduate student. Jisoo is Eun Yeong-ro, a freshman at Hosu Women's University in the English Literature Department. One day, Yeong-ro sees Soo-ho covered in blood and hides him in her dorm room. In the middle of political conflicts, the two fall in love with each other.
Snowdrop continued airing despite the major backlash pre- and post-release and petitions to cancel the show due to alleged historical negationism or distortion. Its network, JTBC, released official statements addressing the controversy, which read in part: "Regarding the controversy that the drama disparages the pro-democracy movement, Snowdrop is not a drama that deals with the pro-democracy movement. In the script, there is not a single part where the male and female protagonists participate in or lead the pro-democracy movement."
Many fans are absolutely glad that they got to see the series till the end, because there's no doubt Jung Hae-in and Jisoo make one of the best K-drama couples today. All the times they posted photos together and tagged/mentioned each other on Instagram are fanning dating rumor flames. After all, Jung Hae-in even posted a photo of a paper airplane on Jisoo's birthday last January 3, and even though he didn't tag or mention her on that specific post, Snowdrop fans know that that paper airplane is symbolic of their characters Lim Soo-ho and Eun Yeong-ro's relationship.
Check out the gallery below for all the times they showed each other some love on social media: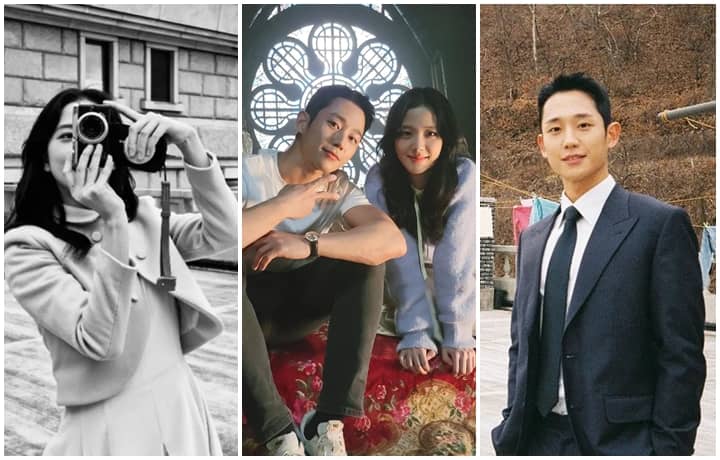 Photo Gallery
Photo Gallery
Lead photos from @holyhaein