Son Ye-Jin And Her Leading Men Through The Years
Hyun Bin, Jung Hae-in, Lee Min-ho, and Song Seung-heon are just four of the handsome and talented actors the "Queen of Melodrama" has worked with in her two-decade career as an actress. The latest news about her is that she might star in a historical drama with Kang Ha-neul
Son Ye-jin has a universal appeal that helps maintain her long-running popularity. Both men and women appreciate her acting, be it on the small or big screen. The 38-year-old Hallyu star has found a niche in the Korean entertainment industry on a level that not a lot of Korean actresses have actually reached.
Culture critic Lee Moon-won pointed out as a reaction to the box-office success of her 2018 film Be With You: "Son Ye-jin's fandom started with the explosive support of male fans, but it moved toward women with more stable ticketing power."
While her latest K-Drama Crash Landing on You reached stratospheric heights and boosted her popularity on a global scale, Son Ye-jin's filmography is packed with an interesting mix of TV shows and films. CLOY is a project that showcased not only her dramatic prowess but also her comedic timing, but as her 2018 movie The Negotiation (in which she also starred in with Hyun Bin) would prove, Son Ye-jin has a flair for more challenging, action-packed roles as well.
Throughout her two-decade career as an actress, Son Ye-jin has had the opportunity to work on amazing projects which she undoubtedly helped reach iconic status through her brilliant and effective character portrayals. Movies like The Classic (2003), A Moment to Remember (2004), and April Snow (2005) are timeless tales of romance which received various awards and nominations and did well on the box-office charts as well.
Son Ye-jin not only resonates with the audience through movies, her endearing small screen presence has also captured viewers' hearts time and time again. And if you haven't yet, check out her other K-Dramas which prove her worthy of the title "Queen of Melodrama:" 2018's Something in the Rain, 2008's Spotlight, and 2003's Summer Scent.
Son Ye-jin was recently nominated as Best Actress at the 56th Baeksang Arts Awards, which took place last June 5. This nomination recognized the huge impact she made with her character Yoon Se-ri, a South Korean chaebol heiress who accidentally lands in North Korea and falls in love with North Korean military officer Capt. Ri Jeong-hyeok (portrayed by Hyun Bin, who also earned a Best Actor nomination for CLOY from the same award-giving body).
Aside from a Hollywood movie project titled Cross with fellow Korean star Lee Sun-kyun and Australian actor Sam Worthington, Son Ye-jin is also reportedly exploring a historical drama that could pair her with actor Kang Ha-neul (who won the Best Actor award for TV series When the Camellia Blooms at the 56th Baeksang Arts Awards). Read more about that news here.
In the gallery below, we take a look back at Son Ye-jin's illustrious career through her stellar lineup of leading men: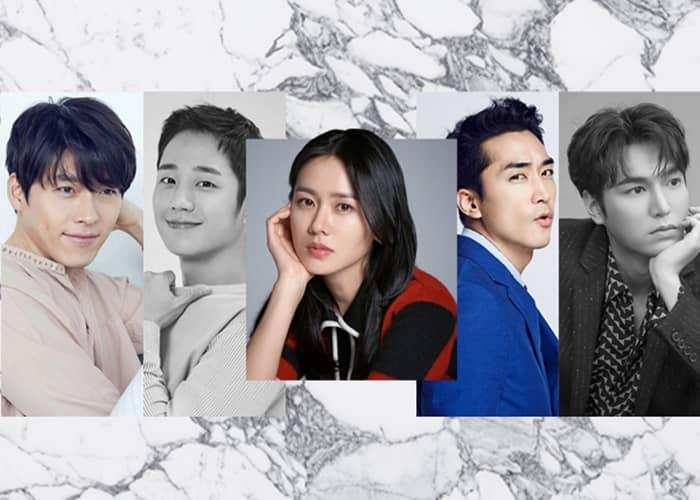 Son Ye-Jin's Leading Men
Son Ye-Jin's Leading Men
Banner artwork by Raff Colmenar | Lead photos from VAST Entertainment, Hellokpop, TenAsia Japan, hankyung.com, and MYM Entertainment