EXCLUSIVE: Meet 6 Of Star Magic's Newest Artists—Arabella, Luis, Rans, Vitto, Vance, And Maureen!
Star Magic recently signed over 40 artists during its Black Pen Day. Here, Metro.Style introduces you to six of their newest stars Arabella Davao, Luis Vera-Perez, Rans Rifol, Vitto Neri, Vance Larena, and Maureen Wrob
"We dream to grow bigger and go global. To see our artists perform alongside the best artists in the world is what we will strive to achieve." These are words from Star Magic and ABS-CBN entertainment production head Laurenti M. Dyogi during the Star Magic Black Pen Day held last Saturday, June 19.
And Direk Lauren truly meant it when he talked about wanting to make the Star Magic family bigger. The country's premier talent management agency is already nurturing hundreds of stars, but in the ever-changing entertainment landscape, there is certainly room for more and new talents. At the historic Star Magic Black Pen Day contract signing event, Star Magic welcomed over 40 artists into the ABS-CBN family.
Stellar and promising, the lineup of artists that were launched gives a peek into what the future of local showbiz could be like and who has the flair of taking this local edge to the global stage.
To celebrate this milestone, Metro.Style collaborated with Star Magic for a special photo shoot, featuring some of these newly-signed artists who range from established stars to fast-rising talents.
Taking cues from Star Magic's "Black Pen" concept, we conceptualized a fairy tale-like story book-themed photo shoot for these artists, as they write and turn the page to the next chapter of their lives—one in which their dreams are bound to turn into reality.
Below, meet the new artists who are included in the Part 1 of our Metro.Style x Star Magic Black Pen Day special feature: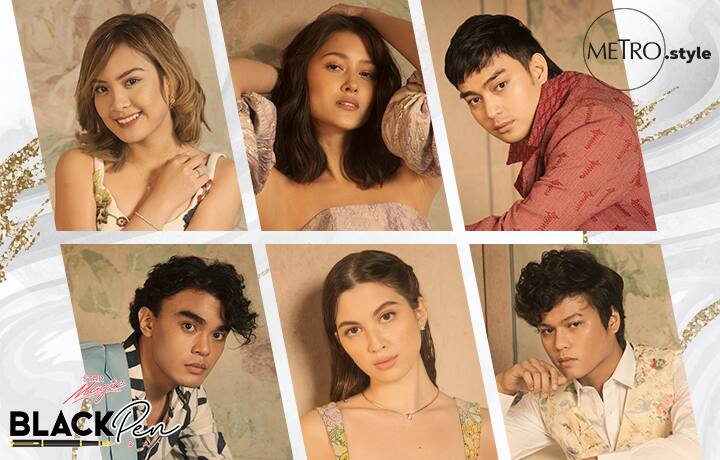 Metro.Style x Star Magic Black Pen Day - Batch 1
ARABELLA DAVAO
What is it like to have a mom and dad, a cousin, and a grandmother who are all heavyweights in an industry you've only just entered? Well, good and bad, according to showbiz royalty Arabella Davao. It's good because it opens up opportunities and, to some degree, establishes credibility. But it can also be bad because of the inevitability of comparisons and expectations. Regardless of the occasional disadvantages, she has this to say:
"[My family's] achievements are all different, just like how every artist is unique. I know I'll have my own achievements too one day... Of course, the pressure is there because my parents are great actors and they have so many awards, but I think it should just motivate me more to work harder."
You might be surprised that for years, Arabella hesitated about following the footsteps of her parents and lola—Jackie Lou Blanco and Ricky Davao, and Pilita Corrales, no less—but simply because she had other things on her mind. School was of utmost importance, but now that college is officially done and adulthood is looming on the horizon, she's able to dream big and, better yet, have enough legroom to strive for those dreams.
It was just in 2019 when Arabella toyed with the idea of giving acting a serious try, and as if the universe was in touch with her innermost thoughts, destiny came knocking.
"When I felt I was ready to go for it, I received a message on Instagram from someone in Star Magic. She asked me if I wanted to have a go-see in their office. Since the offer came at a time when I was ready to try, I felt like it was meant to be!" Arabella beams.
Work hasn't stopped since then; even with a pandemic, acting workshops have continued online. There are no free passes for Arabella even with relatives like hers. She's starting out as an acting trainee, and then she'll move up the ranks from there.
It's no big deal to her, though, and she wouldn't have it any other way. Her childhood and adolescence have always been marked with a love for the performing arts, and because these gradual experiences are there to help her reach her full potential, she's all for them.
While she waits to sign onto her first major projects, she's content watching her movie and TV idols—Sarah Geronimo, KathNiel (Kathryn Bernardo and Daniel Padilla), LizQuen (Liza Soberano and Enrique Gil), Joshua Garcia, and Grae Fernandez. Who knows, she might even get to work with some of them in the near future?!—Sara de los Reyes
LUIS VERA-PEREZ
Luis Vera-Perez grew up in a creative environment, as he comes from a well-known family in the local entertainment industry. Being artistic runs in their blood, but he chooses to not be burdened by the pressure that comes with his surname. "It's an advantage and disadvantage," Luis admits, knowing that his family is well respected in the field and that this fact comes with certain expectations from him.
Unlike other showbiz royalty who may have always seen themselves performing and have always geared up for that possibility, though, Luis didn't think long and hard about joining showbiz. It was something he just felt he had a calling for. "Isang araw, nagising na lang ako na gusto ko nang maging artista," Luis recalls.
After that sudden realization, he knew better than to hold back. Luis embraced his newfound passion and dedicated his time in improving his skills by attending Star Magic workshops.
Now that he's officially part of the entertainment industry, Luis is making it his goal to grow in the business and become a full-fledged artist. Without feeling the need to step out of his relatives' shadows, he simply wishes to carve a niche for himself and be known for his own talents. "Acting, singing, dancing, and hosting—I want to hone all of them. I want to be the best that I could be," he shares.
Luis mentions, too, that it is his dream to work with Daniel Padilla on a project. But for now, he's focused on the role given to him in the upcoming teleserye Marry Me, Marry You, wherein he gets to work with both seasoned actors and his fellow rising artists.
During the pandemic, Luis also found a platform which allows him to run his own show, entertain the way he wants, and develop his communication skills albeit virtually: livestreaming app Kumu. His other pastimes include gaming, biking, and drawing.
There's definitely a lot to look forward to from this fresh-faced actor. And now that he's part of the Star Magic family, he can't be thankful enough for the trust he's been given. He knows he's in good hands, and that time will come when he'll make his family proud for achievements of his own.—Mariel Abanes
VANCE LARENA
Acting is a craft Vance Larena has always been passionate about. He started out as a thespian, and crossed over to the big screen through the 2017 movie Bar Boys. The following year, Vance earned his first breakthrough role in the musical drama film Bakwit Boys. Now that he just signed with Star Magic, it won't be surprising to see him becoming a household name in the years to come through television and digital series.
Vance had his first taste of television work when he was tapped for a minor appearance in Ipaglaban Mo! where he shared that he "played the wrongfully accused sorbetero." That experience may have been short but it definitely got him all excited at the possibility of exploring an aspect of the entertainment landscape that's so rich in layers.
"It's a dream come true. I've always wanted to be part of Star Magic but now that I am about to join them, I honestly feel both scared and excited of what's to come. Nonetheless, I am grateful and honored to be here," Vance tells us in an interview prior to the Star Magic Black Pen Day contract signing event.
He looks forward to the opportunities to hone his acting skills and learn the ropes through the help of the country's premier talent management agency. Vance reflects, "I feel like even if I reach my deathbed, I would still know very little about the craft because it evolves everyday, hence, the never-ending process of learning."
Another thing that Vance is so thrilled about is the likelihood of working with artists who are as passionate as he is about acting. "I think beyond big names, it's really the opportunity to share and cultivate love for our art that's truly meaningful," he says. But if there's anything Vance really dreams of achieving in this lifetime, it's to be part of a Lav Diaz film or an international feature film. With Star Magic's plans of going global, that might just happen for Vance sooner than he expects.
Vance already has a degree in BSBA Operations Management, but he's looking to pursue further studies on filmmaking. Aside from acting, quarantine life also allowed him to discover and rediscover things in different aspects, like painting, playing the piano, gaming, and expanding his collection of shows he binge-watched.
"I also felt like I built a much stronger connection with myself, my family and the people closest to me," he says of what the pandemic has been like for him. "I guess I'm really just taking it day by day and also trying to really stay as healthy as I can. I have a lot of hope and faith that everything will eventually fall into their proper place. I look forward to the day when hugs are safe again." After all, there are so many people he wants to hug right now to express his gratitude for this new milestone in his life.—Grace Libero-Cruz
VITTO NERI
His ultimate goal is to, one day, sit on the director's chair. But to achieve that, Vitto Neri knows the importance of educating and familiarizing himself first with the inner workings of the entertainment industry, especially the intricacies of acting. This played a huge role in his decision to enter showbiz and join the Star Magic family.
Although his father, Victor Neri, is an actor, Vitto didn't dream of following in his dad's footsteps as a child. "I did not want to pursue it talaga ever since. It's not something that I dreamt of as a child," the showbiz royalty tells Metro.Style. "I dreamt of being a pilot."
But the pull of showbiz must have been really strong. In the summer of 2018, Vitto found himself joining a Star Magic workshop for fun and experience, and to have a deeper understanding and appreciation of acting as a craft. "I entered to see if I could act. But actually, the real reason was to give myself a first-person perspective of how actors think. I want to be a director eh, so to be given the opportunity to see how they think will help me direct them better in the future," Vitto explains.
In the same year, he snagged a role in the film A Short History of a Few Bad Things, where he appeared alongside his dad. That was such an eye-opening experience for Vitto, an opportunity that opened up doors for him and convinced him to finally give acting a serious try.
Although he's a son of a well-known actor, Vitto doesn't feel pressured by his dad's success. Instead, he uses this as a tool for motivation, to further fuel his passion to be a versatile actor. "Good things take time. I consider this an advantage because my dad has a lot of experience in the industry. He's been acting since the 90s so that's a lot of experience that I think I can learn from," the new Star Magic talent says.
Vitto had a lot of opportunities to ponder and reflect on the path he wanted to take in the past year while under lockdown. Those months were time well spent for him, because they helped make him realize where his heart belongs. Vitto shares, "In May of last year, I decided na talaga na this is something I want to do. This is something I see myself doing until they stop getting me."—Mariel Abanes
RANS RIFOL
For fans of the Manila P-pop scene, Rans Rifol is a familiar face. Rising to fame as one of the first members of girl group MNL48, this pretty and talented lady is now ready to begin a new chapter of her career. As part of the newly-launched batch of Star Magic talents, Rans is determined to further progress in show business as a full-fledged artist.
What was once a childhood dream is now becoming a reality, and she looks at the future with whole-hearted passion to succeed. "Getting into showbiz was always my dream," the 20-year-old tells Metro.Style. Her love for the craft began with her often participating in school and church activities, until Rans realized that this path is her true calling.
A goal-getter, she went around and joined acting and voice workshops, which eventually led to her landing some roles in different teleseryes and indie films. In 2015, she took on a role in the full-length feature film Patintero: Ang Alamat ni Meng Patalo. Two years later, Rans appeared in the independent short film Batibat. She eventually ventured into more acting jobs after she was launched with MNL48, with stints in Ipaglaban Mo! and in the Charo Santos-Concio- and Daniel Padilla-starrer Whether the Weather Is Fine (Kun Maupay Man it Panahon) filed in her acting resume.
Apart from showbiz, there are other things on this young artist's plate. With the pandemic still ongoing, Rans helps run and co-manage her family's small business, a milk tea shop. She also cooks and bakes in her spare time, and looks after their pets and watches movies in different genres. On top of it all, she studies hard to graduate with a BS Tourism degree (Rans is in her second year!), and is active in doing livestreams as well.
Considering everything she has to do, time management can be quite overwhelming. But Rans points out that her strength lies in her attention to detail whether it's for her job or her personal life, and for her, that is key to making the juggling act work.
With a promising acting career ahead of her, the former MNL48 member is very optimistic and eager to see what's next for her. When asked about her dream project, she answered that "a project that will have a great impact on the Filipino movie culture" would be one of the greatest accomplishments she wishes to achieve. Getting the chance to work again with one of the actresses she looks up to is one of her goals. "I wish to work again with Ms. Charo Santos," Rans happily declares.—Mariel Abanes
MAUREEN WROB
The world needs to see more of Maureen Wrob, the first-ever Filipina to come out the winner of Asia's Next Top Model.
Four years after the Filipina-German model and Metro cover girl burst onto the scene, we're celebrating her career's next big milestone. Maureen is officially a new Star Magic artist, and within the year, we can look forward to seeing her onscreen debut in a new film produced by Reality Entertainment.
"It's such an honor for me to be part of the Star Magic and ABS-CBN family. I grew up watching TFC and it has been such a big part of my childhood," she tells us.
Maureen will soon be a busy actress after enjoying a bit of quiet time in the last year—something she says she made the most of by discovering what self-love really meant to her.
It was a time to enjoy her introverted nature and nurture her mind and body, mostly by becoming more conscious of her physical health and by enriching her knowledge, thanks to online courses.
She starts this new chapter of her career with a stronger spirit of gratefulness. At a time like this, she knows that opportunities that have found their way to her are doubly valuable.
"Being thankful for the little things is what keeps me going and of course, not taking any loved one for granted," Maureen shares. She has her fingers crossed that sooner than later, she'll be reunited with her family and they'll finally be able to have their plans of traveling to Italy materialize.
As she imagines what's in store for her, she makes an initial promise to herself; that no matter how busy she gets, family will always be one of life's priorities—a value that's sure to shine brighter as she embraces her new identity as a Kapamilya.—Sara de los Reyes
Check out the Part 2 of the #MetroStyleXStarMagicBlackPenDay special feature here.
Visit Metro.Style again for more exclusive content on the Star Magic Black Pen Day event, soon!
Produced by Geolette Esguerra and Grace Libero-Cruz
Photography by Ria Regino
Creative direction and additional set styling by Chookie Cruz
Production design by Aren Santos of AdSet Prod
Fashion styling by Aldrin Ramos, assisted by Katrina Pascual and Corina Teodoro
Shoot coordination: Cara Tirona
Shoot assistants: Hipolito Gangani, Reymark Batuigas, Elmer Arda, Erwin Arda, Edgar Fernandez, Wolfredo Morales, and Alexander Hanpayan
Special thanks to Star Magic managers and road managers (Deejaye Cuadrado, Shobe Pateña, Ezra Garovillas, Gidget dela Cuesta, Nenette Rustia, Joy Lomibao, Love Capulong), Thess Gubi and Laurenti Dyogi