EXCLUSIVE: 6 New Star Magic Talents To Get To Know Now—Jake, Zabel, Paolo, Migo, Sela, And Kaila
At the historic "Black Pen Day," over 40 artists joined the Star Magic family. This roster includes young artists Jake Ejericto, Zabel Lamberth, Paolo Gumabao, Migo Manikan, Sela, and Kaila Estrada
"We dream to grow bigger and go global. To see our artists perform alongside the best artists in the world is what we will strive to achieve." These are words from Star Magic and ABS-CBN entertainment production head Laurenti M. Dyogi during the Star Magic Black Pen Day held last Saturday, June 19.
And Direk Lauren truly meant it when he talked about wanting to make the Star Magic family bigger. The country's premier talent management agency is already nurturing hundreds of stars, but in the ever-changing entertainment landscape, there is certainly room for more and new talents. At the historic Star Magic Black Pen Day contract signing event, Star Magic welcomed over 40 artists into the ABS-CBN family.
Stellar and promising, the lineup of artists that were launched gives a peek into what the future of local showbiz could be like and who has the flair of taking this local edge to the global stage.
To celebrate this milestone, Metro.Style collaborated with Star Magic for a special photo shoot, featuring some of these newly-signed artists who range from established stars to fast-rising talents.
Taking cues from Star Magic's "Black Pen" concept, we conceptualized a fairy tale-like story book-themed photo shoot for these artists, as they write and turn the page to the next chapter of their lives—one in which their dreams are bound to turn into reality.
Below, check out the new artists who are included in the Part 2 of our Metro.Style x Star Magic Black Pen Day special feature: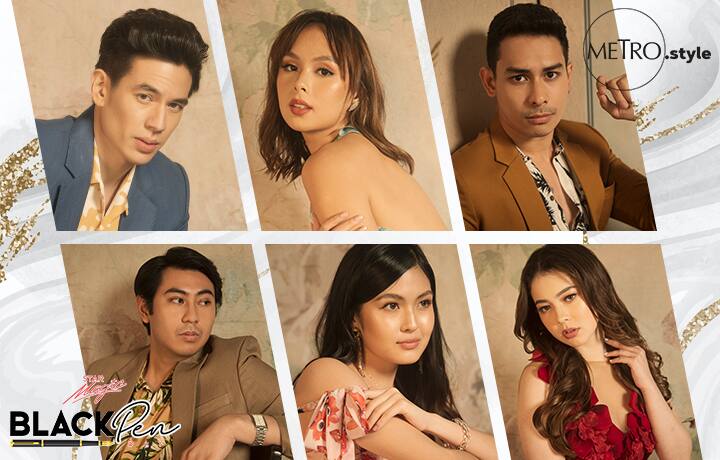 Metro.Style x Star Magic Black Pen Day - Batch 2
ZABEL LAMBERTH
It took several years of going to countless auditions, joining TV shows, and attending several workshops before fresh-faced beauty Zabel Lamberth finally landed a coveted spot in Star Magic's roster of talents.
The idea of joining show business came to Zabel when she was 16. That was when she decided she was going to pursue this profession, hopping from one opportunity to the next, grabbing every experience she could. She went from modeling to taking on small roles and appearances on TV and online programs. "It wasn't easy for sure, but I was determined and never gave up on pursuing my dream," Zabel says. "Now, my adventure begins!"
Now that she's a Star Magic artist, Zabel is continuously inspired by her favorite local artists: Anne Curtis-Smith, Judy Ann Santos-Agoncillo, Maricel Soriano, and Ian Veneracion. She shared her wish to work with them as well in her future projects. Given the opportunity, she would also like to portray a role in Asia's longest-running drama anthology Maalaala Mo Kaya (MMK).
But acting isn't the only thing she hopes to excel in. "I wish to improve my singing and dancing skills," Zabel points out. "I consider myself a good communicator, but I'm always open for improvements."
Her preparations for her debut with Star Magic coincided with the COVID-caused lockdowns, so Zabel made sure to make the most of that time to improve herself and discover new hobbies at the same time. These days, this Baguio native enjoys some quality time with her family while honing her cooking and baking skills that she learned from her grandmother. Doing DIY photoshoots for online content and watching movies and K-dramas also kept her busy during the pandemic.
Despite the limitations that come with the current times, Zabel tries her best to never have a dull moment while still acknowledging the realities of life at the moment. "There is still so much to learn and do," she says. "I believe that God makes things happen for a reason, even if I don't understand it at the moment. So, instead of complaining, I trust Him and count my blessings, looking forward to a brighter and better tomorrow."
Zabel does miss a lot about life pre-pandemic, but this BA Communication Arts freshman chooses to be optimistic instead. "Appreciating and recognizing the good that comes with the new normal helped me improve in so many ways, and I've also learned new things I didn't know before," she happily ends.—Mariel Abanes
PAOLO GUMABAO
Life is what you make it—even when others don't agree.
"I started out sneaking out of our old place to go to auditions because my parents didn't approve of me entering showbiz," Paulo starts.
In the beginning, all there was for this 26-year-old was sports and the odd casting here and there, but even so, neither was enough to satisfy his dreams of acting for the screen.
"I never hesitated to enter showbiz because it was something I can see myself doing in the long run. Although there was pressure, my passion for the craft was stronger than any negative thoughts from other people," he continues.
Even with two step-siblings in the limelight—model/actor Marco Gumabao and former university volleyball player/beauty queen Michele Gumabao—Paolo is intent on making a name that's all his own and built on his hard work.
Those in the know of the local entertainment scene might remember Paolo from 2016's teen-centric show Oh My G!, his first-ever onscreen project. The experience proved to be an effective way to whet his appetite; after his guest role on the show, he knew he wanted to do more, and that the next time he was going to appear onscreen, it would be as a leading man.
"If I were to choose a project to do, it would be an action drama serye," Paolo says. He hopes to star alongside award-winning stars like Angel Locsin, Nora Aunor, and Arjo Atayde one day.
"Being [part] of [the] Star Magic family has always been a dream of mine. Being alongside the best actors and actresses in our country is any newcomer's goal," he shares. Aside from acting, Paolo has singing in mind, too.
For now, he's concentrating on getting his head in the game. The real work is yet to begin and, to prepare, he's focused on strengthening both his mind and body.—Sara de los Reyes
KAILA ESTRADA
For the children who decide to follow in their parents' footsteps, the journey ahead can be a daunting one. But with talent, skill, and dedication, it can reap rewards even early along the way.
The daughter of seasoned actors Janice de Belen and John Estrada, Kaila Estrada is already a multihyphenate at the age of 25. Since graduating from De La Salle-College of Saint Benilde in 2017, she has pursued modeling, digital content creation, and acting.
"I'm very grateful and very excited to be taken under their wing," Kaila says, now a bonafide Star Magic talent. She recognizes the pressure that comes with being the child of renowned parents, but she's self-assured enough to know what she's capable of—excellence—and to know where exactly the pressure is coming from.
"There is a bit of pressure there," Kaila tells Metro.Style, "but I really believe that it's pressure that I put on myself because I want to do well and be just as good as them. One day I hope to be recognized for who I am and what I can bring to the table."
Now that she's begun to make a mark for herself in the industry, Kaila knows, still, the importance of self-improvement and an unquenching thirst for learning. "I definitely want to grow and improve on my acting skills and reach my full potential as an actress," she says, "but if given the chance I'd like to be able to improve on singing and hosting as well."
"Growing up," Kaila says, "I just wanted to pursue different things and try out anything I set my mind to and figure out my passion. It's not that I was hesitant but it was more that I decided I wanted to explore acting very recently and because I really enjoy it I decided to pursue it."
And now, here she is, on the road to achieving all her dreams, on the road to discovering who she is and what she can impart to the public on her own merits.—Renee Nuevo
MIGO MANIKAN
When Migo Manikan was seven, his mother, seasoned actress Susan Africa, brought him to the set of Krystala. At the time, acting was nothing more than a second thought to him.
"That was the first time for me to experience being on the set and I just had fun meeting the other actors and seeing new things," Migo shares. "From there, I was accompanying both my parents to different sets if there was no conflict in schedule. Throughout the whole time, I was just there as a PA and not really minding the showbiz aspect of that kind of work. I was there just to have a change of scenery."
In 2015, he discovered his love for acting after attending a PETA (Philippine Educational Theater Association) workshop, which began as a way for him to step out of his comfort zone.
"My sister was the one who really wanted to join the workshop and my mother had this idea of putting me there also to help me come out of my shell. During the workshop, I had fun doing all these different activities that helped me tap into my deeper self," Migo says.
"When we performed the final presentation," he continues, "both my parents were there to watch. When we finished and went to them, to my surprise, my father told me that I had potential. I was really shocked because my father is not someone who is easily impressed. This moment was probably the spark that started my wanting to become a performer."
Migo's father, the veteran actor Spanky Manikan, who passed away in 2018, holds a great deal of influence on the young actor: "The point that finally sealed the deal with me wanting to be an actor was one of those visits to the hospital when he was already bedridden. My mother was talking with him about messages he would like to leave for his children and he said to me: My youngest is a late bloomer, but when he blooms, watch out, world. He also told me that I was going to follow in his footsteps."
He felt the pressure, of course, but his uncle gave him unforgettable advice: "Migo," he said, "the shadows of your parents will be very big; don't fight them. Instead, ride with it."
Now signed with Star Magic, there's no doubt that Migo is on his way to making his parents even prouder.—Renee Nuevo
SELA
"My greatest strength, I believe, is my determination," Sela begins. "I constantly remind myself that I am my toughest competitor. I need to get stronger every day in order to improve on yesterday's performance," she continues.
At 21 years old, singer and aspiring actress Sela exhibits the kind of resolve not always seen in a new generation of stars. Perhaps she has experience to thank; she might still be in the baby stages of her acting career, but she's no stranger to the stage.
P-Pop enthusiasts will also remember her three-year stint with girl group MNL48 where she got her first taste of celebrityhood.
As she transitioned to her 20s, her gaze shifted to another arm of the entertainment industry, and with Toni Gonzaga as her ultimate idol and after active participation in a Star Magic workshop, here Sela is, ready to steer her life's path towards where she feels is the right direction.
It's a lot to handle for an honor student walking the tightrope of academics and a career, but all of it is just a testament to how much Sela wants to achieve.
As she continues to work towards earning her bachelor's degree in tourism, she doesn't forget about things that make her happy, too—family time with her dad and her brother, martial arts, and travel (Switzerland and Japan are on the top of her list of places to visit).
"The entertainment industry is a large place, and it's clear that there are a lot of people who are more talented, [prettier, and funnier] than me. But that doesn't stop me from pursuing my dream because I don't consider this a contest. All of us here want to attain our objectives, and I want to see us succeed," Sela opens up.
She adds, "In terms of portraying a part in a film, program, or series, I am quite open to trying anything. However, in the near future, having an antagonist with a dramatic role is my ideal project."—Sara de los Reyes
JAKE EJERCITO
This may seem like an obvious path to take for Jake Ejercito. The showbiz royalty has always had the spotlight following him, after all. With both parents, former Philippine President Joseph Estrada and actress Laarni Enriquez, inspiring him to one day reach for the stars like they did, the newest Kapamilya just knew in his heart that this is where he belongs.
"My older sister [Jerika] and I always wanted to follow in their footsteps as kids," the 31-year-old begins. But instead of pursuing the craft right away, they were encouraged to prioritize their education first. Busy with school work and other extracurriculars, it came to a point where Jake had actually forgotten his childhood dream.
However, fate has its way of bringing you back to where you should be. The then-university student was tapped to play a guest role in a reality series of a noontime show, and since then, Jake realized that working in show business is his true calling.
Of course, entering the entertainment industry comes with certain expectations whether you're showbiz royalty or not. "Being associated with my parents and relatives will always have its advantages," he points out. "On the other hand, given that my dad was a five-time FAMAS Best Actor awardee and the first FAMAS Hall of Famer, and that my mom also made an impact on television, I guess there's a certain expectation to somehow do as well or even just half as well."
There's pressure, yes. But since he's 100 percent sure that acting is something he wants to dabble in and one day be well known for, he's very much up for the challenge of taking his chances in this industry. When asked if there's a local celebrity he wishes to work with for a future project, he didn't mention a particular name; rather, he prefers to collaborate with "artists who could impart to me the valuable techniques and cherished lessons of the craft."
As part of the country's prestigious talent management, Jake looks forward to improving in the acting and hosting departments. He has an upcoming teleserye Marry Me, Marry You, wherein he stars alongside Paulo Avelino, Sunshine Dizon, and Janine Gutierrez.
Aside from focusing on improving himself as an artist, Jake also dedicates much of his time bonding with his daughter Ellie whom he spent so much time with under lockdown. "My creativity was put to task as I had to come up with different home activities to save ourselves from getting cabin fever. We baked, played badminton and Monopoly, and I tried to brainwash her into liking The Beatles, Michael Jackson, and the Lakers. I also taught her the importance of empathy as we donated PPEs to our frontliners during the early weeks of the pandemic," Jake shares.
This real-life role as a dad is a bottomless source of inspiration and motivation for Jake, one that will undoubtedly help push him to do more and be better each and every day.—Mariel Abanes
Check out the Part 1 of the #MetroStyleXStarMagicBlackPenDay special feature here.
Visit Metro.Style again for more exclusive content on the Star Magic Black Pen Day event, soon!
Produced by Geolette Esguerra and Grace Libero-Cruz
Photography by Ria Regino
Creative direction and additional set styling by Chookie Cruz
Production design by Aren Santos of AdSet Prod
Fashion styling by Aldrin Ramos, assisted by Katrina Pascual and Corina Teodoro
Additional fashion styling by Maita Baello of Qurator (Jake) and Rain Dagala & Em Millan (Kaila)
Shoot coordination: Cara Tirona
Shoot assistants: Hipolito Gangani, Reymark Batuigas, Elmer Arda, Erwin Arda, Edgar Fernandez, Wolfredo Morales, and Alexander Hanpayan
Special thanks to Star Magic managers and road managers (Ezra Garovillas, Dianne dela Cruz, MJ Araracap, Cham Magsaysay, Nenette Rustia, Cris Tapang, and Joy Lomibao), Thess Gubi, and Laurenti Dyogi