EXCLUSIVE: Conversations With Newly-Signed Star Magic Artists Angeline, Gian, Alyssa, Moira, Poppert, And Sandino
Star Magic's "Black Pen Day" shone the spotlight on over 40 newly-signed artists, including both established and rising actors and singers like Angeline Quinto, Gian Magdangal, Alyssa Muhlach, Moira Lacambra, Poppert Bernadas, and Sandino Martin
From local to global一that is the goal of Star Magic, the country's premier talent management, as it welcomes more talents into its family.
At their historic Star Magic Black Pen Day last June 19, they signed over 40 artists who make up a versatile lineup of talented actors, singers, dancers, and hosts. Star Magic knows that with proper training and guidance as well as the right projects, these artists have what it takes to make waves even abroad, to shine the spotlight on true Filipino artistry.
"We dream to grow bigger and go global. To see our artists perform alongside the best artists in the world is what we will strive to achieve. Star Magic will also start creating content that will entertain, inform, and educate our audience locally and globally," said Star Magic and ABS-CBN entertainment production head Laurenti M. Dyogi.
Metro.Style joins Star Magic in welcoming and (re)introducing these newly-signed artists through a special photo shoot that took cues from their "Black Pen" concept.
Just like how signing with Star Magic feels like a dream come true for them, we envisioned a dreamy, fairy tale-like, story book-themed photo shoot for these artists. It symbolizes the new chapter of their lives, and how they're about to write or rewrite their careers' narratives from hereon with some of the best in the local entertainment scene mentoring them every step of the way.
Below, get to know both established and rising actors and singers who are included in the Part 3 of our Metro.Style x Star Magic Black Pen Day special feature: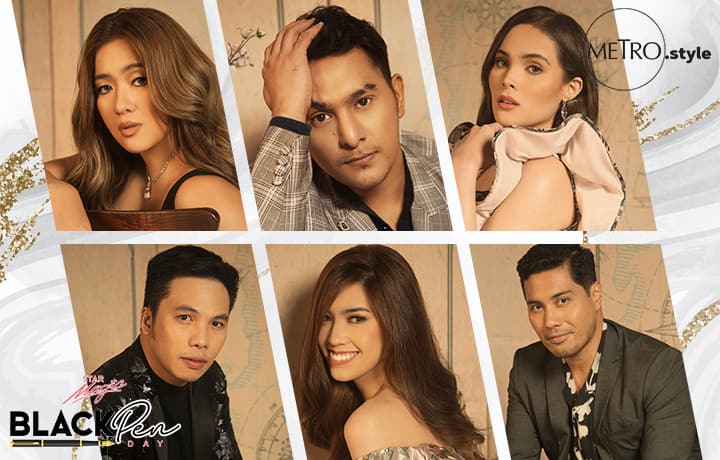 Metro.Style x Star Magic Black Pen Day - Batch 3
ANGELINE QUINTO
Even queens need breaks. But when they return, they're stronger than ever.
"Birit Queen" Angeline Quinto celebrates her first decade in showbiz this year. Fans of hers will remember that day she appeared onstage in a green gown, destined to win in singing reality show Star Power: Sharon's Search for the Next Female Pop Superstar. The girl who shared dreams of fame with millions of others transformed the moment she was handed a mic and notes flowed from her as effortlessly as a hummingbird hovering in midair.
She tears up most times she's asked about that time in her life. She won the show, the rest became history, but what awaited her was an uphill climb. Family struggles were constantly in the background for Angeline, but they laced her soul with inspiration.
On her 10th anniversary in the music industry, much has changed, but her heart made of steel remains the same.
"Technically, hindi naman po ako bago sa Star Magic. Nagkataon lang na nagpaalam lang ako sandali. But I'm home," Angeline tells us. "Sa lahat ng challenges na pinagdaanan ko since 2020, nanatili akong puno ng pag-asa. At mas nacha-challenge ako na mapagtagumpayan ang lahat ng challenges na pinagdaanan ko," she reveals.
Aside from the global health crisis, major changes in showbiz brought on by the pandemic, and missing the "old normal," this time in her life also brought on a personal loss—the passing of her adoptive mother, Mama Bob, in November last year.
"Dapat kayanin," Angeline states.
As Angeline prepares for her comeback, she explores other things, too. Singing has been her world for so long that it was due that she allow herself growth in new directions.
"Last year, mostly sa bahay lang. May konting online bookings. This year, napasama ako sa Huwag Kang Mangamba… Nag-explore ng kaunti sa digital world, nag-YouTube. Nag-try ako magtayo ng small business, AQ Wings," she shares. Angeline sang the opening theme for teleserye Huwag Kang Mangamba which stars Andrea Brillantes, Seth Fedelin, Francine Garcia, and Kyle Echarri.
On top of everything, she's making it her goal this year to go back to school, too. When she imagines her future, she wants it to be one where she gets to work alongside the Gonzaga (Alex and Toni) sisters, Vice Ganda, Sarah Geronimo, Regine Velasquez-Alcasid, Sharon Cuneta, Ogie Alcasid, Martin Nievera, Gary Valenciano, Ryan Cayabyab, and Jose Mari Chan.—Sara de los Reyes
SANDINO MARTIN
"Acting is my craft," says Sandino Martin, "and my craft is my strength."
The actor is known to audiences and viewers for his work in theater and theater-adjacent roles like Bitoy Camacho in Ang Larawan, the film adaptation of the musical based on Nick Joaquin's A Portrait of the Artist as Filipino; Cris in Changing Partners alongside industry veterans Agot Isidro and Jojit Lorenzo; and Pilo in Himala, who in the original 1982 film was portrayed by character actor Pen Medina.
And he is no stranger to film or television roles either: in 2014, he starred in the independent film Esprit De Corps and has appeared in long-running shows and anthologies like Ang Probinsyano, Maalaala Mo Kaya, and Ipaglaban Mo!
Now officially signed with Star Magic, Sandino can't contain his happiness and excitement: "I am really happy to be part of a diverse group of talents," he says. "And quite excited too, as I know this can potentially open up a lot of possibilities and discoveries." He hopes to work with the crème de la crème of the local film industry, from John Lloyd Cruz to Charo Santos-Concio to Lav Diaz.
Sandino traces the beginnings of his passion for acting and his craft to his time at the University of the Philippines, where he studied theatre—alongside his contemporaries, JC Santos and JM de Guzman—and fell in love with the artform.
"Not just the glitz and glamour of it in particular," he explains, "but the craft and artistry aspect of it—the act of taking someone else's persona, character, identity, or situation and breathing life into it."
Even with his wealth of experience, Sandino knows there's still a lot to learn. Like the other artists newly-signed to Star Magic, self-improvement is an important part of the journey he's about to embark on. "I know that I still have a lot of things to learn, and that excites me," he tells Metro.Style. "I'm yet to become stronger!"
Wherever this takes him, whatever projects he may be blessed with in the future, Sandino is ready to accept them with open arms. "I actually do not know what will happen in the future," he says. "But I will always be grateful. Everything I will do, I'll give it my own touch, a different flavor."—Renee Nuevo
ALYSSA MUHLACH
There is an elite group of celebrity offspring in the Philippines—showbiz royalty, as they are called—who follow in the footsteps of their parents coming before them, hoping to prove themselves not as the child of so-and-so, but as their own person known for their own abilities and talents.
Alyssa Muhlach knows this.
The daughter of actress Almira Muhlach and former PBA cager Bong Alvarez, Alyssa has always had the makings of a star within her. "I have always loved singing since I was a little girl," she says, "but my mom had a rule that before I can join showbiz, I needed to graduate from college first."
And so Alyssa did: in 2016, she graduated from the University of Asia and the Pacific with a degree in Integrated Marketing Communications, proving that she boasts beauty and brains, alongside her talents in acting and singing.
Since then, she has joined Miss World Philippines 2018 and appeared in several television shows and films: Pamilya Ko, her first acting job that she will "always be thankful for," Clarita, and Hellcome Home. In future projects, she hopes to record and release an album and act in a romantic comedy, whether on film or TV. "That has always been my dream," Alyssa shares.
She's no stranger to the advantages—and disadvantages—of being the daughter of famous parents. "Yes, of course, it comes with so much pressure, but I think that it's also a good motivator to always push myself to give my all and do my best," Alyssa tells Metro.Style.
"It does have its advantages and disadvantages," she continues. "The advantages include growing up with relatives who can give me advice about acting and the importance of having a good work ethic. On the other hand, the disadvantage is the pressure that comes with having to constantly prove that I deserve to be in showbiz, not because of my last name but because of my hard work, dedication, and talents."
As a Star Magic artist, more doors are surely going to open for Alyssa, and we can hardly wait to see this star shine bright. "I am truly so grateful to be part of the Star Magic family," she says. "I am so excited to take this next big step to explore more opportunities, wherein I will get to work with new people and I can grow more as an artist."—Renee Nuevo
POPPERT BERNADAS
"Welcome to Star Magic family"—these are words actor/singer Poppert Bernadas never imagined he'd ever be told. He was happy and content with the achievements he has made so far in the entertainment industry, but never in his wildest dreams did it occur to him that he'd be blessed with an opportunity of this level. When he had a meeting with Star Magic head Laurenti Dyogi to formalize the offer to include him in their roster of talents, Poppert was overwhelmed with joy and enthusiasm. "Grabe 'yung kilig ko," he tells us.
Star Magic values talent and versatility, and Poppert has those and then some. His relentless passion for music and acting makes him deserving of this wonderful opportunity. And Poppert's mentors can vouch for what a gem of an artist he truly is. He's been trained and pushed to excel by the likes of National Artist Ryan Cayabyab (Poppert is a longtime member of The Ryan Cayabyab Singers), Popstar Royalty Sarah Geronimo (she was his coach at The Voice of the Philippines), and award-winning actor/singer/songwriter Ogie Alcasid (he's co-managed by Ogie's A-Team).
The most recent proof of how much art and heart he puts into his work is the series of songs that are like his love letters for his mother Cristina who passed away due to complications from diabetes in 2018. This collection includes his debut solo single, "Payakap, Inay," under Star Music (which was released in time for Mother's Day this year); "Mama Ko," done in collaboration with Mr. Ryan Cayabyab; and another one coming up with the help of Jungee Marcelo.
His mother may be gone, but her memories will remain with Poppert forever and continue to inspire him. Though he has a solid experience in acting, he considers singing to be his strength, and that's because his mother always believed in this talent of his and was his number one fan. "I always offer my performances to my Mama, and when she was still alive, every time I go home in my hometown, lagi niya ako pinapakanta sa bahay kahit kaming dalawa lang."
Poppert would've made his mother prouder, because he's not only carving a niche in the local entertainment scene as a singer, he has a huge potential as an actor, too. He has a theater background with "Rak of Aegis" and teleserye experiences with 2019's Starla (which starred Judy Ann Santos-Agoncillo) and Ang Sa Iyo ay Akin season 2 (which starred Iza Calzado, Jodi Sta. Maria, Sam Milby, and Maricel Soriano), but he hopes to hone his acting chops further through more TV shows. "I've been acting on stage for 10 years now, pero iba kasi sa TV," Poppert points out.
He's excited to get more work done as a Star Magic artist. He has his eyes set on the possibility of collaborating with some of the best OPM artists like Martin Nievera, Regine Velasquez-Alcasid, Sarah Geronimo, Darren Espanto, and KZ Tandingan, and maybe even get the chance to be part of Sunday noontime musical variety show ASAP to perform alongside local music icons.
Poppert dreams of working with actors Joshua Garcia and Jericho Rosales, too, whether in a teleserye or a movie. In the meantime, followers of Poppert can show him some love and shower him with virtual gifts on the livestreaming app Kumu, another platform where he gets to share his passion for music.—Grace Libero-Cruz
GIAN MAGDANGAL
There will never be a place like home if you're a true blue Filipino. Gian Magdangal, who was originally a stage actor and singer, has tried his hand in all sorts of platforms.
"I was fortunate to be a runner-up of a prestigious singing contest back in 2006… Since then, I worked with a network on a Sunday noontime variety show for seven years, portrayed roles in different teleseryes, produced music with record labels, worked in international theme parks abroad [in] Hong Kong and Japan," he says.
But even with his plethora of experiences, Gian still made the decision to return to the Philippines where he has always felt he can be his best as both a performer and creator. We'll see more of Gian onscreen soon enough; he's a newly-signed member of Star Magic x Ogie Alcasid's A-Team artists, but we'll also get a taste of his work behind the scenes.
"I just recently came back home to pursue doing what I love: producing original music, being in hit musicals and acting for television and film," Gian shares.
The pandemic has only made him more creative. Rather than be constrained by quarantine restrictions, he has allowed himself to be remolded by current circumstances and create music like he never has before. Just as his day to day has adapted to life as we know it now, so has his output and what his fans can expect from him.
Now that he's officially back in the Philippines, he's dreaming big.
Actresses Jodi Sta. Maria, Iza Calzado, and Judy Ann Santos-Agoncillo are a few he'd like to work with, and director Erik Matti, too, for him to be able to expand his knowledge on filmmaking. Should Gian be cast in a film or a series in the coming months, he hopes to play a lead role and tell a story that's equal parts compelling and relevant.
Before work gets moving for Gian, he's filling his days with a good amount of swimming, biking, and cooking, plus time with the family as well. Reflecting on what he has now and what has yet to come, he says, "I'm so grateful to be alive, healthy and working."—Sara de los Reyes
MOIRA LACAMBRA
The pandemic has affected people's lives in so many different ways. For performers especially, who earn and find fulfillment from entertaining audiences in concerts and similar events, it has been a huge struggle and challenge to stay productive during this time when face-to-face interactions are limited. But for many of them, they let creativity and resourcefulness guide their next course of action: conquer the online world.
Moira Lacambra has been performing at mall shows since she was 13. Inspired by the achievements of her uncle, singer-songwriter Joey Ayala, Moira was also encouraged by her mother to sign up for formal voice training, to pursue her love for music that's been brewing all along.
She was tapped to perform in concerts and events, and do front act stints. At 16, she got her first break after meeting Marcus Davis, the songwriter-producer of her first single "First Date" that was later released under Ivory Music & Video Philippines.
Now, Moira can be considered a digital star who has a growing following on popular platforms Kumu and TikTok. Last year, she experienced performing in a virtual concert when she joined the "Virtually Yours, the Kilabotitos" online event with her manager at A-Team, Ogie Alcasid, and Ian Veneracion. She's also been active doing Kumu livestreams of her own ever since she was introduced to this fun community of "Kumunizens" who are ready to listen to her music and musings any time of the day.
TikTok was also a hit during the pandemic, and you can find Moira there, acting, dubbing, and dancing for all her 138,000+ followers to see. Instagram? YouTube? Yep, she's there too, and working on more content to upload for her followers and subscribers. She's also a gamer, and cites "Call of Duty: Mobile" as her favorite.
There's no doubt that, while nothing can replace the experience of performing for a crowd and hearing and seeing them cheer you on, Moira enjoys the digital stage and space and thrives in it.
Still, she makes sure to balance the time she devotes online with moments she spends offline with her loved ones and with herself. Reflecting on her music is therapeutic for her. "I like to make music… I am working on my next single and hopefully I can release it in the coming months," Moira shares, adding that it's her dream to work with Sarah Geronimo and KZ Tandingan.
Moira deserves a pat on the back, too, for successfully juggling her studies and her work commitments; one thing that she's proud to have achieved during the pandemic is graduating from college at St. Paul University Quezon City with a degree in Bachelor of Science in Business Administration major in Marketing Management. And blessings for Moira just kept pouring in, as she just joined the growing family of Star Magic. She says, "I really feel beyond grateful and honored. It's truly a blessing to be signed with a respectable and huge management amidst this pandemic."—Grace Libero-Cruz
Check out our #MetroStyleXStarMagicBlackPenDay special features below:
Visit Metro.Style again for more exclusive content on the Star Magic Black Pen Day event, soon!
Produced by Geolette Esguerra and Grace Libero-Cruz
Photography by Ria Regino
Creative direction and additional set styling by Chookie Cruz
Production design by Aren Santos of AdSet Prod
Fashion styling by Aldrin Ramos, assisted by Katrina Pascual and Corina Teodoro
Additional fashion styling by Bang Pineda (Angeline), Drew Lacia (Sandino), and Style It PH's Francis Chee and Vhee Co (Alyssa)
Shoot coordination: Cara Tirona
Shoot assistants: Hipolito Gangani, Reymark Batuigas, Elmer Arda, Erwin Arda, Edgar Fernandez, Wolfredo Morales, and Alexander Hanpayan
Special thanks to Star Magic managers and road managers (Moises Nuevo, Shobe Pateña, MJ Araracap, Cham Magsaysay, Nhila Mallari, and Gidget dela Cuesta), Thess Gubi, and Laurenti Dyogi