EXCLUSIVE: All About Music And Artistry With Star Magic's Sab, Recio, Sheena, JM, Matty, Enzo, Lucas, And Janine
Star Magic has a versatile lineup of newly-signed artists who were welcomed into this family at the recent "Black Pen Day" event. Here, read about talented singers and total performers Sab, Recio, Sheena Belarmino, JM Yosures, Matty Juniosa, Enzo Almario, Lucas Garcia, and Janine Berdin
From local to global一that is the goal of Star Magic, the country's premier talent management, as it welcomes more talents into its family.
At their historic Star Magic Black Pen Day last June 19, they signed over 40 artists who make up a versatile lineup of talented actors, singers, dancers, and hosts. Star Magic knows that with proper training and guidance as well as the right projects, these artists have what it takes to make waves even abroad, to shine the spotlight on true Filipino artistry.
"We dream to grow bigger and go global. To see our artists perform alongside the best artists in the world is what we will strive to achieve. Star Magic will also start creating content that will entertain, inform, and educate our audience locally and globally," said Star Magic and ABS-CBN entertainment production head Laurenti M. Dyogi.
Metro.Style joins Star Magic in welcoming and (re)introducing these newly-signed artists through a special photo shoot that took cues from their "Black Pen" concept.
Just like how signing with Star Magic feels like a dream come true for them, we envisioned a dreamy, fairy tale-like, story book-themed photo shoot for these artists. It symbolizes the new chapter of their lives, and how they're about to write or rewrite their careers' narratives from hereon with some of the best in the local entertainment scene mentoring them every step of the way.
Below, meet eight of Star Magic's talented singers who are included in the Part 4 of our Metro.Style x Star Magic Black Pen Day special feature: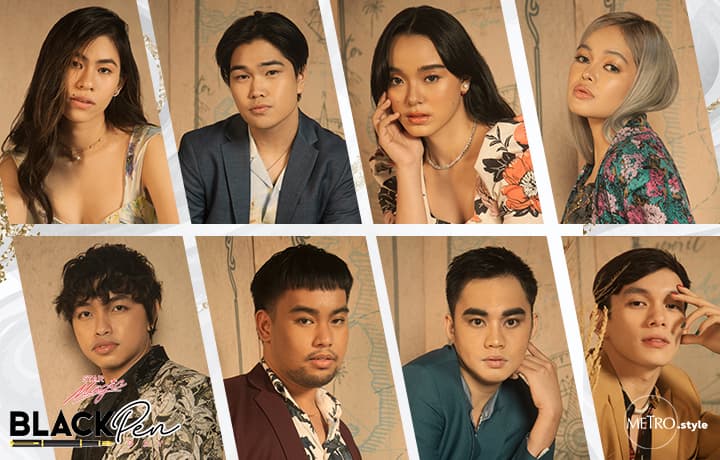 Metro.Style x Star Magic Black Pen Day - Batch 4
SWIPE LEFT OR RIGHT
TO NAVIGATE BETWEEN PAGES
SHEENA BELARMINO
Some of what Sheena Belarmino does is pretty typical.
For most of quarantine, this 15-year-old eighth grader sits at her desk to study, complete homework, take exams, recite, make the grade. But like we said, that's only some of what she does, a tiny part of Sheena's expanding world. The rest of what goes on in her teenage life is much, much more colorful.
It all started five years ago. We saw Sheena on the Dance Kids stage where G-Force's Teacher Georcelle and former Streetboys dancer Vhong Navarro became her earliest celebrity fans. And while she didn't make it to the championship round, it didn't matter—it was a pilot test, a test run of what was to come.
Jump to 2017, and Sheena is showing off a talent of a totally new shade. She's singing on It's Showtime's "Tawag ng Tanghalan," where her rendition of Demi Lovato's "Stone Cold" at the semifinals earned her a standing ovation among the judges. First place eluded her yet again, but she was fine. She kept her cool, and her patience, too.
2018 came and it was another step up for Sheena. This time, she was on the It's Showtime stage, belting out a poppy Christmas carol for the noontime show's millions of viewers to see. She was in front of the judges and cameras, too, at Your Face Sounds Familiar where she memorably transformed into Sarah Geronimo and performed "Tala" (the YouTube video of that performance has reached more than 9.8 million views, as of this writing). Even so, making it to the top spot still wasn't in the stars for her.
At a time when most singer-dancer hopefuls might have canned their plans of working towards superstardom, Sheena only gained speed. She never gave up, knowing she would make her grand entrance into the world of showbiz. It just had to be at the right time, under the right circumstances.
By 2020, Sheena became a regular performer on ASAP's live shows. It was the ultimate prize that was four years in the making, that is, until something much grander came in 2021.
With much perseverance and an inextinguishable flame, Sheena was signed as an official Star Magic artist. It's so far from where she started, but it's what she always knew she was working towards.
She dreams of releasing an album and working alongside artists she once just listened to or met as judges, of finally receiving the training to bring out the magic in her.
"I'll hone my performing skills more, and that includes singing while dancing," Sheena says. "I'm very glad that I got to be part of the Star Magic family."—Sara de los Reyes
RECIO
When it comes to creating music—creating art—Recio always goes for authenticity, for honesty. "I always make it a point to be honest with my music and myself," he says. "I think this really helps me self-reflect and write music to express my emotions."
After first releasing music last year with his EP "Music For Your Valentine," Recio has since signed onto Star Magic, and it's left him feeling "quite humbled, grateful, and inspired." Now, he says, he has more opportunities, and there is nothing but excitement in him.
Recio tells Metro.Style, "I'm excited to share who I am through my music with the rest of the world. I believe I have a message in my music that's relevant; and if it helped me, I'm hoping it can also help and inspire others."
The musician, who is currently studying Psychology, finds it a natural part of him to entertain others. "At the same time, I grew up quite shy about my music and my art," he says. "So I began writing music and sharing it with a few close friends. Over time, thanks to the support of my friends and family, my confidence grew and that allowed me to share my music with the rest of the world."
And it paid off.
During quarantine, he focused on honing his craft, as self-improvement is also something that is important to him. "I always made it a point to explore and practice when I can," he shares. "I'd spend a few hours making beats, then another hour playing guitar and piano, and finishing all that by practicing music by other musicians."
Recio, who is also an artist under Star Music, would love to one day work with varied people in the industry, from established greats like Rico Blanco, to upcoming rappers like Waiian. He also has new projects and music with 1108 Collective, a music collective he founded as a way to provide a platform for artists around Katipunan Avenue, Quezon City.
The world is slowly going back to the way it was, or at least it is trying to be, and the new normal is upon us more than ever. Recio reflects on this, and says: "Right now, I think I'm doing alright for myself. There have been many shifts in my routine but not as difficult as during the beginning. I look for ways to keep myself busy. And I'm glad I have my music to focus on right now."
And we're glad to have his music—and everything else he has in store for us, too.—Renee Nuevo
SAB
Those that subscribe to the idea that business-mindedness and creativity can't be possessed at the same time have yet to meet Sab—and oh boy is she out to prove them all wrong.
Her many talents and interests coexist within her, making her a prime example of a 21st century artist; she's neither just this nor just that, and instead, she's devoting her youthful energy to pursuing everything that makes her happy, and everything that makes her whole.
"I'm aiming to hone my talents in songwriting, music production, and singing. I feel like if I improve on each of these things, I can open up myself to more opportunities in the industry," she states.
"Aside from music being my main interest, I'm really into drawing buildings, reading books, and playing tennis. I enjoy looking at architecture designs actually, sometimes I try to copy them—emphasis on try," she jokes.
All of this is on top of her responsibilities as a first year Business Management major and a loving family member and best friend whose greatest strength is her deep empathy for others.
On days when she gets a little breather (read: when she's not solving accounting problem sets or transforming her thoughts into lyrics and melodies), her new reality hits her like a tidal wave.
She's gone leaps and bounds, when you learn about how she got started in the industry. At 15, she found herself a tough audience composed of music execs and producers who she needed to impress with just one shot. She was at a Star Music audition and all she had to arm herself with were her ukulele and an original song penned by the heart of a teenager full of hope and aspirations. It was titled "She."
It went on to become her official debut single, and the start of so many good things to come.
If all goes well, this Star Magic and Star Music artist sees herself collaborating with her favorite Filipino artists and contemporaries including Trisha Denise, JMKO, Kyle Echarri, Angela Ken, Lian Kyla, Jayda Avanzado, and I Belong to the Zoo.
"I'm guessing they liked it because I'm here now," she smiles.—Sara de los Reyes
JM YOSURES
Great things are bound to happen for JM Yosures. After emerging as the grand champion in the fourth season of It's Showtime's "Tawag ng Tanghalan" (TNT), his voice will now be heard by more people as he's been included in Star Magic's new roster of singers.
"It feels unreal!" the artist exclaims when asked about signing with the talent management. "I knew I had a talent for singing, but I never thought that it would bring me this special opportunity. I really hope I can contribute to the Star Magic family in bringing entertainment to our Kapamilyas around the world."
If he didn't muster the courage to audition in TNT during the pandemic, then JM wouldn't be where he is now. He knew it was better to take risks than be bothered by what ifs and what could've beens.
During the competition, JM made it a point to not waste the opportunity he's been given. Focus and hard work were what he was all about. Thanks to this self-discipline, this talented singer's efforts paid off. "Hindi ko inakala na tatagal ako sa competition, and eventually winning the entire thing!" he shares.
Where does he wish to go from here? The TNT champion said he wants to delve deeper into creating music. It's JM's dream to be cast in a musical series, considering how much he loves TV shows Glee and Dream High. Also on his bucket list are one-for-the-books collaborations with Sarah Geronimo and P-Pop boy group SB19.
But aside from music, he hopes that through the mentorship of Star Magic, he can also develop other talents that could help him become a total performer and a better artist overall. "I want to learn how to dance and try choreography, and to act and direct," he tells Metro.Style.
JM considers himself a perfectionist, and points this out as his main strength as an artist. Delivering quality work is always his goal, and this is one of the things that make him a perfect fit in Star Magic.
But JM isn't all about work. Work-life balance is tricky, but it isn't impossible at all to achieve. "I make sure that I spend quality time with my parents. I also try to be more active online so I can connect more with my friends, relatives, and supporters," JM says.
Taking breaks is very important, especially for the field he's in. His idea of a perfect relaxation and absolute stress buster? Watching K-dramas and movies, as well as reading up on stories about technology, politics, and science.—Mariel Abanes
JANINE BERDIN
Janine Berdin has a two-word answer to most of what life throws at her, be they lemons that need turning into lemonade or wins that deserve to be celebrated: "I sing."
It's what her heart has always known for as long as she can remember. "I have always loved singing and performing, and my family and friends have always been supportive. Before I joined 'Tawag ng Tanghalan' as a 15-year-old, I also joined the 2011 Star Circle Quest Kids edition when I was eight," she recalls.
She's got the soul of a creative, through and through. When Janine isn't singing (which is rare), you'll find her with her ukulele, reading a good book (Helena Fox's How It Feels to Float is her favorite), writing her own stories and poetry, or flexing her graphic design and video editing muscles when time permits.
Break time for her means getting to play her go-to online games, but come the time for a serious sit-down about her career, she is one hundred percent focused and invested. She knows can't reach the heights her music idols like KZ Tandingan, Ben&Ben, Yeng Constantino, Ebe Dancel, and Juan Karlos Band have without putting in the work.
"I have ways to go when it comes to music. I aspire to learn more about my voice, how to really make music, music theory—so many things—finding my real sound," the Star Magic artist shares.
Through the process, Janine has her authenticity to guide her. No matter where life takes her, she commits to herself, and to her fans, that who they see onstage and in front of the camera is the real Janine, no one else. She hopes her solo album will communicate exactly this.
Slowly, as the music industry gets back on its feet after more than a year of fighting the consequences of COVID-caused lockdowns, Janine, too, is recovering from the stresses of the pandemic. "We had no idea what to do, we had no certainty, had nothing to hold onto… Thankfully, I had my interests and music especially to help me get by," she reflects.
"I remind myself everyday that there is always light at the end of the tunnel. I talk to my family, to my friends, to God. I try to make as many people happy. I sing," she ends.—Sara de los Reyes
MATTY JUNIOSA
What do you need to make it in showbiz?
You could say rock solid grit, a whole lot of talent, and sure, maybe even having the right connections and knowing the right strings to pull.
Matty Juniosa says otherwise.
According to him, what you need to be a star, above all else, is authenticity.
"I think a lot of the things that I have in life are direct consequences of the previous choices I made based on what I truly feel inside as a person," he says. "I could easily jot down the skills that I've gained throughout the years but what allowed me to gain them is the confidence and belief that I had in me."
The importance of authenticity is something that Matty came to realize more and more the deeper his relationship with the performing arts got. As the De La Salle University alumnus completed his bachelor's degree in International Studies, he divided his time between academics and his life's biggest love. On one hand there was school, and on the other, there were concerts as a member of DLSU's Innersoul, theater, band gigs, and dreams of matching Queen B herself.
"I wish I was Beyoncé, basically," Matty jokes, as he's asked what talents of his he'd like to develop even more (vocal acrobatics and dancing, to be specific).
In terms of wanting to be a pro singer, this 20-something singer let the fantasy percolate. He's always been talented, but the urge to want to take things seriously came only in his teens. Come college and with the guidance he received from Innersoul's late director, Matty was sure where he wanted to invest his time and energy in.
"I made it my mission to realize [our late director's] belief that I would make it. I went on to audition for Star Hunt in 2018 and that started the journey of callbacks to where I am today," he explains. He is currently a member of the trio group iDolls that was formed in reality show Idol Philippines in 2019 (with him are Lucas Garcia and Enzo Almario).
In the middle of watching a ton of RuPaul, baking, hanging out with mom, and staying involved in advocacy work, Matty's future is being built. And by the looks of it, it's shining bright.—Sara de los Reyes
ENZO ALMARIO
iDolls member Enzo Almario is delighted to find a new home in Star Magic. "I am actually excited. To be part of Star Magic is something I have always wished for," he begins.
The singer, whose claim to fame was his stint as a contestant on reality show Idol Philippines back in 2019, actually started pursuing his passion for music at such a young age. He joined reality singing competitions as young as seven years old. And at 17, he tried out his luck in The Voice of the Philippines, but he didn't make the cut, and it just wasn't his time to shine yet.
But after Idol Philippines, Enzo joined forces with fellow aspiring artists Lucas Garcia and Matty Juniosa to form their musical trio called iDolls. This boosted the popularity of the three, and with their chemistry, they have since earned record deals as well as stints in ASAP and Your Face Sounds Familiar.
When the pandemic happened, Enzo branched out to performing for a virtual community. He discovered livestreaming app Kumu, and it helped this musician from getting stuck in a lockdown rut. "This somewhat helped my mental health, kasi I know that a lot of artists experience that urge na mag-perform nang mag-perform kasi it makes us alive," Enzo explains, adding that gaming, vlogging, and being a cat parent are also therapeutic for him.
There's no doubt about Enzo's talent in singing, but for him, learning must never stop. So, he considers joining Star Magic as part of his continuous learning process. He's also keen on improving his dancing, acting, and hosting skills. Enzo looks forward to the chance of working with young actresses Andrea Brillantes and Charlie Dizon, as well as sharing the stage with OPM icon Regine Velasquez-Alcasid.
Enzo didn't become an artist deserving to be under Star Magic overnight. It took years of hard work, perseverance, and passion for his craft to get to where he currently is and to gain wisdom that's critical for success.
For him, experience is indeed the best teacher. "If marami ka nang na-experience in life, it'll be easier for you to handle situations and, of course, the lesson that you got from what you've experienced talaga is the best teacher in the world. Diyan kasi mababasag 'yung mga ugaling mali or hindi dapat," Enzo says, clearly aware of how he must remain humble and grounded no matter where this new chapter of his life takes him.
While Enzo enjoys performing with an online audience, he hopes that the entertainment industry can soon go back to the way it was pre-pandemic. "Nasanay na rin ako to perform without an audience. Pero I am still hoping na makapag-perform soon like before, kasi iba 'yung binibigay na energy ng live audience," he shares, thrilled about what the near future holds.—Mariel Abanes
LUCAS GARCIA
"It will always be an honor to be part of this family," says iDolls member Lucas Garcia, when asked about how he feels that he is now part of Star Magic's illustrious roster of talents. "I'm looking forward to the projects that they will entrust to me, new opportunities and endeavors that might come my way through them."
Lucas, who is currently in his senior year of college, has had the makings of a star since day one. "I began singing when I was five. I am the product of amateur singing contests—or, in our native tongue, 'kontesero.' It paved the way for me to determine what kind of singer I want to be, my genre, and taste of music. It also served as my training ground, to hone my talent and craft as a singer." Lucas is known for his stint on reality show Idols Philippines that paved the way for the music trio iDolls to be formed alongside two other talented singers and the show's alums Matty Juniosa and Enzo Almario.
As an artist, Lucas' influences and dream collaborations are wide and varied: He'd love to work with Sarah Geronimo, Kyla, Angeline Quinto, Paulo Avelino, JC de Vera, Cherie Gil, Jean Garcia, Angelica Panganiban, and Angel Aquino, among others.
But it also matters to him to continuously move towards self-improvement. "In the near future, I hope to be blessed to work with a craft that I am not comfortable with," says Lucas. "Since you only learn when you're not in your comfort zone, I am willing to take on the challenge and explore my capacity as an artist."
Lucas is proud of his resilience, too. When Taal Volcano erupted early last year—he hails from Batangas, one of the hardest-hit areas by the eruption—he was moved by how much Filipinos, including himself, can withstand anything.
"We showed our strength and resilience," he says. "To recover from difficulties quickly and with a smile on our faces ready to face the next challenge in life. After which, the coronavirus pandemic that affected almost all Filipinos—emotionally, physically, mentally, and financially."
"And again, it showed our capacity to bounce back," he adds. "Months later in the pandemic when we lost our steady source of income, I did not falter but instead I quickly thought of ways to help my family to be able to recover and provide for our daily needs. Fast forward to today, here I am in awe with all the blessings showered upon us."—Renee Nuevo
Check out our #MetroStyleXStarMagicBlackPenDay special features below:
Visit Metro.Style again for more exclusive content on the Star Magic Black Pen Day event, soon!
Produced by Geolette Esguerra and Grace Libero-Cruz
Photography by Ria Regino
Creative direction and additional set styling by Chookie Cruz
Production design by Aren Santos of AdSet Prod
Fashion styling by Aldrin Ramos, assisted by Katrina Pascual and Corina Teodoro
Additional fashion styling by Mac Mendoza (Sheena), Yna Mendez (JM), and Ica Villanueva (Janine)
Shoot coordination: Cara Tirona
Shoot assistants: Hipolito Gangani, Reymark Batuigas, Elmer Arda, Erwin Arda, Edgar Fernandez, Wolfredo Morales, and Alexander Hanpayan
Special thanks to Star Magic managers and road managers (Debbye Mateo, Sharlene Opulencia, Marien Lopez, and Monch Novales), Thess Gubi, and Laurenti Dyogi