EXCLUSIVE: The Rise Of Star Magic Talents Jayda, Zach, Gigi, Shanaia, And JC
A new adventure awaits young Rise Artists Studio talents Jayda Avanzado, Zach Castañeda, Gigi de Lana, Shanaia Gomez, and JC Alcantara, as they signed with Star Magic
"My dream is to help fulfill the dreams of our artists. To attain their highest potential in their chosen craft and be responsible members of the entertainment community and of this nation," said Star Magic head and ABS-CBN entertainment production head Laurenti M. Dyogi at the recent "Star Magic Black Pen Day" contract signing event.
At the said historic event, the country's premier talent agency welcomed over 40 artists, ranging from established and rising actors, singers, dancers, and hosts. Star Magic is gearing up to foster and train local showbiz's next big stars through content that, Direk Lauren promises, "will entertain, inform, and educate our audience locally and globally."
Metro.Style joins Star Magic in welcoming and (re)introducing these newly-signed artists through a special photo shoot that took cues from their "Black Pen" concept.
Just like how signing with Star Magic feels like a dream come true for them, we envisioned a dreamy, fairy tale-like, story book-themed photo shoot for these artists. It symbolizes the new chapter of their lives, and how they're about to write or rewrite their careers' narratives from hereon with some of the best in the local entertainment scene mentoring them every step of the way.
Below, we talked to five young stars of Rise Artists Studio who are now Star Magic artists as well. Scroll down for the Part 5 of our Metro.Style x Star Magic Black Pen Day special feature: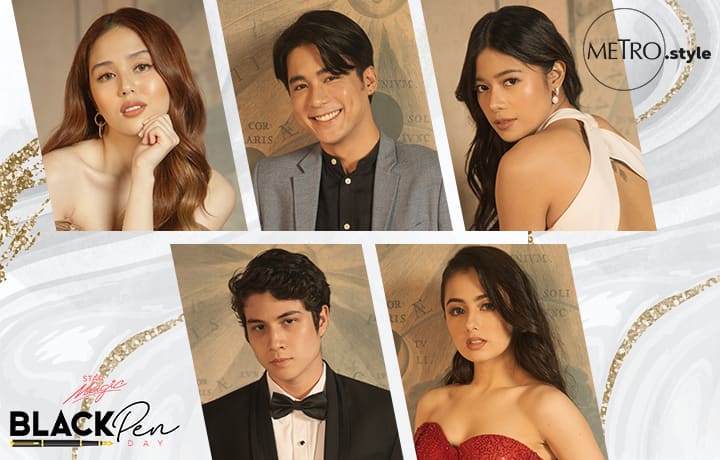 Metro.Style x Star Magic Black Pen Day - Batch 5
ZACH CASTAÑEDA
When people get asked how they're doing these days, it's pretty tough to answer. But for Zach Castañeda, the Rise Artists Studio talent who was recently signed by Star Magic, what he's feeling has become easier to define, thanks to the new opportunity he's been given.
"I am very good despite the pandemic," he tells us. "I've been waiting for this moment, so words can't describe how grateful I am to be part of the family, knowing that I'm ready for what's to come."
Zach started out as a commercial model, and because he has become a favorite in this department, he was dubbed as the "Prince of TV Commercials." He worked on TVCs while juggling his studies, and he continues to take on similar modeling stints. Currently, he is homeschooled, and is a 12th grader.
Now that he's a Star Magic artist, Zach is keen on developing his acting skills. He looks forward to opportunities to work with the likes of Arjo Atayde and James Reid in "a gritty type of film."
He may be a rookie actor, but that's also what makes him an exciting collaborator. Because Zach is eager to show what he can offer, fans and even industry insiders can rely on him to give his 101% effort even under pressure. "I want to show them what I can really do when I'm given a new role for a new show or movie," he says.
While waiting for a project he can pour his heart and soul into, Zach does a lot of things to improve himself physically, emotionally, and mentally. He's very disciplined when it comes to working out. "I love playing any sport since I consider myself a natural athlete," Zach shares.
He also wants to become a versatile artist, so he has taken it upon himself to take singing lessons (in case you haven't heard him sing yet, check out his version of Dan Ombao's "Muling Maramdaman" where he played the guitar too!).—Grace Libero-Cruz
JAYDA
"I'm over the moon," Jayda says when asked how she's feeling. In the space of a month, she turned 18, became a bonafide Metro.Style cover girl, released new music, signed with Star Magic, and held her first-ever solo concert.
It's the busiest she's been, she thinks, but don't get her wrong: "Being busy is a good thing," she exclaims.
The unica hija of OPM icons Jessa Zaragoza and Dingdong Avanzado, Jayda is no stranger to the world of Philippine entertainment and music. Having grown up touring North America with her singer parents, a love for the art came to her, naturally. But she needs to make it clear that her being in showbiz is a personal decision entirely hers.
"[My parents] never pushed me into it—in fact, if my mom had it her way she probably wouldn't have wanted me in showbiz because of its harsh nature at times—but they were always very encouraging when I showed a passion for performing, entertaining, and singing at an early age, plus later on for songwriting as well, at the age of 12," says Jayda.
As a songwriter and musician, Jayda believes this is her ultimate strength: "Communication is an integral part of me as an individual," she says, evident in the clear messages and themes of her music.
Jayda places importance on continuous self-improvement. "I'd really like to keep honing my singing and songwriting, of course," she says, "[as] I'm all about nonstop evolution as an artist. But other than that I wish to hone my abilities as a new director, for music videos, and of course, my acting as well. I'd really like to keep doing workshops to further improve and learn from!"
Jayda is eager to work with several names in the industry, from Aga Muhlach, Edward Barber, SB19, and one of her "favorite loveteams," LizQuen (Liza Soberano and Enrique Gil). "I look up to both of them as actors," Jayda explains, "they're so sincere in every performance they give."
Jayda is ready to enter the world of acting herself: "I would love to have my own movie, a romantic comedy or a musical (or a hybrid of both), where I'd star in!" Looking ahead, Jayda has many more projects in the pipeline—we can't wait!—Renee Nuevo
GIGI DE LANA
"It's been a long journey," Gigi de Lana tells Metro.Style. "After years of hard work, here I am now." By here, she means a coveted spot in the roster of Star Magic, the country's premier talent management. She recently joined this family, and she's expectedly overwhelmed with this new milestone.
Gigi is not really new in the entertainment scene. Thanks to her mom, who discovered early on her talent in singing and helped her nurture this potential, she's been trained to sing since the young age of five. "That's the time that we decided to join singing contests," she recalls. "I've been a grand finalist at Popstar Kids season 2. I've been through a lot of singing competitions on TV, and I was a grand finalist at It's Showtime's 'Tawag ng Tanghalan' season 1."
But things are about to get more eventful and exciting for this 25-year-old. There's a project in the works for Gigi that she can't reveal just yet, but all she can say for now is that "it's something big and new."
Could it be music- or acting-related? That's the thing with Gigi一she can sing, dance, and act, so the surprise up her sleeve soon and in the near future could have something to do with any of the above. She says, "I want to hone these talents, because even though we already know we have them, there's still room for us to grow."
Gigi hopes to one day reach a level that makes her worthy of performing alongside seasoned artists like Angel Locsin, Albert Martinez, Regine Velasquez-Alcasid, Ogie Alcasid, Kyla, and Gloc 9.
She may be done with school, but learning never stops for Gigi. She's constantly finding ways to improve herself and be productive, especially during these trying times. In the midst of a pandemic, she makes sure to look after her mental health as well. She allows herself to take a break when it's most needed, and she does this by binge-watching series and movies, reading, cooking, and playing with her cats. Live streaming and working on song covers not only exercise her creative muscles, they are also therapeutic for her.
The moment, though, that she gets to travel again, Gigi will be quick to head to Japan, France, or Israel. She wants to go all around the world. But while the world is healing, you can catch Gigi in her own corner in the digital space, thriving and making a name for herself.—Grace Libero-Cruz
SHANAIA GOMEZ
Half-Filipina Shanaia Gomez was born in Ireland, but she, her mother, and her sister moved to Canada when she was still a kid. They would visit the Philippines every so often, and every time she'd go on vacation here, she'd audition for commercials and, one time, even for a project in ABS-CBN.
"After a few months of not hearing back, I went back to Canada but, to our surprise, right when we landed, we got a call," this 19-year-old recalls. "They told us that I got a commercial with Mr. Ian Veneracion! I did not want to miss this opportunity, so we flew all the way back and did the commercial." This was back in 2016, and the experience of being in a set ignited her fascination in showbiz. The following year, she finally decided to move to the Philippines for good, to explore this field.
What further got Shanaia to stay in the country was her stint as a contestant on reality singing TV competition Idol Philippines in 2019. She may not have won there, but she sure had more wins after gaining experience from it. When the pandemic happened, though, and the entertainment industry suffered from its consequences, Shanaia thought it was best for her to return to Canada. But just when she thought that was the end of her showbiz journey, she got a call to audition for Rise Artists Studio. Once again, she tried her luck, and luck was indeed on her side. She was launched as a Rise artist early this year. But that was just the start of new beginnings for her. Only about a couple of months after, a new opportunity came knocking at her door: she was tapped to join Star Magic! "This is all so crazy," Shanaia exclaims.
"I want to become a very versatile artist, so I would be grateful for any project that would allow me to showcase how flexible I can be as an actress," Shanaia tells Metro.Style. "I love challenging myself and surprising the world (and even myself) with what I can achieve."
She's a talented singer, but she has a huge potential to be an actress as well. It is Shanaia's ultimate dream to work with Anne Curtis-Smith, Kathryn Bernardo, and Liza Soberano, all of whom she used to just watch abroad via TFC.
Shanaia shares that she's a big fan of mystery shows, like Sherlock Holmes and CSI. "I like trying to solve mysteries and studying human behavior; it's really interesting learning why people do what they do," she shares. "Besides mystery, I am also a big Disney and Marvel fan! Something about Disney is just so comforting."
Disney! She says she likes staying in touch with that childlike wonder within her. That helps her maintain a positive outlook in life, something she hopes she influences others to have, given her new, bigger platform. She says, "I genuinely just want to spread love and positivity into the world. Sometimes all you need is a good laugh to make your day a little brighter."—Grace Libero-Cruz
JC ALCANTARA
Well-known author Willie Joley said it only takes a minute to change your life. Well, in JC Alcantara's case, it was a little more than three minutes. That's the length of the viral 2017 "Kwentong Jollibee: Apo (Grandchild)" TVC that featured a 17-year-old JC. That was what got him into showbiz. TV networks noticed him in that commercial and reached out to him. One message stood out for him, and it was from a staffer of Direk Lauren Dyogi who, along with Direk Ruel Bayani, invited him to audition for a teleserye.
He passed the audition, and got a supporting role in the 2018 TV series Halik which starred Jericho Rosales, Sam Milby, Yen Santos, and Yam Concepcion. In that same year, he was cast in the movie Kasal. He also had stints in TV shows Ipaglaban Mo! and Maalaala Mo Kaya.
Last year, JC starred in the digital BL series Hello, Stranger with Tony Labrusca. That was one of the things that kept him busy during the peak of the pandemic-caused lockdowns. "Kahit pandemic, ang daming pumasok na blessings sa akin," he gleefully shares, thankful beyond words.
It was also last year when he was launched as a Rise artist. As a talent under ABS-CBN Films' talent management, he would host the online talk show "We Rise Together" and attend acting workshops as well. "Bilang artista dapat hindi ka magsawa na matuto sa lahat ng bagay dahil balang-araw magagamit mo 'yan," JC tells us, as if reminding himself. "Hindi naman lahat ng project pare-pareho ng character, kaya ako, dapat ibang JC Alcantara ang naipapakita at napo-portray ko sa bawat project."
He hopes to work with Nadine Lustre and Liza Soberano in the future. JC is also excited about getting challenging roles like someone with Asperger syndrome and working on K-drama-like projects because he's a huge K-drama fan. In fact, he is eager to learn the Korean language, and is making it his goal to attend acting workshops in South Korea.
Clearly, JC will go to great lengths for his career. His dedication for his profession is what he believes will take him far. He shares, "Mahal ko 'tong trabaho ko kaya binibigay ko 'yung best ko 'pag may mga project na binibigay sa'kin. At hindi ko sinasayang 'yung oras para mag-improve pa lalo sa mga talent ko at hindi ko pa kayang gawin."
Well, it seems he's been honing his singing skills, because he teases that he's working on his first single. Regardless of how many minutes his song will be, there's no denying his life is bound to change again, especially now that he's a Star Magic artist.—Grace Libero-Cruz
Check out our #MetroStyleXStarMagicBlackPenDay special features below.
Visit Metro.Style again for more exclusive content on the Star Magic Black Pen Day event. Plus, look forward to the Star Magic Black Pen x Metro Chats Co-Hosting Campaign on kumu, soon!
Produced by Geolette Esguerra and Grace Libero-Cruz
Photography by Ria Regino
Creative direction and additional set styling by Chookie Cruz
Production design by Aren Santos of AdSet Prod
Fashion styling by Aldrin Ramos, assisted by Katrina Pascual and Corina Teodoro
Additional fashion styling: Eldzs Mejia (Jayda)
Shoot coordination: Cara Tirona
Shoot assistants: Hipolito Gangani, Reymark Batuigas, Elmer Arda, Erwin Arda, Edgar Fernandez, Wolfredo Morales, and Alexander Hanpayan
Special thanks to Rise Artists Studio's Olivia Lamasan, Mico del Rosario, JD Ching, Patricia Rigodon, and Keia Inciong; Star Magic manager Joy Lomibao; Thess Gubi; and Laurenti Dyogi