EXCLUSIVE: Read About "Pinoy Big Brother" Alums And Star Magic Artists Richard, Kiara, Tan, Ashley, And Lou
Richard Juan, Kiara Takahashi, Tan Roncal, Ashley del Mundo, and Lou Yanong—all products of Star Hunt and "Pinoy Big Brother"—are now ready for the next level in their careers as Star Magic artists
"My dream is to help fulfill the dreams of our artists. To attain their highest potential in their chosen craft and be responsible members of the entertainment community and of this nation," said Star Magic head and ABS-CBN entertainment production head Laurenti M. Dyogi at the recent "Star Magic Black Pen Day" contract signing event.
At the said historic event, the country's premier talent agency welcomed over 40 artists, ranging from established and rising actors, singers, dancers, and hosts. Star Magic is gearing up to foster and train local showbiz's next big stars through content that, Direk Lauren promises, "will entertain, inform, and educate our audience locally and globally."
Metro.Style joins Star Magic in welcoming and (re)introducing these newly-signed artists through a special photo shoot that took cues from their "Black Pen" concept.
Just like how signing with Star Magic feels like a dream come true for them, we envisioned a dreamy, fairy tale-like, story book-themed photo shoot for these artists. It symbolizes the new chapter of their lives, and how they're about to write or rewrite their careers' narratives from hereon with some of the best in the local entertainment scene mentoring them every step of the way.
Below, read about these five young stars who have been trained by Star Hunt, put to test by their Pinoy Big Brother experiences, and will now be mentored and propelled to success by Star Magic. Check out the Part 6 of our Metro.Style x Star Magic Black Pen Day special feature: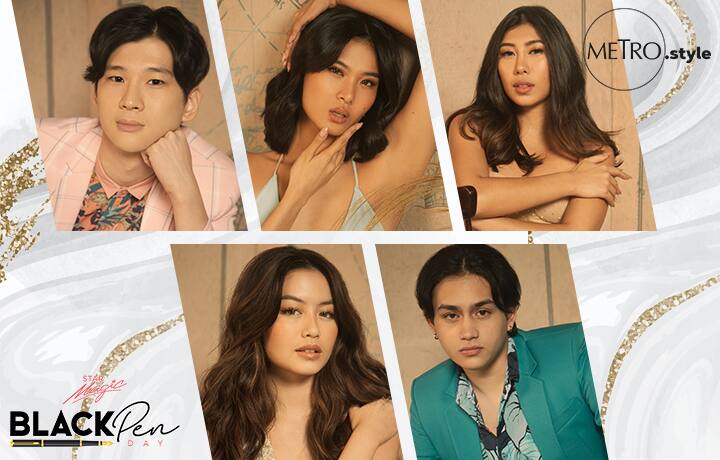 Metro.Style x Star Magic Black Pen Day - Batch 6
RICHARD JUAN
Wanting to be a multi-hyphenate, then nailing it—it's one of the best things about being a Gen Y idol. And don't let anyone tell you it's a matter of being a Jack of all trades, but a master of none; with hard work and dedication, mastery in any and all things you love is possible.
Sit down with Richard Juan and he'll tell you all about life as a 28-year-old ticking all the boxes on his professional wishlist.
Six years ago was when we first met him as a Pinoy Big Brother: 737 housemate, and he had this to say about the experience: "I just stayed in this industry because I love it. It was because of this industry where I got to meet people I thought I'd only see on TV or online." Think international stars like Benedict Cumberbatch and BLACKPINK. For someone who never thought he had a future in showbiz, he's sure been in quite a number of amazing situations with the biggest names in the industry.
Since his first TV stint, Richard has focused on discovering what he's best at. "I gave up on singing and dancing since day one," he says, poking fun at himself.
"Hosting is what I've been doing, but I know I definitely would want to do a lot more of that and practice even more," he adds. Richard was one of the hosts at Metro Best K-Drama Awards 2020, and would often join the Metro team in talking about the latest K-dramas on Metro K-Drama Round Up in Facebook Live shows. Acting is another door Richard wants to see open for him, too. It's also worth mentioning that Richard has put his University of the Philippine education to good use. As a Broadcast Communications major, his skills extend beyond that of performing and entertaining.
"I officially launched my video production and digital media company, 28 Squared Studios, and we were able to work on a lot of interesting projects despite the COVID restrictions! I also launched a podcast called 'Your Dose of InspirASIAN,' where we interview and feature amazing Asian [personalities and] stories from around the world," he explains.
He squeezes in the fact that he's also been learning Korean as a fourth language (he already speaks Filipino, Cantonese, and English) to maintain his pace of productivity. As a new Star Magic artist, Richard ushers in a new brand of celebrity—one that's not only about PR and pleasing audiences, but someone who's genuinely interesting, intelligent, and worthy of admiration.—Sara de los Reyes
LOU YANONG
There are very few words in the dictionary to explain the feeling that comes with knowing that the gap between you and your idols has closed. If, just last year, you were watching your favorite actress work the camera from a screen, and this time, you're under the same management that helped further their careers, there's really only one way to describe the turn of events—surreal!
"Four years ago if anyone told me that I'll be one of their artists, I [wouldn't] believe it," says Lou Yanong, a fresh face on the scene. "I wanted to model in New York and Paris but I got this weird feeling of also wanting to stay. I feel like my own country still has something in store for me, like I still haven't explored enough of the Philippines just yet," she recounts.
Eventually feeling gave way to action, and Lou found herself on the sets of Pinoy Big Brother 8 (Batch 2), even making it to the season's Top 3 in 2018. It was a leap of faith that got her there, she says, and this time, with Star Magic taking her under its wing, it'll be another showcase of faith placed in the right hands.
Lou's career begins here. After graduating two years ago, her heart is open to opportunities and her horizons are bound by nothing. It's a big life change, that's for sure, and to gear up for the business that's soon to come, she's making the most out of her time at home.
Online classes to keep her mind sharp, redesigning her personal spaces to make them conducive to creativity, staying mindful, finding gratefulness—these are just some of the things that she's indulged in in the past year.
With enough experience, she dreams of making it to the big league. Lou looks up to actress Jodi Sta. Maria. On her way to the top, perhaps roles that allow her to shine as the antagonist or in contrast, the leading lady's best friend, can earn her the recognition she seeks.
Whatever it is that she'll end up doing, Lou promises that it'll always come from a place of love. "Everything I do flows from that. When I put my heart into it, nothing can stop me," she says.—Sara de los Reyes
KIARA TAKAHASHI
Being part of the country's premier talent agency is an amazing feat. It's a priceless opportunity that only a select few get to experience. Kiara Takahashi is over the moon about this, but at the same time, she makes it a point to keep her feet on the ground. On one hand, showbiz is fascinating with the fame, the glitz, and the glamour. On the other hand, it entails a great deal of hard work and sacrifices. Kiara says candidly, "Not everyday is a happy day. Everyday is a struggle but I choose to see everyday as a blessing."
Kiara was born to a Filipina mom who works in Japan and a Japanese dad who put up a diner in La Union, Philippines. When she was four, her parents separated. She lived in Japan with her mom until she graduated Junior High, then she returned to the Philippines to live with her dad in La Union.
Because La Union is known as a surfing spot, Kiara developed a love for the water sport. "I love surfing," she tells us. "I won't say that I am good at it because I have yet to learn, but I'm glad I found something therapeutic for me. It is somehow an escape from everything." This is why when she joined the reality TV show Pinoy Big Brother 8 (Batch 4), she was given the nickname the "Singer Surfer ng La Union." The show ended with Kiara as the Runner-Up.
Singing is her first love! And in fact, her background in performing includes her being a guest singer for OPM stars who had concerts or events in Japan. Meeting these Filipino artists influenced her to give local showbiz a try. Upon returning to the Philippines, she busied herself with workshops and auditions until she landed a coveted spot in PBB. After which, she got a chance to work with Star Music in releasing her debut single "Ikaw, Ako, Tayo."
Recently, she marked another milestone in her budding career, as she was one of the newly-signed artists of Star Magic. She's beyond exhilarated. But she knows that there's also a lot of work to be done since she also hopes to explore acting, hosting, and dancing (she admits she's not talented in this department but that "she's willing to learn").
This open-mindedness and her teachable attitude are a good foundation for someone starting out in this industry. Kiara considers her "adaptability" her strength, one that'll surely help propel her to greater heights. Kiara enthuses, "I grew up having to move from different houses or countries due to our family situations back then. There's always something new for me. So, I guess now that I am in this industry, it is something that I can call a 'strength.' For sometimes, so much change can happen that it gets overwhelming. So having the strength to adapt is a big thing for me."—Grace Libero-Cruz
ASHLEY DEL MUNDO
"The Adventurous Angel of Australia" has landed in local showbiz, and she's here to stay. Ashley del Mundo was a Star Dreamer of Camp Star Hunt who crossed over to the Big Brother House as an official housemate for Pinoy Big Brother 8 (Batch 3).
This 17-year-old was born in the Philippines but her family migrated to Sydney, Australia when she was three. And it was only in 2019 when she returned to the Philippines to try her hand in local showbiz. She auditioned in PBB, and moved on to become that batch's winner. "I actually had no plans on auditioning but I believe everything happens for a reason," Ashley tells Metro.Style.
She's extremely glad to have taken a risk, because doing so has given her experiences she never imagined she'd ever get to try. Following her PBB stint, she dabbled in acting and hosting, and she absolutely wants to do more of those. "I'm still learning and growing along the way," she quips.
Ashley has only been in the industry for two years, but she's been off to a great start. She's been tapped to be a cast member of the hit Wattpad-based, teen rom-com series He's Into Her as Khloe, a character described as beautiful and sweet. Because of this role, this social media darling, who currently has 1.6 million followers on Instagram, has been gaining more and more fans.
She wishes to be a part of a movie as well, and she hopes to get a chance to work with Liza Soberano and Enrique Gil.
Aside from acting, Ashley also loves singing, and it's something that she'd love to improve on, especially now that she's one of the newly-launched artists of Star Magic. Off-cam, she's just like many teenagers who are all about balancing studies (she's in her last year of high school) and fun, creative pursuits (she cites fashion, makeup, photography, and vlogging as some of her interests).
What Ashley considers her strengths are her drive and determination to achieve her dreams and goals in life. With the new journey she has just embarked on, she knows that a fun, fulfilling yet challenging adventure awaits. But she's psyched up to make today and every day an adventure, while looking forward to the day she finally gets a much-deserved reward vacation in her dream destination, Greece.—Grace Libero-Cruz
TAN RONCAL
Like others in this feature, Tan Roncal also began his showbiz adventure by training with Star Hunt and becoming a housemate in Pinoy Big Brother 8: Part 3 - Teen Edition. But even though these up-and-coming artists had the same starting point, their stories are different both in the past and in the present, and they will also set out to write their different narratives for the future.
Tan's fans can count on him to evolve from the "KuliTisoy ng Davao" who was once shy and had a hard time approaching people to a well-rounded artist who's thrilled about the possibilities of collaborating with some of the biggest names in local showbiz as well as his fellow rising stars.
"I'm so happy about learning new things from Star Magic and, most of all, about getting to know new people in showbiz and grow with them," the newly-signed Star Magic artist shares.
Now that he's surrounded by established artists who are passionate about acting and dancing, Tan's love for the two crafts has gotten stronger. He tells Metro.Style, "I wish to work with Daniel Padilla, James Reid, and Enrique Gil because they are my idols, and I wanna learn their techniques on acting."
Tan also dreams of joining a teleserye, knowing how much Filipinos love and embrace that type of show. In the meantime, he's been working hard to improve his confidence, to make himself more comfortable with performing for and communicating with others. He does this by doing live streams on Kumu and "practicing" his dance skills by making TikTok videos.
Tan is definitely not all fun and games. As young as he is at 17, he's been training himself to be more responsible, diligent, and goal-oriented. He's still in school and focuses on assignments and other school work in between his showbiz-related commitments.
"Whenever I've fallen in love with something, I give all my determination and drive to it," Tan says. Now, this gives us a hint on the kind of artist he's bent on becoming: someone hardworking, passionate, collaborative, and multifaceted.—Grace Libero-Cruz
Check out our #MetroStyleXStarMagicBlackPenDay special features below.
Plus, look forward to the Star Magic Black Pen x Metro Chats Co-Hosting Campaign on kumu, soon!
Produced by Geolette Esguerra and Grace Libero-Cruz
Photography by Ria Regino
Creative direction and additional set styling by Chookie Cruz
Production design by Aren Santos of AdSet Prod
Fashion styling by Aldrin Ramos, assisted by Katrina Pascual and Corina Teodoro
Shoot coordination: Cara Tirona
Additional fashion styling by Drew Lacia
Shoot assistants: Hipolito Gangani, Reymark Batuigas, Elmer Arda, Erwin Arda, Edgar Fernandez, Wolfredo Morales, and Alexander Hanpayan
Special thanks to Star Hunt management (Raymund Dizon, April del Rosario, Elsyd Aragones, and Katherine Angeles), Star Magic managers and road managers, Thess Gubi, and Laurenti Dyogi