WATCH: Star Magic Artists On How The Pandemic Changed The Way They Think Of "Home"
The COVID-19 crisis has been a time for personal reflection for many including Liza Soberano, Jericho Rosales, Kim Chiu, Julia Barretto, Maymay Entrata and more
Fifteen Star Magic artists share exactly what the COVID-19 global health crisis experience has been like for them. Kim Chiu, Jericho Rosales, Edward Barber, Maymay Entrata, Julia Barretto, Robi Domingo, Gerald Anderson, Vina Morales, Maris Racal, Jane de Leon, Enchong Dee, Ria Atayde, Liza Soberano, Sofia Andres, and Ivana Alawi talk about their personal reflections and their participation in Star Magic's "Love From Home: Lockdown Portraits" campaign.
Check out what each artist had to say about their at-home musings:
Liza Soberano
The self-professed homebody has little to complain about staying at home from days on end. After all, it's the first time in a long time that Liza has spent this much undivided time with her family, and she's soaked in every second of it, so much so that she's even set up a sofa in her own room so that everyone gets to hang out in her favorite space at home. She's especially happy to be with her little sister Rianne and her niece Lily often, both of whom have been living reminders of happier, more carefree, times for Liza. She has recently launched her YouTube channel, too!
Julia Barretto
She doesn't hesitate to say that she loves, loves, loves spending this much time inside the house! That's because Julia's home is actually hers. But despite looking forward to starting a new life in her very own house, continuous work had kept Julia away from enjoying the leisurely comforts of staying indoors—until now. Quarantine life to her means actually getting to cook in the kitchen, tending to her plants, enjoying a morning exercise routine, and enjoying newly discovered joys of domestic life. The best part? It was in this time at home that Julia and her sisters were able to gather enough financial aid to build a fully-equipped facility for medical frontliners.
Ria Atayde
Ria's concepts of "home" and "family" were shaken by a major event in this time: both her parents tested positive for COVID-19 and the experience left her and her brother and fellow ABS-CBN artist Arjo in charge of running the show. However, Ria made it out with a strengthened heart and spirit; seeing the power of community make an impact and sharpening their sense of empathy, the life and death situation proved to be an experience that brought Ria and her loved ones closer together.
Maymay Entrata
When you're overwhelmed and the world has gotten you down, where do you go? Maymay says home, of course, because it's the one place on earth where you'll always be safe and sound. She doesn't just mean safe from the pandemic, of course; she also means having the security to be your unfiltered and authentic self, to reconnect with what matters most to you, and to have the reassurance of unconditional love from family.
Robi Domingo
Robi trades in his usually upbeat persona for a more serious tone; as he reflects on living at home with a mother and father who are both practicing doctors, he talks about the fear of the worst possible scenarios that may befall them. He's afraid, he says, but more than that he's proud of what his parents—and all other frontliners—bravely continue to do in these times. Quarantine life isn't so different from his time in Pinoy Big Brother, except for one major difference—there are no losers in the Domingo household, as each day they get to spend with each other is one win after another.
Sofia Andres
It's always a happy occasion when a new mother settles into her new role of parenthood. That's Sofia's quarantine story; after announcing that she was a first-time mom on Father's Day (as a tribute to her partner Daniel Miranda), life for her has been brighter and lighter and that couldn't be more true now that she's all eyes on her daughter, Zoe. Remembering how rough it was to weather unkind judgment and opinions on her pregnancy, today she's stronger than ever, thanks to being surrounded by a doting family who loves her just the same, no matter what.
Enchong Dee
There's nothing else to it according to this athlete turned actor. Home is where the heart is—that, and how there's nothing quite like the comforting warmth of reconnecting with long lost friends. With life slowing down for artists like him, Enchong's attention has turned to his family and it almost feels like he's seeing the beauty of home for the very first time. Suddenly, sharing meals together, conversations, and being under one roof feel like the greatest riches there are, and hearing from friends made from years and years ago truly is the cherry on top of the cake. Often, life's intangible blessings prove to be even more meaningful than all material gifts combined to those who receive them.
Edward Barber
There was an important lesson learned in his 100-plus days of quarantine: you learn who your real friends are! It's definitely something he'll remember for the rest of his life, and speaking of which, he says he has all the intentions to spend his life in his "real" home—the Philippines. Despite having family in Germany and spending most of his childhood abroad, he admits that his Filipino home (figuratively and literally) is where he found his true happiness.
Vina Morales
If home was just a place where Vina would return to after a full day's worth of work, these days, home is where everything she loves is—her daughter, her work, and her business! Quarantine life has allowed her to see home in a totally different light and appreciate how it really is life's headquarters. It's there where she's learning a new set of skills (like video editing, she smiles) and finds hope for better days to come, especially when it comes to rising above the rubble as an enterprising woman.
Jane de Leon
Life comes with regrets. That's just the way it is, even for rising star Jane de Leon. One of hers is being too busy with work to have time for her family, but quarantine has given her an opportunity to make things right. The same goes for four of Jane's animal babies; they've been her very best friends throughout this ordeal, and every pet owner can agree on the healing power of having a beloved animal around during challenging times.
Maris Racal
Home to Maris requires nothing complicated. The people who make up a home (because a home is more than just a physical structure) don't care if you're made up, or dressed up, or even what mood you're in; the only thing that matters is to nurture a space where everyone is comfortable and loved, secure and safe. For Maris, it's the also first time she's taken this much responsibility for her family's safety, she laughs, as she's voluntarily taken on the role of her home's very own "pandemic police" tasked with making sure quarantine rules are always followed!
Ivana Alawi
Home is meant to give a person strength. And for Ivana, she and her family felt that this strength wasn't given to them and only them, but that it was meant to be shared with those most in need of it. It's one reason for why their house was transformed into a grocery warehouse at one point; Ivana and her family decided to lend a helping hand to their kababayans unable to provide for themselves in this time of need. If Ivana and her mom and sister are strong enough to see things through to the end, who's to say that their fellow Pinoys can't share in that strength?
Jericho Rosales
Cry, laugh, dream, wander—do anything you want within the confines of your home. There, no judgment exists and you can be you, unapologetically. Take the time to find yourself. This is Jericho's advice for everyone stuck at home during quarantine. Don't even think of it as being stuck; enjoy the freedom that a home-based life gives you, because this is a unique time in history that gives us all a time to reflect and re-evaluate. Take advantage of that!
Gerald Anderson
Resilience in uncertainty is Gerald's takeaway from these experiences that are still unfolding. There's no room to take things for granted and miss out on opportunities because this is it! These times are the literal embodiment of not knowing what tomorrow brings, as the old saying goes. And so, Gerald hangs onto his life's greatest treasures even more closely than he has before: his home, his mom and dad, and his brother.
Kim Chiu
There's one word that Kim associates with home: "me." And right now is when she's never been happier to have invested much in her house instead of other fleeting, empty wants. After all, it's where many of her life's best moments have taken place and it's the place that cradles her heart; no amount of shopping for expensive things and other materialistic pursuits can replace what a happy home is for Kim and her family.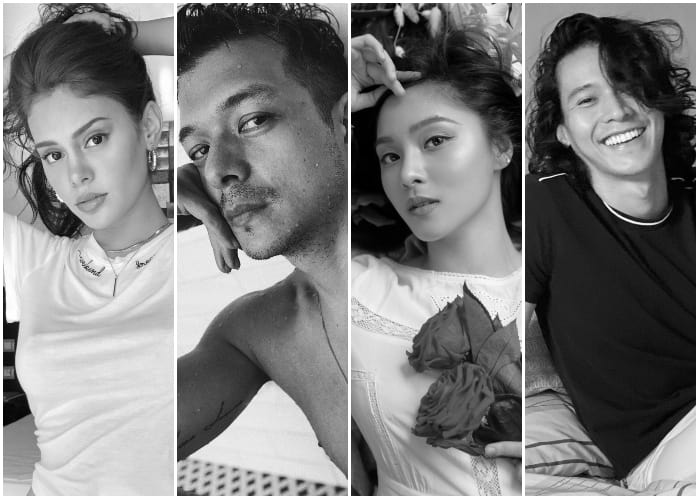 Star magic artists on what "home" means to them
SWIPE LEFT OR RIGHT
TO NAVIGATE BETWEEN PAGES
Aside from sharing all that quarantine has taught these stars about home, family, and reassessing what's most important in life, they also talk about the inspiration behind each of their lockdown portraits! From 90s fashion ads to Japanese zen gardens and embracing more mature styles, there's an interesting story behind 15 of these "Love From Home: Lockdown Portraits."
Watch the video below to learn more!
Photos courtesy of Star Magic / Stills from "Star Magic Special: Love from Home Lockdown Portraits" video posted on the Metro.Style YouTube channel