Sunshine And Angelina Cruz Prove That A Mother And Her Daughter Can Be Best Friends
"I treat them not just as children but as friends as well," Sunshine says of her relationship with her daughters Angelina, Sam, and Chesca
For the first time, Sunshine Cruz worked with her eldest daughter, 19-year-old Angelina, on a TV commercial for beauty brand Silka. They've worked with each other in photo shoots before, but this one is extra special because it's Angelina's first-ever TVC.
The TVC highlights a mother's love and support for her daughter who's going through a breakup. Seeing Angelina in tears, Sunshine lets her actions speak louder than words; she reassures her daughter that everything will be fine by giving her a tight embrace and a Silka papaya soap so she could freshen up and wash her worries away. It ends with Angelina hugging Sunshine and telling her, "Thanks, mom." In the TVC, Angelina sang a slow and melodramatic version of her aunt Donna Cruz's famous song "Kapag Tumibok ang Puso."
Of the experience on set, the eternally #ProudMom Sunshine couldn't help but be impressed by Angelina's acting skills. "Mas magaling pa sa akin umiyak ang anak ko," she shares during the virtual press con promoting their latest endorsement. "Nu'ng TVC shoot namin, hindi ko alam kung aarte ako o magiging stage mom." Angelina appreciates that her mom was there with her to guide her and help her practice her facial expressions; she's thrilled to learn from a pro actress like her mom.
Silka is turning 20 this year. Through the years, it's been the brand's goal to help Filipinos look their best. But as they celebrate this huge milestone, with the promise of delivering "Alaga 2.0," they're setting their eyes on the dream of being a brand that's passed on from generation to generation. Fulfilling that dream begins with tapping mother-daughter duo Sunshine and Angelina who tell the story Silka wishes to share exactly.
Among the many tips Sunshine's daughters Angelina, Sam, and Chesca can get from her, choosing beauty products wisely tops the list. Sunshine has been a fan of Silka's papaya soap and lotion since 2013. Because of that, Angelina has also loved the same products her mom swears by, and she can attest to how much they keep her skin hydrated and glowing.
Clearly, more than the beauty tips and tricks, Angelina and her siblings can pick up meaningful lessons and realizations from Sunshine, a strong and independent single mom who's always been the image of an empowered woman in their eyes. If there are pieces of advice from her mom that truly stand out for her, Angelina says, it's to always love herself, to know her worth, and to never lose sight of her value as a woman. These, and when it comes to relationships, Angelina smiles, "'Wag magpapadala sa sweet words and false promises."
Sunshine reinforces these learnings, saying, "As a woman, I am not powerless. Women can choose and create their own destinies."
Check out the gallery below for more photos of this gorgeous mother and daughter that are proof of how close they are: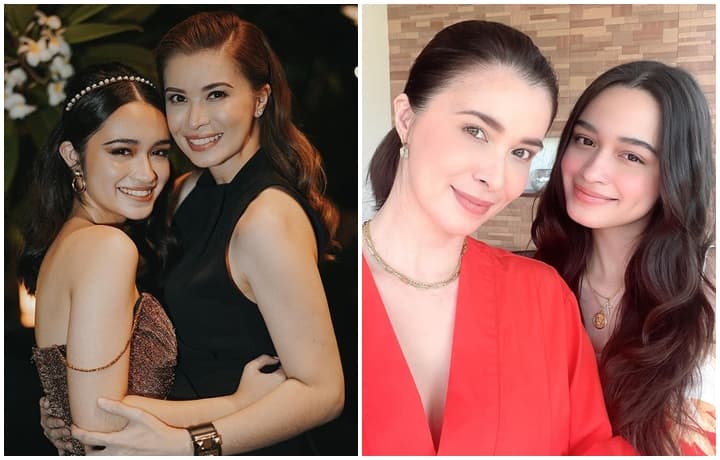 Sunshine and Angelina Cruz
Sunshine and Angelina Cruz
Sunshine's kids have so much respect for her, knowing what she's been through to raise them. Sunshine can give herself a pat on the back for establishing a parenting style that welcomes deep and honest conversations with her daughters. That way, no conflicts remain unresolved for a long time, and no secrets are kept from each other. When they have misunderstandings, Sunshine says Angelina patches things up by preparing food for her and writing a letter saying how sorry she is.
"I treat them not just as children but as friends as well," Sunshine shares, as she dedicates Carole King's song "You've Got a Friend" to Angelina. When conflicts arise, here's what Sunshine finds herself telling her daughters: "You know your mom wants the best for you." She makes sure to talk to them and always reassure them that, with her, they're loved and never judged. "Mas maganda na maramdaman nila na 'yung safest space nila ay nasa akin," she quips.
"Can a mother and her daughter be best friends?" is an often-asked question. With Sunshine and Angelina as an example, it turns out that is indeed possible.
Angelina, who turned 19 last September, recently made her acting debut via sitcom
John En Ellen
and released her single "Crashing" under Universal Records Philippines in October.
Photos from @sunshinecruz718