K-Dramaland's Favorite Eomma: Kim Mi-Kyung And Her On-Screen Daughters & Sons
She's currently seen in the K-drama "Forecasting Love and Weather" as—you guessed it—an eomma!
Once again, veteran Korean actress Kim Mi-kyung graced the small screen with her ever-warm presence as an eomma (mother). K-Drama fans surely recognize her, and have been touched by her portrayals.
She is currently seen in the K-drama Forecasting Love and Weather, starring Song Kang and Park Min-young. The series revolves around those working at Korea Meteorological Administration, wherein Park Min-young's Jin Ha-kyung works a director and general forecaster and Song Kang's Lee Shi-woo is an employee in charge of the special reporting division. Jin Ha-kyung and her on-screen older sister, Jeong Woon-seon's Jin Tae-kyung, are often nagged by their mother, Kim Mi-kyung's Bae Soo-ja, about their love life. Even so, you can feel that character only wants her daughters to end up with men who would give them the love they deserve.
As Kang Soon-deok in It's Okay to Not be Okay (IOTNBO), she plays the mother of nurse Nam Ju-ri (Park Kyu-young) and the chef at OK Psychiatric Hospital. Her character is so doting that orphans Moon Gang-tae (Kim Soo-hyun), Moon Sang-tae (Oh Jung-se), and Ko Mun-yeong (Seo Ye-ji) are constantly comforted by having a parent figure in her, someone who's always ready to treat them to a feast to fill not only their tummies but also their hearts. In the finale episode of IOTNBO, Moon Sang-tae gave her a copy of Ko Mun-yeong's book that features his illustrations, and his handwritten message for her reads: "Dear my fake, real mom. Thank you for all the delicious meals. I want to eat the food that you make every day. I really like you, Ms. Kang. Here's a heart for you. Six hearts."
Kim Mi-kyung is so in-demand that even before IOTNBO wrapped up, her other series Was It Love? started airing as well. Here, she is Choi Hyang-ja, the mother of film producer Noh Ae-jung (Song Ji-hyo). Recently, too, she made our hearts ache as lead character Cha Yu-ri's (Kim Tae-hee) mom in Hi Bye, Mama!
Throughout the over three-decade career of this 56-year-old actress, there are more than 70 K-Dramas featured in her filmography, and a significant number of these shows cast her as a mother.
Check out the gallery below to see who served as her daughters and sons in K-Dramas: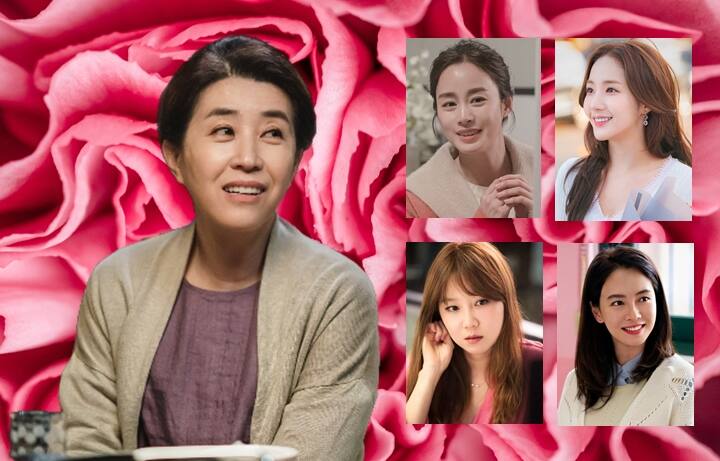 K-Drama Mom: Kim Mi-Kyung
K-Drama Mom: Kim Mi-Kyung
Forecasting Love and Weather is available on Netflix.
Lead photos from Netflix, tvN, SBS, @kim_mee_kyung, Song Ji-hyo on Facebook, and Karolina Grabowska on Pexels