WATCH: "The King: The Eternal Monarch" Cast Makes Fans Smile With Their Jenga Interview
See Lee Min-ho, Kim Go-eun, Woo Do-hwan, Jung Eun-chae, and Kim Kyung-nam get real about their careers, their personal lives, and their newfound friendships!
If there's anything that K-Drama fans are most grateful for about the Internet in this day and age, it's that it lets them get to know their fave idols on a much deeper level, thanks to the many, many platforms they're on!
Scouring for photos, behind-the-scenes footage, interviews, and the occasional GIFs is half the fun of fangirling (the other and first half, of course, is being ever so patient waiting for their current K-Drama obsession's next episode to be released), and when it comes to fans of hit Netflix series The King: Eternal Monarch, YouTube is where you should be digging for gold right now.
That's because YouTube channel The Swoon—a.k.a. a treasure trove of exclusive material for huge fans of Netflix's Asian series, including K-Dramas—released a video of the show's cast having a total blast over a 10-minute interview.
It wasn't just any other interview, though—no formal sit-downs here!
Instead, Lee Min-ho, Kim Go-eun, Woo Do-hwan, Jung Eun-chae, and Kim Kyung-nam talk about anything and everything under the sun, answer one-of-a-kind questions, and engage in script-free banter while they play a friendly (or competitive?) game of Jenga. We dare you not to smile.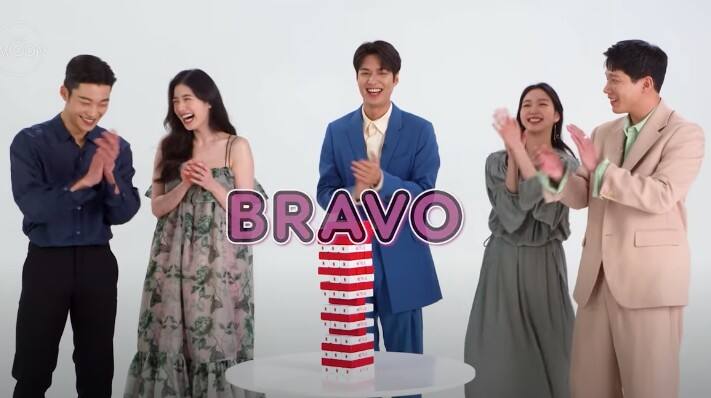 As short as the video is, fans will definitely devour every piece of information each of these K-idols shares:
Lee Min-ho reveals what he'd like to say to fans who have patiently waited for his big comeback, Kim Go-eun tells us what her number one pastime is, Woo Do-hwan gets teased for an unfair Jenga advantage, Jung Eun-chae suggests a free hugs fan meet, and Kim Kyung-nam, well, he gets an unlucky draw that you'll just have to see for yourself.
Check out the full video below!
Photos from @actorleeminho and still from "Lee Min-ho, Kim Go-eun, Woo Do-hwan, Jung Eun-chae, and Kim Kyung-nam play Jenga" on the YouTube channel The Swoon