"The School For Good And Evil" Cast And Crew Talk About Their Looks In The Fantasy Film And Why They Love Them
"There's just a lot of things I had never had before that I was able to experiment with and kind of live my child[hood] dream through," says actress Sofia Wylie
From hourglass corsets and century-specific statement headpieces to voluminous gowns and larger-than-life garments, The School for Good and Evil is a visual feast that caters to our childhood fantasies. The movie's fairytale overtones and abracadabra makeup is accompanied by a collision of wardrobe choices, featuring goth Lolita fashion on one end and pastel Victorian on the other.
"Fashion was a big part of the books and I just felt like I wanted one girl, Agatha, who really didn't have any interest in fashion. And then, I wanted Sophie, who everything was about changing her look and the glamorousness of it," affirms book author Soman Chainani. "So, I thought playing with my interest in fashion was a big part of it and then of course, Paul loves fashion," he continues, claiming that film director Paul Feig is also a devotee of fashion.

Soman vouches for Paul's knack for visuals, saying, "In the course of the movie, he was able to take the aura of the book and translate that into those beautiful, brilliant costumes." Extreme and polar opposites Agatha (Sofia Wylie) and Sophie (Sophia Anne Caruso) should own screen time as the movie's two protagonists, and what better way to plant their characters in scenes than by creating an atmosphere of antithesis?
"I think that's what makes the movie so visual also—that sort of fashion sense to it," Soman muses. Film mastermind Paul Feig discusses his take on the delivery of the story into the screens, too. "In the books, they have school uniforms, but I really want to get away from that because I didn't want to get compared to Harry Potter," he tells Metro.Style, highlighting that costumes are a huge part of the popular film franchise.

"I just felt like it was kind of limiting for this world where all these people are coming in from different fairytales—from different parts of all over the world—very multicultural, so I wanted them to all have their own looks," Paul insists, saying that he initially talked Renée Kalfus—the costume designer and curator—into transporting the audience into another realm. "Let's come up with a new world," he told Renée.
Paul took inspiration from select sources that influenced his decision to drive askew from the usual attire that students wear in school. "We were just sending all these pictures from fashion magazines and old fashion books—looks from other eras and all that—just building these big boards and going like, 'How can we mix and match these things to just give this rich pastiche of looks for both of the good and the evil side?'"
"I was just in heaven because we got to build over 800 original costumes with all these amazing fabrics from Italy and built the shoes and then the jewelry," Paul reveals. A style sophisticate himself, The School for Good and Evil helm admits that he has relished that aspect of the film where he had to fill the gaps from a fashion point of view. "We were hard-pressed to find another movie that I have this much fun doing from a style and fashion sense," he puts it.
A film adaptation of a Young Adult favorite that follows the chronicle of two clashing schools, The School for Good and Evil is set in the humble village of Gavaldon, the hometown of best friends Agatha and Sophie. The bond shared by these two society "misfits" is an unlikely match—Sophie is eyeing an escape to accommodate her princess ambitions, while Agatha more or less has the makings of a real witch.

When the red moon appeared, the ladies were lifted away from everyday routine and were routed to an enchanted school where storybook heroes and villains are honed to protect the balance between positive and negative forces. Now that fantasy becomes a reality, the binding friendship of Agatha and Sophie faces endangerment as they traverse a new trail in the eccentric world that they woke up to.
In hopes of highlighting the distinct looks of light and dark, the wardrobe department worked out the characters' outfits. Actress Sofia Wylie, who plays Agatha, was in plain awe when she first unearthed the fashion ensembles that she is expected to use in the film. She shares, "I loved getting to wear, of course, the gowns. The gowns are beautiful and handmade and there are so many different sets of them, too, which is incredible."

"I can't believe that someone did that with their bare hands," she adds, still in amazement. "I also loved getting to wear wigs. I have this huge amount of hair in the beginning of the film and then, it's a little more tamed but there's still a lot of hair," Sofia explains in detail. "I had multiple wigs throughout the film," she emphasizes. "There's just a lot of things I had never had before that I was able to experiment with and kind of live my child[hood] dream through."
As for Sophia Anne Caruso a.k.a. Sophie, she is flat-out fond of all the dressing-up and accessorizing. "I love everything about my costumes, hair, and makeup for this. I get to have truly every kind of makeup—I have no makeup; natural makeup; super high-glam makeup. I have prosthetics. I've got it all in the makeup department. The costumes are super badass and we got to collaborate on making them."

From being a dainty darling to a wicked witch and vice versa, Sofia Wylie and Sophia Anne Caruso bring every imaginable look to the table—from Ever-inspired looks to the spellbinding Never styles. The film is a true fashion warehouse as well, manufacturing all means of style and structure. "Everything really came out exactly how I had envisioned it and I loved wearing all those sexy, black outfits," Sophia Anne says.
Check out the cast of The School for Good and Evil and marvel at their costumes in the movie: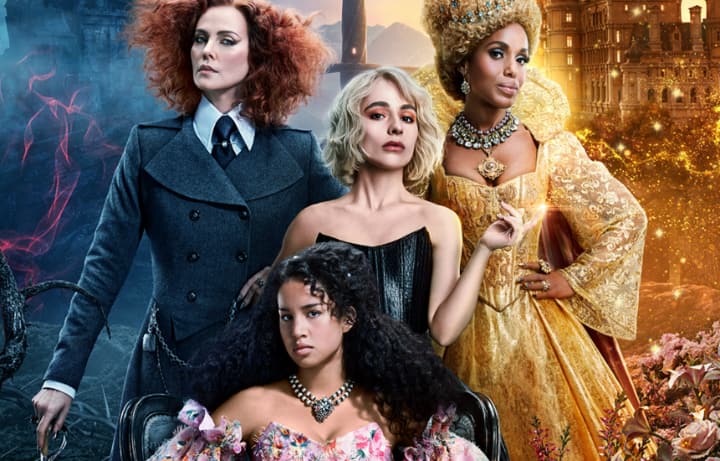 Photo Gallery
Photo Gallery