IN PHOTOS: "The World Of The Married" Behind-The-Scene Snaps To Look Back On
The memorable cast members of "A World of Married Couple" ("The World of the Married") bid the show goodbye filled with overwhelming emotions and gratitude
It's always sad to say goodbye to a good K-Drama. This series is especially memorable because it kept people distracted even just for a bit and gave them a form of entertainment as the world struggles with a health crisis. It premiered on March 27 at the height of the global coronavirus (COVID-19) outbreak and ended just last May 16.
A World of Married Couple (or The World of the Married) successfully concluded its 16-episode run, setting a new record for the highest viewership ratings in Korean cable drama history.
Owing to the massive popularity of the series in Korea, A World of Married Couple opened many opportunities to its lead stars. Han So-hee, who plays Yeo Da-kyung, scored endorsement deals, an acting nomination, and magazine covers. Park Hae-joon, who plays Lee Tae-oh, landed a movie deal and a magazine cover too. The show's main star Kim Hee-ae, who breathed life into the role of Dr. Ji Sun-woo, also earned a Best Actress nomination at the 56th Baeksang Arts Awards, endorsements, and magazine cover and feature as well.
JTBC, the network that aired the hit K-Drama, thoughtfully released behind-the-scenes videos featuring the cast members talking about their time on the show (with English translations from Soompi).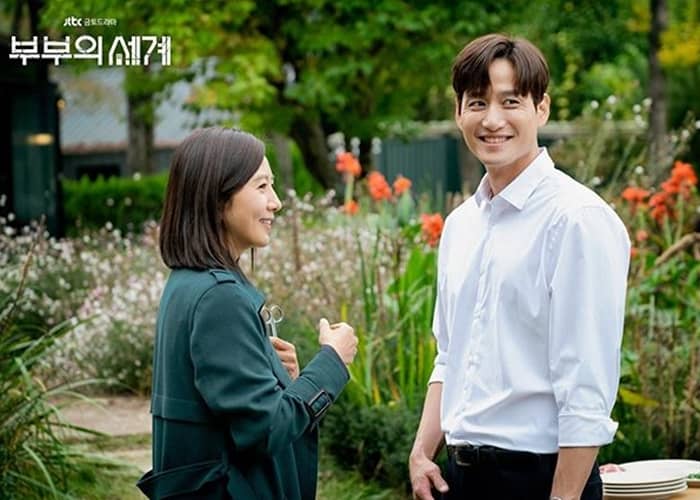 Behind the Scenes
Behind the Scenes
Han So-hee expressed her mixed emotions, saying, "While I do feel a bit as if a weight has been lifted now that the drama has ended, I also feel that much sadder. I was lacking in many ways, so I have mixed emotions. Thank you to the many people who laughed and cried together with me, and I'll become an actress who improves and learns more in the future. Thank you so, so much."
Park Hae-joon, on the other hand, shared his thoughts on the viewing public's warm reception of the show. "Hello, this is Park Hae-joon who portrayed Lee Tae-oh in The World of the Married. I didn't expect to receive this much interest, so I was really surprised. I feel so relieved that the viewers enjoyed it so much. We worked so hard, and honestly, I feel sad now that it's coming to an end. I hope you'll continue to take an interest in the actors who participated in this drama. Thank you," the actor said.
The queen herself, Kim Hee-ae, voiced out her feelings about the show and her role. "I lived as Ji Sun-woo for almost a year. I think it's going to be awkward now, to the point where I wonder if I can live life without Ji Sun-woo. I felt so happy because I received so much love from viewers, more than I deserved. I also feel relieved that I completed a difficult assignment. I can't think of anything more to say, other than thank you so much for giving us so much of your love. Please be healthy, and thank you so, so much for loving Ji Sun-woo and The World of the Married."
The show, of course, wouldn't be complete and as memorable as it is without the enabling excellence of its supporting characters. The stars behind them also thanked the viewers who loved the drama.
Chae Gook-hee, best remembered as Dr. Ji Sun-woo's frenemy and fellow doctor Seol Myung-sook, was very thankful. "I didn't know that there would be so much interest in the character Seoul Myung-sook, but thank you so much. As much as The World of the Married was a good drama for all of you, it's going to remain a very meaningful drama for me as well. Thank you so much to the viewers who tuned in until the end," she said.
Lee Moo-saeng, who played the drama's beloved Dr. Kim Yoon-ki (the neuropsychiatry specialist who is fond of Sun-woo), said, "I think I first need to say thank you to the viewers. I feel happy that The World of the Married ended successfully and safely thanks to your support. I'll see you again with a new project. Thank you so much."
Kim Young-min, who played the serial cheater husband Son Je-hyuk who is the frenemy of Tae-oh, stated: "It was personally such an honor for me to work alongside the best cast and crew. I think that we achieved good results because the viewers loved our drama so much. Thank you for giving so much interest and love to The World of the Married until now."
Park Sun-young, who played the wife of Je-hyuk and is friends with Sun-woo, also shared her thoughts. "Hello. This is Go Ye-rim from The World of the Married. Now that I'm doing a final interview like this, it really feels as if it's coming to an end. Thanks for your interest and love, we were able to gather strength and work hard on filming. I had so much fun during throughout filming because I was able to appear in a great drama with great senior actors, a great director, and the perfect staff. Thank you so much, and I'll see you again in another good project. Thank you."
Lastly, the children of Lee Tae-oh on the show also took the time to say a few words. Jeon Jin-seo, who portrayed Joon-young, and Lee Ro-eun, as Jenny, said: "To the viewers who loved our drama, thank you so much."
A World of Married Couple (or The World of the Married) will certainly be missed. Its run coincided and marked a truly interesting time and the show's brilliance proves it's up there as a modern Korean drama classic.
Relive the moments or catch up if you haven't seen the finale of show, available for streaming on VIU.
Photos from JTBC, additional gallery photos from @yg_stage