Tim Yap Was A Demogorgon For His "Apocalypse" Halloween Party, Plus His Guests' Must-See Costumes!
Romeo + Juliet, Mario and Luigi, Wonder Woman, and the Demogorgon itself got together for a whole other kind of All Hallow's Eve party
Eventologist Tim Yap has outdone himself!
For Halloween this year, Tim threw a by-invitation "Apocalypse" ball held at Swatch & Swatch to the tune of an unnerving post-apocalyptic society and was "made for the outcasts, the freaks, as much for those who belong and those who don't belong."
Sharing the spotlight with Tim is noted artist Leeroy New, whose creations made from upcycled and recycled things were highlighted in the event.
"We wanted to start events and parties that embodied sustainable practices with the goal of becoming carbon-neutral, lessening the impact events have on the environment," Tim shares. "We also committed to engage people through supporting a cause; they were encouraged to give a donation to the beneficiary of their choice."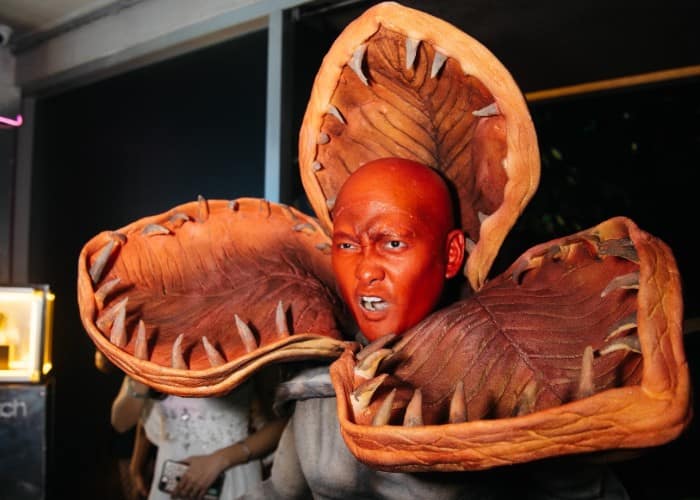 Tim Yap apocalypse Halloween party
Tim Yap apocalypse Halloween party
Those who celebrated alongside Tim included Nadine Lustre and James Reid, Rhian Ramos, Sanya Lopez, Janeena Chan, Joey Mead King, Sam Concepcion, and Mica Javier among so many others, but the real stars of the show were the organizations that Tim had chosen to benefit from donations he encouraged all his guests to make.
Reef Check Philippines and CORA (Communities Organized for Resource Allocation), and Smile Train PH were the lucky chosen charities of the evening. A cash prize had even been set up for their benefit!
"The grand prize was P250,000. Instead of going to one person for Best in Costume, it went to charity and will be split amongst the beneficiaries," Tim explains.
Speaking of awards, guests had their fair share of excitement, too, as other prizes were given to a lucky few!
Nadine bagged a Thai Airways business class ticket to Europe and James came home with brand new Rimowa luggage, while Joey was more than happy to get P20,000 worth of Klook travel credits and others were awarded a Boracay vacay, Grab PH credits, a trip to Palawan, and a holiday to Seoul, South Korea.
Of course, any party wouldn't be a success without the help of all those who had worked tirelessly behind the scenes prior to the big reveal, and so Tim also shines the spotlight on Ralph's Wines and Spirits, Asia Brewery, Heineken, Tiger Beer, Remy Martin, boozyph, Smirnoff Mule, Cuervo Pilipinas, and the Bar, as well as Virgie Ramos of Swatch for the venue and watches, Erica Brenner Mendoza, Angkas Ph, Sam Verzosa and Frontrow for the charity donation, Digistar Ph, Happy Ongpauco-Tiu, Ketovegetarian and Keto Living PH, Food Czar PH for the halo-halo, New World Makati Hotel, Privato hotels and MAC Cosmetics, Yaparazzi Events, and of course, Tim's husband Javi Martinez who directed the event.
By the end of it all, Tim wasn't just a happy Demogorgon, as paradoxical as that might be, but a one heck of a host, too!
Photography by Gab Loste, Jerferson Permejo, and Mark Ryan Alvarez courtesy of Tim Yap