What to Expect in "He's Into Her" Season 2
"Mas elevated 'yung Season 2, times 10 in terms of emotions," says "He's Into Her" lead actor Donny Pangilinan
Last year, He's Into Her surprised (and wowed!) Filipino viewers with a teen rom-com/drama they didn't know they needed. The series premiere had a record-breaking high number of views on iWantTFC that even resulted in technical issues.
He's Into Her also won Best Direction and Best Original Program by a Streamer/OTT at the Asian Academy Creative Awards. Helming the series, which is based on the 2013 novel of the same name by Maxinejiji (Maxine Lat Calibuso), are director Chad Vidanes and head writer Vanessa Valdez. It is produced by ABS-CBN Entertainment, Star Cinema, and iWantTFC.
He's Into Her features Metro.Style cover stars Donny Pangilinan and Belle Mariano as the leads. He plays Deib, the basketball varsity captain at Benison International School, and she plays Maxpein (or Max), the spunky probinsyana who moved to Manila and attended the abovementioned school. In season 1, we saw how romance blossomed between Deib and Max, but relationships come with complexities in general. So, in season 2, we're bound to see these lead characters grow both as a couple and as individuals.
The trailer for the second season, which was released last March 19, gave us hints on what to expect from the characters and their respective stories, especially with new faces joining the "bearkada."
During the cast's media conference last March 26, they took time to express their gratitude for the support that the show has been receiving. The virtual event was attended by the season 1 cast members who are reprising their roles in the second season: Donny Pangilinan, Belle Mariano, Jeremiah Lisbo, Kaori Oinuma, Joao Constancia, Criza Taa, Vivoree, Dalia Varde, Ashley del Mundo, Gello Marquez, and Limer Veloso. They were joined by new cast members Reich Alim, Rajo Serrano, Shanaia Gomez, Mikha Lim of BINI, CJ Salonga, River Joseph, Turs Daza, Zach Castañeda, and JC Alcantara.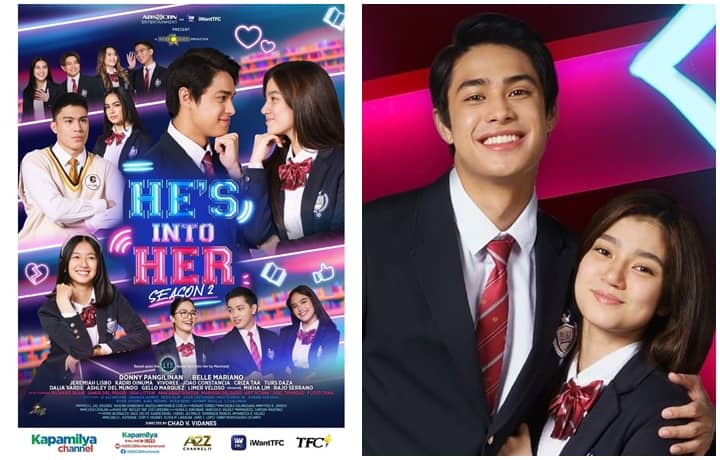 Photo Gallery
Photo Gallery
Former Pinoy Big Brother: Kumunity Season 10 housemate Shanaia shared her experience on the set of He's Into Her, saying that the original cast members were so welcoming of the new ones: "I was really lucky that the cast was really welcoming. When I was on set actually, siyempre nervous rin ako, kasi this like my second acting experience. I was really blessed that Direk Chad was very helpful. He really guided me."
Compared to a teen-kilig Season 1, the second season will give a deeper approach when it comes to tackling topics like dealing with heartaches, trusting someone fully, growing up, and really understanding what it means to be in a relationship. And as mentioned in the season 2 trailer, "Falling in love is easy. Staying in love is hard."
Belle describes this season as something like the adulting phase of Deib and Max. Donny, on the other hand, describes it as another step in the relationship of their characters: "It's an entire stepping stone of growth, being in a relationship, and the problems they both face with their friends," Donny explains. "Sobra akong emotionally na-drain… I really felt how it felt to feel this certain way. Mas elevated 'yung Season 2, times 10 in terms of emotions."
Head writer Vanessa adds, "A lot of the characters here in Season 2, that's what happens to them, they discover who they are, what they believe in, what they are willing to fight for. So, same thing for a lot of young people now. You have your parents, you have your family, you have your teachers to help you figure out who you are."
Watch the He's Into Her Season 2 General Assembly and He's Into Her Season 2 Global Assembly below:
Viewers can get access to all the episodes of He's Into Her Season 2 by subscribing to iWantTFC Premium for only USD 12.99 (USA) and CAD 9.99 (Canada) a month. New eligible users can enjoy streaming FREE for 30 days.
iWantTFC users can be the first ones to watch how Deib and Max's love story will unfold by watching advanced episodes on the iWantTFC app (iOs and Android) and website (iwanttfc.com) beginning April 22, with a new episode dropping every Wednesday for iWantTFC Premium users outside the Philippines. Watch iWantTFC on a larger screen with select devices, including VEWD, ROKU, and Amazon Fire streaming devices, Android TV, select Samsung Smart TV models, Telstra TV (in Australia), and VIDAA in select countries. Additionally, iWantTFC is available via Chromecast and Airplay.
The series will make its broadcast premiere on April 24 on Kapamilya Channel, Kapamilya Online Live, and A2Z, with a new episode dropping every Sunday.
Photos from @iwanttfc