Here Are The Winners Of The 41st Blue Dragon Film Awards—Plus, The Event's Celebrity Guests!
Jung Yu-mi and Yoo Ah-in were among the winners, while Lee Byung-hun, Kim Hee-ae, and Song Joong-ki were three of the Hallyu stars who graced the awards ceremony
Some of the brightest stars in the Hallyu scene gathered on February 9 to celebrate the 41st Blue Dragon Film Awards (or Blue Dragon Film Awards 2020), which honored the best in the South Korean film industry.
The star-studded event, which aired live via SBS, was held at Paradise City in Incheon. Kim Hye-soo and Yoo Yeon-seok served as the hosts, a stint they've done for three consecutive years already. There was no live audience in the venue to comply with COVID-19 safety protocols, but there were celebrity attendees whose seats were socially distanced. The awarding ceremony was graced by the likes of Lee Byung-hun, Kim Hee-ae, Yoo Ah-in, Jung Yu-mi, and Song Joong-ki.
The event was supposed to be held in December last year, but was rescheduled due to the increasing number of COVID-19 cases in the country.
The 41st Blue Dragon Film Awards is one of the most popular film awards in South Korea. It was established in 1963, as presented by media company Sports Chosun which is a sister brand of Chosun Ilbo. For its 2020 edition, the movies that were qualified for the awards were released between October 11, 2019, and October 29, 2020.
Movies Voice of Silence, Moonlit Winter, Deliver Us From Evil, Samjin Company English Class, and Ashfall each received more than one award.
Check out the gallery below to see the full list of winners as well as those who attended the 41st Blue Dragon Film Awards: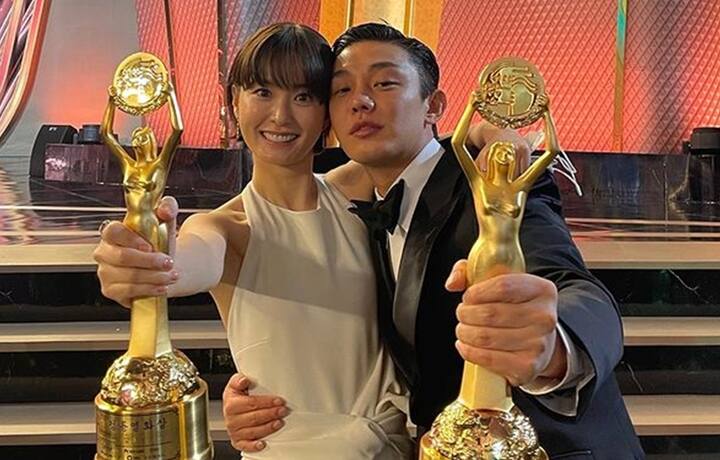 41st Blue Dragon Film Awards
SWIPE LEFT OR RIGHT
TO NAVIGATE BETWEEN PAGES
Best Actor and Popular Star Award recipient: Yoo Ah-In for "Voice of Silence"
Photo Credit: @satoco__0716 and AsianWiki
Best Actress: Ra Mi-Ran for "Honest Candidate"
Photo Credit: @ramirani668 and AsianWiki
Best Picture: "The Man Standing Next"
Photo Credit: IMDb
Best Director and Best Screenplay: Im Dae-Hyung for "Moonlit Winter"
Photo Credit: AsianWiki
Best Supporting Actor: Park Jung-Min for "Deliver Us From Evil"
Photo Credit: @mp_gilda and AsianWiki
Best Supporting Actress: Esom for "Samjin Company English Class"
Photo Credit: @esom and AsianWiki
Best New Director: Hong Eui-Jung for "Voice of Silence"
Photo Credit: Hellokpop
Best New Actor: Yoo Tae-Oh for "Vertigo"
Photo Credit: @cjes.tagram and Pinterest
Best New Actress: Kang Mal-Geum for "Lucky Chan-Sil"
Photo Credit: SBS and HanCinema
Best Cinematography and Lighting: Hong Kyung-Pyo for "Deliver Us From Evil"
Photo Credit: AsianWiki
Best Editing: Han Mi-Yeon for "Beasts Clawing at Straws"
Photo Credit: koreanfilm.or.kr
Best Music - Dalpalan and Best Art Direction - Bae Jung-Yoon for "Samjin Company English Class"
Photo Credit: AsianWiki
Best Technical Achievement (Visual Effects) - Jin Jong-Hyun and Audience Choice Award for Most Popular Film: "Ashfall"
Photo Credit: AsianWiki
Best Short Film: Lee Na-Yeon and Cho Min-Jae for "The Thread"
Photo Credit: koreanfilm.or.kr
Popular Star Award recipient: Jung Yu-Mi
Photo Credit: @management_soop
Han Hyo-Joo
Photo Credit: @hanhyojoo222
Go Ara
Photo Credit: @goara.art
Kim Hye-Yoon
Photo Credit: @kdramalovers_0210
Lee Byung-Hun
Photo Credit: @bhent_official
Lee Joo-Young
Photo Credit: @i_icaruswalks
Shin Hye-Sun
Photo Credit: @shinhaesun0831.tw
Shin Min-Ah
Photo Credit: @shinminahbrazil
Lee Sung-Kyung
Photo Credit: @sungkyung_brazil
Park Shin-Young and GOT7's BamBam
Photo Credit: @kdramaandyou__
Jung Woo-Sung
Photo Credit: @tojws
Im Si-Wan
Photo Credit: @yim_siwang
Kim Hye-Soo and Yoo Yeon-Seok
Photo Credit: @yoo_yeonseok
Shin Hyun-Bin
Photo Credit: @hyunbeenshin
Kim Hee-Ae
Photo Credit: @kimheeae.id
Kim Mi-Kyung
Photo Credit: @kim_mee_kyung
Choi Min-Ho
Photo Credit: @choiminho_1209
Song Joong-Ki
Photo Credit: @historydnc
Joo Won
Photo Credit: @zu.won_moon.jun.won
Lee Yu-Bi
Photo Credit: @yubi_190
Ahn So-Hee
Photo Credit: @ssoheean
Lee Byung-Hun and Yoo Yeon-Seok
Photo Credit: @byunghun0712
Lee Hee-Jun
Photo Credit: @bhent_official
Park Hae-Soo
Photo Credit: @bhent_official
Lead photo from @hongsick