Ylona Garcia Celebrated Her 18th Birthday With A 1950s-Themed Party
Her party exuded old world glitz and glamour
Ylona Garcia turned 18 on Saturday, February 29, at Palazzo Verde in Las Piñas. Born in the month of love, February 28 to be exact, it was only fitting for her to celebrate her debut in a venue filled with all things red.
The theme of her party is 1950s, inspired by her grandfather's love for that era. With the help of fashion stylist Myrrh Lao To, Ylona was able to perfectly channel the muses in that iconic period in fashion. Full skirts that put emphasis on cinched waists were big back then, and that's exactly the style Ylona pulled off for her main outfit, a white ball gown with a bustier top by Patricia Santos (later that evening, Ylona changed her look by simply removing the voluminous ball skirt that revealed a short feathered skirt underneath); these looks were accessorized with jewels from JJ Jiao.
The white gown stood out in a sea of red, a venue transformed by event stylist Gideon Hermosa with lavish red elements from floor to ceiling and corner to corner. Of the venue's styling concept, Gideon shares, "As William Shakespeare says 'All the world's a stage, and all the men and women merely players...' A #Gideonized young 1950's theatre theme where the venue is the stage, the place where all production were made and Ylona, our debutante, is main character who plays a very significant role in this celebration of life & legality!"
In an exclusive interview with StarStudio, the former Pinoy Big Brother housemate revealed that it took her five months to prepare for the celebration. Ylona shares, "My theme for my 18th birthday party is the 50s... My grandpa on my mom's side, he adored the 50s, and he always sang songs from the 50s, dressed like the 50s… I adore the 50s, too. We got Marilyn Monroe, we got Audrey Hepburn!"
The party, which was planned and organized by Christine Ong Te Events, was hosted by Robi Domingo, who likewise took part in the debutante's 18 roses segment along with Nhikzy Calma, Jimboy Martin, Alex Diaz, and Hayden Kho, among others. Her closest friends in showbiz, like Kira Balinger, Dionne Monsanto, and Raine Salamante were also spotted at the event.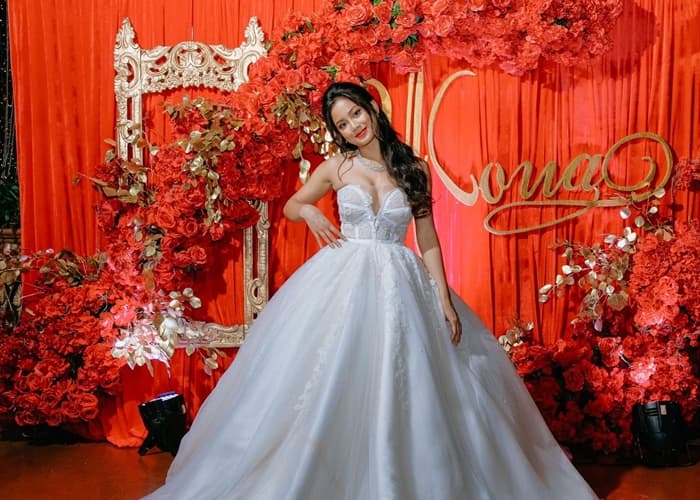 Photos from NicePrint Photo and Star Magic