EXCLUSIVE: "Dito At Doon" Star Janine Gutierrez On Trusting The Process And Building A Filmography She Can Be Proud Of
We talked to this award-winning actress about her latest film, "Dito at Doon," and her being as vocal as her character Len
"Come to the edge," he said.
"No, we are afraid."
"Come to the edge," he said.
"No, we are afraid."
"Come to the edge."
They came.
He pushed them.
And they flew.
There are a ton of inspiring quotes that can describe Janine Gutierrez's current state of mind. She shares some of them on social media, for a regular dose of mood booster to whoever among her followers may need it especially during this time of great uncertainty. But these lines from Guillaume Apollinaire's poem, "Come to the Edge," which she's always loved since high school, resurfaces and comes to the top of mind at this phase in her life.
"For me, it's like all about trust and trusting yourself and trusting the process. And if you just keep choosing things and doing steps that you feel bring you closer to your goal, eventually, one day, everything will come together," the 31-year-old actress, vlogger, and fashion/beauty muse explains.
Janine came to the edge, but instead of falling, she's soaring. Imagine if she let fear get in the way. Once, she posted a question for her followers to ponder on, "What would you do if you weren't afraid?" The possibilities are endless and the opportunities are limitless.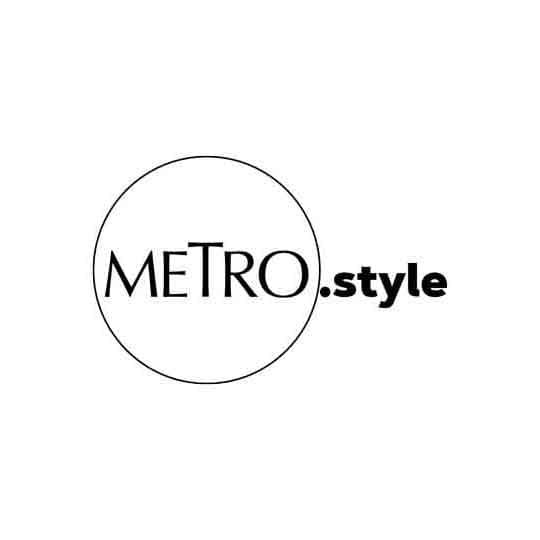 Black dress by Chris Nick, corset by Dion Lee, and mules by La Perla | Photography by BJ Pascual
It boils down to trust—trusting in yourself enough to take a leap and promising to carry on with your life regret-free whatever results your decision brings. It's better to take risks, after all, lest you find yourself wasting a second of your precious life thinking of what ifs and what could've beens.
When Janine moved to ABS-CBN in the midst of a pandemic and the network shutdown, many were asking "why?" Why now? But for Janine, the best answer to that question is "why not?" She thought long and hard about where she'd like to take her career next, before making this big move. So, who's to say her timing isn't right?
Her years' worth of acting experience has taught Janine that sometimes all that matters is when something feels right. That's what has always guided her in choosing her projects.
A couple of months after she was officially welcomed as the newest artist under ABS-CBN, Janine admits that everything still feels new to her and that's what precisely makes this new adventure fun, exciting, and challenging all at once for her. "Everyone is someone I haven't worked with or someone I haven't really met," she says, smiling at the idea of new collaborations.
Her first teleserye with ABS-CBN is in the works, and shooting for that is what's likely to be on her agenda this summer. She also recently traveled to Sorsogon to shoot for a movie with Pepe Herrera. "It's about this very career-oriented girl, very headstrong Manila girl who visits her grandmother and ends up finding a whole other world there when it comes to love and life and everything," Janine describes.
But while those are currently being produced, this March, Janine is celebrating Women's Month by introducing to the Filipino audience a relatable character that this fine actress immersed herself in before 2020 came to a close. In TBA Studios' Dito at Doon, directed by JP Habac, Janine is Len, a teaching assistant who has a no-filter attitude when it comes to voicing out her opinions on social media. The movie highlights a "new normal" kind of love story that was born amid a pandemic while under lockdown, pairing Len with JC Santos' Caloy, a delivery boy who might just change her life in the most unexpected way. They meet through an "e-numan," a virtual activity people have been introduced to in the past months while riding out the pandemic at home, and romance starts to enter the picture through their screens.
"Dito at Doon is like a quarantine love story or non-love story," Janine tells Metro.Style. "How do you find connection in a time when you're supposed to be isolated?... It's about whether a relationship that starts online can last offline." With a full year practically spent indoors because of the pandemic, this is a story that will surely resonate with many viewers.
But does Janine think a relationship that started online can indeed last offline? She says, "I've seen some people make it last. I think, yeah, it is possible, especially if you have a common end goal. One day, you're actually gonna be together. But I think, if someone really wants to make something work then you can make it work."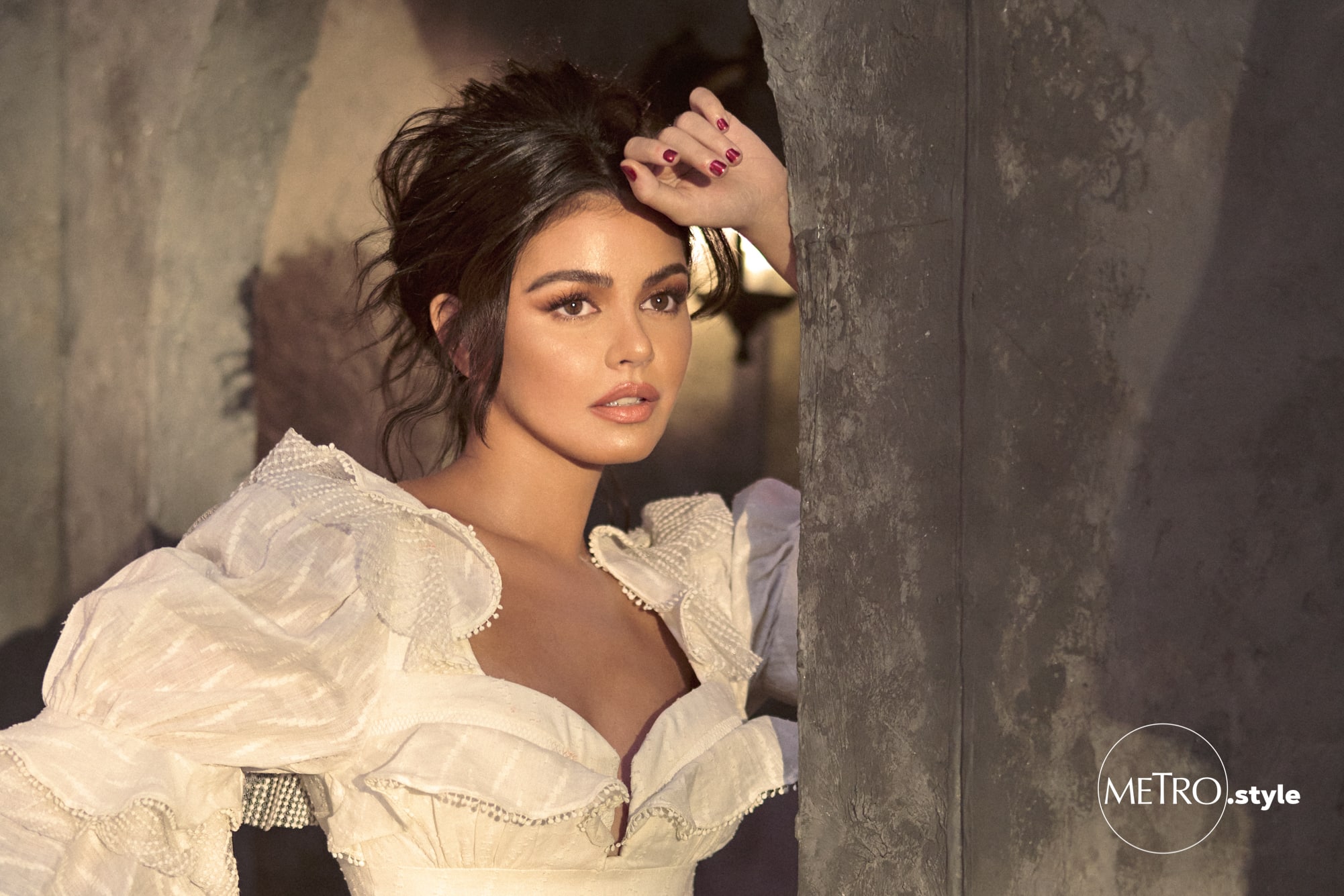 Janine Gutierrez on Metro.Style
Janine Gutierrez on Metro.Style
Dito at Doon was supposed to be one of the first Filipino films to be shown in cinemas again after a year of temporary closures. Going to the cinema is one of the things Janine misses about pre-pandemic life, that's why she was so thrilled about seeing their movie on the big screen. "I missed going to the cinema to watch movies. Parang ibang klaseng experience pa rin s'ya 'di ba?! It feels more intimate when you're inside the cinema and the screen is so big and you can't reply to people or, like, pause the screen," she says. However, the quarantine restrictions became stricter again, and Dito at Doon is back to online releases—which is really not that bad at all, as it means it will be able to reach more viewers and entertain them even at the comfort of their own homes.
The movie's relevance to both local and global audiences is one of the factors that convinced Janine this is a project worth doing even during such an unpredictable time. The film had its world premiere in Japan via the Osaka Asian Film Festival 2021 early this month, something she's extremely grateful to be a part of again. Last year, her other movie, Babae at Baril (The Girl with the Gun)—for which she won four acting awards, including the 43rd Gawad Urian Best Actress award—was also included in the said film festival's lineup as well as the New York Asian Film Festival 2020. She was supposed to go to both Osaka and New York to attend the festivals, but her trips got canceled due to COVID-caused lockdowns, among other plans of hers that had to be put on hold.
At the time of our shoot early this month, Janine shares, "This time last year, I already had tickets, because my other film was part of it naman, 'yung Babae at Baril. And then everything got canceled, kasi nga that was the start of the lockdowns and the flights all getting canceled. So, parang to be back there a year later is kind of surreal. And looking back at everything that has happened, parang, oh my gosh, tapos hindi pa rin ako makakapunta, parang in a way it's kind of frustrating but at the same time I'm also grateful that we're still able to make movies. Kahit papaano, the industry is still trying to get back on its feet despite everything that's happened. So, I guess, patunay lang siya na you just have to keep going and keep creating and keep doing your thing, and hopefully everything falls into place."
But on top of the familiar and relevant story that Dito at Doon presents, it's the fact that Len really spoke to her that got Janine all geared up to film in a bubble last December, out of town in Tagaytay and Batangas. Upon taking a deep dive into the script, it was a character that made her say with much excitement, "Ah, okay, I know this girl. Been this girl."
It's the script that she really looks at when reviewing and deciding on a project offer; it's her basis for accepting a role. But, of course, it's also important for her to collaborate with directors and co-actors who can bring out the best in her. JC is one such person for Janine, revealing that she's a fan of the actor. Janine says of JC, "He's really the best, as in sobrang generous niya. Super saya kasama. And I really watched all his films before, so to be his partner this time, I felt like he shows that energy onscreen all the more to whoever he's working with in the scene."
Janine also praises the visionary that is Direk JP, and mentions how excited she is at the prospect of working with more young directors in the local entertainment scene. "I always look forward to working with new directors," Janine shares. "I'm lucky to work with Direk JP who directed I'm Drunk, I Love You and Gaya sa Pelikula, and si Prime [Cruz], si Direk Rae Red of Babae at Baril. There are so many cool, young directors who have their own unique vision and spin on things."
In Dito at Doon's trailer, Janine's Len commented about how people are being "maarte" when they're complaining about boredom for having been stuck at home. JC's Caloy tells her, "Naisip mo ba na hindi pare-pareho 'yung epekto ng mga nangyayari sa mga tao? Dahil sa sinabi mong 'yun, posibleng minamaliit mo 'yung pinagdadaanan ng kausap mo."
It's true, there are times when our judgments are clouded, and we fail to see the layers that contribute to the grand scheme of things. Of that powerful statement, Janine reflects, "In the past few months din, napag-uusapan namin ng mga kaibigan ko na when we talk and when we read tweets of the people we follow on Twitter, parang pare-pareho kami ng iniisip. But when you look at the bigger picture and step back a little and try to look at the country, sobrang magkakaiba 'di ba? Parang everything is so divided, so sometimes you really realize na maybe you're in an echo chamber and you're dismissing everybody else's thoughts and 'yung pinanggagalingan nila. So for me, that line is a reminder to always take a step back and try to as much as possible not be judgmental and na kailangan mo talagang lawakan ang pag-iisip mo kasi I really think it's very important for discourse and to talk about things. So, for that to be successful, kailangan mo lang din talagang bukas at makinig ka sa mga pinanggagalingan ng mga tao na iba ang pananaw sa'yo."
The difference in their opinions that lends a balance to Caloy and Len's relationship is an element that makes the narrative more realistic and therefore more compelling. While Len's views may be questionable for some, to others, they're exactly the thought-provoking stuff that make for true eye-openers.
Len, too, with her all-too-blunt remarks, contributes a meaningful statement: "Okay lang na walang akong gawin dahil wala naman na akong magagawa?" It makes Janine cringe just thinking of this reasoning. "I always find it so annoying or all the more irritating when someone tells you na 'just leave it alone' or 'hayaan mo na kasi there is nothing you can do,' because paano na? What's gonna happen if everybody just thinks that way and nobody does anything or says anything?," Janine explains. "So, I think it's really very important to be honest and to talk and to try and do any little thing to make yours or someone else's situation better, because you'll never know 'di ba? Even just a simple conversation or a simple act, you don't know how far the effects of that will go. So, I hope it's also like a reminder to everyone that any little thing can go a long way."
Janine practices what she preaches. She's known for her honest, candid, and insightful Tweets—for some of which, she's been bashed and criticized. Despite that, Janine is unfazed. The mere fact that her tweets are getting noticed proves there's also a chance that she might be providing enlightenment to someone, somewhere, and that's enough for her to make a difference somehow.
She shares, "I think, more than anything, these past few months, everyone has kind of resorted to social media 'di ba, to parang get their frustrations out, get information, parang it's been our new world since we were forced to stay at home and the same has been for me. Every time I feel something and I can't contain it, I'll tweet it or [post about it on] Instagram. It has also served as a great support group for finding like-minded people or people who are concerned about the same issues as you are, or share information to people who may not have known what's happening, and this is what you can do. So yeah, very naging ganu'n nga ako these past few months."
Janine knows that voicing out her opinions is just one of the many ways to actually make a difference. In her own ways, she wants to be the change she wishes to see. That's why aside from putting the spotlight on social issues that matter, she also maximizes her influence and her online platforms to champion certain advocacies. She has been a National Youth Ambassador for WWF-Philippines, with which she advocates for "causes centered on conservation efforts to ultimately help Filipino lives by crafting solutions to climate change, providing sustainable livelihood programs and protecting our wildlife." She's also involved with A-HA! Learning Center—"[It's] an organization that helps give public school children access to better futures through learning programs, and more recently, through continued education through their SCHOLARSHOP." Janine also supports organizations and causes that champion women's rights, human rights, and LGBT rights.
As an actress, it is always Janine's goal to leave a mark to the viewers by giving them something to remember her characters by. This is a responsibility she carries with her in this craft, a reflection of how much she values quality over quantity.
Today, especially, artists like her are challenged to create quality work that not only serves as an escape for people but also inspires, uplifts, and empowers them.
Whether she's the devoted wife, Corazon, in Dagsin; the lively, independent woman in Elise; the unexpected, gun-armed heroine who finally gets to call the shots (quite literally) in Babae at Baril; or simply the outspoken, lovestruck in lockdown Len in Dito at Doon, Janine always vows to only say yes to roles she truly believes in.
No longer is she boxed in the pretty girl, showbiz royalty mold. She successfully went over and beyond that, and she flew and soared on her own. "I always was hoping to build a filmography that I'll be proud of when I'm older, and that I was able to do different things, not just one of the same thing all the time and I got to work with different people. 'Yun talaga 'yung goal ko ever since." So far in her decade in the industry, she has been heading to the right direction, the path that feels right for her.
The idea of being in the industry for a decade does make her feel old, she admits, laughing. But to her, getting old is not something to be scared of. "[Aging] is very exciting for me. I was scared of it before but ang pinaka-idol ko kasi is Jane Fonda and she's like 83, and I read her book and she always talked about how getting older was so freeing for her, na parang with age came more strength and more confidence. So, from that I realized that there's really nothing to be scared of, and it actually gets more exciting as the years go by."
Janine came to the edge, she jumped, and now she's on cloud nine.
Dito at Doon may be streamed online starting March 31, 2021 via KTX.ph, iWantTFC, Cinema '76 Film Society, Ticket2Me, and Upstream. Buy your tickets here: https://www.tba.ph/dito-at-doon/.
Photography and creative direction by BJ Pascual
Sittings editor: Kat Cruz-Villanueva
Makeup by Robbie Piñera
Hairstyling by Mark Familara
Styling by Melville Sy, Maita Baello, and Shark Tanael of Qurator Studio
Production design by AdSet Productions
Videography by Greyhound
Shoot coordination by Grace Libero-Cruz, Judy Arias, and Cara Tirona
Special thanks to Leo Dominguez and Rey Lanada