Donny Pangilinan and Belle Mariano's Bold New Era
"Can't Buy Me Love" leads Donny Pangilinan and Belle Mariano prove yet again why they're considered outstanding stars of this generation
"Ang cool lang na kahit ilang years na tayo magkasama, na nagwo-work together, iba pa rin 'yung challenge," Donny Pangilinan tells us, subtly eye-beaming at Belle Mariano as if asked to share a message to his onscreen partner. "That's what we look for," he adds as we tackle the factors that come into play when they pick projects, and she enthusiastically nods in agreement.
As we catch up and get cozy with Donny and Belle at a Scandinavian dining area setup in the Philippine School of Interior Design's PHusion exhibit, it's easy to see how at home they are in each other's company. Their closeness is palpable, their banter is effortless, and their chemistry is magnetic.
They know each other so well they could follow one's line of thoughts and finish each other's sentences. "Fighting for what's right. I think that's what I have na pareho ko kay Caroline," Belle replies when asked to share her similarities with her latest onscreen character. "Ano ba?" she asks Donny. After a short pause, he offers, "Fashionista ka rin!"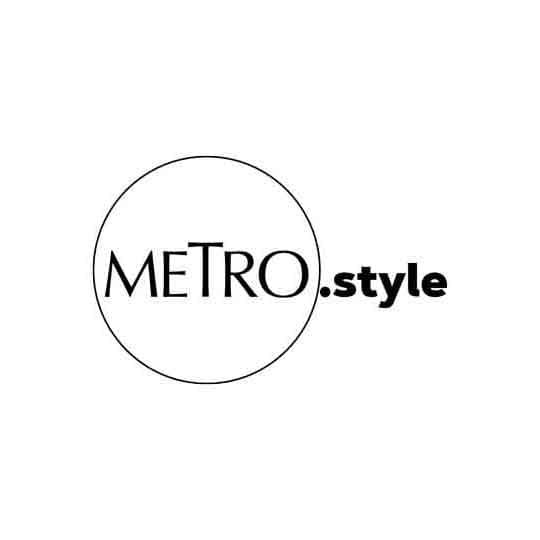 On Belle: Skirt by STACY RODRIGUEZ and cropped turtleneck by NBD at REVOLVE | On Donny: necklace and ring by BVLGARI and suit by PLF HOMME | Photography by Gee Plamenco Jr.
Donny Pangilinan and Belle Mariano's DonBelle team-up is in its fourth year. With two movies, three series, and a slew of events, appearances, and shoots together, there's no better way to describe the career trajectory of this New Gen Love Team than onwards and upwards.
Their Wattpad-based series, He's Into Her, aired on May 28, 2021, achieving a record-breaking high number of views. The viewers' reception was overwhelmingly positive, pushing DonBelle to a breakthrough, phenomenal reach. This astounding level of success led to their first-ever movie together, Love Is Color Blind, in December of that year. He's Into Her also won three awards (Best Theme Song or Title Theme by BGYO, Best Original Programme by a Streamer/OTT, and Best Direction - Fiction) at the Asian Academy Creative Awards. 2021 was their year, no doubt.
The following year, Donny and Belle returned with the second season of He's Into Her and did not disappoint. Then came the rom-com film An Inconvenient Love, which reportedly grossed 4 million pesos on its first day. 2022 was another milestone year for them.
This year, An Inconvenient Love was recognized with a Best Asian Feature Film award at the ContentAsia Awards held in Bangkok, Thailand. Last month, their much-awaited first teleserye together, Can't Buy Me Love, was released with flying colors. It premiered on Netflix Philippines last October 13 and quickly became the No. 1 TV show on the platform, with an all-time high of 454,413 concurrent viewers for the pilot episode on Kapamilya Online Live on YouTube last October 16. As of today, it is the #1 TV show on Netflix Philippines. 2023 is their year, and at the rate they are going, the narrative is likely to be the same for next year.
"Second episode pa lang ata namin when we found out that we were No. 1 on Netflix. And I remember him [Donny] calling me, congratulating," Belle gushes. "And grabe, we're just really grateful, and I just want to say thank you so much to everyone who watched and supported Can't Buy Me Love. I can't imagine talaga. Grabe, no?"
"Well, not just supported, who will continue to support. It's going to be showing for, like, a while," Donny adds. "So, kami, we all watched the pilot episode together. And it was really cool to see everything fall into place, because we know how hard we've all been working. The cast, the crew, everyone behind the scenes. And just to see us portray super different characters from who we really are and our previous roles as well is just so nice. The privilege of working with three amazing directors. Ah, very surreal pa rin! And we're so blessed not just to be No. 1, we [also] get to share this story."
Donny and Belle, both award-winning individually, are thrilled to experience many firsts with their latest project. It's their first teleserye or full-length series. It's the first time Donny is playing a character from a family struggling financially. Similarly, it's the first time Belle is taking on an onscreen persona with a well-off background. The reversal of roles, coming from the ones they previously played in their breakthrough series He's Into Her, is just one of the reasons their new show is creating buzz and deservingly so.
In Can't Buy Me Love, Donny is Andrei/Bingo, a young hardworking man with a tragic past, who grew up without his parents (Annie played by Ina Raymundo and Gilbert played by Bernard Palanca). Bingo lives with his grandmother, Lola Nene (Nova Villa), and father figure, Monching (Ketchup Eusebio). He crosses paths with Belle's Caroline/Ling, a rich young woman in a Filipino-Chinese family, at her sister's (Bettina played by Kaila Estrada) Ting Hun or engagement party; they see each other again because of a kidnapping incident that leads to Ling being indebted to Bingo.
Many elements are factored in to be able to conclude that a show is worth watching and tuning into. The story and the cast (main and supporting) are at the core. Can't Buy Me Love has nailed those two, with the additional privilege of having directors Mae Cruz-Alviar, Cathy Garcia-Sampana, and Ian Loreños at the helm. The supporting cast is also remarkable, with the likes of Nova Villa, Agot Isidro, Ruffa Gutierrez, Rowell Santiago, Ronnie Lazaro, Ketchup Eusebio, Hyubs Azarcon, Kakai Bautista, Maris Racal, Kaila Estrada, Joao Constancia, Albie Casiño, Anthony Jennings, Darren Espanto, Vivoree, Karina Bautista, Chie Filomeno, Alora Sasam, Gello Marquez, Enzo Pineda, Alwyn Uytingco, Katya Santos, Alex Medina, and Bodjie Pascua.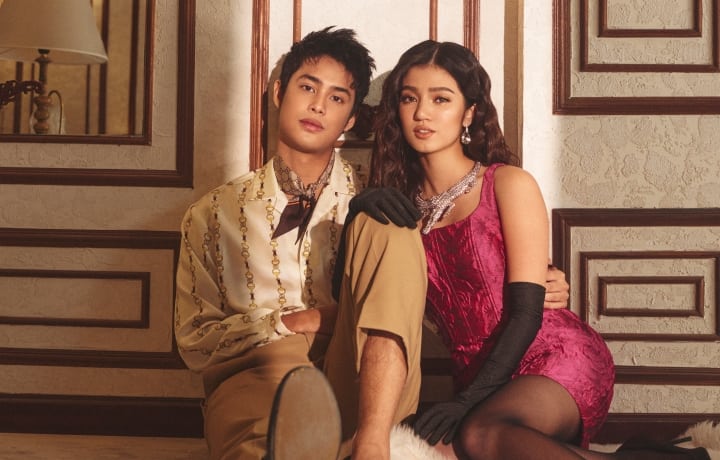 Photo Gallery
Photo Gallery
"The big factor there is the material," Belle emphasizes when asked about her considerations for taking on a project. "It has to be a great story. And we're so grateful na ang Can't Buy Me Love, grabe! Ilang episodes pa lang, sobrang ganda na ng storya 'di ba? Ang dami-daming p'wede puntahan. And of course, living my purpose. If I'm going to do this, do I inspire people?"
With 20 episodes as of publishing time, the plot twists and turns are getting increasingly riveting. The character developments are shedding light on the personalities, motivations, and intentions of Bingo and Ling. For Ling, especially, her strength, willpower, and loyalty are what draw viewers in.
"I've been thinking kung ano talagang similarity ni Belle kay Caroline. Parang ang layo kasi talaga e. Ang layo," Belle ponders. "Siguro her motivation when it comes to proving the truth… Caroline has her own world, e ako, I like talking to people. So, she's reserved. She's my total opposite. But if there's one thing that I could relate to with Caroline the most would be her drive. Drive when it comes to fighting for what she knows is right and fighting for the truth."
Caroline's praise-worthy portrayal as well as her meme- and cop-worthy antics are thanks in part to Belle's hard work in bringing the character to life. In the series' trailer, she's a scene-stealer with her jet-setting lifestyle, commanding attention as she makes a statement in Fookien. "I did a seven-day crash course just to study Fookien. It was fun, just knowing their culture more, eating their food, and just studying how the Chinese-Filipino lives," she shares. "I think a big factor in creating my character, too, is like, si Direk [Mae] talaga, she really guided me up to the smallest detail. 'What did she [Caroline] do when she was five years old? How does that make an impact on her now?' And dressing up as Caroline, too. That really makes up Caroline. But without my red lipstick, I wouldn't be Caroline."
The show is like Caroline's runway, and we're all eyes on her outfits. Belle's favorite, so far, from her character's wardrobe is the classic strapless black dress with a thigh-high slit, which she wore at the Ting Hun. "It's such an iconic look for me… for sure marami pa 'yan," she teases. "Marami pang iconic looks si Caroline. Abangan na lang natin 'yan."
Belle's Maxpein in He's Into Her is also strong and independent, but Caroline is on a different level and is something new for this child star-turned-leading lady. In a way, Ling takes on the bida-kontrabida mold, and Belle couldn't have been happier to have this opportunity to shape and disappear into a character that's both familiar and has a lot of surprises up her sleeve.
"I've always wanted to play a villain role… I really like the thought na I challenge myself, doing a protagonist and at the same time antagonist," Belle tells Metro.Style, delighted that Caroline is somewhat giving her the best of both worlds while citing Joker as her all-time favorite villain. "There are no bad people. People just act that way because of what they went through. And Caroline is acting that way because of what she went through, because of the trauma that she went through, you know, losing her mom."
DonBelle's first teleserye touches on different genres: drama, rom-com, mystery, thriller, and action. And clearly, family takes up a huge part of Can't Buy Me Love's narrative. "Bingo is very family-oriented. I think that's the closest thing to me," Donny clues us in on what he and his character have in common. Donny's breakthrough character is Deib in He's Into Her, a basketball varsity captain and campus heartthrob. Now, Donny's character is similarly magnetic, only he's spreading his charms across the streets of culture-rich Binondo, Manila.
As part of his preparations for this portrayal, Donny and Direk Mae did some research, going around incognito in Binondo, their filming location, to immerse into the world and community of Bingo.
Donny shares with Metro.Style, "We went around. All we did was we just watched. People-watch. Looking at the streets, looking at buildings. Looking at how the culture is. We just observed. We sat down. We would go to stores. We would buy street food or whatever. Nag-uusap na lang kami na parang 'Oh, Donny, 'yan 'yung gagawin ni Bingo.' 'Uy, Donny, 'yan 'yung mga kasama ni Bingo. Ganu'n siya maglakad, ganyan siya…' So, 'yun, the whole time, that really helped me kind of have a sense of how I would portray the character and, yeah, I think it also helped na Direk [Mae], sobrang tutok niya, especially sa start na nag-meeting talaga kami, how different we want to portray Bingo here. How we can make it really true to me as well and new as well sa mga dating roles ko. There was a lot of work behind it. It's not just including me; it's the whole team and the cast, they really helped me. I asked sila Kuya Ketchup, sila Jennings, Gello, lahat nu'ng andun na, like, how I could portray this amazing character, and in the best way possible."
Understanding the nuances of his character is one thing, but connecting to Bingo on a deeper level is another. One of the personal touches that give a glimpse into how much the Can't Buy Me Love team takes details seriously has something to do with Nova Villa's character, Lola Nene, who is the grandmother of Donny's Bingo.
In our exclusive interview with Donny, he reveals for the first time that what he calls Lola Nene in the show was his input. "A fun fact that no one knows. Okay, I'll say it here on Metro for the first time. Si Tita Nova dito, Lola Nene talaga dapat 'yung tawag ni Bingo sa kanya. Direk talked to me. They were like, 'How could we make it as close to you as possible?' And when I was a child, I used to be super close to my great-grandmother. We call her Mamang. And she was really my best friend. We would go to tennis together. She'd drop me [off]. She'd bring me to school. She'd be there for all my, like practices, my training, everything. So, we named Lola Nene, Mamang. That's why I call her that in the show. It's just because of that, so that I have that connection. So that's why Bingo calls Tita Nova, Mamang."
In that aspect, establishing a family-like connection with his neighbors in the tenement, viewers see the soft side of Bingo. He's a family man and a good friend. But, on the other hand, Bingo's also a trooper and a tough cookie. His struggles with finding a job and working hard but not getting the opportunities he deserves are all too relatable. And Bingo getting hit by a bus on the way to a job interview is one of the highlights of the show so far.
Looking back on the making of that epic scene, Donny says, "Actually, 'yung nabangga ako, 'yung scene na 'yun, ang hirap talaga i-shoot nu'n ha… I did a lot talaga… First time ko maranasan 'yung ganu'ng eksena. Ang daming nangyayari kasi. Tapos ang galing ni Direk Ian, Direk Ace [director Wang Yan Bin]. First time also working with an international director, stunt director talaga. So yeah, I can't wait for more."
DonBelle deserves credit for making sure they offer something new to their fans each time. "With every project kasi, since we do project after project, you know, because of that, it's hard to come up with… not hard but it gets harder to come up with new material that won't be similar to the previous roles. It's just so nice that, you know, sobrang talino lang ng mga creatives," Donny compliments their collaborators. "They're able to come up with these types of stories that, 'yun nga, sobrang iba sa mga roles na ginampanan namin dati."
The freshness of the project's approach and its newness to the filmography of DonBelle is what Belle loved from the get-go. "It's such a different genre… It doesn't just focus on rom-com, on just thriller, mystery… Ang dami niyang sinasakop na genre e," she points out.
Donny and Belle are grateful because viewers seem like they can't get enough of Can't Buy Me Love. They check their fans' feedback and reviews online and appreciate the praises they receive for the work they put into every episode. "That scene when I did parang 'I'm the victim of your apo! He kidnapped me,' ang daming gumagaya and ang daming nagpo-post ng version nila," Belle shares. "Super na-appreciate ko 'yun kasi nakikita ko how they're portraying Caroline, 'di ba? And 'yung iba pa nga, gingaya nila 'yung lakad ni Caroline on the way to the Ting Hun. And seeing all their feedback saying na, 'Oh my gosh, we don't see Belle. We don't see Donny.' I think that's the greatest feedback na na-receive namin so far. Na parang, my gosh, they actually saw Caroline and Bingo. Grabe. Thank you so much."
Donny, on the other hand, mentions that he likes that their show surprises viewers who may have thought that Can't Buy Me Love is just another rom-com series. "Ang daming genre sa isang show. It's not only super feel-good, which is cool. Your emotions are all over the place. You don't know what's going to happen next. One scene, you could be laughing so hard. The next scene, it's like someone is chasing someone. And then they're like, 'Wait, wait. What?!' After watching again, like, 'Did I miss something?' Even us, we're like on the edge of our seats."
With 100+ episodes to go, Can't Buy Me Love will have more paths to take viewers to, hopefully with the ultimate destination of a place of love, touching people's hearts once again. It's bound to be a long journey for Caroline and Bingo; perhaps more adventures with his motorcycle, his "kuliglig," or her yacht. Whichever it may be, one thing's for sure: on this road trip, we've cozied up and taken our seats comfortably. We are hooked, and we can't wait for the next episode!
Photography by Gee Plamenco Jr.
Creative direction by Chookie Cruz
Editor-in-Chief: Geolette Esguerra
Sittings editors: Grace Libero-Cruz, Randz Manucom, and Red Dimaandal
Art direction by Raff Colmenar
Video Producer: CJ Reyes
Interview by Judy Arias
Editorial Assistant: Mika Yusay
Makeup by Jake Galvez, assisted by Efren Evardome Jr.
Hairstyling of Belle by Jerry Javier, assisted by Raymond Gatilago
Styling of Belle by Adrianne Concepcion, assisted by Vince Abarra and Cent Bernas
Grooming of Donny by Jam Pareño
Styling of Donny by John Lozano, assisted by Lon Morelos and Corven Uy
Photography assistants: Chris Cantos, Aaron Ongkingco, and Warren Diotay
Shot on location at Philippine School of Interior Design (PSID) PHusion exhibit at Greenfield Tower, Mandaluyong
Special thanks to Star Creatives, Star Magic, Lourdes de Guzman, Mico del Rosario, Rens Dingli, Daryl Simone, April del Rosario, Edith Fariñas, Lauren Dyogi, and Dunkin'