Return of the Rebel Muse: The Newly Engaged Ellen Adarna Is Back
Leaving her quiet life in Cebu to return to Manila, getting engaged to Derek Ramsay just a few days ago, our favorite free-spirited muse has found peace by tuning in to herself and knowing who she really is. She shares all in this exclusive interview with Metro.Style
Ellen Adarna had no intention of staying in Manila. Nor did she have any intention of going back to showbiz with her new Sep Vergara Fine Jewelry endorsement. Nor did Ellen ever think that she would find her soulmate and fall in love. Nor did Ellen ever imagine she would get engaged to Derek Ramsay. She did, after all, declare to her friends when she was in high school that she would never marry. And yet, by some miraculous design of the universe, everything just fell into place, and she is with all of these and more. The synchronicities just kept coming, and mere coincidences led to some kind of life-changing magic that even Ellen finds hard to explain.
Yet here she is at this moment, cognizant that the little changes in her these past few months, have led to all these beautiful things happening in her life. Her dreams manifesting, her life filled with a newfound sense of bliss. She was just bursting with happiness.
We shared so much of this journey with her. After all, her last major print cover was actually with
Metro four years ago, in April 2017, for the Body Issue
. At that time, we had a blonde Ellen covered in sequins, a bed-sheet and nothing but. She was Marilyn Monroe reborn—a sultry temptress who was not afraid of anything. Before the shoot, we had a chance to hang out in her home in the art hub of Malate, where she shared a glimpse of her bohemian lifestyle, structured only because of her discipline (she is never late!) and her tenacity about her rituals.
So many things happened in between these four years—her relationship with John Lloyd Cruz, giving birth to Elias, going through post-partum depression, and recovering from it through a lot of mind-work—and so, when we had a mini-reunion with Ellen last month, a few days after the revelation to the world that she and Derek were dating, we had to take pause because the air around her was so different. She was still a free-spirit, authentic to a fault, undaunted by anything. And yet, there was a certain lightness to her. Her joy was apparent to everyone there in that room, and with good reason.
Later on, after successive interviews with Ellen, we confirmed our wish—our favorite rebel girl is definitely back—and she went through a journey of self-discovery that she's sharing for the first time with Metro.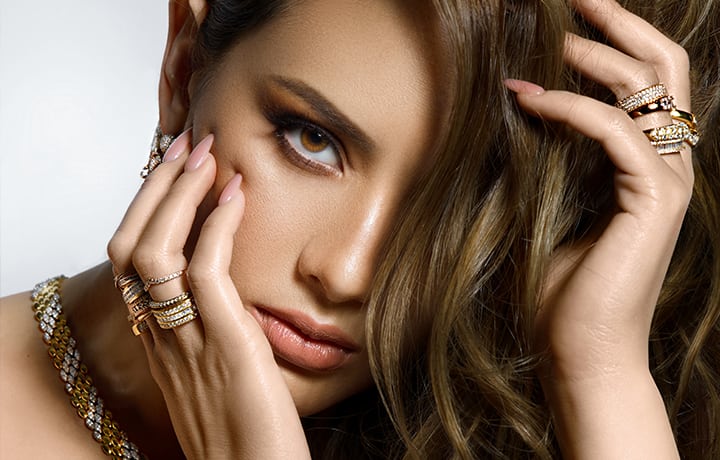 Photo Gallery
Photo Gallery
When you finally meet "The One"
Her palpable bliss was because several days before this interview, her soulmate, Derek, actually proposed to her!.
"I was so overwhelmed already that I forgot I was supposed to say yes. In my head, I knew I was going to marry him," she says of the proposal. "Until I heard someone say—what's your answer? If I didn't hear what's your answer, I would have just give him my hand, for him to understand na 'yes. It's a yes," she shares with a laugh.
The proposal was a masterclass in mood-setting, diversion and distraction, and acting courtesy of Derek and their friends and family. Before the actual proposal, Ellen had to go through a series of games, from treasure hunts to riddles, to trivia questions, all the while thinking it was a surprise birthday party for her (her birthday was April 2). And so, even before the last trivia question was asked, the balloons were raised and she finally understood what this moment was about.
"Will you marry me," the neon lights asked on behalf of Derek, who started kneeling right there.
And in Ellen's utter shock, it took her an agonizing minute before she finally answered with: "Yes, yes, yes, yes!"
In truth, the two have been talking about marriage even before the proposal, so it wasn't a complete surprise to Ellen. Two weeks after they had got together, she already knew he was the one, and they have started broaching the topic slowly.
"He told me he was going to marry me three times before he proposed," she shares.
And so, even before that Derek had asked for permission from his parents, from his son, and from Ellen's family, Ellen's mom about what he was planning to do.
It certainly was a big step, especially for the independent Ellen, who never, not in her wildest dreams, wanted to get married.
"I'm the type who really had no plans of getting married," she declares. Like marriage is not for me. I don't want to get married," she says. "I remember telling one ex before, if you ever mention the marriage word—wag na lang kasi maghihiwalay tayo," she says in retrospect.
All of that changed when she found "The One."
"All relationships start great. And all these relationships made me realize what I want and what I don't want. What fits and what doesn't fit. What's good for me or not good for me," she says. "But with Derek, I didn't have to impress him, and I felt accepted immediately. I don't feel the pressure of having to change this or that," she says.
"We're always laughing and I'm very comfortable around him. I feel safe and I feel good about myself, and I feel okay. I'm in a good place," she says.
"It took me 32 years. I thought I was in love before, and it's so different from what I have now," she declares.
Journey to Self Discovery
What was important for her was that she was already on the path to self-discovery when she met him, and had actually felt at peace with who she was.
"Before I met him, I felt like I was the best version of myself already. I was okay. I was contented na and everything," she says triumphantly.
It took her a year of training to get to that happy place, with the help of meditation, breath-work, and of course, her training through the Kokoro program in Bali. Through vigilance and practice, she slowly healed herself of her anxiety and post-partum depression. It took her almost two years to get through this dark period in her life. Her father died two weeks before she gave birth, and everything snowballed afterwards.
"It was a dark phase. I wasn't myself back then. And it took me a long time to snap out of it, and to realize: Is this motherhood? Is this it? I'm so miserable. I don't like this," she says.
While everyone else harped on how motherhood changed them and transformed them, it wasn't like that for Ellen at all.
"I'd look at my son and think: This is what I wanted, but why do I feel so empty?" It took her a while to realize that she really needed to snap out of it because he was starting to understand her feelings.
"Malakas makaramdam ang kids. They really connect with themselves because wala silang information from the outside world. They use their intuition and they trust their gut feeling," she adds.
"Whenever I had my attacks, hindi sya lumalapit sa akin. He would feel uncomfortable," she says, revealing that Elias was barely one at that time. "I realized that I had to snap out of it because I didn't want him to see me like that. I didn't want him to feel my energy, kasi baka makuha pa nya."
And so, Ellen did the heavy lifting of healing herself. "When I started working on myself, I did the inner work. Really fixing the problems here," she shares.
"And when everything started falling into place, when things got better, I also made choices for myself. Sumunod lahat. I was going back to my old self, my old routine, my good habits from before," she says.
She built on herself slowly, making good decisions, one after the other. Creating a routine out of her meditation and really resolving to understand herself more. This led her to some amazing discoveries—that she was already complete and happy. She didn't need anything else. She was her own woman. And that was the source of her power.
Even so, as Ellen looks back at her journey, she could finally see the big picture. From her recovery, to her blissful life now, Ellen knew that all of it was important. To her younger self, she has this to say. "Everything you're going through right now is part of the process, and it will be worth it."
Learn more about Sep Vergara Fine Jewelry by visiting their website, sepvergara.com.ph, or their IG account @sepvergara_finejewelry or FB account Sep Vergara Fine Jewelry.
Photography by Mark Nicdao
Creative direction by Eugene David
Art direction by Raff Colmenar
Makeup by Mickey See
Hairstyling by Raymond Santiago
Styled by TeamRainXEm
Digital retouching by PJ Calingasan
Production design by Angelique Castro
Produced by Geolette Esguerra
Shoot coordination by Judy Arias, Kat Cruz-Villanueva, Grace Libero-Cruz, and Cara Tirona
Video Production by Bria Cardenas
Videography by Pat Buenaobra
Special thanks to Danel Louise Calixto