Heart Evangelista Modernizes the Jet-Set Look
With the flurry of activities and current projects that Heart Evangelista is working on, she can easily take the crown for being the queen of productivity during the pandemic. Clad in Louis Vuitton's exotic Capucines and fine jewelry collections, she takes a pause and lets Metro get a look into her jetset lifestyle
It was a very early Monday morning and while the rest of the country is still in the process of waking up and making preparations for the day ahead, artist, entrepreneur, and fashion and beauty maven Heart Evangelista is already up, kicking off the week by reporting for a photo shoot and interview as early as 6:30 a.m. In fact, on a usual work day, she's already doing her hair and makeup at 3 a.m.
"I really do consider myself a morning person. I think it's nice when everybody is still asleep, you get so many things done. When your schedule's hectic, you want to make sure that you have time for your real life. I'm trying to finish everything in the morning so I can live my life in the afternoon until night," Heart reveals, adding that on a non-work day, she wakes up at 7 a.m. and tries to achieve her goal of 10,000 steps to start the day.
"I like being productive and you know how in the middle of the day you tend to get sleepy? I just finish it in one go [in the morning] and then I'm done," she says.
Balancing home life, endorsements, showbiz commitments, YouTube and influencer duties, clandestine and soon-to-be revealed overseas projects, and a newly-launched company, it's safe to assume that Heart's days are never the same. Still, there are some reliable consistencies in her life to keep her going yet steady.
"I definitely need a lot of coffee. I also like to be very positive and energetic. I feel like I dictate everybody's mood [in my team] so I always want to make sure that I'm happy and vibrant so that's something that's pretty constant although I do get tired from time to time. I try to be a positive and happy person to be able to go through a day with problems or schedules and all of it like a breeze. I feel that your attitude towards life is very important," she shares.
Heart's world
With her zest for life, happy energy, optimism and go-getter attitude, Heart is being rewarded with equal amount of positivity and exciting doors of opportunities that continue to open for her.
Among the biggest undertakings Heart is embarking on is the launch of Pure Living, founded with her sister Camille Ongpauco. It is a company that features products which promote beauty and wellness with a direct selling component that empowers modern-day entrepreneurs especially women. "I feel like it's my biggest project ever because it's my very own. There's so much pressure because there's so much work I put into it but I feel very excited," she says, lighting up.
The brand covers some of the most pressing needs of the market now: wellness and relaxation products such as scented oils and diffusers, a premium skincare line, as well as clean water-related kitchen and vitamin-infused products.
For Heart, finally deciding to set up her own company is a combination of believing in self-care and in empowering other people.
"I've been working for quite some time and if there's anything I've also learned from my mom is to just really take care of yourself. Aside from the whole pandemic season, I've always believed in putting yourself first and really making sure that you're healthy inside and out so we're launching beauty products, beauty tools and a whole lot more. It's not just a company that represents beauty products, I made sure that it's luxurious but attainable. We really made sure that we have quality products and I'm so proud of it because it's so affordable," Heart begins.
"It also helps promote women empowerment. People can sell the products especially women and moms who can work at home so it's also promoting being your own 'girl boss.' It's a whole system that we put together to be able to make you feel good, remind you to be healthy and to put yourself first whatever your situation is— whether you're married, you have kids or you stay at home because of all the responsibilities. That's the whole vision of the company," she proudly declares.
After the launch, Heart flew to Los Angeles, USA for work and to spend the holidays, including the new year, there. She will be in L.A. for two months for the Moonlight Arts Collective exhibits, a project that features her art collaboration with Incubus singer Brandon Boyd.
After a two-month stay in L.A., she will fly back to the Philippines to finish some commitments and is looking at flying back to the U.S. a few months later again for work and says she might go to Fashion Week or visit Europe next year, too. However, Heart says that compared to the years before the pandemic happened, she sees herself spending more time in the country.
Throughout her travels and adventures, Heart thoughtfully updates her fans on Instagram, Twitter and YouTube and is set to launch a series on her YouTube channel called "Welcome to Heart World," a wink and a nod to her fandom.
"This fan club 'Heart World' was actually created when I was 18 so I decided to launch a little reality series on my YouTube about my travels and the stuff that I do. I never really had a huge fanbase, I only have like a set but they've always been very loyal to me and I feel that they always like to see what goes on in my travels, a more in-depth view of everything that goes on so I really wanted to do something like that," she beams, thankful for the fans who stood by her through the years.
Asked how she would define "Heart's world," the actress got pensive. "My world is very colorful. It's definitely not perfect, I also have problems. I have anxiety and depression but that's why I have the same gusto to just fight, not feeling bad about everything because I know that it would trigger something bad in me. So I try to be very positive about everything in my life. I'm very grateful for everything around me and I'm appreciative of everyone," she smiles.
"At the end of the day, everybody's healthy and my family's okay. Everything else is a bonus. As you get older, I think the wants and needs in your life, parang it lessens and you're just thankful and more appreciative of the breaks you get in life and the opportunities presented to you. I'm in a really good place and I'm thankful that in that sense, I kind of matured. I have other things that make me happy and content. Though I still want a jacket from time to time," the last part Heart says in jest, proof that her humor remains intact as she overcomes life's dramas.
Heart x Louis Vuitton
On top of the multitude of things she does, Heart continues to do brand collaborations that are close to her passion and interests. Among the brands that's quite special to her is Louis Vuitton. Heart has a long history with Louis Vuitton and keeps moments that even dates back to her childhood.
"[My moments] with LV started when I was just a little girl. My mom and dad used to shop at their first branch in the Philippines at 6750 all the time. I remember my dad got me a yellow LV bag and from that day on, it just never really left my system. It was my first introduction to luxury," she says.
When she was younger, she may have been on allowance but her parents would buy her items from Louis Vuitton every now and then. Her very first personal purchase of Louis Vuitton was etched on her mind. "My first ever Louis Vuitton purchase would be the Murakami—the white Alma bag. That was my very first that I think I got for myself because Jessica Simpson was wearing a Speedy version of it and that's why I really wanted that. I got the wallet and the matching stuff with it," she recalls fondly.
Through the years, Heart has continued to patronize Louis Vuitton when the brand made its move to its flagship store in Greenbelt and even more so when they started officially collaborating two years ago. "I've always loved LV and I'm really happy to see Filipinos starting to really invest in themselves with what they wear, how they feel and with how they're trying to make themselves look good and feel better," says Heart, noting the luxury brand's growth in the Philippine market.
Her current favorite collection from Louis Vuitton is reflective of who she is as a person. "I recently painted the Cappuccine white version. I put a Filipina with a Filipiniana and my dog Panda—that would be my favorite. I love the bag, the shape and I obviously love painting on bags. This bag is something I'd take with me whenever I travel. I just packed that bag actually," she shares, adding that painting with bags allows her to express herself and turn it into something that makes it her own.
Heart's love for Louis Vuitton is also because of how it fits her style so well. "It goes back to having classic pieces but classic doesn't necessarily have to be boring or basic. Classic is something that you can wear multiple times, keep forever and have your children wear them. I love classic pieces but I also like it edgy. They have a lot of stuff that are reversible like I got a jacket that was reversible so you can wear it again multiple times. Another thing I love about Louis Vuitton is that they keep evolving and going with the times but yet still being very conservative for some people that just want to stay in the middle. You know it's just different. I love it," she explains, beaming.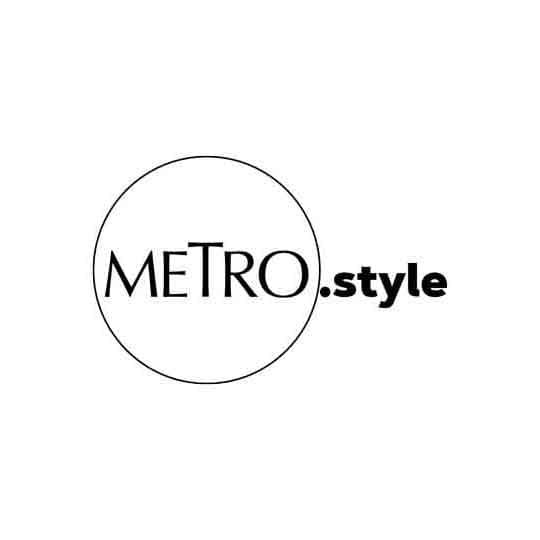 Heart wearing Louis Vuitton Cable Knit Trumpet Sleeve Cardigan, Baggy Tailored Shorts, and Grease Mask Sunglasses
Heart's future
As wife to Sorsogon Governor and senatoriable Chiz Escudero, Heart supports her husband by coming up with ways to promote the province of Sorsogon. Early this year, she launched Maison Love Marie, an online shop for bags, home décor and accessories sourced from Sorsogon and with the other items designed by herself. She is also currently busy with and seen on the primetime drama I Left My Heart in Sorsogon.
"I thought of what can I do to help that I'm good at. That would probably be my job, fashion and home stuff. I did what I felt would be best for me to do–to create awareness for Sorsogon and it really is like a hidden paradise. I feel that with all of our efforts, a lot of people will start going to Sorsogon and I'm very, very excited because we have so much to offer. I try to do my best to help and give back to Sorsogon," she says.
The actress has also declared that the drama is going to be her last, giving a glimpse of the future she sees for herself. "I feel that there are just so many other things that I need to do for myself as a person. I feel like at some point, I have to graduate and move on to something else. [With my experiences in showbiz,] I've gotten stronger so I know until when I'm going to allow myself to do certain things. Although I would still be very active with what I do with fashion and beauty and all of that," she states, firm in her resolve.
Heart's 2021 was a banner year for creativity but she looks forward to what 2022 has in store for her especially since she is embracing new and exciting projects and opportunities that she is not even allowed to disclose yet.
"I think the next steps of my life would matter the most to me and to my family so parang you know showbiz is and was amazing and I really enjoyed it—and I will still be in it. I just feel that there's just a certain gravity pulling me towards somewhere else that I feel that it's okay, this is where I need to go," she meaningfully shares.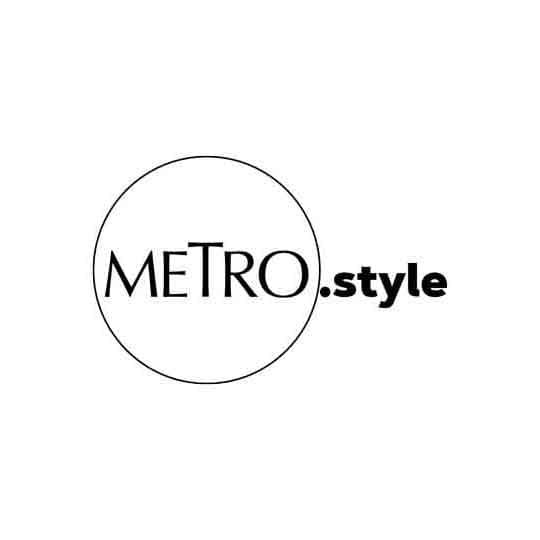 Heart wearing Louis Vuitton Since 1854 Contrast Trim Shirt, Double Face Monogram A-Line Mini Skirt, and Coussin PM
The fashion icon feels that when she started sharing her authentic self through her art, YouTube and other platforms, that's when beautiful breakthroughs started to unfold.
"I think I'm done playing roles and I'm just really enjoying who I am these days. I just want to be me and work from there. I know good things will happen when you're just comfortable being your authentic self. I was so afraid of being judged because of being me, because they loved you for this person or for this character that you played but it feels good to be real. I think that's my new role: myself," Heart proclaims, fully embracing her life as Love Marie Ongpauco—artist, wife, influencer, entrepreneur, global fashion mover, and more to come.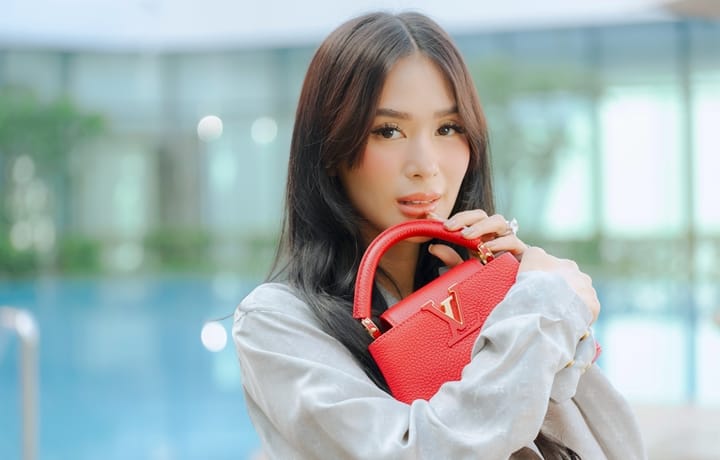 Heart Evangelista
Heart Evangelista
Fashion by Louis Vuitton
Photography by Shaira Luna
Creative direction by Chookie Cruz
Makeup by Justin Soriano
Hairstyling by Jeka Aguilar
Styling by Styledit by Kat Cruz-Villanueva
Sittings editor: Geolette Esguerra
Shoot coordination: Ceia Ylagan and Grace Libero-Cruz
Shoot assistant: Carla Buyo
Shot on location at Conrad Manila
Special thanks to Zeny Iglesias of Conrad Manila, Jeanger Navarro and Portia Trinidad of Louis Vuitton, Ira Lesaca of GMA Artist Center