EXCLUSIVE: Jayda Avanzado Shines Big And Bright As A Next Gen Star Of The Local Music Scene
Propelled by talent and passion, this 18-year-old singer, songwriter, and musician is poised to become the local music scene's next big name
There's an argument in Psychology that asks us about how people become who and what they are: is it nature, or is it nurture? Are people born with an innate set of skills and abilities, or are they shaped by the right environment, the right support, and the right training?
It's a question that first-time Metro.Style cover girl, Star Magic talent, and Star Music/RISE artist Jayda Avanzado herself might be answering if she had decided to pursue her life's Plan B.
"I'm considering Psychology. The human mind fascinates me and I've always liked studying human behavior and what makes people tick," Jayda smiles, widely enough to convey the message that she means by what she says.
Maintaining her smile and sitting upright with poise, she continues to tell us about all that she loves and all that she hopes for. She's a singer-songwriter, musician, music producer at heart, but underneath all that made-for-the-stage talent is an inquisitive storyteller ripe and ready for an audience. Jayda is a natural all throughout her day with us, charming the camera and the people behind it with each pose and each intelligently delivered answer to our questions.
Now there is a less explored gray area in this psychological debate: that there exists a select handful of individuals in this world who are hybrids of the winning collision of nature and nurture. Not only do they appear genetically predisposed to succeeding in one field or another, but they're also fortunate enough to be equipped with the resources needed to bring out the best in them.
At 18 years old (it's her birthday today!), Jayda has grown into what only a few can aspire to be—the perfect blend of the worlds of nature and nurture, so well-made like the lyrics and melodies she weaves together in her mind and gives life to with her voice.
One need not be an expert in Psychology to see it clearly.
Jayda Avanzado was made for the spotlight, and she's finally right where she needs to be.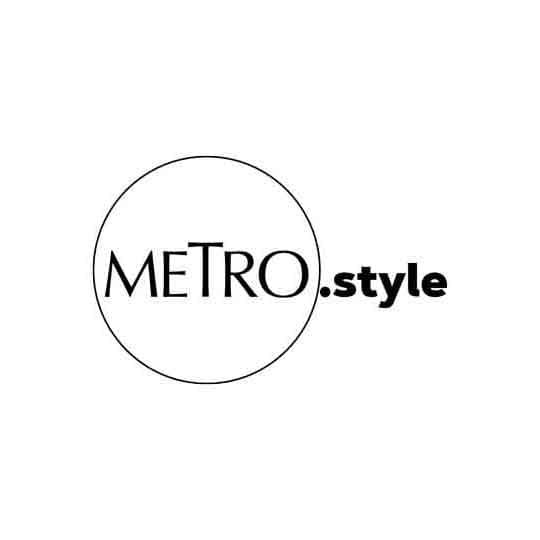 Jayda is on the cover of Metro.Style for the first time, to mark her 18th birthday | Photography by Dookie Ducay
"As early as I think, seven months old, I was already on the road," Jayda reveals. In between hair touch-ups, the rising star talks about how she believes she got started on her music career.
"I was a tour baby. When both of my parents would tour around America, they would take me with them. So I really grew up in that entertainment environment and honestly, growing up in America, I guess it's also shaped me as a person. I think it's shaped my view on things," she continues.
It's easy to imagine Jayda as a baby with just these words to paint a picture; while other infants had nursery rhymes to rock them to sleep, this pea-sized performer had her parents' harmonizing voices to fill her head with beautiful tunes. Instead of a crib and a baby mobile, she must have slept in all manners of hotel rooms and tour buses, and surrounded by stage paraphernalia like mics, amps, and instruments. If Jayda had said she learned her Do-Re-Mis and chord progressions before her ABCs and 123s, we wouldn't have been surprised.
"The entertainment industry in show business was something that came very naturally to me and I was always naturally drawn to it. I love entertaining people," Jayda says.
"I just love to perform for people, so it just really came naturally to me. It wasn't something that was forced on me. My parents, honestly, they were ultimately supportive of anything, of any field that I would choose to go into," she details.
On the topic of Jayda's parents—it's impossible to go further into Jayda's career without talking about her mom and dad, the nurturers to her nature as a great performer.
Jayda's dad is Dingdong Avanzado and her mom is Jessa Zaragoza, two of the Philippines' best selling and most recognizable recording artists. Jayda is their only child, so one way to look at her is a super potent, undiluted concentration of these two singing powerhouses' musical prowess. Together, they form one of the country's most gifted family trios.
What Jayda is not, however, is a shadow of her parents' fame. Though her career has just started taking its baby steps, this by no means suggests that she's unable to stand on her own two feet.
This teenager was holed up in her room, writing and producing songs at an age when most of her peers were lamenting learning the basics of musical theory in the classroom. At 12, Jayda became a fledgling songwriter. By the time she turned 13, she'd already completed several songs including "Happy For You," whose lyrics and solo piano accompaniment were both Jayda originals. In her mid-teen years that followed, Jayda also found herself one of the best collaborators any aspiring music artists could wish for.
"Initially I wasn't really thinking if I would join showbiz [in the Philippines] in particular. But Jonathan Manalo of Star Music, who has been my longtime collaborator, he was the one who convinced me to start releasing music here and really just mark that chapter of my life... I was unsure if I wanted to even release [my songs]," she shares.
The word "unsure" is not one you would associate with Jayda as she is today, but like all teenage girls, she too experienced her fair share of growing pains. Not everyone emerges from the metamorphosis changed for the better, but a quick Google search and social media sweep of Jayda's accomplishments and projects, ongoing and upcoming, will tell you that her freshly unfurled butterfly wings are some of the most colorful of them all.
You'll find some of Jayda's best creations on the ABS-CBN Star Music YouTube channel. "Happy For You," "Breathless," "Coffee," and "Text" give you a glimpse of her earlier musical direction, and then enters a more grown up, yet still young at heart Jayda with hits like "Malabong Usapan" and "Paano Kung Naging Tayo?," the music video of which has close to 750,000 views, as of this writing.
Whatever made Jayda feel uncertain about her capabilities then has surely begun to fade away, and quickly, too.
This chart-topper in the making takes the time to revel in her initial successes—and she should, what with all those feathers on her cap before her 18th birthday. And while Jayda can easily claim all her professional wins to be of her own making, she doesn't. She remains gracious and grounded even with things around her speeding up faster than she can keep up with at times. And once again, she points to mom and dad as her balancing guides as she walks the tightrope with well-earned confidence and humility.
"I honestly can't thank God enough for my mom, because she's probably my best friend in the business as well. She and my dad actually are always helping me make the best decisions for myself," Jayda confides.
"They're just always looking out for me. And it's so comforting to know that people with so much experience, they're right beside you and they're there with you every step of the way, no matter what happens," she adds.
There's more than meets the eye when it comes to the Avanzado household.
A fleeting look at Jayda, her mom, and her dad reveals that they're a handsome and blessed bunch indeed, but like a musical masterpiece that requires several rounds of listening to fully appreciate, much is to be discovered about their relationships that have shaped so much of Jayda as an artist.
For one thing, at the start of it all, Jessa was a protective mom to Jayda more than anything. She was proud of her little one for cultivating her talents, but at the same time, her maternal compass' arrow was pointing away from showbiz. As surprising as it is, the truth is Jessa wasn't fond of the idea that Jayda was gearing up to follow her footsteps.
"I understand where she was coming from. I think she was just being protective in a sense where she just didn't want to expose me to such a harsh environment. You know how showbiz can be; showbiz can be such a harsh environment. And it's completely understandable that she wouldn't want to put her child through some of the things that she may have gone through," Jayda says candidly.
"But at the end of the day, what really kind of prevailed in that sense is my passion for music. Especially when I started songwriting, that's when my mom thought this is something serious. [She thought], 'I can see it in your eyes, how much you want to do it, how much passion you have for it. Who am I to stand in the way of that?' So ultimately, you know, she just ended up supporting me," she continues.
Dingdong deepens the layer of their family dynamics. He was only every so slightly less opinionated about his daughter's career choice, but once she had her foot in the door, he made sure that she would have a steady head on her shoulders, and one that remains the right size, at that, no matter how far she gets.
Teasingly but meaning it nonetheless, Jayda calls her dad her very own Simon Cowell—a critic who might depend more on tough, rather than unconditional love, but only because he works to release the bubbling, brewing potential within his daughter.
"I attribute a lot of my growth as an artist and my continued evolution as an artist to him as well. My dad's always all about pushing me out of my comfort zone and seeing me grow, and making sure he impresses upon the importance of having a teachable spirit. 'There's no, uh, no substitute for hard work' is something that he always tells me. My dad is my motivator," Jayda says.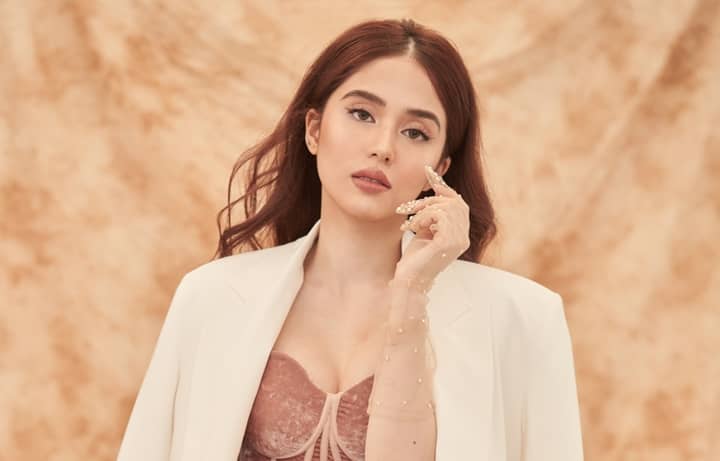 Jayda Avanzado on Metro.Style
Jayda Avanzado on Metro.Style
Now on the cusp of adolescence and young adulthood, Jayda feels a sense of nostalgia for what life once was when she was small and blissfully naïve about the realities of her family life. But not that she's complaining; she's all smiles and giggles when she talks about her younger days, in particular that one moment in time when she realized just who she was and the images her surname conjured in the minds of knowing Filipino music fans.
Jayda looks to the ceiling as she recounts an anecdote from childhood, as if trying to remember a dream about to get lost in the sands of time.
"Growing up, I always thought that was my definition of normal—both of my parents going on tour, I thought all kids grew up in that environment. And then when I started going to regular school, that's when I realized this is the more unconventional lifestyle," she begins.
"With my parents, they never tried to show like they were celebrities and this and that... I didn't really think anything of it until I was exposed to different people from different walks of life. So they've always just been normal, the normal parents who are there to support me and always just guide me in making the best decisions in life," she nods.
It's a different kind of upbringing, but one she wouldn't trade for the world. After all, it's this widened perspective of growing up and the chance to live a life often only read about in fiction or watched in films that's lent so much depth to Jayda's songwriting.
Without these experiences behind her, it's unlikely she would have grown up the way she did and gained command over subjects she tackles in her songs.
Jayda's current lyrical catalogue mirrors the most crucial experiences, emotions, and turning points she's lived through thus far. Love, longing and hints of heartache have led her fingers as they graze piano keys and guitar frets, but alongside them are also themes of vulnerability, empowerment and self-worth. Jayda's desire to come closer to her Filipino roots has also played a role in her songwriting; she challenges herself to be able to write in Filipino as well as she does in English.
"All these circumstances happening in the world today, it has forced me to kind of start writing about other themes as well that may be relevant to me," she points out.
Asked to put together a starter pack of sorts of her music, Jayda recommends three of her original songs to new listeners:
First, there's "Paano Kung Naging Tayo."
"It's just such a personal song to me that really required me to kind of have this sense of vulnerability and just be open with my listeners. I've always been vulnerable, but I think I really tapped into a different side of myself, especially with it being my first -ver Tagalog song which is pretty crazy," she beams.
Next, she suggests "Happy For You."
The chord progression goes into some unconventional areas and it challenged me as a songwriter at the time. I think it was one of the first five songs I'd ever written in my entire life as well. That one's very special and it has almost five million streams on Spotify," Jayda says, her eyes lighting up with pride.
Finally, Jayda tells everyone to check out "M.U. (Malabong Usapan)," her own twist to the teenage term MU, traditionally defined as mutual understanding between two people attracted to each other, but for whatever reason, don't officially get together.
"It was my first time really writing a song with themes of self-empowerment and really having that message of not settling for less. I think that's something that I'd like to send out to all my fans and to my listeners. I think that's an important message and a note to self that they should keep in mind," she advises.
The songwriting process never stops for Jayda, but there is something truly memorable that Jayda fans, new and old, can look forward to.
She's holding her biggest solo show to date on June 26 called Jayda in Concert. It's a joint production of ABS-CBN Events and Phenomenal Entertainment, and will be directed by Frank Mamaril together with Iean Iñigo as the musical director.
Performing onstage isn't an entirely new experience for Jayda, but this month, she'll be headlining her very own concert with a much longer setlist than what her fans have previously been afforded.
It's an online event but hinged on amplifying the intimacy between the artist and the audience member, who in this case, will be more an active participant rather than a passive viewer—an atmosphere too often lost in arena shows where giant crowds diminish the connection between performer and fan.
"In this sense, it's like a letter from me to you. It's like a personal connection being made through a screen. And I think that's the challenge for me as well as an artist. How do I connect with people if I can't see them?" Jayda reflects.
The show is a birthday treat, career milestone, and creative experiment all in one.
"One of the advantages it has is I can connect with people, like people from other countries can watch me simultaneously. I think that's really such an amazing thing. My reason for doing it is simply because it's the next step for me. It makes so much sense. And I know there's been a lot of clamor from my fans to hold an event like this so it's kind of my gift to them, even though it's my birthday," she grins.
Speaking of her birthday, Jayda is a melting pot of emotions when she realizes how close she's getting to turning a new leaf of life.
"Turning 18, I would like to look at it as a symbolism, na things get better. Kung mayroong mawawala, mayroon din darating," she says matter-of-factly.
"I know that turning 18, ang daming mga responsibilities, but honestly, I'm up for the challenge. I know that this is the start of my adulthood. I always used to hear about people turning 18, but when you're finally there in that position, it's a different feeling. It's a bittersweet feeling, almost," she points out.
Anyone who's had the privilege to get to know Jayda will joke about how she's not just actually turning 18. There's a running joke that Jayda is actually a 40-year-old in a young person's body, only because she's insightful and articulate beyond her years. It's a quality so valued yet so rare, making her one of a kind in more ways than one.
She's aware of this maturity, that it can hold so much contradiction. On one hand, it's good to be seen as a grown-up; respect and recognition come with it. But she's also still technically a teenager at 18, and Jayda wants to be a teenager in spite of everything—free-spirited, joyful, and optimistic. She reins herself in, however, because she knows that the life she's chosen has made her a person of influence, and a person of influence must wield it correctly, lest they add to the world's problems instead of its solutions.
She stands as a representative of her generation and exudes all the good things about today's people: she cares about the state of society at large and her contributions to the world, she's a long-term thinker, plus she makes sure she takes full advantage of the privileges she's been given, like education and opportunity, because not everyone is as fortunate.
Jayda's heart and mind may be etched with lines of wisdom, but the brightness in her face is telling of the fire of youth that powers much of who she is and does today.
When COVID has come and gone, she might just reconsider picking up from where she left off in terms of her 18th birthday plans. The original deal was to travel through Europe with friends—Amsterdam, Paris, London, and so many other lovely destinations that part of the world is home to. She's not much for traditional debuts, or for traditional life in general, if you think about it.
Jayda—with her upbringing, her family life, her zest for music, and her unparalleled creativity, could very well prove to be a one-in-a-million kind of girl.
Just like the lucky few who've won the nature-nurture lottery, Jayda is a covetable combination of talent and smarts, youth and maturity, star performer and humble student of life.
Her music and the girl behind it prove worthy of all the admiration and anticipation.
Jayda's first-ever major concert titled Jayda in Concert will take place on June 26 (Saturday) at 8 pm with a re-run the next day, June 27 (Sunday) at 10 am. Tickets are now available on KTX.ph, iWantTFC, and TFC IPTV for only P499. KTX also offers limited VIP tickets for P799, which includes exclusive access to the VIP party with Jayda via Zoom.
For more details, like Star Music on Facebook (www.facebook.com/starmusicph) and follow it on Twitter and Instagram (@StarMusicPH).
Photography by Dookie Ducay
Videography by NicePrint
Creative direction and styling by Eldzs Mejia
Sittings editors: Carla Buyo and Randz Manucom
Makeup by Denise Go-Ochoa
Hairstyling by RJ dela Cruz
Stylist's assistant: Carl Alberto
Shoot coordination: Grace Libero-Cruz and Cara Tirona
Special thanks to Star Magic, Star Music, Lauren Dyogi, Roxy Liquigan, Mico del Rosario, Monch Novales, JD Ching, Thess Gubi, Charisse Tinio, Keia Aemielle Inciong, Sharlene Opulencia, and Olive Lamasan