EXCLUSIVE: Julia Barretto On Surviving Life And Basking In The Magic Of New Beginnings
The 23-year-old actress talks about living independently, gaining strength from controversies, and staying true to who she naturally is
For many, the lockdowns brought about by the global health crisis is a chance to reset, recharge, and refresh. These are trying times, and living through the past seven months is a massive feat. It takes guts, determination, and belief in a little something called hope, which can be hard to come by nowadays. But Julia Barretto hasn't run out of hope just yet. In fact, it's what keeps her going. It's what's been keeping her going all these years.
Growing up in the limelight isn't easy. In all her years in show business, each of her moves has been scrutinized and criticized by a public that doesn't know the real her. She has been adored and hated, but she's hardly one to be fazed: She knows who she is, she knows what she's capable of, and she has surrounded herself with an indestructible support system.
"It's just hard that you have to grow up in front of so many people watching you," she says during her interview for this Metro.Style and Palmolive shoot. At one of her first shoots after the quarantine restrictions eased up, Julia's long hair falls beautifully past her shoulders, her dimpled smile punctuating each of her answers.
"You're like in a fishbowl, and everyone's just waiting for your next mistake. It's so hard to grow up in that kind of world," she adds. The past couple of years have been a challenging time for the 23-year-old actress, but she reveals that for her, the quarantine has been "more good than bad" despite it still being an emotional rollercoaster.
Last year, Julia began living on her own. She has since shared glimpses of her private life through her YouTube channel, "Just Julia:" shopping for Christmas décor, vlogging with her siblings and her mom, inviting viewers to see what a day in her life looks like, and, of course, cooking. Her mom has been so supportive in this journey she's taking, always there if she needs someone to run to. "I love my mom," Julia declares. "She never doubted me and [she's been so] trusting."
Living independently, she says, has been instrumental in her healing. "Everybody knows that I've been through so much," she says, bringing to mind the rocky year she had in 2019, as well as the ill-intentioned controversy that tried to bog her down only a few months ago. Julia finds strength in those challenges; they allow her to get to know herself even better. Most of all, she now knows how to choose her battles. "I think the older that I'm getting, the wiser I've become in choosing the battles that I think are worth fighting for, and the battles that I feel are just meant to destroy you," she says.
Julia has always lived according to her authentic self. She has never tried to be anyone or anything she isn't. "If there's anything that I'm most proud of, it's that I've never pretended to be anybody. Whether someone's going to hate me or love me for it, it never really bothered me. I've always been honest with who I am, and what you see is what you get. It's not my responsibility anymore if somebody hates me or not. I just continue being true to who I am. When you see me make mistakes, you see me make mistakes, but when you see me grow out of my mistakes better, wiser, and stronger, you see that as well."
The magic of new beginnings
Just last month, Julia announced that she signed up with Viva Artists Agency, Inc. She has a couple of films and series lined up, and she's looking forward to them all, especially going back to movie-making. "I love doing films," she says. Throughout her time as a Star Magic artist, she's helmed blockbuster movies and starred in powerful teleseryes—from Para Sa Hopeless Romantic to Vince and Kath and James; from Love You to the Stars and Back to Unexpectedly Yours; from I Love You, Hater to Between Maybes to Block Z; and from Ngayon at Kailanman to I am U. With each passing year since her first television appearance in Gulong ng Palad in 2006, Julia's star has only continued to grow and shine brighter.
The transition to Viva, she reveals, became easier for her because of the outpouring of support she received from her parents and her previous management. "They never discouraged me from making that move. They were so supportive of it. They were really like parents, just supporting a child for whatever decision that she was trying to make for her life or her career," Julia says of Star Magic.
"This is a year of taking that jump," she adds. No one was prepared for what this year had in store—not Julia, not you, not I. So for Julia, the only logical thing for her to do was to take that jump. "I think that's just my personality, my character. I always like to take that jump, because you never know what's waiting for you on the other end. When you welcome beginnings, magic really does happen."
"There is magic in new beginnings," she repeats—not because she needs convincing, but because she believes in it so deeply and so earnestly that saying it empowers her even more. Julia has never played it safe. She's always been a risk-taker—from the characters she takes on to the gowns she wears at red carpet events. This, coupled with her penchant for positivity, has made her the survivor that she is today.
On surviving life
Like everyone else, Julia has just been trying to take it one day at a time, especially during quarantine. Throughout the past eight months, she's constantly surprising herself with just how much she's able to survive each day. "I just survive," she says. "Even if it's something I've already realized about myself, it just [continues to surprise me how] every challenge that comes my way—even simple things that I'm responsible for in my home—allows me to find solutions. I don't allow myself to get stuck. I just have to keep moving forward all the time."
Julia reveals that she also suffers from anxiety, and that there are days when it's so severe and overwhelming that it becomes hard to navigate. "It's still something that I have yet to figure out how to handle better. But I've learned a lot about myself when I do get my anxiety attacks and I find a way to handle it, and if it works, then hopefully it works the next time I do it, but you know, I'm just like everybody else, like I'm human. And sometimes I don't know how to handle it, sometimes I handle it really well. But I think I have a lot of people around me that anchor me and are like my core and my support system. So every time I'm going through something, I really have a good group of people around me, that really helped me through it."
This is Julia's best defense mechanism: Aside from the strength that comes from within her, she also has family and friends by her side that accept her for who she is. But family doesn't always mean blood relation; for Julia, one of the relationships she cherishes the most is the one she shares with Palmolive. "I have been with them since the age of 9," she says. "They have been so present and been there for me and all the different phases in my life. It's crazy because they're like my family that really watched me grow up and have been there for me through the bad and the good times; the lows and the highs. To have that constant family in your life, it's just one of the most comforting things a person could ever feel."
"It means everything to me to be a Palmolive girl," she adds, smiling. "I'm so thankful for them for being with me and in my journey called life." Julia's gratitude couldn't be more sincere, especially since she's one to prioritize other people before herself. "This year, I'm going to look after myself more because in the past years, I'm always putting others first."
There's a group of people that would go above and beyond for Julia: her fans and supporters who have been with her throughout her career, and she knows how lucky she is to have them. "It's important for them to know just how grateful I am for all of them. They really kept me strong all throughout these years and have been my inspiration to really keep going." They keep her inspired, she says, to keep doing something new that she hopes they will be proud of, and she cannot thank them enough for supporting her and her happiness, most of all.
After a daunting couple of years, Julia is ready for even more surprises—the good kind, please. "I want the entire world to be healed and to be able to go back to our way of living. If not the same, maybe different but for the better," she says. "For myself, I hope that 2021 will be a year of surprises. I just want that year to really surprise me with all the good things in life and hopefully just much more peace and more acceptance and more love, and I just hope to be more free in 2021."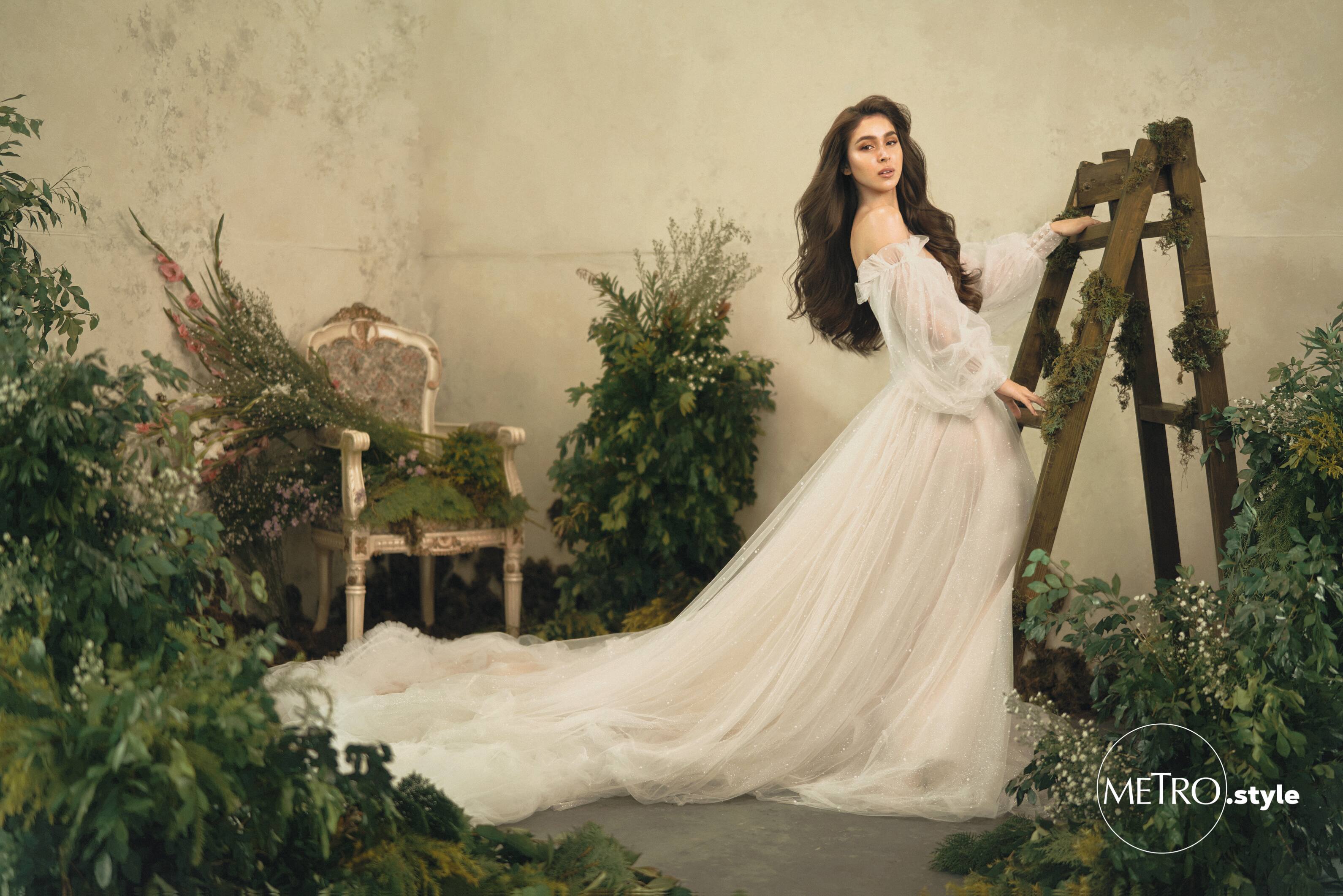 Julia Embraces Her Natural Beauty
Photography by BJ Pascual
Creative direction by Kat Cruz-Villanueva
Art direction and sittings editor: Randz Manucom
Makeup by Robbie Piñera
Hairstyling by Raymond Santiago
Styling by Cath Sobrevega, assisted by Riri Verano
Videography by Spotlight Creatives
Production design by Aren Santos
Shoot coordination by Grace Libero-Cruz and Cara Tirona
Special thanks to Viva Artists Agency and Caryl Paraico
Additional gallery photos from @juliabarretto