EXCLUSIVE: Maja Salvador & Rambo Nuñez— Sweeter, And More In Love, The Second Time Around
Sometimes, all love waits for is a second chance, a second look, and a second "Yes." Will this finally be it for Maja and Rambo?
On a scale of one to 10, how likely did Rambo Nuñez think that he and his ex, Maja Salvador, would get back together? After all, they split up after just a few months of blissful togetherness as two young twenty-somethings in 2010, and not because they had irreconcilable differences; she was busy with artista responsibilities, and he was preoccupied with jump-starting multiple business ventures.
There just wasn't any room for a committed relationship to flourish or even take root—certainly not when their dreams were pushing and pulling them in all sorts of directions, except towards each other.
No matter how much they wanted it to work, no matter how much their hearts reasoned with logic and grappled with the cards they were dealt with, Maja and Rambo were simply star-crossed lovers meant to be together only for the time being.
The answer to that question, according to Rambo himself: "Zero. Negative pa siguro," he shares, but with a smile forming at the corners of his mouth signaling that there's more to the story. The non-verbal cue prompts us to probe deeper. We ask Rambo if he thinks he's found the one in Maja. "I think so," he begins. "I guess, even before, it just made sense. We were brought back together and nothing has changed... What I saw in her before is still the same thing—proof that she's probably 'The One' despite those 10 years," he continues.
There was no mistaking it; there was a smile on his face at the thought of this, the kind that forms only when one discovers one of life's many big truths. And for Rambo, that might just be the fact that love is, indeed, sweeter the second time around, and that there is no one, absolutely no one, that he would rather be in love with other than Maja.
"August 2018," Maja begins. That's when the stars realigned themselves to resuscitate this romance that was once considered doomed and lost. "Ang dami naming random na pagkikita—sa airport lounge, sa isang gym," she recalls.
However, being the grounded person she is, she attributed the run-ins to nothing but coincidence (and quite possibly the density of Metro Manila that inevitably brings exes face to face from time to time), rather than the invisible hand of destiny gently steering her towards the right direction.
She didn't miss him all that much anyway, or at all. There were no butterflies, no skipping heartbeats, no short and shallow breaths, when they locked eyes—nada.
Little did she know that after they first bumped into each other (they were at the airport headed over to Japan, but to different cities), Rambo had messaged her on Instagram asking if she had the same number. Why he did, he couldn't say for sure. (Destiny whispering in his ear, perhaps?) In response, he got radio silence.
More time passed before Rambo would see Maja again. It would be at the gym as she was signing up for a trial membership for visiting family members. Wanting to just say "hello" in the beginning, his brain and his lips had other plans for him. Instead of mouthing a polite "Hi," they made him ask—out loud—"Do you still have the same number?" "...Itong si Ella (Maja's personal assistant), bet na bet naman pala niya si Rambo. 'Diba, kapag ganoon kasi, usually ang ibinibigay ay number ni Ella, para safe. Si Ella, hindi; totoong number ko 'yung binigay niya!" Maja laughs out loud, despite being rather worried about it then.
"Sabi ko, 'Bakit? Dapat number mo.' Sabi niya, 'Hayaan mo na, para magka-love life ka na.' Super support! Pagka-uwi ko, nag-message siya. Isang buong gabi kaming magka-text, but siguro, na-feel niya na hindi ok 'yung reply ko... He's my ex. May rule ako na walang balikan because once I'm done, I'm done," she reveals.
Sensing that she wasn't exactly present nor interested in the conversation, Rambo decided that space, not persistence, was what Maja needed—or at least, until the holidays. "The next time I messaged was December, for Christmas. I didn't really plan to pursue her. I've never gotten back together with an ex kasi, same with her. She was in Niseko. I [remembered that] that year we were supposed to go to Niseko. So, nag-usap kami na, 'And'yan ka pala. We were supposed to be there, kaya lang, hindi natuloy,'" he narrates.
Blame it on Christmastime fuzziness, the love in the air, or overall holiday cheer that inextricably summons memories and nostalgia, but their conversation flowed without hindrance, and so did the feelings behind it. The lights they saw then, they weren't only from the city's Christmas décor or the stars in the December sky; there were definitely sparks lit by a rekindling romance. You could say it was the best Christmas gift that either of them got that year, and the entire decade, at that. As inexpensive as it was, it was more valuable than all the other items under both their trees combined.
It was Christmas day when Rambo texted Maja a harmless, expectation-free greeting. By New Year's Eve, they were still in touch and Maja had found herself breaking her own commandment on exes and love, while Rambo's negative rating gradually moved up the scale to become a two, a three, maybe even a seven and a half or eight. For the entire January, they were constantly talking, updating each other on their lives, using emojis to say couple-esque things that ordinary words couldn't express. They even went on their first date within the month.
And then, come February, Rambo found himself asking Maja a very important question indeed, but one he likely knew the answer to even before the words in his mind were given sound. "Nagkasama kami ng Valentine's Day. 'Yun 'yung Valentine's Day na nagbigay siya ng flowers na [may kasamang card na,] 'Thanks for being my Valentine after nine years.' Nagtuloy-tuloy [na].... February, naging kami," smiles Maja.
No more steering required at this point; destiny had its hands clasped in satisfaction as Maja and Rambo reunited in love, resting only for a moment to admire a job well done until the next chapter in their lives needed to be written. Who knows? It could be written sooner than later, and with an ending sweeter than what they could have ever imagined.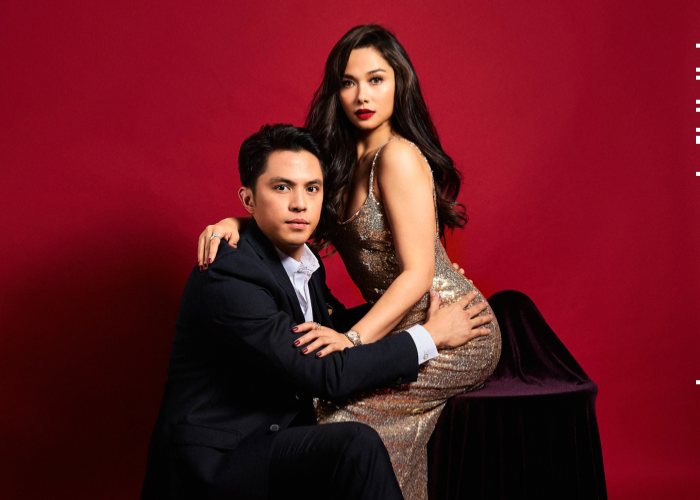 Friends and family were the first to find out—or rather, put the pieces together! Maja's not so cryptic Instagram post of the game-changing Valentine's bouquet was a big enough clue for those who knew them best, but like us, and you, all of them were glad with the way things turned out for them. Maja and Rambo have been happily coupled up for a year now. And in those 12 months was an amazing journey of learning what kind of people they had grown into, of discovering reason after reason behind why they were always meant to be together.
As predicted, they couldn't pick just one (or two, or three) things about each other to call their favorite, but there are definitely some values and qualities that stood out from the seemingly endless list: For instance, Rambo is head over heels about Maja's dedication to her family, as it reflects his own. And her authenticity—he gushes about it all the time. "I like hearing good stuff about her, considering that she has that stature. For normal people and for my family to say or reiterate that 'Ang bait talaga ni Maja,' for me, that makes me happy [and] proud of being with her. That part of her amazes me because of how genuine she is—regardless of if you're the same stature as her, matagal kang hindi nakita, friends [with her] from way back, or maliit lang ang role mo sa show niya," Rambo beams.
Likewise, Maja sings her many praises for Rambo, but how he always manages to make time for her despite heading multiple businesses and working around her volatile schedule is nothing but magic to her. The effort that goes into making sure that he checks in on her and they stay connected no matter what (on one occasion, even going as far as heading to an out-of-town location for a quick chat, flying out with her for overseas engagements, texting after a busy day) surely tops the list.
There are so many ingredients that have made this relationship's second round as sweet as it is.
But like the best recipes, what makes them so good isn't necessarily the level of complexity needed to execute them, but using only the purest and freshest of ingredients needed to create a perfect whole.
Now if Maja and Rambo were a culinary masterpiece, in the mix would be a willingness to adjust (no self-centeredness allowed), sensitivity to your partner's needs (put those listening and observational skills to the test!), no score-keeping (no one needs to keep track of who did more for who), selfless sacrifice (you are not allowed to be reluctant or resentful), and yes, lots, and lots, and lots of love—the secret, but most potent, ingredient.
And then it was Maja's turn to answer the question. Is Rambo "The One?"
"Pinagdadasal ko 'yun... Ang daming mga mag-e-ex na sinasagot 'yan nang diretso, nang walang takot, 'diba? But tayo, kailangan nating maging totoo. Hindi mo alam kung ano'ng meron tomorrow, so if you really want that person, love that person, I think kailangan mo lang ipagdasal, nang ipagdasal, nang ipagdasal hanggang dumating 'yung araw na mapapakinggan niya 'yung prayer mo," she responds.
Rest assured, Maja won't be praying alone.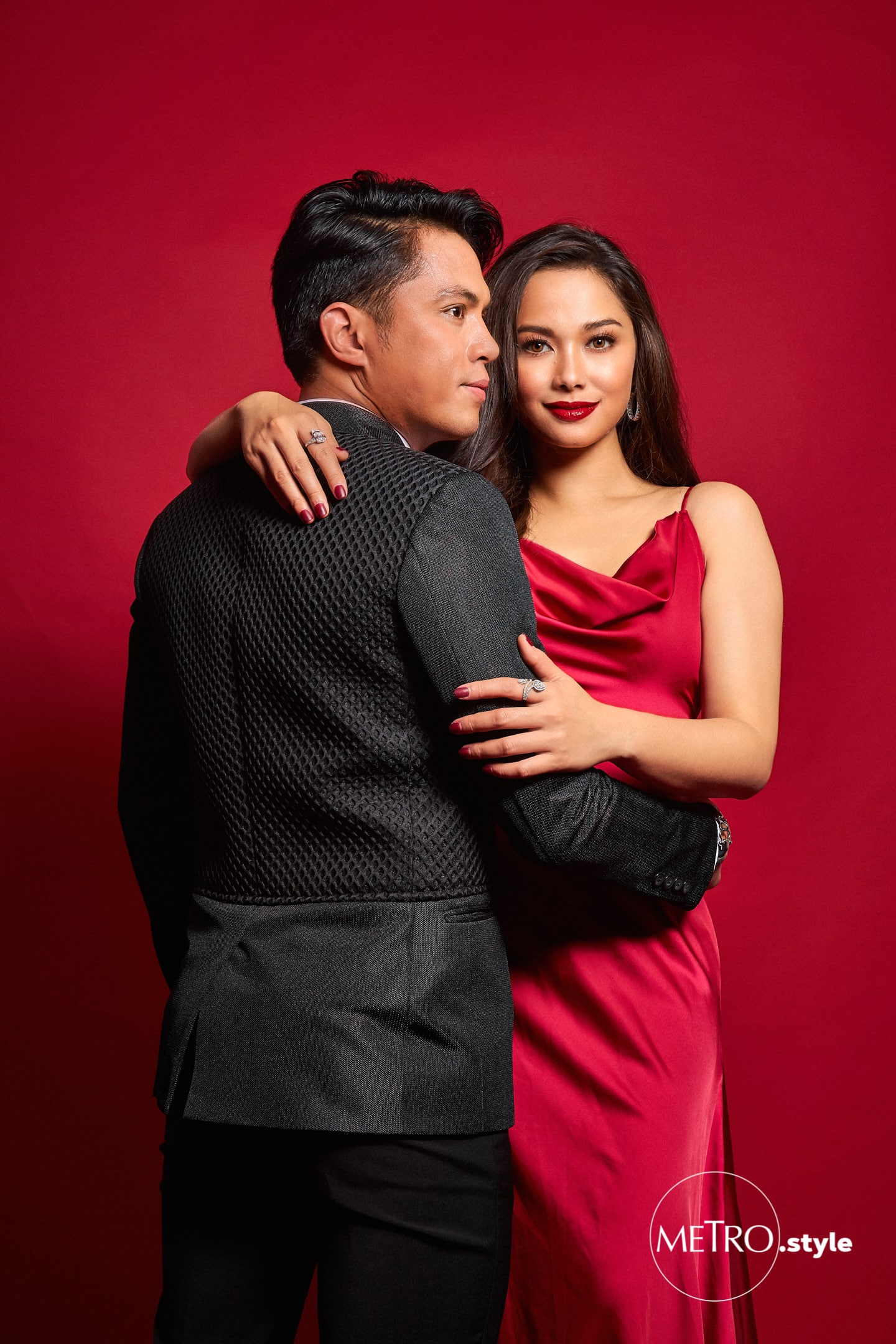 On Maja: Dress by Froilan Dosdosen and accessories by Loverocks Jewelry. On Rambo: Suit by Erwin Flores
Looking back at their first year together, these two have legitimately been #CoupleGoals for many in more ways than one.
These travel junkies have gone globetrotting together (yes—they've finally been to Japan together!), bummed out on beaches during downtime, visited each other's moms here and abroad, found their cozy nooks in each other's colorful lives, and have been totally unashamed about letting the world know that they're a pretty solid couple ("Siguro nga, darating 'yung time na [magiging] okay kang malaman ng buong bansa na you're in a relationship. And I think nasa right age naman na akong mag-announce. Hello, aarte pa ba ako? 31 na ako," Maja jokes).
And while Maja and Rambo also get their fair share of frustration and imperfect moments, Rambo guarantees that he's all in, always. When it comes to Maja, there will never be anything bad enough to convince him that things aren't worth it.
"There will always be challenges, regardless of who your partner is; so it's more of embracing that challenge and being happy and being apart of that environment as well," he divulges.
All things considered, it sure looks like Maja and Rambo are all set to celebrate their second anniversary—as a precursor to many more to come, of course.
They say that getting together with right person at the wrong time still makes them the wrong person. But it's also been said that rules are meant to be broken.
And so, just like Maja made Rambo the exception to her rule, theirs is a love story that goes against all odds, proving that even when a tenth of a century passes between goodbye forever and hello again, a second take can be all that's needed for love to come around again—and this time, stay for good.
Produced by Grace Libero-Cruz
Photography by Rxandy Capinpin
Creative direction by Chookie Cruz
Interview by Angelica Montoro
Sittings editors: Geolette Esguerra and Judy Arias
Makeup and grooming by Denise Go-Ochoa
Hairstyling by Jay Wee
Styling by Cath Sobrevega, assisted by Riri Verano and Melaika Varca
Shoot assistant: Cara Tirona
Special thanks to Star Magic and Mama V Delicious Meals