Metro At 30: Anne Curtis Talks About Growing Up With Metro And Embarking On The Journey Of Motherhood
From her beginnings in the industry to becoming one of Philippine show business' brightest stars, Anne has gone through the best of her life with Metro magazine and reminisces some of her best experiences on the set
The wise will tell you that love isn't a feeling. It's a choice. And Metro magazine cover girl Anne Curtis agrees.
It's a choice to keep going when others have gone down other paths, a choice to see the good over the bad, a choice to keep giving one's best time and time again—and this applies to one's profession, too!
Love can be tough sometimes too, but when you look at the world through rose-colored lenses like Anne does, you'll find that everything serves a purpose in the grander scheme of things. Happy and sad times, painful and joyous memories, challenging and enriching experiences, all of those are there to remind us that love can and will conquer—if you chose it above all else, and if you allow it to.
She explains all this with both hands resting on her growing belly, her left ring finger accessorized with her engagement ring, her wedding band, and a third piece of dainty diamonds set in the shape of a string of petaled flowers. In-between sentences, she grins and laughs and gestures with her hands to animate a memory, but eventually returns her palms to the gentle position of cradling her little one on the way.
The picture is a pretty symbolism of what's most important to her at this point in time: her growing relationship with her husband Erwan Heussaff, their young family's newest member, and her personal sense of style and identity she has nurtured over the years that made her the icon she is today to millions.
Overall, Anne is still everything she was when Metro first put her on its cover about 15 years ago when she was but a 19-year-old star on the rise, but with the colors of experience and wisdom now adding a twinkle to her eye and a spring in her step.
It's the ninth cover Anne has done with the magazine that celebrates its 30th anniversary this year, and as life continues to add beautiful layers to her (figurative) wardrobe, Metro will likewise be there to capture each milestone as it always has since the very beginning.
Everyone is a different issue. That's what I love about it. I get to show a different side of me as a model. As fashion keeps evolving, so does

Metro,

and I get to represent that through the covers
"15 years! That's crazy!" Anne says when she's told that that's how long she's been working with Metro.
"That's insane," she continues, with a look of curious disbelief.
She pauses to maul over her thoughts when asked what her favorite cover was. In the end, she said it's her rainbow-themed Pride Month Issue shot by the equally legendary BJ Pascual tied with a playful jeans-only, no-top cover featuring her with her head cocked back and eyes shut, thanks to a deep-belly laugh caught on camera. Her Dyesebel cover that projected her as a silver-clad siren of the deep blue also holds a special place in her heart, thanks to the adventure it was.
She recalls, "When we did our shoot in Palawan for Dyesebel, little did everyone know that we had such a hard time shooting. There was no more sunlight, so how were we going to make a cover for Metro with no lights, in the evening, in the middle of Palawan? We made it happen, BJ [Pascual] and Eldsz [Mejia] made it happen, and it turned out to be awesome."
According to her, all three covers best capture what Metro magic is like for its cover girls: fresh each and every time, certainly never identical nor predictable, and always a chance to make meaningful connections with people in the industry.
"It's always like that whenever you work with Metro; they always dress you up and style you in ways that you wouldn't necessarily think of doing yourself," Anne adds, recalling all the experiences she's had that have helped turn her into a self-professed fashion "chameleon."
Just as the magazine that proclaimed her the most stylish woman in 2018 continues to evolve over time, Anne is also an out-of-the-box fashionista; she often surprises outfits inspired by anything and everything from 90s get-ups to K-Drama ensembles, luxury finds, ultra-feminine looks, laid-back Sunday bests, and borrowed boyfriend pieces. How she'll dress for her six-times-a-week hosting gig at It's Showtime! is easily one of the highlights of the prime time variety show.
A wave of nostalgia washes over Anne when she's made to realize how far she's gone, style-wise; she remembers how she was the jeans and baby tee, plus Havaianas and Roxy bag kind of gal in her youth who would have dismissed predictions that one day, she would become a face of fashion. Just last month, Anne was invited to the Louis Vuitton Maison's Seoul, South Korea's opening where she stood alongside Korean superstars Gong Yoo and Sehun of boy band EXO, solidifying the Filipina's place in the world of fashion. Likewise, for her well-received 2018 action film Buy Bust, Anne didn't just wow audiences with her stellar performance, but with the many red carpet outfits she wore for its international promo events, too.
I think a

Metro

woman is someone that everyone can look up to in terms of fashion sensibility and style. When you look a

Metro

cover, of course it's all about fashion, but it's also where you get to know the cover girl and get to share who they are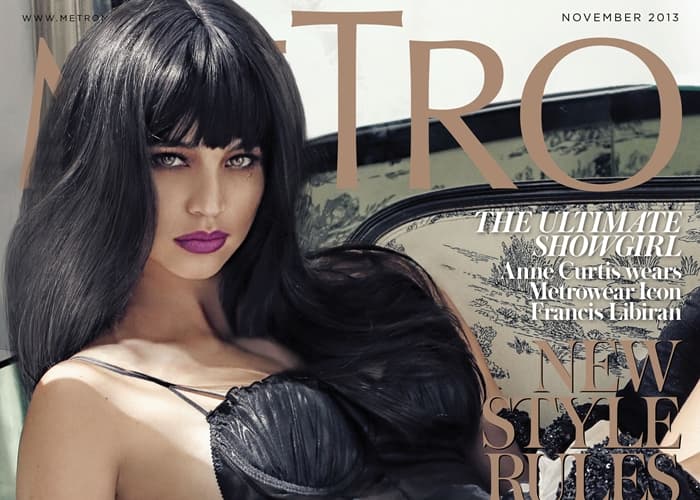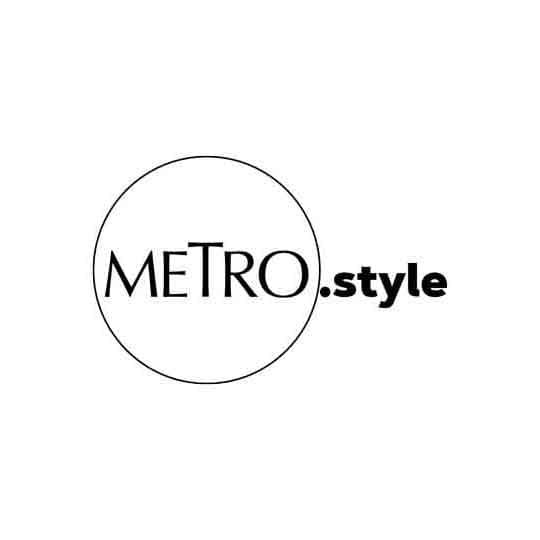 Gown by Debbie Co, necklace and silver bracelet by Miladay, gold bracelet and ring by Love Rocks Jewelry | Photo by BJ Pascual
One can also say that her adaptability and refusal to be typecast extends well out of her closet choices and applies to what she does outside of show business; she's happiest pursuing what it is her heart desires, be it in entertainment, cosmetics, hosting, business, charitable work, or fulfilling her responsibilities as a UNICEF National Goodwill Ambassador.
She calls it a constant reinvention of herself. "I really love trying new things, tackling different roles. That's why I think I've lasted as long as I have," Anne, who's been in the industry for 23 years, shares.
However, take note that it's not a process to keep changing in order to impress others, but one she undertakes to find her own happiness in her own way, at her own time, and surrounded by the people she loves most. She's past the age when everyone else's thoughts on her life matter more than her own—a filtering technique she mastered over time, she smiles.
"You reach the point where you're like, 'Who cares?' When you're young, you fix yourself so much and you care so much about what other people will think. That started in my late twenties, where you're like, 'Who cares? You don't need to compete. You only need to be comfortable in your own skin and be happy.' That takes away a lot of unnecessary stress," Anne advises.
They're important words to live by for any woman, but carry more weight as they come from someone whose very livelihood exposes her to a landslide of opinions of who she should or shouldn't be at an almost daily basis. It's the reality of things, she says, especially for an actress. Yet regardless of the industry one chooses to be a part of, it's crucial to remember that your authenticity and your passion—your love—for what you do must surpass everything else. They're the keys not only to survival, but to thriving in what it is that you do.
I believe that if you want to get into the industry and you want to act, don't be in it for the money. Go in it because you're passionate about acting, dancing, singing, or hosting because that's what will make you last and the people around you, they'll see that energy within you and see that you're enjoying what you're doing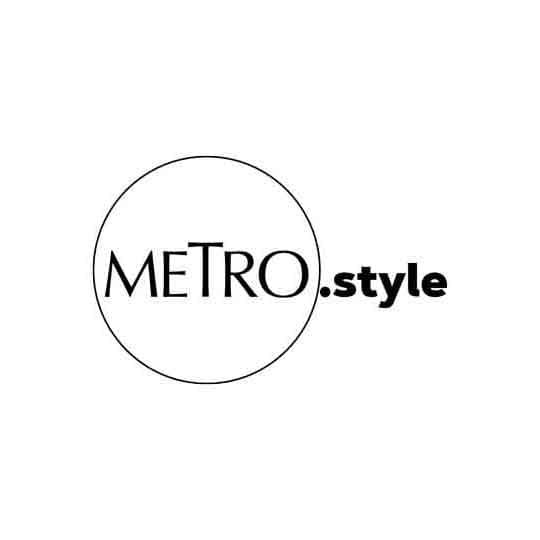 Gown by Patricia Santos, layered necklace and rings by Love Rocks Jewelry, and bracelets by Miladay and Love Rocks Jewelry | Photo by BJ Pascual
Embracing her newfound maturity at 34 years old, she's now able to re-evaluate her priorities and, with confidence, say that she would never change a thing from her past, even if given a chance to. She admits to being imperfect despite all that she's already learned, but even so, would keep her story the way it is as it's shaped everything she is today.
"I think that it was destined to be the way that it was, controversies and all. It molded who I am today, the actress and host that I've become, and the place I'm in in this industry. I wouldn't change, because to this day, I remember the journey I had and it was the best thing ever," Anne says.
As of this writing, Anne had just wrapped up filming The Mall, The Merrier, her newest project where she stars alongside real-life bestie Vice Ganda, set to show in theaters as part of the Metro Manila Film Festival 2019. Like us, she, too, was amazed at how she finished the job while managing her first trimester of pregnancy!
After the film premieres in December, she promises to enjoy much-deserved downtime to prepare for her baby and to concentrate on family life. After all, these months will be the last that she and Erwan will be spending alone on their own, before they become a family of three. (She still hasn't decided on which parent will likely be the spoiler or the disciplinarian, she teases).
Speaking of her pregnancy, Anne gushes about being more excited about the new journey that's both terrifying and heartwarming and familiar all at once. For a woman like her who's lived a full life, it seems that impending motherhood is the next territory she will soon conquer.
"When you feel a kick, or things that are just like,'Wait! What is that?' It was weird! It's very exciting. It's very scary, and I'm scared... Until you reach the point where you have the baby in your arms, it's very scary," she describes.
It has been a breeze for the most part—until she couldn't wear any of her old clothes anymore and 7 p.m. started to feel like midnight in terms of tiredness levels. Erwan has been a huge help, she reveals, as her husband of two years has continued to support her with yummy recipes and words of encouragement.
She's due sometime in March, and until then, she's keeping all baby-related news under wraps and will share updates on her own terms.
I can only hope that everything [in my pregnancy] runs smoothly. The marathon I'm just about to embark on, it's just the beginning. I'm so excited because it's going to be the happiest marathon I've ever run in my life
Looking to the future, Anne sees herself as fixture in the industry who'll continue to explore more roles (perhaps a psychological thriller could be in the works next, she hints). She looks to Charo Santos-Concio and Gloria Romero as the actresses to emulate as their poise, elegance, and timelessness have appealed to generations of Filipino viewers and continue to produce work that touch hearts.
Working on her makeup brand, blk Cosmetics, and hosting (and singing too, Anne laughs) will always be in the picture, so her fans have nothing to worry about. Anne has proven herself to be a master multitasker, which means that a child in her life simply means more to look forward to from her, rather than less.
In the end, a last question in this interview reveals an extra bit of sweetness about who Anne truly is.
With all the glamour that she's experienced in her life and all the opportunities she has been given to be the brightest star in the room, her favorite moment in the spotlight was, and always will be, the day she said "I do."
Her custom-made Monique Lhullier wedding dress was as romantic as could be; and alongside its obvious beauty were the memories she made as she walked down the aisle in it that have made it her all-time favorite look. Nothing has ever topped how she felt in that dress, Anne guarantees with flushed cheeks.
The secret to her happiness and success is simple, she concludes.
"It's love in general. Love for what's growing inside of me, love for my husband, love for the people around me, love for life, love for the job. It's just seeing the world through rose-colored glasses," Anne ends.
It's very, very important for you to reach your true self and true happiness. You have to take care of and love yourself in order for you to love other people. For you to be passionate about your own life, you have to love yourself, flaws and all
Produced by Kat Cruz-Villanueva
Photography by BJ Pascual
Sittings editors: Geolette Esguerra, Grace Libero-Cruz, and Kate Paras-Santiago
Makeup by Robbie Piñera
Hairstyling by Raymond Santiago
Styling by Liz Uy and Joy Bernardo of StyLIZed Studio
Styling assistants: Edgar Khu and Justin Riguer of StyLIZed Studio
Production design by Kathy Sy King of Event Styles
Special thanks to Charisse Chuidian and Romina Gervacio of City of Dreams Manila; C&L Decor,Shop Rent Gala, 4thWall, and 18th Floristry