Metro At 30: KC Concepcion And Her Thoughts About Life Are The Inspiration You Need Today
This past Metro cover girl opens up about body shaming, championing self-care, and seeing the world of fashion and beauty from a different lens
It was 11:45 in the evening. Everyone was getting ready to leave, eager to wrap up a fun shoot that started at five in the afternoon for KC Concepcion and her team. People were saying goodbye to each other and wishing everyone a good night. But here we were, lounging on a plush sofa and greeting each other with the brightest and most cheerful "hi" and "hello" as if the sun had just risen. Her energy was as high as it had been several hours earlier when she arrived at this shoot's venue. It was her face—pleasant and radiant—and her personality—warm and friendly—that made it feel like a conversation over brunch.
Clearly, she missed the feeling of doing photo shoots like this since she stepped away from the showbiz limelight to pursue her other dreams. This big production is for the celebration of Metro magazine's 30th anniversary. KC is one of the 30 past Metro cover stars who are gracing the cover of Metro once again—this time, however, the cover takes on a digital form as the magazine has evolved to become the lifestyle website Metro.Style.
KC is no stranger to cyberspace, as she maintained a blog way before it became ubiquitous. "I really enjoy where I started which is digital. I really started there. That's where I feel very comfortable so I think that's my world right now," she says, hinting at an upcoming digital project that she is looking forward to announcing soon. This is just one of the many projects lined up for her, as she will also be launched in several endorsements that prove KC's power to influence and inspire.
At this shoot, she was reunited with the other Metro cover girls, their banter and laughter filling the room with positive vibes more than enough to fuel everyone for the rest of the day. "To be back here, to be chosen as one of the 30 cover girls, it's just exhilarating in a way. Because, especially sitting there with all these other artists, seeing old friends, it's like a reunion. It made me appreciate this industry a lot more," KC shares.
The Metro experience
KC has been featured on the cover of Metro magazine four times. Each cover is different and representative of each phase in her life.
The first one, back in March 2007, saw the Megastar's daughter dipping her toes—or should we say, body, as the photo shoot had her glamorously soaked in the pool?!—into the possibility of diving deep into the world of showbiz which has become like a home for her mother, Sharon Cuneta, and her father, Gabby Concepcion.
In September 2009, the fresh-faced KC was back on the cover of Metro magazine at a time when her showbiz career was blossoming. She had just launched her career as a singer then with an album called a.k.a. Cassandra (in case you didn't know, her full first name is Maria Kristina Cassandra). That same year, her album earned her the New Female Recording Artist of the Year award from the 40th Guillermo Mendoza Scholarship Foundation Box-Office Entertainment Awards. From her days as a VJ on MTV Philippines and a promising host with her KC from Paris to Pinas TV documentary, KC also dabbled in acting in 2009 with a stint on TV series May Bukas Pa, and starring roles on teleserye Lovers in Paris (a remake of the 2004 hit Korean drama series of the same name) opposite Piolo Pascual and film When I Met U with Richard Gutierrez (who she was also paired with for her film debut, For the First Time, about a year before).
A bolder and more daring KC returned as a Metro cover girl in April 2011. It was special because April is her birth month. At the time, KC was making waves as a host. She had her own talk show, Simply KC, in 2010, and was also tapped as the host of Star Circle Quest: The Search for the Next Kiddie Superstars as well as the Binibining Pilipinas 2011 coronation night.
People will always have something to say. But it's your journey, it's your process, and no one else is gonna live that for you, so I don't regret anything that I've been through. It's all part of my story and everyone has at least one story to tell, and I have, like, millions. It makes life colorful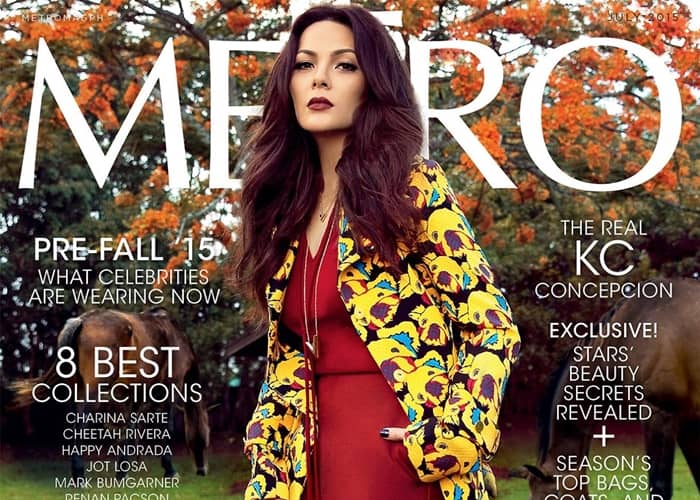 In 2015, she headlined the magazine's "Celebrity Issue." KC was photographed in a polo field with horses in the background, showcasing her side as an equestrienne. The following year, KC went on a self-imposed hiatus.
Since this last Metro experience, a lot has changed in the life of KC. She, too, has changed as an individual. But her first love, she says, will always be modelling; after all, she first broke into the scene via a clothing ad campaign when she was only 16 years old.
"I think, since the last shoot with Metro, it has really been very freeing. I have also traveled a lot since then. But like they say, you'll always go back to your first love. And for me, it was really doing this, being a different person in front of the camera, really playing with the camera, working with a big team, being around all these creative people," KC tells Metro.Style.
"I got to see the industry from afar by taking a hiatus. It's very refreshing and makes you appreciate the people who work here more. It's like I see the industry or showbiz or beauty or fashion with more excitement. I'm more excited these days to dress up. I'm more excited to play around with my look with makeup, and to work with new talents. It really put me out of my comfort zone. I love the people who are really my team, the people I'm used to working with, but it gave me so much excitement and confidence to go and branch out and work with other talents as well."
While she has her go-to, trusted creative team, for this shoot, KC gladly worked with other talented industry players like photographer Gee, makeup artist Jelly Eugenio, hairstylist Suyen Salazar, and fashion stylist Adrianne Concepcion. The result of her collaboration with them is nothing short of amazing, as the photos in this feature prove.
KC may have stepped away from the limelight, but with her stellar background, the spotlight follows her wherever her mind, heart, and feet take her.
It's kind of challenging now, working in digital, you really have to be your own cheerleader. Your own leader. You have to put teams together and believe in the vision first and be smart and discerning about the team that you put with you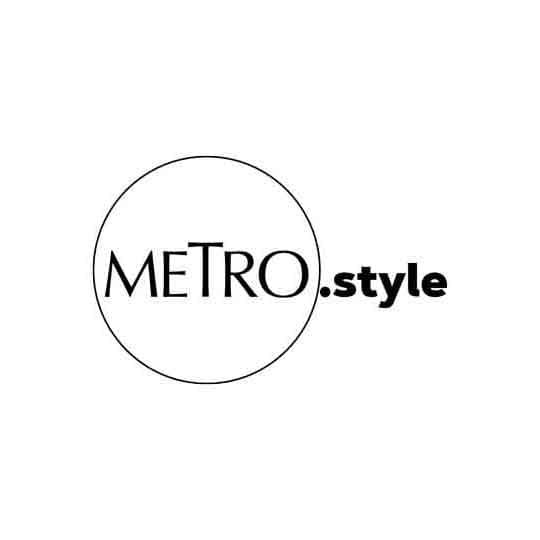 Gold robe by Julianne Syjuco and earrings and ring from Jewelmer | Photo by Gee
A charmed life
KC is showbiz royalty who had the chance to study and live in Paris for five years, so it was very easy for many people to dismiss her as someone with a charmed life. Images of KC lounging around by a Parisian café, shopping from upscale boutiques at Saint-Honoré, or doing all sorts of touristy stuff would perhaps come to mind. While having a charmed life may be true to some extent, it's something KC knows how to handle well and put to good use.
Her experience living abroad was an eye-opener for her. It exposed her to the exciting world of fashion and, more importantly, taught her the value of perseverance, dedication, and hard work.
This so-called charm now comes in the form of her passion project, through which she can also spread a dose of charm to others: Avec Moi by Kristina. The brand KC launched last year offers fine jewelry that is "inspired by nature, sensuality, and play," and showcases Philippine craftsmanship.
KC grew up with women who love jewelry, nurturing her love and appreciation for it over the years. She saw why women must invest in fine jewelry, and through her creations, she hopes other women could see what a great idea it is to do so as well. In a past interview, KC points out, "When you're already middle income and you're already able to afford travels or the status bag, I think the next step is to look at something that will last a long time. You can have a Chanel bag, you could've already flown to Korea, so what's next? For me, it's a piece of fine jewelry."
KC takes this craft seriously. She is even pursuing a diploma course at the Gemological Institute of America to gain comprehensive knowledge and training in gemstones and jewelry. It isn't just a creative outlet for KC, it's a business. KC shares, "This really started as a passion, and I'm still learning the business side of things. It's one thing kasi to be an artist and be the creator and designer, it's another thing to run a business. I'm still in the process of learning all that, educating myself, studying."
Her limited debut collection for Avec Moi by Kristina featured 26 handmade pieces with rose designs as well as diamonds and precious stones in 14K and 18K yellow, rose, and white gold. The collection, launched in March of last year, was sold-out on the day of the launch! She has released a Milky Way collection as well, and is accepting orders for personalized or customized designs.
If there's anything that can be said about her jewelry designs, it's that they're timeless. "I really believe in things that last a long time," KC quips.
I guess when I turned 30, it just kind of made me think of throwing my cares to the wind and just not care anymore. [As long as] you're expressing yourself, you're playful about it, I think that's what's important
A beautiful outlook
The world of fashion and beauty has always fascinated her. It's an exciting world to be in but it could also be harsh. "Honestly, I was always so conscious of my body. I put so much pressure on myself before. Then that took away my love for fashion," KC opens up. "You know, the movement on 'no to body shaming' these days resonates so much with me. I feel like that also gives me so much confidence to get out and say, 'you know what, I don't have to be stick-thin to say that I love fashion and I have my own style.' I think it's that acceptance and also being comfortable in your own skin."
KC is exercising more these days, so she could get out and do more of the things she loves. She says, "Once you start moving your body, taking care of it, it gives you so much confidence about what you're showing out to the world."
As KC hinted in one of her Instagram posts, "When life gives you curves, embrace and flaunt them." She has come to accept and love her body type and hopes others would do the same as well. "There's a reason you look a certain way. I don't support extremes. I also don't support having to push yourself to be thin when you know you're healthy and you know you're moving and you know you're strong. If you're good with your body then that's what matters," KC shares.
It entails the right amount of confidence for a woman to talk about her body with a self-deprecating tone, and KC does that so effortlessly and admirably. "I think I've been on a diet for so long and I've been doing yoga everyday so religiously that it inspires me so much to be strong and to move my body, like all of a sudden, I just wanna play around with fashion again."
Effortless elegance is how she describes her personal style now. "I think it's more about my sensuality and my body and embracing that," KC says. "These days, I just go back to my love for accessories, jewelry, scarves, things that amp up the look. I still love mixing vintage finds with branded quality items, like an Hermès scarf with a bayong."
It's not just her fashion personality that KC has clearly identified; when it comes to beauty, she has also discovered what works for her. Up-close, her skin is impeccable, and that's because she really gives importance to skincare. The first Pinay ambassador of Japanese beauty brand Shiseido is a fan of natural skincare products and makeup styles that highlight the skin. She shares, "I don't dump too much on my face, really for just the skin to come out. It's still very natural, there's still a flair of natural in what I do. I don't like being too polished. I like to have that nonchalance pa rin."
KC shared that one of the secrets to her beautiful skin is jojoba oil with ylang-ylang essential oil. "At night, that's what I use. I just slather it on. I love the smell of ylang-ylang. Jojoba is very good for your skin, it mimics the natural oils of the skin. It's my makeup remover. I'd mix it with ylang-ylang essential oil," she reveals.
As a piece of beauty advice, KC says, "You don't need a lot of cleansers, you just need what works. Simplify. If it works for you already, don't switch it up anymore unless you're noticing a plateau."
I feel like I am changing in a good way, and it pleases me so much to be going through that process. And everyone goes through it. You just have to be hyper aware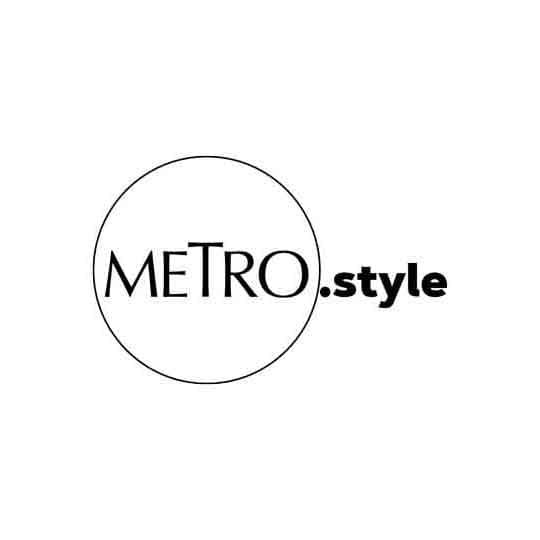 Gown by Andrea Tetangco | Photo by Gee
Future-proof
If you feel you also reached a plateau in your life, KC encourages you to shift gears. 2019 has been a great year for her, full of blessings and surprises. It brought about a lot of positive changes, and she takes with her the learning she had especially when she was on a hiatus.
"You can't just depend on the situation or what life's going to hit you with. No, be proactive with where you want to be," KC remarks. "You cannot go through your life auto-pilot. You have to have moments where you're sitting, observing your life."
Once you're done mulling over what needs to be done, don't forget to have fun. "Life is so great," KC points out. "Not always. But there will always be happiness there."
"I see life like one big movie," she says. And in this film that KC stars in, the plot always thickens. Just when you thought you've seen the last of KC, here she comes with another surprise. That's just how she is—she's unpredictable in the sense that you can't box her. She's an explorer, and when she returns from wandering, you can trust that she'll have something amazing up her sleeve. Besides, she knows she had set up a good foundation for herself in the past. Whatever comes her way, she'll know how to go about it.
Asked about a possible showbiz comeback, she says, "Of course, I would never close doors. And of course, I never left. I'm just here... I would still want to do a movie with Direk Irene Villamor. She's a good friend of mine. I love her work."
For now, KC is enjoying taking charge of her life. She's been traveling a lot and working on passion projects. It may not be the time yet for her to pursue acting or singing again, but her influence to touch people's lives through other avenues remains.
"There is a time for everyone and everything. Just because things aren't going your way now doesn't mean it's forever like that. You'll appreciate. You'll know when you're hitting an upswing and you just have to enjoy that. That's what I'm doing now. It's just really an upswing, like fresh air," KC concludes.
A breath of fresh air on a sunny day. That's what she was and always will be.
On what she would like to tell her present self: "

Just know that God is creating your next step. He's at the wheel, and you have no control. It's really God, and it's true I'm watching everything reveal itself to me
Produced by Kat Cruz-Villanueva, Ceia Ylagan, and Judy Arias
Photography by Gee
Video by Chapters by Mayad
Sittings editors: Geolette Esguerra, Grace Libero-Cruz, and Kate Paras-Santiago
Styling by Adrianne Concepcion
Makeup by Jelly Eugenio
Hairstyling by Suyen Salazar
Production design by Kathy Sy King of Event Styles
Shot on location at City of Dreams Manila
Special thanks to Charisse Chuidian and Romina Gervacio of City of Dreams Manila; C&L Decor, Shop Rent Gala, 4th Wall, and 18th Floristry