Metro At 30: The Stage Is Set For Maja Salvador's Next Act
The talented bida-kontrabida actress and dancer talks about her dreams and goals
Maja Salvador asks if she should bring the audio recorder closer, so her voice is heard loud and clear through all the din. Not wanting the Philippines' Dance Princess to be hassled in any way, she is told that the gadget is fine where it is, but the star goes ahead anyway, all in the spirit of making the conversation more comfortable.
To those familiar with the actress' work, this gesture may register some sort of dissonance: Maja is known to many as revenge royalty, someone who can most definitely give Emily VanCamp a run for her money. Her scenes with Angel Locsin (Monica Santiago-de Villa) as Nicole Esquivel on The Legal Wife were so good they were always trending, and they generated a lot of memes online. Who can also forget Maja as Wildflower's Ivy Aguas whose line, "Black is out, gold is in; and like gold, I'm indestructible," rivals the great one-liners of Philippine cinema's iconic villains? Now, as The Killer Bride's Camilla dela Torre, the star finds herself telling another story of hurt, betrayal, and vengeance.
The Metro cover girl's own life, however, doesn't reflect that of her fiery characters, save for her personal history of determination and perseverance. When asked about the challenges of being in the industry, Maja tells Metro.Style, "'Yung buong 16 years in the industry is challenging. Why? Kasi hindi lahat tumatagal. Parang every year or [even] every quarter, you have to give something new to your fans, your audiences. For me, [every year in the industry] is a challenge because I always have to think of what's next. Ano pa ang kaya kong gawin? Ano pa ang kaya kong ibigay?"
Maja isn't one to keep still. Complacency isn't in her vocabulary. After winning the Gawad Urian in 2011, she continued to accept different types of work and embraced reinvention. Recently, she was named Best Actress at Asian TV Awards 2019 in Busan, South Korea for her portrayal of Ivy Aguas in Wildflower.
She played supporting roles such as sisters and best friends. She busted some moves and even became a judge for a reality dance competition. Maja does her best to keep things fresh, exciting. This is most likely one of the many reasons the actress is always blessed with so many memorable projects, including the recent primetime hit The Killer Bride, which has amassed a huge following since airing in early August. It's another highly addictive show, and people can't stop watching.
Currently, she stars in the iWant series Hinahanap-Hanap Kita which was shot in Dubai. It's about a group of friends, all overseas Filipino workers (OFWs), who are trying to survive in a foreign land.
All throughout her career, the actress has graced many a cover for Metro and is grateful for each and every one of them. "Ang hirap pumili ng favorite! Lahat kasi iba-iba," Maja enthuses. For her cover shoots, the actress has been transformed into a sun-kissed beach goddess, a glamazon in silver, a military femme fatale, and a tropical muse, among many others. More than enjoying the chance to be a chameleon for photographs, the star says that being chosen as a cover girl is an honor. For Maja, it's also a platform for empowering and inspiring women. "Lahat tayo may voice, may power tayong lahat na pakinggan ng iba, lalo na kami na nasa industry. So anything about women empowerment at nakakatulong ka sa kababaihan, 'yun ang ibig sabihin nu'n sa'kin."
For me, [every year in the industry] is a challenge because I always have to think of what's next. Ano pa ang kaya kong gawin

?

Ano pa ang kaya kong ibigay

?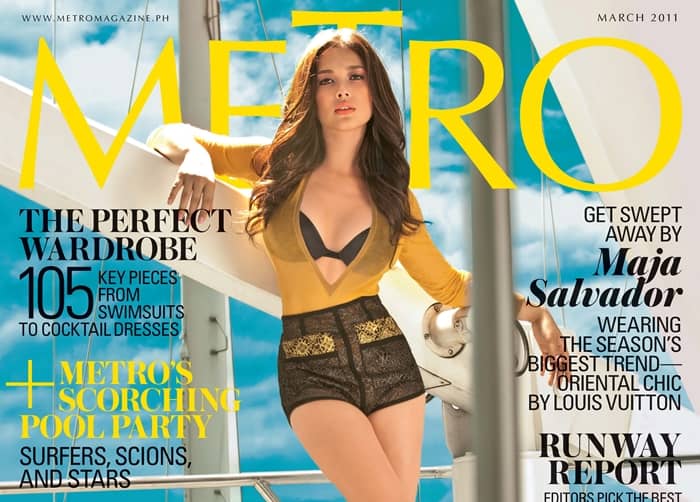 If the number of cover stories is an indication of an actress' star status and a record of her evolution, then it could be said that Maja has reached the pinnacle of her career, and she has remained there for more than 15 years now. Stardom is easy to take for granted, yet the actress' heart remains humble. This is why, apart from the adulation of fans, the people close to her also love her. When she's asked about what has changed in her life since the last cover shoot she did for Metro, Maja defers to her makeup artist and confidante. "Mas okay kung sa iba galing. Parang hindi appropriate 'pag galing sa'kin." Her friend then says the country's Dance Princess has grown more mature. This shows in how she speaks. It is also reflected in the artist's insights about everything. He also adds that even in early showbiz days, Maja has always been kind, generous, and a pleasure to work with.
Maja acknowledges that being in the public eye is hard work. She also credits her fans for all her successes, one of her motivations for doing well. "Kaya nga ako nandito, para mapasaya sila."
Maja just turned 31 last October 5. To celebrate her birthday, she and boyfriend Rambo Nuñez went to Cuba and Mexico (her OOTDs during that trip, by the way, are so cool and chic). Her birthday wish? "I hope nasa industry pa rin ako nang matagal na panahon and mahal pa rin ako ng mga kapamilya natin." Wishing for longevity in the showbiz is sensible. And all things considered, this wish is very likely to come true for Maja.
On being a cover girl: Lahat tayo may

voice,

may

power

tayong lahat na pakinggan ng iba

,

lalo na kami na nasa

industry. So anything about women empowerment

at nakakatulong ka sa kababaihan

,

'yun ang ibig sabihin nu'n sa'kin
The strong-willed woman from Appari, Cagayan shares that despite the fame, she's blessed to have friends who stand by her. She realizes that genuine people are hard to find, so it's best to treasure them once they're in your life. "'Yung highschool friends ko, until now, I still have communication with them, super close kami. I think sa friendship, madami kang magiging kaibigan in your lifetime, but konti lang 'yung tunay mong kaibigan who will stay talaga through thick and thin. Kahit malayo sila at 'di kayo madalas magkita, 'pag nagsama-sama ulit kayo, friends pa rin kayo. If you choose na kaibigan mo siya, kaibigan mo siya."
Apart from friendships that make her happy, Maja smiles a lot these days, thanks to her love life. While generally coy about the subject, she offers practical relationship advice. "Love, keep it private. Of course, [it's] okay to share. Pero hindi naman dapat ibigay 'yung buong detalye. Kailangan mo rin magtira for yourself." This, she says, is key to nurturing a healthy relationship.
Maja has definitely got it together. She has checked all the boxes: career, friendship, and love. She has everything down pat, but isn't spoilt by her good fortune. She adds, "Sa life, hindi lahat ng gusto mo, makukuha mo. Saka 'yung mga bagay-bagay, hindi mo madali makukuha. May ibang tao na swerte lang talaga. May ibang tao naman na kailangan gumapang, kailangan unti-unti pagdaanan 'yung challenges bago nila marating 'yung goals nila. But at the end of the day, just don't give up."
When asked about the biggest accomplishments she's most proud of, Maja shares that her family has always been at the heart of things. She's more than proud to have fulfilled her personal goals, most especially ones that are for her loved ones. "[Proud ako sa] mga promises ko sa sariili ko. Kasi kahit ano'ng pagod naman, 'pag nakita ko na nagawa ko 'yung goals ko and 'yung promises ko sa family, hindi 'yun kaya tapatan ng money. Iba 'pag nakita mo na happy 'yung mommy mo. So, I think, 'yun 'yung biggest accomplishment ko. Like 'yung brother ko, may sariili siyang business ngayon and he's still working. 'Yung mom ko nasa Canada na siya for good. Kampante ka na dahil 'yung mga mahal mo sa buhay ay okay at masaya. Kung ano 'yung dream niyo noon, naabot niyo na."
Despite having achieved a lot of her goals, Maja has another dream. It's not another coveted endorsement. It's not another acting award. It's not another big project. What she wants is something that has eluded her from a very young age. "Ako, one of my dreams and goals din sa buhay is having a complete family. Kasi diba, separated 'yung mom and dad ko. So kung darating ang tamang panahon, ilang taon from now, I have to balance work sa pagiging nanay. I have to work hard to give my kids a happy, complete family. Mahirap kasi 'yung ma-experience niyo na hiwalay 'yung parents niyo—isang malaking challenge na 'yun sa life mo." The star shares this earnestly. She says this not as Nicole Esquivel, Lily Cruz, or Camilla Dela Torre. She says this as the woman we love, the woman we've been rooting for all along.
[Proud

ako sa

]

mga

promises

ko sa sariili ko. Kasi kahit ano'ng pagod naman

,

'pag nakita ko na nagawa ko 'yung

goals

ko

and

'yung

promises

ko sa

family,

hindi 'yun kaya tapatan ng

money
Produced by Kat Cruz-Villanueva, Ceia Ylagan, and Judy Arias
Photography by Seven Barretto
Video by Chapters by Mayad
Styling by Eldzs Mejia
Makeup by Owen Sarmiento
Hairstyling by Renz Pangilinan

Production design by Kathy Sy King of Event Styles
Styling assistants: Carl Alberto, Gabby Gamboa, Nix Bueno, Aubrey Cazzandra
Special thanks to C&L Decor, Shop Rent Gala, 4th Wall, and 18th Floristry