Metro At 30: Ruffa Gutierrez Celebrates Her 30th Anniversary In Showbiz With Metro
This past Metro cover girl returns via a digital cover feature as she celebrates her 30th anniversary in showbiz, with Metro marking a similar milestone
It's easy to spot Ruffa Gutierrez in a crowded room. After all, our Miss World 1993's second runner-up got the looks, the poise, and the attitude that perfectly embody the qualities of a Metro woman. The magazine has had her on its cover four times in its three-decade history, so it's only fitting to celebrate this milestone with the beauty queen.
"I'm just so happy to be a part of this issue because I can say I'm in the group of timeless, empowered, strong women and I feel that our batch also, we're able to share what we have—our knowledge—to other people especially the young ladies of today," she begins. "If it's been around in the business for thirty years or more, then I can say that I'm proud to be here right now."
One of her shoots with Metro, back in 2009, had "ageless beauty" as its theme, and she thinks she has evolved so much from there. "I think I'm still ageless from that shoot but I think I have matured immensely," Ruffa tells Metro.Style. "So many things have happened in my life since then and I can say that right now, I know what I want and I'm going to get there. I'm not as impulsive as I used to be. I think I'm more careful now and I'm more tamed than I was back then."
Three-decade history
It's interesting to note that as the magazine marks its 30th anniversary, this host and actress is also celebrating thirty years in showbiz. To her, this means a lot in a field where "stars just come and go," as she puts it. "It's like, 'Huh? Who's this? Ay, may bago na naman?' You have to go out of your way because in this industry, fame is fleeting."
In such period, she has learned more than she could have expected. "It taught me about pure love and about real love. I have friends in the industry that I've known since I was a kid and they say in showbiz, there's no permanent friends and no permanent enemies," she shares. "I think pagdating sa mga intriga or kung mayroon ka talagang tunay na kaibigan, I think malalampasan mo 'yun kasi ako, I have friends since I was 12. I mean, I've been friends with Vina Morales and everyone that I've worked with in That's Entertainment. I'm friends with everyone. Everyone here [Metro 30 shoot] today, I know all of them. I actually converse with them, talk to them, probably had dinner with them, and went out with them."
Ruffa then stressed the importance of love, kindness, and authenticity on the job. "You just have to be nice to everyone because a lot of the people I have worked with when I was younger are bosses now so from the staff of ABS-CBN—the assistants, the people that were serving me coffee back then—are now big bosses of ABS-CBN and they still love me because I'm real to them," she shares, adding that she always makes it a point to keep her feet on the ground no matter what happens. "Sometimes, people, they let it get to their heads but I can say I have to thank my parents for giving me the mindset of whether sikat ka, whether hindi ka sikat, you have to be real." It's a vital lesson she got from her loving mom Annabelle Rama. "My mom, she always says look back where you came from and always thank the people that helped you along the way."
I think I'm still ageless from that shoot but I think I have matured immensely

—

Ruffa recalls one of her Metro shoots
All these, combined with grit and resilience, are probably what keep her going to this day. She shares, "I'm always ready to face a challenge"—and that includes the intrigues she faces from time to time. "I used to eat haters for breakfast so I don't really care about what they say or what they do. If it's [about] someone that really means a lot to me, then I'll mind what they say."
Ruffa is currently working on ABS-CBN's upcoming drama series Love Thy Woman with Kim Chiu, Xian Lim, and Yam Concepcion. "It's an all-star cast and it's sort of like Crazy Rich Asians slash Mano Po. I'm very excited about it," she says. Ruffa also teased about a surprise movie project that she can't wait to announce: "I want to be in projects that I really love to do and not because I'm forced to. I'm not so picky with my roles but I'm picky with what I want to do, because I want to be able to work with the best now and work with people I love and, thankfully, it's all been happening."
Despite being in the business for decades, she admits she still has some dream roles on her bucket list. "I want to do horror, actually, or I want to play the role of a lesbian. I've never played the role of a lesbian before," she reveals. "I want to play the role of someone very controversial na parang 'What's the real story behind her persona?' Someone who's nice and who's not nice at the same time, double-faced, a woman of two faces, like, killer pala siya in the end."
I used to eat haters for breakfast so I don't really care about what they say or what they do. If it's [about] someone that really means a lot to me, then I'll mind what they say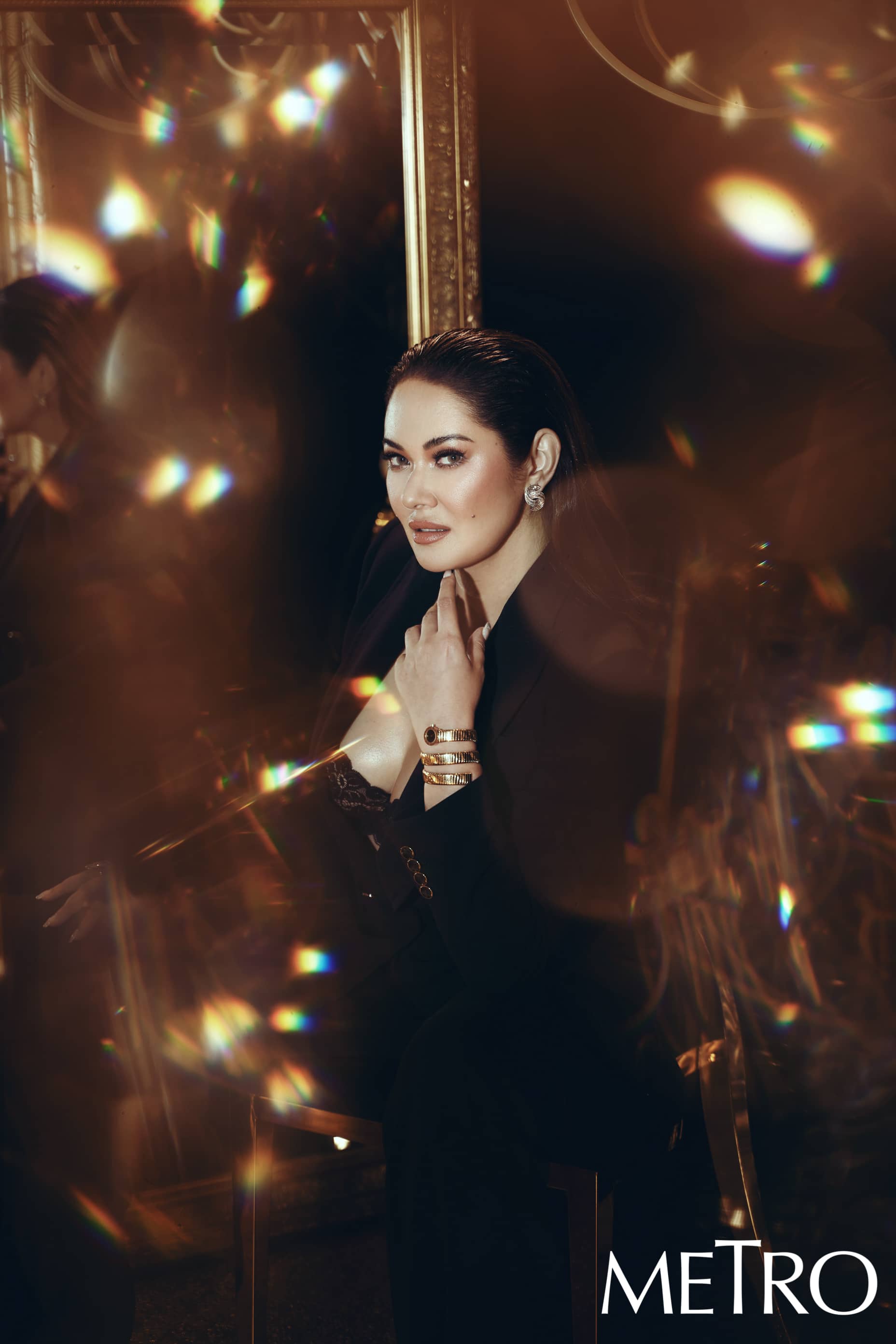 On Ruffa: Black blazer by Karen Millen in Power Plant Mall and black trousers by Patty Ang via www.pattyang.com | Photo by Dookie Ducay
Her other facets
Apart from her acting career, Ruffa has also been busy with a milk tea shop she put up last September. "I'm doing other projects also outside the industry to start saving for the rainy days," the celebrity entrepreneur shares with excitement. "I'm just so surprised that my daughters drink milk tea every day. After school, they only drink milk tea and I've decided to start drinking it, too. Everywhere you go, you see there are long lines everywhere. It can be a local [brand], a franchise, everyone's just so in love with milk tea."
Her daughters, Metro.Style cover girls Lorin and Venice Bektas, have not only been Ruffa's inspiration for her recent business venture, they are also her eternal source of motivation.
If the mom of two were to choose an iconic line from a movie that would describe her life right now, it would be of Ginny (Toni Gonzaga) in Starting Over Again. "Hindi ako pinag-aral ng magulang ko para magpakatanga sa isang lalaki," she reenacts a scene from the 2014 film. She may have made mistakes in the past, referencing her previous relationships, but she moved on from them with lots of lessons learned. "Tama lang naman 'yung sinabi ni Toni eh, kasi hindi naman talaga ako magpapakatanga sa lalaki kasi I left all of them. No one has ever left me. But I'm friends with 99% of my ex-boyfriends. All showbiz ones, they're all my friends and all the wives and girlfriends, they all love me so they trust me."
What Ruffa has gone through in life is no joke, but everything helped toughen her up. Now an empowered woman, she has made it her mission to share her learnings in order to empower others as well. "The closest to my heart is speaking out against domestic violence because it's something that I have been victimized by in the past but aside from domestic violence, also violence against women and children," she shares, adding that she's happy to have celebrated her birthday this year with a charity that supports this advocacy. "I woke up that day and I felt really happy knowing that I was helping others."
The closest to my heart is speaking out against domestic violence because it's something that I have been victimized by in the past

⁠—

Ruffa on her advocacy
She continued to give her stand on divorce: "I know it's a very controversial topic but I think everyone deserves a second chance in life. I would not want to get married if I'm going to be miserable all my life. I guess I'm just a woman that will also defend other women especially the women that need help. So any women's rights, I'm for that, divorce and helping children—just being a good citizen."
Ruffa considers having been able to raise her daughters well on her own as her greatest accomplishment. "It's very tough to be a single mother. It's very challenging and I'm sure a lot of single mothers out there will actually realize what I'm saying is true," she says. "There are ups, there are downs, but at the end of the day, I do it for my kids and it's not an easy journey but it's something I'm really proud of, because I've always chosen love over money, and whatever it is that they have right now and what I have is because I worked hard to attain them so that's one of my biggest achievements, I can say."
It's very tough to be a single mother... There are ups, there are downs, but at the end of the day, I do it for my kids
Family is everything
The hardships she has had to deal with would have been more difficult to handle if she didn't have a solid bond and relationship with the members of their family, and that's something she is absolutely grateful for. "Whatever happens in my life, I have my family to back me up and for me, that says everything. It doesn't matter what I go through, what storms come my way," Ruffa tells Metro.Style. "As long as I know that they're behind me and loving me and supporting me no matter what happens, I'll be okay."
She continues, "I'm so happy and blessed to be surrounded by real people. A strong family. I think family is everything. Our family is not dysfunctional. It's just a loud, happy, unique family but at the end of the day, when we have problems, we support one another and we're there for one another even when we're all in showbiz. My mom's quite loud, [but] she's always there for us. Aside from my family and real friends in the industry, I'll say that all of them surround me with good advice. When I'm feeling down, I just go to them."
Surrounding herself with great people contributed significantly to the woman she has become today. "A lot of people who meet me, they'd always say I'm the strongest person they know and I think so too because I'll never really shy away from a battle," she muses. "I'll always be there, especially if it's with my girls, my friends, or anyone that needs my help."
In ten years, Ruffa sees the best version of herself living her best life. "I want to have a nice, beautiful, happy life wherein I'm of service to other women, I dedicate my life to community service, charity work, travel when I want, and eat anything I want. I think I've worked hard all these years. Maging donya naman tayo in a sense na we're living a fulfilled, nice, happy life wherein we're loved and blessed," she concludes.
I'm so happy and blessed to be surrounded by real people. A strong family. I think family is everything
Produced by Kat Cruz-Villanueva, Ceia Ylagan, and Judy Arias
Photography by Dookie Ducay
Video by Chapters by Mayad
Art direction by Raff Colmenar
Sittings editors: Geolette Esguerra, Grace Libero-Cruz, and Kate Paras-Santiago
Production design by Kathy Sy King of Event Styles
Makeup by Mikka Marcaida
Hairstyling by Russell Gonzaga
Styling by Danae Dipon
Shot on location at City of Dreams Manila
Special thanks to C&L Decor, Shop Rent Gala, 4th Wall, and 18th Floristry; Charisse Chuidian and Romina Gervacio of City of Dreams Manila