Metro At 30: Solenn Heussaff Is About To Become One Cool And Stylish Mom!
Actress, artist, and mom-to-be Solenn Heussaff joins Metro magazine's 30th anniversary and talks about her best experiences with the publication
You know a Renaissance woman when you see her. She's well-spoken, curious about the world and the people who inhabit it, fashionable but not attention-seeking, knowledgeable but not pompous, wide-eyed at the prospect of learning new things.
She's exactly the kind of woman Metro magazine has celebrated time and time again. As the publication marks its 30th anniversary, it chooses an artist and actress to embody the spirit of the Renaissance woman as we know her today.
She goes by the name of Solenn Heussaff, and like the many works of art and culture she so greatly admires, she is also a sight to behold, possessing a presence that enchants and inspires.
"I've been asked before what I would choose to do if I had to choose to do just one thing, but I can't. As long as I can do everything that I'm doing, why not? You can find time to do everything if you manage your time. That's what motivates me as a person," Solenn shares, as she waits patiently between outfit changes at this Metro photo shoot.
Beginning her eight-year-long career in show business as a model, makeup artist, actress, and certified It-Girl, Solenn has gone leaps and bounds since then, moving on to endeavors that nurture her inner artist.
To date, some of her creative pursuits include painting pieces for future art exhibits, providing ideas for local fashion labels, designing statement-making rugs, developing her homeware line, being a close observer of fashion, and—to the surprise of many—playing around with singing, too.
Let's not forget that she also finds time to stay physically active (yoga, swimming, uphill climbing, and app-based workouts are all on her exercise agenda, in case you were wondering), cook, spend time with her husband Nico Bolzico, read, learn new languages, and essentially do all the things most women wish they could do.
Yet even with a plate as full as hers, the sweetest cherry on top of her cake has only recently arrived; Solenn is on the third trimester of her first pregnancy, as of this writing. She and Nico are expecting a baby girl.
She's by all means a woman to aspire to be, one who lives up to the Metro woman's go-getting reputation to a tee.
The more I do things, the more I learn, the more I meet people, and then the more I want to do different things. It keeps me on this track of wanting to learn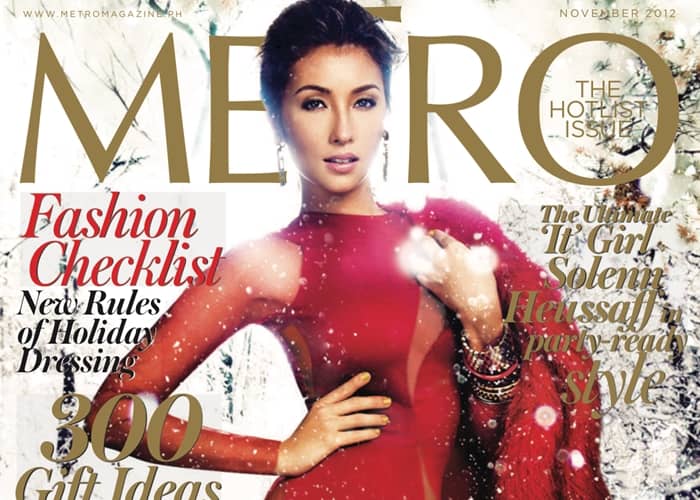 Actress and artist Solenn Heussaff joins Metro Magazine's 30th Anniversary and talks about her best experiences with the publication
Actress and artist Solenn Heussaff joins Metro Magazine's 30th Anniversary and talks about her best experiences with the publication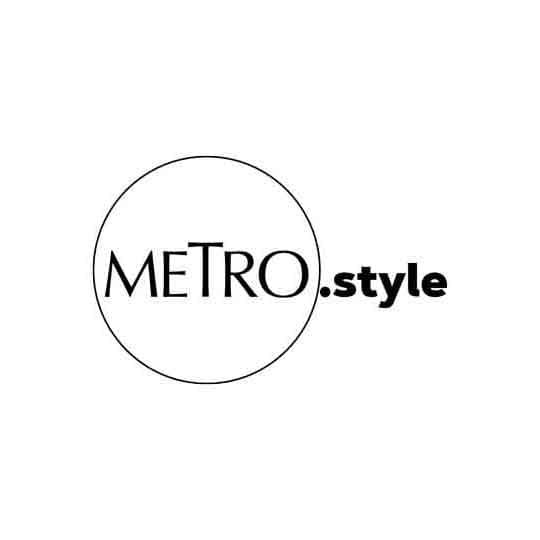 Gown by Mark Bumgarner and jewels by Love Rocks Jewelry | Photo by Gee
Her no-time-for-downtime approach to life hasn't at all left traces of tiredness, however; how Solenn is as fresh and spunky and enthusiastic as she was when Metro worked with her for a cover seven years ago is absolute magic.
She remembers the shoot like it was yesterday: "We went to Belgium. It was a three-cover story shoot in Brussels, Antwerp, and Bruges. It was my first time traveling for a cover, and I loved it because I'd never seen that side of Belgium. I got to see more of the fashion scene, so that was a lot of fun. A lot of the clothes chosen were a mix of foreign and local brands," she recalls.
Dressed in a gown by Mark Bumgarner, featuring lots of puffy tulle and a sultry silhouette as she narrates this, Solenn admits to being a little out of her comfort zone in the ensemble, however pretty it might look—but the feeling is a hallmark of the Metro experience and one she has since learned to embrace since her first taste of it.
Experimentation, discovery, pushing boundaries, and reinvention are what the magazine's cover girls have come to expect on set, and despite their initial skepticism, they end the day learning something about themselves and adding layers to their style repertoire.
For Solenn, her Metro covers have been all about letting stylists and fashion editors take the (wardrobe) wheel. She might be a jeans and t-shirt kind of gal in real life, but once she's in the hands of Metro's creative team, she becomes a blank canvas receptive to strokes both light and heavy, bright and dark, minimalist and maximalist.
Each and every time, the results have been nothing but phenomenal. As with Solenn, the Metro woman is taught to embrace, rather than fear, the uncertain. With training like this, she develops a healthy appetite for risk-taking that applies not just to her preferences in fashion, but to life as a whole; lesson learned about the power of venturing into the new and unknown are learned here, the ROI on being brave and doing something others might be too self-conscious or afraid to take on always proving to be worth it.
It's so nice to be part of a group photo and to see the roster of women included. It's very heartwarming. Metro women are women of style and elegance. You can see that everyone who's part of the cover has had success in their own ways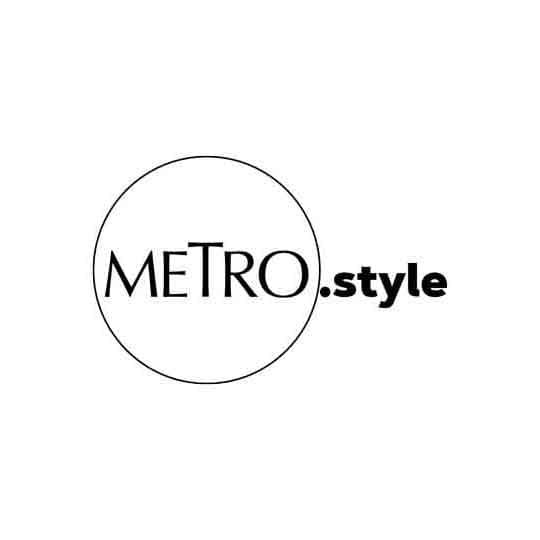 Gown by Mark Bumgarner and jewels by Love Rocks Jewelry | Photo by Gee
With a lifestyle like Solenn's, it's easy to assume that her constant motion is what has catapulted her to the heights she has reached. And while that's partly true (she's still learning how to enjoy slow-moving days, she says, because she's never not doing something), Solenn is, in fact, incredibly conscious about keeping tabs on her mental health when the grind gets too tough.
"I go with the flow of things so I don't regret anything. I'm very chill. I'm the type of person who, if something doesn't work, I'm not going to fuss about it. If this isn't meant for me, I'll do something else," Solenn shares.
It's likely that her resilience and refusal to wallow in defeat are what propelled her towards success; there has been little to no time for looking back for Solenn and the only directions she has ever followed are up and forward.
In this, she looks up to fellow actresses Iza Calzado and Maine Mendoza for motivation (Iza, with her advocacy on body positivity, and Maine, with her bravery to go against the "love team culture" to grow as an artist and individual). Both women have done things that have inspired Solenn to stick to what she knows is best for her while putting the lid on noise and other destructive forces around her.
"I entered [the industry] at 26, which is kind of old for show business. I was already formed and developed as a human being, and not easily persuaded. I see the younger stars and I really feel that I wouldn't know how to do it at their age. There's so much pressure," Solenn reflects while emphasizing the necessity of knowing how to set limits.
"At the end of the day, you need to know that 'trolls' shouldn't affect the way you're living your life," Solenn adds.
Depression and anxiety-related health issues are all too common these days, she acknowledges, which makes it extra important to know how to recognize unhealthy situations and have the strength to remove yourself from them.
Her resolve is yet another reason for why she makes a shining example of a Metro woman; a firm believer of self-love, Solenn has mastered walking the tightrope of ambition and taking it easy, never living one side in excess at the expense of her well-being.
Life may be made for living to the fullest, but it's just as important to enjoy its quieter moments and how to maneuver its troughs just as well as its crests.
I try to do a lot of things about mental health... Sometimes you just think [a feeling] is going to pass or it's stupid, but no matter how small it is, people need to know that you can talk about it. It's normal for us to fall, it's normal for us to feel that
Minutes before it was signaled that Solenn is needed for the next set of photos, she ends this conversation with thoughts about the future. She'll still be working of course, she laughs, but she promises to focus more on family life as she prepares for the arrival of her first child.
Art-wise, she has a goal to get back to painting for a third art exhibit whose theme will be all about climate change (her first showcased world tribes, and the second focused on street scenes in the Philippines).
For her work onscreen, she feels like she's finally getting the hang of it and points to her recent Cinemalaya film, Misterio De La Noche, as the kind of project she's proud of.
But when the talk shifts to motherhood, that's when Solenn takes a deep breath to collect herself. "I've always wanted to enjoy my marriage and solo time before devoting myself to another human being. Being a parent comes with great responsibility and one needs to be prepared... Like every change, it is exciting and scary. We have a lot to learn but I trust we will make great parents and have a lot of fun as a family," she smiles.
You become a mother, but you are still

you... You do you, and trust the way you feel
Just as works of art produced in the Renaissance mirrored life itself, Solenn's lessons learned, experiences gained, and stories told with Metro extend well beyond glossy magazine pages and spill into real life.
That's the privilege Metro women have been given and will continue to reap, now, and in the next years to come.
Produced by Kat Cruz-Villanueva, Ceia Ylagan, Judy Arias

Photography by Gee
Video by Chapters by Mayad
Sittings editors: Geolette Esguerra, Grace Libero-Cruz, and Kate Paras-Santiago
Styling by Eldzs Mejia
Makeup by Robbie Piñera
Hairstyling by John Valle
Production design by Kathy Sy King of Event Styles
Styling assistants: Carl Alberto, Gabby Gamboa, Nix Bueno, Aubrey Cazzandra
Shot on location at City of Dreams Manila
Special thanks to Charisse Chuidian and Romina Gervacio of City of Dreams Manila; C&L Decor, Shop Rent Gala, 4th Wall, and 18th Floristry