Meet Monique De Los Santos, The First-Ever Metro x Kumu Cover Girl
The singer-songwriter tells her story of what it means to pick yourself up, over and over—because in the end, it's always worth it to keep on trying
Say hello to singer-songwriter, top Kumu livestreamer, and painter Monique de los Santos, our first-ever Metro x Kumu Cover Girl campaign winner!
"It was the first contest I won after so many years... It was a huge shock for me. I just found out tonight that I was going to be on the cover," Monique gushes in an exclusive interview.
"It's so exciting! I've never been on the cover of a magazine before," she grins.
At her cover shoot, Monique proves to everyone why she always deserved to be a winner; springing back and forth between playful and alluring, candid and sultry, she beckons everyone to turn their heads when she's at front and center. Donning soft waves, and a fresh face accentuated with dramatic eyes, it's easy to tell that Monique was built for the spotlight. She's gorgeous in all her outfits, too.
Besting nine contenders for the top spot in the Metro x Kumu Cover Girl campaign, Monique arrives on the scene with a story to tell and more so, a lesson to teach: good things come to those who wait, but even better things come to those who deserve them—and least expect them.
"When I entered [the Metro x Kumu Cover Girl campaign], I just gave it a shot and didn't treat it like it was a contest. I just wanted to get experience. And I was late when I joined because I was sick. When I caught up, I was [in] first place!" she recalls.
Monique was on Kumu for less than six months when she joined her first-ever campaign, and she took on the challenge expecting just-good-enough results. She was up against other talented singers and established social media personalities after all, making the campaign anyone's game.
But more than having to manage the campaign's tense competition each and every time she went live, unknown to most of her viewers was that her confidence was as fragile as ever at the time; experiences from years past resurfaced, many of which reminded her about the pain of losing despite giving something your best shot.
See, Monique's history as a performer—and her attempts to find her way to the industry—go way back, all the way to when she was a teenager living in the US. Coming from a family of artists (both her mother and her sister are gifted singers and play instruments, and South Border's Luke Mijares is her uncle), she'd always felt that she was bound for a life onstage. She had the drive, the looks, and the moldability, and overall, the makings of a young star who had potential to shine brighter than the rest.
"I moved to Manila when I was 16 because of the MYX VJ Hunt. I moved here for that, hoping it could open more doors for me but it's been a very tough journey. I'd been through a lot more contests, record companies. I wrote songs, I had an album release, I had singles on Spotify. In between all of that, I went [back] to the States," she tells Metro.Style.
She did win the MYX VJ Hunt, much to her delight—but it would be the first and last competition where she would emerge victorious, and over the years, finding herself outside the winner's circle again and again proved to be painfully discouraging.
Come college, Monique thought she was handed the golden ticket she'd waited to receive: a chance to make it to American Idol (Season 10), the mother of all singing competitions that could launch the career she so deeply felt was right for her.
She made it through the auditions. She met Steven Tyler, Randy Jackson, and Jennifer Lopez, the last of whom indulged her the handshake of a lifetime. She then made it through the first round of eliminations, and then the second and then...
"When they cut me out in round three, I was so devastated. I went to my room. I called my mom, I called my dad... I cried so hard. I called one of the contestants who made it really far. I cried even more when my dad showed up because he's the one who was in all my contests and he always saw me lose... It was the same thing that happened there, too," she narrates.
She had a bit of steam left in her, however, and it was just enough for her to piece herself back together and bring her A-Game to America's Got Talent. Alas, destiny had other plans for her, and she wouldn't be given her big break there, either.
"It was really a battle of nerves and that's really the problem with me. I get really nervous. Joining different competitions, it was really hard for me to level up more. And from what I learned in contests, nerves will really kill you... If you get nervous, you're going to mess up, and then you go home," Monique explains.
Little did Monique know that heading back home would mean two things for her: a literal trip home where she likely shed a tear or two in frustration and disappointment, but also, and more importantly, a figurative re-routing of her direction. This time, she would finally be led down the right path.
Years after her auditions abroad, Monique found herself back in the Philippines, competing yet again in local reality talent show Pilipinas Got Talent (Season 5). She only made it up to the semi-finals.
She told her friends she was done for, that was it. She would never again compete for anything, and no one could convince her otherwise. Besides, she had her live gigs to count on for her to be able to do what she loves most and after everything she'd gone though, they were enough for her.
And then, as if to rub salt in her slow-healing wounds, the COVID-19 crisis came. The global health crisis left no bars open, no events to sing in, no casinos hosting shows, no one in need of her craft at the moment—indefinitely.
Monique found herself stuck between a rock and a hard place, knowing not what to do next and only that she was miserable.
"Nu'ng ECQ time, all I did was stay at home and watch CLOY (Crash Landing on You) and Money Heist," she half-teases. It was terrible, being as extroverted as Monique, to depend on her own devices to keep her company—and sane!
"I was very unproductive until I started painting and people bought a lot of my artwork! And then I wanted to do so much more so my friends told me to visit Kumu. I've never had any experience streaming! I had no idea what I was getting myself into," she continues.
It was awkward in the beginning, Monique laughs, given that she didn't even have any of the basic gear a livestreamer should have. She had no mic, no photogenic background, no speakers to enhance her voice quality during a song. It was all so amateur-ish, but nonetheless, she had charm. She gained 30 followers in one go.
Thirty multiplied to 50, and then, the rest was history. As of this writing, she has more than 12,000 Kumu followers.
"I got the hang of it and it felt like a gig to me again, only, mas masaya ito because you get really personal with the people viewing you. You get to talk to them kaysa sa mga bar gigs ko where you're just there to sing, then you go home. I like Kumu because you chat with your viewers... It's a lot of fun and that's why I stayed," Monique smiles.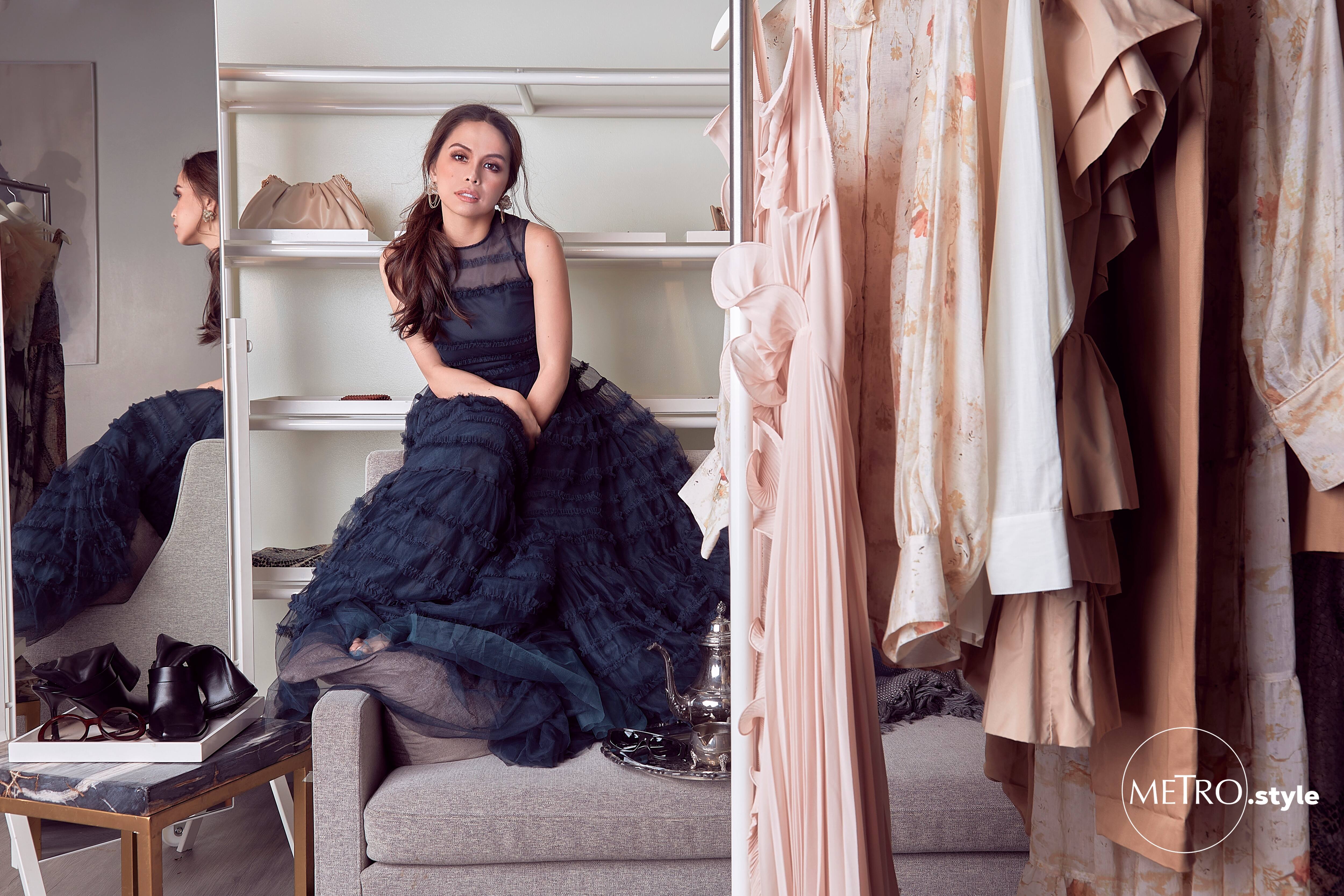 Metro x Kumu Cover Girl Monique de los Santos
Metro x Kumu Cover Girl Monique de los Santos
In the "Kumunity" (Kumu community), she found a soothing balm to ease the sting of past experiences and the loss of an artist with nowhere to bring their art. For the first time in a long time, Monique found a home for her and her talent, and she was happy.
When Metro announced its search for a Kumu Cover Girl via a campaign, she'd just celebrated five months of livestreaming and was new to joining campaigns. Was she ready to put herself out there, to join another contest and revisit tender vulnerabilities?
Her family and Kumu friends thought so. They were sure of it.
And so, she dove head first, albeit with eyes closed and nose pinched, into another competition but this time, she was meant to come out the star.
Earning more than 38 million diamonds (a.k.a. the currency earned by Kumu streamers through virtual gifts)—close to 16 million diamonds away from the campaign's second place-holder—there was no denying it, Monique won, and it was the biggest contest she'd won in her life as a digital performer.
"I'm very blessed to have such a loving family. I even have friends who aren't Kumu users who came to my finale to drop a lot of Metro gifts and Metro covers... It was so insane. I was so overwhelmed in the finale and I cried in the last hour. These guys spent their time just for me to win. I didn't know how to react anymore," Monique reveals.
"That's why I love Kumu. My supporters, they keep me going. Kahit na sobrang napapagod ako, kulang 'yung tulog ko... It's people like them that keep me going and make me want to stream every day," she continues.
A little over a month after her big win, Monique is at the posh H&M showroom in Zuellig Building in one of Makati's swankiest neighborhoods. She's switching from outfit to outfit, moving from set design to set design, and singing Christmas carols a cappella while she's at it.
She livestreamed a part of her day with her Metro cover shoot team. She was proud of what she achieved. She was confident that she could do more, and she was sure she would. She waited for this, and she earned it, too.
Unexpected is the word Monique uses to describe her year.
"Every month, I get surprised by something... This year went from really bad to really good," Monique says.
"For 2021, I would still like to do [more] and be more successful in Kumu, make more friends, and join more campaign, maybe every four months. I would like to sell more artwork online and also be known as a girl who paints good, original abstract art. I just finished writing a children's story and nursery rhyme for kids... I would really hope and pray that God will give me the gift of songwriting again," she muses.
"I just became really happy and it was all an unexpected turn of events... I'm showered with different kinds of blessings and I ask what's next," she ends.
Photography by Rxandy Capinpin
Creative direction and production design by Chookie Cruz
Styling by Kat Cruz-Villanueva
Makeup by Mayesa delos Santos
Hairstyling by Francis Guintu
Videography by Spotlight Creatives
Shoot coordination by Judy Arias and Cara Tirona
Shot on location at H&M Showroom
All clothes from H&M Conscious Exclusive
Special thanks to Dan Mejia and James Burn