EXCLUSIVE: See Janella Salvador In Her First-Ever Cover Shoot With Her Baby Jude
In this Mother's Day special, a first for our cover star, we caught up with Janella Salvador and talked about the most life-changing six months of her life
It's been a little more than six months since young actress Janella Salvador discovered how super a woman can be in the face of motherhood. Last January, shortly after she and her partner Markus Paterson revealed they're parents, she talked to Metro.Style about how this new role allowed her to tap into her "inner strength." There is indeed no power greater than motherhood, she realizes. Her baby was born, and she was reborn.
At the time, Janella was still in the UK, where she gave birth to a son whom they named Jude (as inspired by the song "Hey Jude" by their favorite, the iconic English rock band The Beatles) on October 20, 2020. That was just about three months ago—yet, Janella has grown significantly since and so did Jude. She exuded the inexplicable joy that comes with motherhood then and even more so now. From when she cried upon seeing Jude smile for the first time, there are now more reasons that bring her smiles and happy tears.
"He can crawl now. He can crawl very quickly. He can roll over very quickly," the 23-year-old mom excitedly tells Metro.Style. She also shared how she loves singing lullabies to put Jude to sleep, but that doesn't seem to work now. "When I try to sing to him now, he smiles, pero ang likot-likot na niya so it doesn't put him to sleep anymore, but he enjoys being sung to. It's more of a pastime now than putting him to sleep, kasi he has so much energy now. He's just a ball of energy," she adds.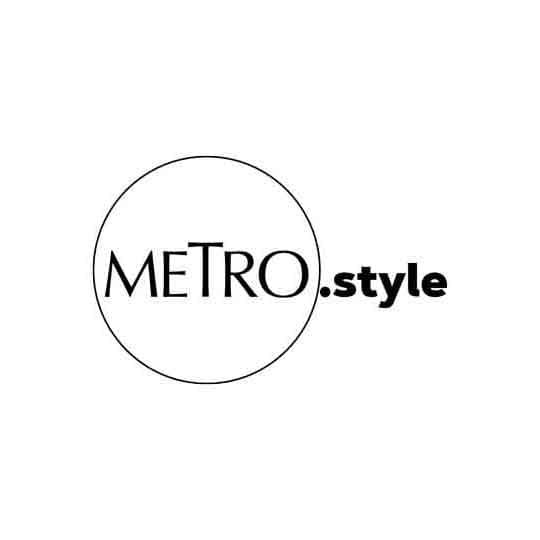 New mom Janella Salvador on the cover of Metro.Style | Photography by Seven Barretto
For this first-time mom, those six months with baby Jude saw the most life-altering period in her life so far, one that's defined by growth, transformation, and introspection.
Today, Janella is celebrating her first-ever Mother's Day, and she expresses her newfound appreciation for her mom Jenine Desiderio. "What do I appreciate most [about her]? Her skills, her knowledge, like I never really gave it attention before, na parang buti nalang alam niya ito, because I just realized there are so many things I don't know yet, like, when it comes to cleaning or when it comes to housekeeping, stuff like that, na parang I should know by now, because I run my own household. So, I really appreciate her when it comes to those things, na parang I can run to her when there's something I don't know, or 'pag 'di ko na kaya. Her drive to help, it's amazing. It means a lot."
For this new mom, every day brings new surprises and discoveries ("I didn't realize how much stuff a baby needed until when I actually had to buy them," she smiles), and of course, the inevitable challenges. But she's grateful she doesn't have to go through them alone. She tells her mom, while paying tribute to all the single moms, "Thank you for being so strong, raising us as a single mom. I know it's very hard because I'm not a single mom and I'm having a hard time, so what more all the moms out there, the powerful moms out there, who raise their kids alone?"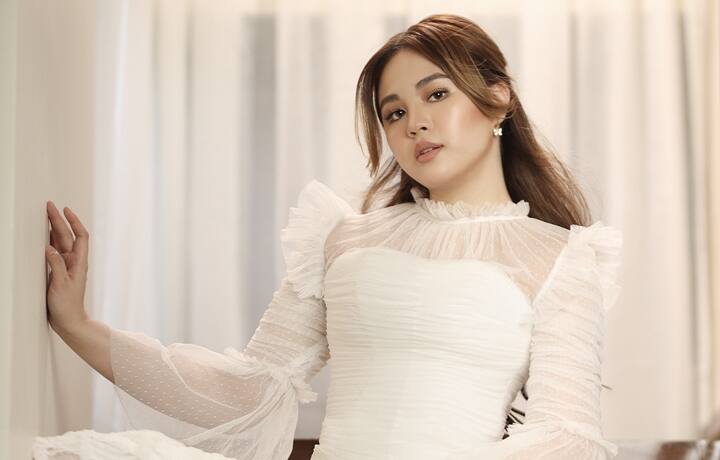 Janella Salvador and Baby Jude On Metro.Style
Janella Salvador and Baby Jude On Metro.Style
Of breastfeeding and experimenting with baby food
Breastfeeding is an area moms typically find challenging—the painful latching, the worries about whether the baby is getting enough milk or not, the clogged duct, the low breast milk supply, etc. Aside from the physical toll that comes with breastfeeding, there's also an emotional aspect to it—both the positive in that it creates a strong bond between a mom and her baby, and the negative where it can eat up on a mom's confidence when it doesn't happen the way it does for other moms. It's a topic that moms usually hesitate to open up about, for fear of being judged whether for doing it for too long or not doing it long enough.
But Janella was candid about her four precious months of breastfeeding journey, and how much she enjoyed that meaningful experience. "I did breastfeed, but I'm currently not breastfeeding anymore because he started to refuse my boobs at four months old," she shares. "I honestly miss it because I was lucky to be one of the moms who didn't have a hard time breastfeeding. I didn't find it that painful. It was very smooth sailing for me, but my problem was, when we had to go back home to the Philippines and fix our trip, I didn't have time to breastfeed as much anymore, so slowly, it [breast milk] started to decrease in supply. And 'yun nga, hanggang sa nawala na lang siya, and he started refusing it."
Her breastfeeding journey may have been short, but she'd rather not stress herself about it because that clearly doesn't make her any less of a mom after all. Besides, why waste time wallowing in that when the fun part of experimenting with baby food immediately follows?
"We started him on solids," Janella gushes. "So far, his favorite is avocado. He doesn't like papaya, and we're still experimenting with stuff, so maybe tomorrow we'll make him try mashed potato… It's exciting to make him try new things. Squash was his first. Today, he tried banana; he really, really liked it… 'Yun pa lang ang napa-try ko sa kanya. I haven't tried mixing anything yet."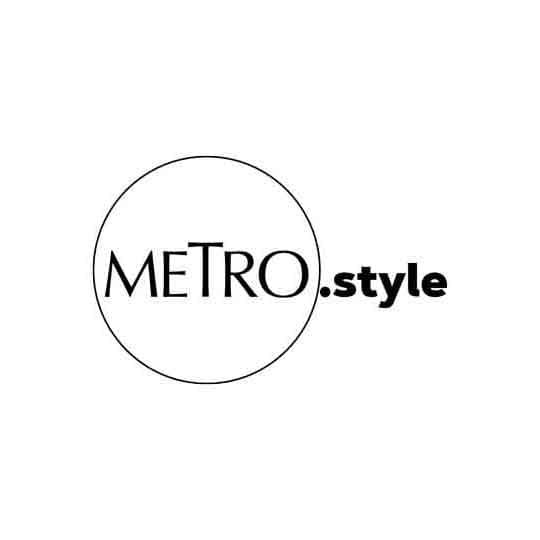 On Janella: Dress by Mark Bumgarner | On Jude: Top and shorts by Raising Little PH
Learnings and pieces of advice
Coming up with a delicious and nutritious meal plan for baby Jude is just one of the many things that take up Janella's time these days. A baby's schedule can be unpredictable, and a parent needs to learn the balance between planning things out and at the same time accepting that "it's okay to not have it all together."
If there's one thing that Janella's mom Jenine reminded her of when it comes to motherhood, it's patience. Lots and lots of it. It's a never-ending learning experience. And as American author Jill Churchill puts it, "There's no way to be a perfect mother and a million ways to be a good one." Janella knows she needs to be patient in adapting to the ever-changing dynamic of a mother and a child, as well as in figuring out the million ways to be a good parent.
"Some people tend to think that when you become a mom, of course, you have to have everything perfectly planned out, like everything's under control. And, of course, you know your kid depends on you to have it all together…," Janella opens up. "Sometimes it really tests your patience, especially kunwari 12 midnight na, tapos bigla siyang susuka sa bed and you're all ready for bed, you just cleaned him up. It's really tough to keep it all together, but you have to… It's okay, it's okay to not have it all together. It's okay to struggle, and the mere fact that you're worried about being a good mom means that you're already being a good mom, because you care."
A skill she's thankful to have acquired after becoming a mom is being organized. Yes, it's okay to not have it all together all the time, but at least, make sure you put the baby-related items together properly and know where to find them. "It's very important, especially when you're taking care of a baby, to be organized kasi kailangan mabilis mo mahanap 'yung mga bagay-bagay," she says.
Mom-me time
What's pretty hard to find for moms is me-time. In Janella's case, her mom stays with her often now to help her adjust better to motherhood, but other times it's just her and Markus. They currently don't have a nanny to help in taking care of Jude, so me-time is something she has considered a privilege.
Janella doesn't even remember when she last had a good night's sleep, because Markus is in charge of tucking their baby in but Janella is the one who wakes up in the middle of the night to tend to Jude. She doesn't mind, of course. But she makes it a point to have ice cubes ready the following morning to de-puff her face from a sleepless night—a classic beauty trick!
When she does manage to squeeze in free time, she puts on some music to get her groove back. Janella shares, "I just relax. I try not to think of things that I have to do, even just for 10 minutes to an hour, just to refresh myself. I play games on my phone or I read, or just simple things like that. Now I'm trying to squeeze in going to the derma. So that's my self-care na, and working out sometimes. Sometimes. I'm not a regular workout-er."
Getting to a point where she has become more accepting of herself today and the fact that she needs to love and take care of herself again is a small win worth celebrating. That dip in self-esteem is a roadblock in a motherhood journey that can be tough to overcome. Many women who just gave birth deal with confidence issues, and Janella was no stranger to that. "I wouldn't say I got fully depressed, but there are many times until now that I have to remind myself that, 'Hey, you gave birth to a human, that's pretty amazing, that's pretty hard.' Because, after giving birth, I really lost confidence in myself, a lot of confidence, like nawala lahat ng vanities sa katawan ko. Like when I look in the mirror, I don't really see myself anymore… It did take a toll on my confidence but now I'm slowly trying to take care of myself more, get some self-care in and try to get my old self back," Janella reveals.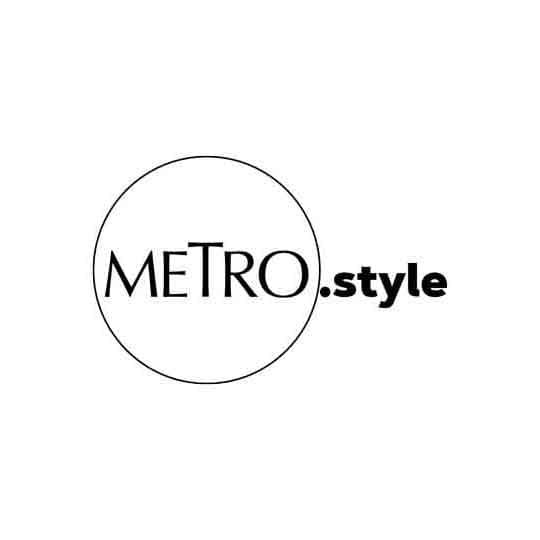 On Janella: Dress by Debbie Co | On Jude: Polo and jumper by Raising Little PH
The downside of "sharenting"
Old self but a way better version of herself—someone wiser, more responsible, and stronger. She has a baby to protect now, and that brings out that mother power from within her.
That tough side of Janella was seen recently when netizens had unpleasant things to comment about her baby Jude. Without mincing words, she tweeted about it along with a screenshot of the netizen's Facebook profile: "Your humor must be really fu**ed up to make fun of a baby. I can take all the bashing in the world directed at me with grace, but direct it at my innocent son and you'll definitely hear from me."
Markus also couldn't help but address these netizens with a tweet that revealed the Facebook usernames of all those who bashed their baby, saying, "Let's be honest. I'm no stranger to bashing. But come for my son and I will come for you. People like this make me sick, wala pang isang taon anak ko and ya'll making fun of a NEWBORN. Not gonna erase the names, proud nyo eh."
Not tolerating this form of bashing on their talent's baby, Star Magic released a statement about the incident, stating, "These posts are not only irresponsible and unnecessary, but they are also downright heartless and cruel… We will not hesitate in seeking legal action to make sure these individuals, whose posts caused undue hurt and trauma, will learn their lesson."
Janella shared that she read that some people were blaming her for what happened, because she posts photos and videos of her own child on her own social media account. There are the keywords: her own. "It's not my fault if I want to share my child on social media," she says. "That's my right. Just don't be rude. That's it. Don't be rude."
The netizen who bashed Jude as well as the others who commented on the post reached out to Janella and apologized. "We do accept their apology, however, I hope this is a lesson learned for them to be responsible and kind on social media," Janella tweeted. They're over the issue now, but through it they hope to encourage others, especially the parents, "to stand up for things like that because you can't just sit down and take it."
When she decided to reveal her child, she meant it when she said she did it because she was ready to take whatever harsh criticism people are going to throw at her. Just don't direct it to her child.
"Don't do that to a child," she emphasizes.
Janella still expresses her excitement for sharing more content with baby Jude. She mentions that a vlog on his jungle safari-themed nursery (imagine a palette of neutrals with touches of green and orange) is in the works. "Markus had input (fixing the crib)," Janella says. "Pero the design was mostly me." She envisioned this cozy room as a place where they can hang out as a family. It's where they can bond over Cocomelon videos (her baby's favorite) and maybe one day introduce to Jude her favorite mom character in a movie, "Mrs. Incredible," who in a way is like his supermom.
Not all superheroes wear capes. Sometimes, they're simply in plain pambahay or glammed up once in a while in frilly dresses. Either way, in the eyes of children, mothers are superheroes.
Happy Mother's Day, Janella, and to all the moms reading this now. You're all super!
Photography by Seven Barretto
Creative director, sittings editor, and production designer: Chookie Cruz
Videography by Pat Buenaobra
Makeup by Anthea Bueno
Hairstyling by Ezekiel Otilla
Styling by Perry Tabora
Shoot coordination: Grace Libero-Cruz and Cara Tirona
Special thanks to Star Magic, Direk Lauren Dyogi, Gidget dela Cuesta, Emmanuel Valera, Elizabeth delos Reyes-Rivera, Erik Miras, and Thess Gubi