EXCLUSIVE: Regine Velasquez-Alcasid On Turning 50, Singing's Restorative Power, And Much Brighter Days Ahead
She recommends this to all those who are feeling down: "Sing, sing as if no one is there listening... Sing your heart out or dance your heart out. It will make you feel better"
Go ahead. Choose a song. It's important that you do.
Pick a song from a playlist, new or old, a track from your favorite record, a tune from a childhood memory, or even a melody whose sound, without lyrics, is the only thing you know and can hum.
It doesn't matter. Just choose a song and sing—sing like the world is yours and all is well. Sing like no one is watching, or like everyone is watching and cheering for you on their feet—whichever scenario lights a fire in your soul. Whether or not you sing in tune is none of your concern, because this kind of singing comes from the heart; it's the feeling that counts, and much less how you might sound like a malfunctioning trombone.
"I promise you it will help you," says Regine Velasquez-Alcasid, one of ABS-CBN's brightest stars who has used the magic in her voice to entertain, inspire, and encourage her audience for more than three decades, and for even more years to come.
"It's very therapeutic... You will find that it will help you, slowly. Hindi naman 'yan magic, but slowly, it will make you feel a little bit better," she tells Metro.Style.
It's a piece of advice that she's taking to heart herself these days; less than a week after our conversation with Regine, her home network ABS-CBN was officially taken off the air after the House Committee on Legislative Franchises voted to deny the network a new broadcast franchise. The Philippines also continues to grapple with rising numbers of COVID-19 cases and people from all over the world struggle to keep up with the pressures brought about this health crisis.
"That's why, for those of you who are feeling down... 'Yung medyo mababa 'yung ating self-esteem or 'yung morale natin mababa, sing," she emphasizes.
And continue to sing she will, be it for herself or for others needing an emotional boost.
It's an outlook that has helped keep her head—and her spirits—up high during these difficult times defined by uncertainty. We even dare say that it's the same positivity that has kept Regine looking as fresh as she does; after turning 50 years old last April and facing the challenges of society's "new normal," she radiates vibrancy and energy more than ever before.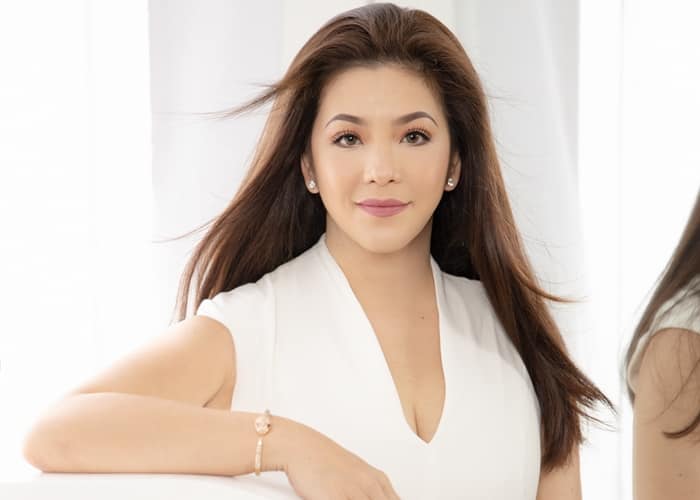 Regine Velasquez-Alcasid on Metro.Style
Regine Velasquez-Alcasid on Metro.Style
"Kaya ko pala maging Inday," Regine laughs, as she looks back at the 100-plus days she spent at home alone with her husband and fellow singer Ogie Alcasid and their son Nate, sans househelp, regular taping schedules, live concerts, photo shoots, and guest appearances.
"When this pandemic happened, I realized that it's also liberating to not have anyone take care of you, and instead, you're the one taking care of everyone. It's a different feeling. I liked it. Nakaka-proud din sa sarili ko kasi parang matagal ko nang hindi ginagawa 'yung mga chores. Minsan, buong araw akong nasa sink; bakit ang mga hugasin parang dumadating lang?" she jokes.
The sudden shift from being one of the country's most recognizable celebrities to becoming a full-time homemaker, wife, and mom was interesting for Regine, to say the least, but in the end, it was something she learned to appreciate.
After all, if there's anything that the COVID-19 crisis has forced working moms like her to return to, it was genuine, uninterrupted, quality family time. After what felt like an entire lifetime spent on stage, in the studio, or in front of cameras, Regine found herself nestled at home, spending days and nights by the sides of those who mattered most to her, with the exception of her mom.
"Staying away to stay close" is the new commandment of physical and social distancing to ensure the safety of those nearest and dearest to us and are especially at risk for contracting SARS-CoV-2, the virus that causes COVID-19. It has kept her away from her mom for four months and counting. It's but one of the many sacrifices that Regine has had to contend with these days.
"I want to see her... and have a family gathering, actually," Regine says.
"Kasi dati, every Sunday, we would have family dinner in my house... It's for my mom, kasi mag-isa na lang siya. So, that's the first thing I'd probably do [post-quarantine]: cook for my family and have the whole family in our house kasi 'yan 'yung hub namin, ang bahay namin. I would cook and we'll have a feast," Regine explains.
Italian and Thai are her favorite cuisines to cook, for those who were wondering. A generous bowl of tom yum goong is almost always on the menu if you leave dinner cooking up to Regine.
Her mom isn't the only person she misses, though; like a true blue Kapamilya, Regine carves a place in her heart for her work family, or more specifically, the ASAP show's staff and crew and her co-stars on the Sunday noontime musical variety show. Quarantine restrictions and health and hygiene protocols have reduced their weekly taping sessions to just one week of taping good for a whole month's worth of episodes. Like Regine, a handful of Kapamilya stars resumed work in July.
Asked what she loves most about going back to work, she reveals, "That's the only time I can go out and mingle with friends, that's the only time I can see them, and also because I get to sing on stage. Although we don't have an audience yet because we can't (have one), iba 'yung feeling. I think all of us, lahat ng artists na involved sa ASAP, we all look forward to performing on stage and we also miss the camaraderie."
When ASAP can finally film with a live audience again after 25 years of doing so, no one can say with certainty.
Recent events have put working life on hold for Regine, and for someone whose career began in the 80s and has only become an icon in the music industry since, that's equivalent to losing a large part of one's identity. More so, Regine goes through this as she enters her 50s at that! The experience is enough to raise anxiety to unhealthy levels and for hopelessness to set in—which is why Regine is thankful that she and Ogie, who is a pillar of Filipino music just like her, have put faith in God at front and center.
"As you get older, I have discovered that mas nagkakaroon ka ng anxiety. Maybe because of what's happening around the world, maybe that triggered it also, but I think it's also age. Diba, as you get older you have more insecurities?" Regine ponders.
"You have questions about your own mortality, ganu'n 'yun eh, kasi palapit ka na du'n. All of those things you have in your mind, hence, anxiety happens. But my husband and I have a very, very strong faith in God and so, with what's happening, with what's going on, that's the only thing that we really hold on to," she reflects.
Faith in better days to come, faith that her home network can recover the same way that the world can from the pandemic, faith that her family can make it through despite being apart, faith that her son will grow up happy despite witnessing and living in an abnormal situation, faith that her ASAP colleagues can weather the threats to their livelihood as well, and faith in everything—now is not the time to have a faith that wavers.
Let's not forget faith in the good that her fifth decade of life will bring, too.
Asia's Songbird remains unfazed by the big five-zero. On the day of her birthday, she happily entertained "guests" via a Zoom call (her mom had pancit and cake ready for her, too), while Ogie prepared a special dinner just for her.
Despite most women fearing the number, she embraces the milestone and even finds it in herself to crack a joke about inevitable aging.
"Nu'ng 49 ako, tinanggap ko na na magfi-fifty ako eventually. So, it wasn't that much of a big deal for me, but siguro sa utak ko lang. Pero sa katawan ko ramdam ko eh. In fairness, rayuma is real," she teases.
Finally entering her 50s has also changed the way she understands beauty. If, in the 80s when she first entered the scene "beauty" meant huge, bold, and maximalist, she now subscribes to the more popular "less is more" approach. That goes for makeup, skincare, and clothes, especially if you're not making any TV appearances any time soon.
"Less is more for me, like a little bit of powder just to cover up whatever you want to cover. If you want to use foundation, just in the areas that you think you have flaws like around the eyes... and then you could put a little bit of blush-on, and then lipstick, kilay of course," she says.
Open Regine's purse and the no. 1 beauty item you'll always find is red lipstick—even if she now has to wear a mask at all times in public!
The rule of thumb is to be age-appropriate, she reminds women. And while personal taste and confidence are essentially enough to be able to pull of any look, a muted eye shadow, as opposed to one that takes inspiration from bold eye makeup trends, is bound to be more flattering on mature women, she hints.
As for her most important beauty rule? Find a moisturizer that your skin loves!
The answer is never in the price tag, the brand, or where you purchased a product from. Even though celebrities attest to its effectiveness or beauty gurus label it the holy grail of all moisturizers, if your skin isn't into it, give it away. If a moisturizer leaves your skin looking and/or feeling oily and slick the morning after night application, that's a red flag, she warns. Don't wait for a zit to appear to heed her words!
It's the biggest favor you can do for yourself, beauty-wise, according to Regine. Invest in a moisturizer your skin will chug like water on a sweltering day, because a clear complexion is your best foundation for any makeup look—including those popping with the colors of the rainbow. In fact, her goal is to have skin so supple and blemish-free that little to no makeup is needed to bring out a glow that appears to be immune to time.
Turning 50 under present circumstances has been far from ideal for Regine, and yet, there is much to be grateful for.
The time on her hands hasn't just allowed her to enjoy life at home, but also to break and rebuild her vision of her own future. She's thinking of partnering with a producer for her next project, for instance.
"I normally produce my albums. I usually decide whatever I want to produce or whatever I want to come out. I want to work with a producer this time and come out with something new," she says, with "something new" meaning a song in the works. What it will be about, she hasn't said, though we hope that it will be a classic in the making, one memorized by millions of Filipinos and played when a dose of hopefulness is badly needed. In the meantime, she continues to sit back and enjoy online concerts, some of which she has participated in to raise awareness on pandemic-related issues and gather financial support for the most affected groups.
Something tells us, though, that whatever Regine chooses to do with her voice, her fans will be happy to be at the receiving end.
For now, she continues to dream, pray, and most of all, sing.
And you should, too.
"Diba 'pag nalulungkot ka, kapag ordinaryong tao ka lang, it's either sasayaw ka o kakanta. That's how you de-stress," Regine says.
"'Yung singing, whatever it is that you're feeling at that moment, you can really make it come out in a song. Kahit hindi ka naman nakaka-relate du'n sa song, p'wede mo ilabas du'n 'yung mga sama ng loob mo. Kung masaya ka, p'wede mo rin ilagay du'n. Kaya very emotional talaga ang pagkanta," she adds.
"Ang dami rin naman na songs that you can relate to and it's nice if you're singing it. Kahit wala ka sa tono, who cares? Sing! Sing as if no one is there listening; no one is there naman talaga listening because naka-lockdown tayo," she laughs. "So sing your heart out or dance your heart out. It will make you feel better."
So, have you picked out a song yet?
Produced by Kat Cruz-Villanueva and Grace Libero-Cruz
Photography by Seven Barretto
Creative direction and interview by Kat Cruz-Villanueva
Styling by Verone Gonzalez
Special thanks to Cacai Velasquez and Diane Roque