EXCLUSIVE: Sarah Lahbati And Richard Gutierrez Talk About Their Upcoming Wedding
The soon-to-be Mr. and Mrs. Gutierrez reminisce the beginning of their love story and look forward to their big day
On a peaceful plot of greenery, cocooned from the loud, smoky avenue of Roxas Boulevard, sits Palacio de Memoria, a Spanish colonial mansion that serves as a new generation auction house, home to hundreds of historical European pieces.
Under the caretaking and artistic management of the Lhuillier Family, the home is given new life, and transformed into a stunning venue where guests are transported to a different time of grandeur. And for today, with its lush foliage and romantic ambiance, it serves as the fitting backdrop and stage for a love that is equally timeless and enduring.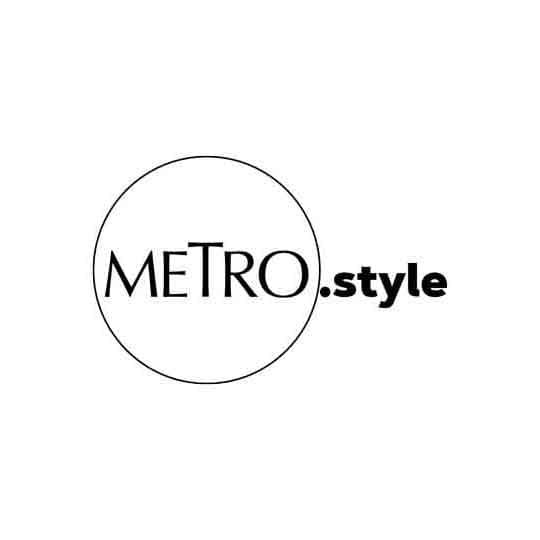 On Sarah: Black lace romper by Patricia Santos | Photograph by BJ Pascual
Love of a lifetime
Like the histories of each gilded candelabra, the porcelain sculptures frozen in graceful posture, and the beautiful canvases depicting maidens of another time, the love story of Richard Gutierrez and Sarah Lahbati is rich and deep, and utterly beautiful.
Effortless in its beauty, their love seems picture-perfect much like antique pieces that decorate the galleries of the auction house. But as every artist knows, no obra maestra ever comes to fruition without meticulous care, patience, and sacrifice required on the part of the artist. Hours and energies are poured to turn something so beautiful, and this is why Richard and Sarah's love story is worth appreciating. For over eight years, they've nurtured their love and built a life together that they're now proud to share, celebrating it finally through a meaningful wedding next month.
"Ang bilis ng panahon," says Richard, the dashing groom-to-be, as he recalls the whirlwind weeks leading up to the nuptials. "There's still so much to do, but at least all of the big (ticket items) are done," he says with a sigh of relief. There are still the invites to release, the lineup of performers to finalize, and, of course, the final fittings and whatnot. But those are small matters; what is important is that they are together on that special day, surrounded by family and friends who matter most, he nods.
Will you marry me?
It was in 2017 when Richard proposed to his long-time partner and mother of his two children on the romantic Swiss Alps. "For me, matagal ko nang alam, there is no other woman."
They had plans of getting married right away after the sweeping proposal—"but then we found out that we were pregnant again with Kai (their second child), so we had to postpone the wedding planning to make way for the baby," he laughs.
But the children are now more manageable, the couple's schedules more free, and with their hearts and minds now more mature, the two had finally decided on a wonderful day in March for their wedding.
A day to remember
Led by wedding coordinator extraordinaire, Amanda Tirol, the team is now devoting hours, translating the wedding of Richard and Sarah's dreams. "We had envisioned something very romantic with lots of flowers, something very classic and timeless," describes Sarah of her dream wedding. For the venue, they're sticking to nude tones and blush for a very simple, yet elegant Christian ceremony; a hotel will be transformed under the masterful touch of celebrity event stylists Gideon Hermosa and Teddy Manuel.
"I guess when we planned the wedding, what we really wanted was our family and friends to have fun. It was one of the very first things we agreed on," reveals the bride-to-be. But while they've delegated the decorating and styling to their competent team, the duo has taken the reins with regards to the program, making sure the night would be as memorable for others as it would be for them. "In terms of what best reflects us in the wedding, I would probably say it's the music," shares Sarah. There'll be beats of R&B, hip hop, soul, and reggae "which we both love!"
Wine will flow and the festivities (they expect) will run into the wee hours, with their guests—around 600 as of last count—more than welcome to dance. "We made sure to be very hands-on when choosing the music for the orchestra and the singers." Of course, both hailing from showbiz, Richard and Sarah are excited to have some special guests headlining the "music fest" during the reception.
It's been fun, demanding, tiring but utterly thrilling, they both admit, when it comes to the wedding planning. But actually they're more excited—and are also preparing for—the life after the big day, putting greater focus on their marriage, which they're both committed to making stronger.
"For me, I'm considering it a new beginning, a new chapter, a fresh start. And we're so thankful that we get to go through this process with our family. I feel like it's bonding us even closer," nods Richard.
Words from the wise
As part of the pre-wedding preparations, they recently sat down with their pastor who helped them better understand and prepare themselves for the next chapter in their lives. "That session was really helpful for us," says Richard, "because it made us understand the dynamics of marriage in terms of our roles as husband and wife. It also taught us how we were going to hold on to each other along this journey. Kasi you're looking at a lifetime, 'di ba? There's gonna be a lot of ups and downs; it's not always going to be pretty. So the seminar taught us what to do, what to expect, and stuff like that during times of trouble."
One of the most important pieces of advice their pastor shared was, "When in doubt or when confused, let the Bible lead you. It's always the Bible that has the last word, so I think that's a really, really good way of looking at things. The Bible should be our guide in terms of decision-making, and the life lessons to navigate marriage."
Richard underlines the importance of always going back to God and grounding your life, your relationships, and marriage in Him. He explains, "Nowadays, with my generation, it's so easy to quit and give up because [we have this notion] that you can press a button and reset and restart. And I think relationships [shouldn't be that way]. They require hard work, patience, constant communication, learning together, and forgiveness. I think it's about not giving up on each other, especially if you have love for one another."
"It's hard to find real love nowadays, so when you find it, you should work hard to keep it. Don't just give up," he adds.
Doing right
Wise in his words and thoughts, the 36-year-old actor's seriousness about marriage is expected yet refreshing, and this is why he explains he wanted to do right by Sarah. He understands the gravity of the commitment required for marriage, and didn't want to jump into it—even with the external pressure to do so was made incredibly apparent, especially after their first baby was born in 2014.
"What drew me to him was the fact that he was very mysterious. And I just couldn't read him," shares the doe-eyed, Filipino-Moroccan beauty. "But then after getting to know him, he was really wonderful. He's passionate about so many things that I'm passionate about.
"Getting to know how much he loves his family was heartwarming, because you know how some guys are just all about themselves, and he was not like that at all. He was very grounded, and he still is grounded. That's why I fell in love with Chard, he's so full of life."
Richard didn't find it hard, too, to fall madly and deeply in love with the quiet beauty, but it was actually Sarah who first made her intentions known. "I was the first to say 'I love you,'" she reveals with a shy laugh. "I remember that we had been dating for sometime na and were very serious, but we didn't have a label. So I just said, 'You mean a lot to me, I love you, I feel that I love you, and I think that I love you..." Richard felt the same way, and tenderly responded with a kiss.
First comes love
Their love soon after gave birth to Zion, but the two decided not to go public with the pregnancy, expressing that they had wanted to enjoy being "normal parents," taking care of their new bundle of joy outside the scrutiny of the showbiz spotlight. But, as expected, the barrage of questions came—"When will you get married? Why haven't you gotten married? Are you in for the long haul?"—which did put pressure on the relationship.
"Well obviously, in the beginning I felt strange about all the questions thrown at us," reveals Sarah. "But we assured them—our family most especially—that we were serious about each other, and had just wanted to do it on our own time, on our own terms."
For Sarah, there was no doubt in her mind and her heart of Richard's love for her, and he was constantly and consistently assuring her of his plans for them and their little family. "I especially had to secure Sarah's parents, kasi I'm very close to them, and we had built a nice relationship over the years, so I had to assure them that we were taking our time. I had plans for her and us, but we wanted everything perfect, good timing for everything. So naniwala naman sila," he laughs.
"Basta for me," he says, "matagal ko nang alam na she was the one and that we would end up together. We were very non-traditional when it came to decision making—the baby before the wedding—but I wanted to do it right. And now is the right time to do it."
For the two, this wedding, more than just a grand party, is the culmination of God's right timing. They're ready, the family's ready, the kids are ready, and they've found the right time and reason to marry.
"I'm still working on my vows right now, to be honest," laughs Richard, scratching his head. But it's not for the lack of words, he insists. Rather, how do you distill everything—the years, the memories, the lessons, the love that has grown and continues to grow—from almost a decade of togetherness?
"Before I met Sarah, I was medyo lost—always partying, hanging out with friends, stuff like that. And I always felt unsatisfied, even though I had everything. I had my career, I had all these blessings, but I was still unhappy inside," admits Richard. "But when I met her, finally I found happiness—deep, profound happiness. Everything just fell into place after that. I became more chill, more responsible, more focused, more loving, and just appreciative of everything," he says.
Her life had changed for the better, too. "Remember, I'm younger than him so I was going through some of the things he had already gone through, but he was so patient and loving. I've matured a lot, and, of course, I'm still learning along the way. When I was 18, I was totally different from the person that I am today. And so I'm grateful for my family and for Chard for providing space, the constant support, and love and wisdom to grow."
With their nuptials just a few nights away, Sarah shares a loving message to her partner, "Whatever happens, I will always love you and have your back. I'll support you, I'll be here to congratulate you, and listen to whatever is bothering you. I promise to take care of you and love you and the kids. I'm excited—as I know that you are, too—for what's to come."
Photography by BJ Pascual

Creative direction by Raff Colmenar
Sittings editors: Geolette Esguerra, Kate Paras-Santiago, and Grace Libero-Cruz
Makeup by Lala Flores
Hairstyling by Archie Gilbero
Styling by Qurator Studio's Maita Baello, Leanne Ledesma, and Carl Pabilona (Sarah) and David Milan (Richard)
Shot on location at Palacio de Memoria - 95, 1701 Roxas Boulevard, Tambo, Parañaque, Metro Manila
Special thanks to Monchet Olives, Star Magic, Viva Artists Agency, Flower Story, and Mama V