Through Her Charity, Bea Alonzo Extends Help To The SOS Children's Village
"Seeing them smile back at me, even with masks on, is a reflection of how we can still have hope amid chaos," she writes
The thing about charity and donations drives during a crisis is that people can lose steam.
Those who rallied to help the most vulnerable, those who consistently posted hashtags and used their time to be at the front lines can eventually move on to other things, not because they stopped caring, but because life simply keeps turning for most people. Other responsibilities aside from being responsible members of society come around, and in a few weeks' time, the baton of helping is passed on to those who have the time, energy, and resources to do so, all the way up to the day a crisis is officially deemed over and done.
Enter Bea Alonzo, one of the handful of Filipino celebrities who has actively contributed to alleviating the negative consequences of the COVID-19 crisis since March.
In the summer, she and Tanya Navarro, wife of fellow ABS-CBN actor Vhong Navarro, co-founded
I Am Hope Org.
, a charitable entity formed to help underserved Filipinos as well as frontliners during this time.
The organization has spearheaded and participated in several charitable activities since then, including creating DIY face shields, raising at least P9 million in financial aid as of the end of May, partnering with Pasig City mayor Vico Sotto to distribute relief goods in June, aiding shelter-less Filipino workers unable to return home to their provinces, cooking hundreds of meals for stranded UP Diliman students, delivering food donations to several hospitals, bringing medical supplies to Leyte, helping Tondo-based Project Pearls, and so much more.
See photos of I Am Hope Org.'s charitable activities in the gallery below: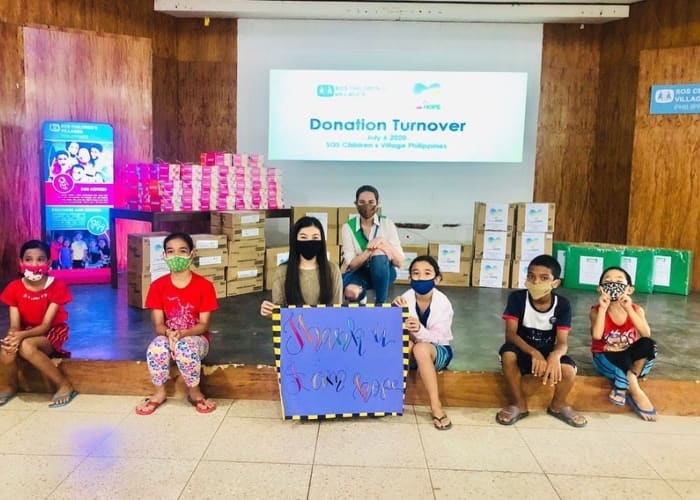 I am hope org. in action
I am hope org. in action
Come July, I Am Hope Org. continues to provide help where it's most needed.
She and the organization's volunteers found their way to Muntinlupa where they paid SOS Children's Village a visit.
The non-profit organization that gives orphaned children, or children no longer able to live with their own families, a safe and loving home. According to Bea, SOS Children's Village approaches orphanage work differently, as they put children's rights above all and "a sense of family" is created within the community in order for children to be able to receive the same love, care, and attention despite their circumstances.
She and her team handed over donations to the organization's Muntinlupa location (SOS Children's Village has eight locations in the Philippines) on July 7, meeting with its leaders and interacting with the children under their care.
"Seeing them smile back at me, even with masks on, is a reflection of how we can still have hope amid chaos," she wrote, as she shared scenes from her day with them.
As the country continues to fight against the COVID-19, all Filipinos should be glad that Bea doesn't seem to know what "losing steam" means—and that she continues to help, always with a smile on her face.
Photos from @beaalonzo