Fascinating Women: Award-Winning, Internationally Recognized Piña Weaver Raquel Eliserio
This inspiring Aklan-based Piña weaver is all about empowering women and preserving Filipino traditional weaving
Filipino artisans are indeed world-class, and this inspiring woman has proven that time after time. Raquel Eliserio, who's known as the Cultural Master for Piña Weaving, recently bagged the top spot in the prestigious Global Eco Artisan Awards 2021.
AGAATI, a leading brand that champions the eco-artisanal fashion movement, organized this global competition that recognizes and promotes the best in eco-artisanal crafts, created by makers from all over the world. Raquel presented the Philippine piña cloth as a craft worthy to be listed as an intangible cultural heritage.
"Once again, we have proven that this Filipino craftsmanship is an exquisite and sublime art that can stand out in an international platform," Raquel asserts.
Raquel hails from a family of weavers from Balete, Aklan, so she naturally developed that passion for weaving. Through the years, she worked hard to hone her weaving skills and dedicated a lot of time for learning hand techniques until she fully mastered the craft.
"Living in the province taught me to be resourceful, creative, and hard working just like my ancestors and parents," the weaver shares why she decided to pursue the craft. "This tradition runs in our family and I saw it as an existing opportunity to be my livelihood as I grew up. Piña weaving is challenging that each generation of our family accepted and embraced. And I believe those challenges motivated me to keep going and seek for more innovations just to keep our industry alive."
She took a risk and sold all her livestock to set up a haeab-ean or a weaving area in her home in Barrio Feliciano. Now, she owns more than a hundred looms and piña fiber knotters, works with almost a hundred regular weavers, and runs another loom house in the neighboring town of Tangalan. Apart from leading a growing weaving community, Raquel continues to advocate for this cultural heritage by training the next generation of crafters through the project of National Commission of Culture and the Arts, and proudly waving the Philippine flag at international competitions like her most recent recognition from California-based organization AGAATI.
"It is important to preserve Filipino traditional weaving because it upholds pride and dignity not only for us in the grassroot community but also to our country. Traditional weaving has been part of our history and our economy, which showed the resilience and cultural identity of us Filipinos," Raquel proudly says.
When asked about what she loves the most about the fine art of weaving, she points out that the journey of pineapple plant to fibers and fabrics is what makes it so special. Producing the fine filaments from pineapple by hand and using traditional tools is a long process, making each finished product a result of a labor of love. "I believe that is where magic starts," this Filipina pride shares.
Even though challenges arose when the world went to a pause or halt due to the pandemic, Raquel used this opportunity to find new inspiration. "I was able to rethink and be creative again," she muses. "I had the chance to go back to my childhood memories where life is raw and all we can do is be resourceful."
She then rediscovered suksuk or inlaying—an old tradition and technique of embellishing the piña fabric. Warp (silk yarn) is counted according to the desired pattern and pulled up using cotton threads and numbered fern sticks (Dicranopteris linearis). Then, pineapple fibers are inserted or inlaid through the warp together with piña as weft to create designs on the fabric.
"Executing the oldest method of embellishing piña fabric requires the highest technical skill and fidelity in the Philippine weaving tradition. I was thinking for bringing my audience back to my childhood time when colored synthetic threads were not available in the market and my grandparents only use the indigenous piña fibers to design the fabrics as well," she offers.
Throughout her three decade-long journey in the industry, Raquel has learned that gender doesn't matter when one is determined to realize a dream. "We women can really empower ourselves. It just takes hard work, determination, and love to your craft to improve or master it, and with that, you can definitely open opportunities for yourself. To all the women out there, just keep going, love yourself, and stay inspired, because we weave our own success," Raquel concludes.
Check out her some of Raquel's finest works in the gallery below: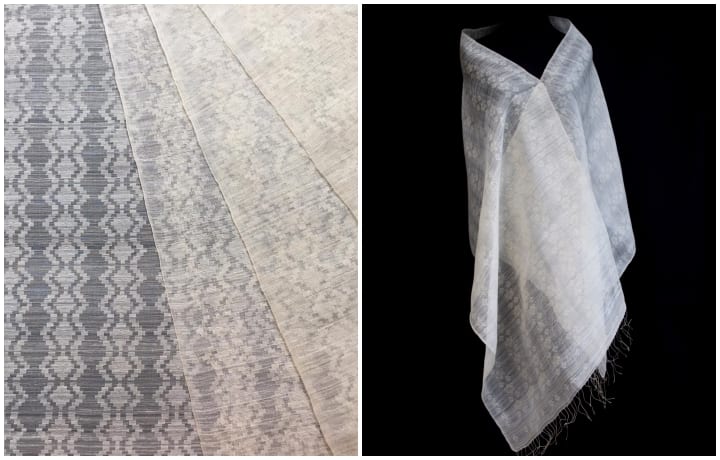 Raquel Eliserio's Works
Raquel Eliserio's Works
Photos courtesy of Raquel Eliserio