EXCLUSIVE: US-Based Pinay Michele Steele On Her Journey As A Sports Journalist
This Chicago-based ESPN reporter talks about taking calculated risks, saying yes to possibilities, and diving deep into life
At one point, Michele Steele thought she was going to be a banker.
It's a practical job, after all, and in life, you can never go wrong with practical choices. But with tried-and-tested choices come limitations to how far you can still go and what successes can still be reached should you go one, two or three steps further into the unknown. No pain, no gain, and no risk, no reward, as they say.
But even with a growing desire to explore what else life had in store for her, Michele maintained a calculated approach; risks to her were not grasps for random straws in the dark, but an openness to opportunities she might have otherwise ignored or feared.
She took on jobs in television, so an interest in journalism began to brew.
And brew it did indeed to a perfect finish,
one so good that there was no way Michele could ignore the pull of journalism in her life—sports journalism, to be exact.
It was a big leap, no doubt. And there's a ton of space to wonder how one exactly transitions from being an economics major with a career path leading straight to finance to becoming one of America's leading names in sports journalism.
It's not as complicated (or daunting) as you think, at least not when you have the zest for life and learning and experiences that Michele had then, and still has today.
In an exclusive interview with Michele, she talks to us about how she made her career shift, the values that have guided her throughout the years, and some of her biggest successes to date. Gather inspiration from the US-based Filipina in the gallery below.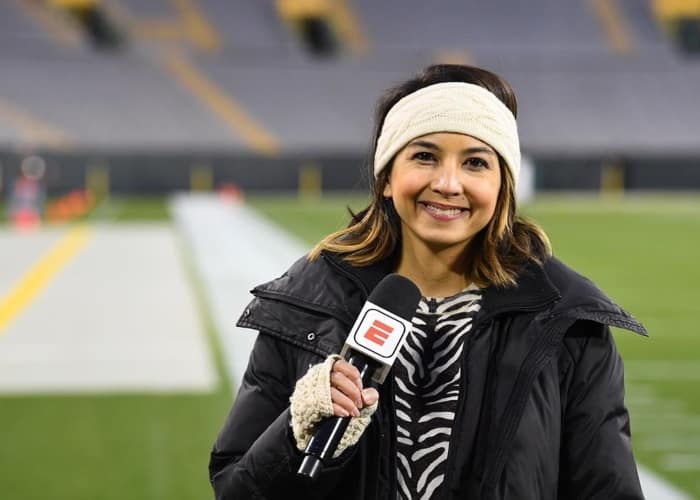 About Sports Journalist Michele Steele
About Sports Journalist Michele Steele