This Local Organization Is Committed To Providing Free Food To COVID-19 Frontliners
As of April 2, Franco's Friends PH has distributed 10,000 free meals to 23 hospitals in the country. Find out how you can help, too!
In the midst of the novel coronavirus (COVID-19) pandemic, it's not only the patients who need our prayers and support but also the frontliners who put their lives at risk each day to fight in this battle against the virus.
That's exactly what UP alumnus Mon Eugenio thought as soon as he found out about the enforcement of an enhanced community quarantine in Luzon. "When a lockdown was announced on the evening of March 12th, we already knew what to do," he tells Metro.Style. Alongside the members of his local non-profit organization Franco's Friends, he went on to ask for the generosity of their nearest and dearest a day after the declaration and started giving out 50 free meals to five hospitals on March 14, covering a total of 250.
How Franco's Friends started
It didn't take them much time to craft a scheme as it's something they've been doing for more than a decade. The initiative began after a tragic experience Mon faced in 2009, when he lost his 3-year-old son Franco, his mom, his 1-year-old nephew, and his yaya in a boating accident. "We were incredulous that in our time of need, boats passed us by and did not help. It was a horrible feeling," he recalls.
That same year, the Typhoon Ondoy badly hit the Philippines, and they witnessed many families who were helpless then. That's when he and his wife felt "a strong, natural urge to help."
"My wife and I asked for donations from friends and family, and strangers also started to chip in. We made buckets of lugaw and baked bread out of our small commissary," he shares. These food packs were then distributed to the families residing in Marikina and other marginalized areas, and it continued until they were able to provide free food for 20,000 people.
Providing relief to others through this act of kindness gave them a sense of fulfillment, like it's their mission in life, so from there, they started Franco's Friends.
How the local organization is helping the COVID-19 frontliners
In its current project, three kitchens namely Gourmet Gypsy, Barrio Fiesta Greenhills, and Eugenio's own restaurant Myron's as well as other donors are uniting to consistently provide free food to our modern-day heroes during this crisis.
"This is the worst pandemic our generation has seen in our lifetime, and that is why the singular focus of Franco's Friends PH is feeding our frontliners," he explains. "If our frontliners are exhausted, what will happen to us?"
The meals from Franco's Friends PH are not only prepared and delivered safely, they're delicious, too.
Mon shares, "Our restaurant partners are screened. Firstly, our kitchen staff need to be in-house; our food associates have dedicated themselves for this purpose. The last thing we want to do is infect a health worker. All kitchen staff are coached to observe proper hygiene. Regular hand washing, wiping down of surface areas, use of face masks and gloves when possible. Our cooking times are timed close to eating time. Protocol is observed when hospitals pick up food. A table is provided: Our staffers leave the boxes of food a distance away, and from there they are picked up. A minimum distance of five feet is observed."
"I thought that in the time they could sneak in a bite, it should be worth their while. We want to nourish their body and spirit, let them know we are behind them," adds Mon.
Through teamwork, they are able to put together 550 meals per day, which is expected to go up to 750 as they will also prepare dinner for UP PGH this Holy Week. The food assistance recipients are determined via a list of hospitals with the highest number of confirmed coronavirus cases and Person Under Investigation (PUIs) in their records, with the help of Dr. Ivy Reside, the head of Department of Health (DOH) hospital Quirino Memorial Medical Center.
"We are also able to sift through government data and through first-hand information from other doctors we know," he adds. Likewise, the non-profit organization is working closely with Atty. Stefano Lim and his friends from Hirayaang Kabataan NGO who contact various hospitals that are in need of food every day.
"We don't send food automatically to prevent doubling; we conscientiously need to be certain that our donors' efforts will not be wasted, neither will the time of our kitchen staff who go to work for this effort," he stresses. "Waste is unconscionable in this time where the ordinary worker cannot go to work to feed his family."
As of April 2, they have served 10,000 free meals to COVID-19 frontliners and have reached out to 23 hospitals in the country. These are UP Philippine General Hospital, The Medical City, Philippine Heart Center, Lung Center of the Philippines, East Avenue Medical Center, San Lazaro, Makati Medical, RITM, Rizal Medical Pasig, St. Luke's Medical Center QC, St. Luke's BGC, Jose Reyes Memorial Hospital, Dr Jose N Rodriguez Memorial Hospital, Quirino Memorial Medical Center, St Jude's, San Juan de Dios, Hospital ng Maynila, University of Santo Tomas Hospital, Lourdes Hospital, Manila Doctors Hospital, Pasig Children's Hospital, Pasig City General Hospital, and Veterans Memorial Medical Center.
How we can help
According to the DOH's latest update on coronavirus, there have been 3,094 confirmed cases in the country as of April 4. The fight is not yet over, and there's no other time but now to gather as one in providing assistance to our dear frontliners who selflessly serve us during these trying times.
We can help Franco's Friends PH in carrying out their commitment through financial aid as well as donation of food ingredients and food containers. Prayers and other simple gestures contribute in big ways, too!
"Dan Matutina, noted graphic artist, designed Franco's Friends logo, for free," he says. "It's given us an identity for our movement. We love it!" Little acts of kindness could go a long way, Eugenio declares. "Maybe we can start first by being kind, and mindful of others. We should start acting now, and do the right things that will help make a better, post-COVID, new Philippines! Together, we can."
Scroll through the gallery below to see more photos of Franco's Friends PH's COVID-19 relief efforts: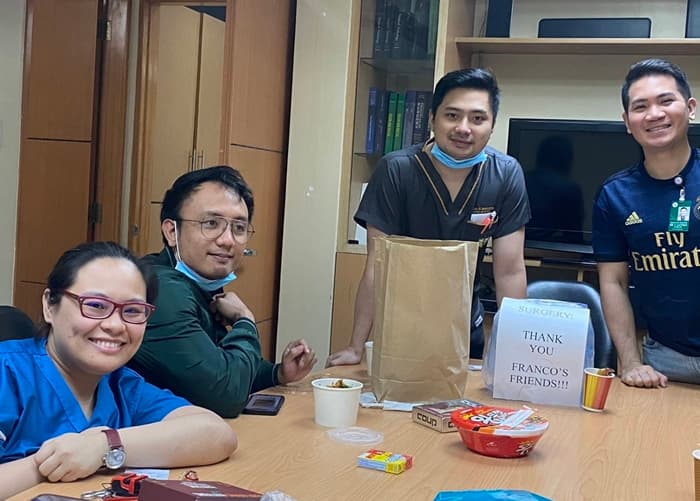 Franco's Friends PH's COVID-19 Relief Efforts
Franco's Friends PH's COVID-19 Relief Efforts