EXCLUSIVE: In Conversation With Journalist and Storyteller Marga Ortigas
The seasoned journalist talks about her beginnings in the field and her upcoming book, "The House on Calle Sombra"
"I'd always just written," Marga Ortigas says. "It's something I've always done since I could pick up a pen and paper. I was always just writing. It was like I was making up stories. I did little fairy tales in my head, or I would write poetry. Whatever it was, [something] was always coming out. And I needed to write it down."
The seasoned journalist has had an illustrious career in the field, having covered calamities and conflicts ranging from the eruption of Mt. Pinatubo in 1991 to the devastation of Tacloban from Typhoon Yolanda (international name Haiyan). She's worked for media companies CNN and Al Jazeera, been mentored by some of the most formidable individuals in news—a list that includes Cheche Lazaro and Ingrid Formanek—and has a treasure trove of stories and memories enough to last her for a lifetime or two. (Marga also hosts a podcast, About That, and runs I, Migrant, a blog that showcases writing from various parts of the world.)
She's always written, yes, but she didn't always know that journalism was where she would end up—or where she would even want to go. "I actually didn't plan on it at all," Marga tells Metro.Style. "It was one of those things where I went with the flow. And this is what it took me to. There were so many things I thought I was going to be."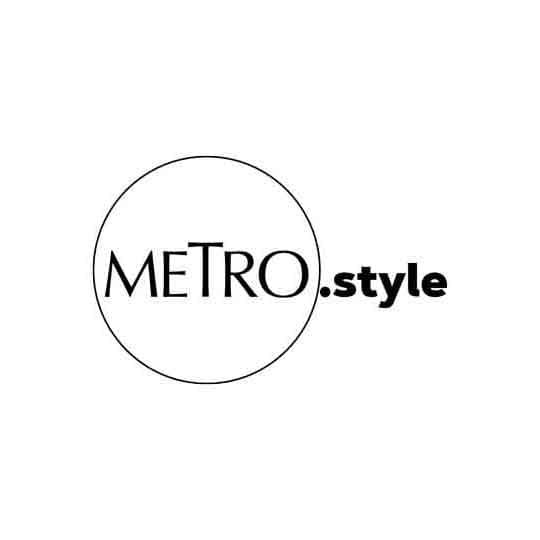 Marga Ortigas in action | Photo courtesy of Marga Ortigas
"While I was still in high school," she continues, "I wanted to be a lawyer. At one point, I wanted to be an architect. As it is, there [are] so many plans that you make that you learn, later on, don't quite turn out the way you expect. The closest thing I had to maybe possibly even knowing that such a job as journalism existed was when I was watching Broadcast News."
"I can't remember how old I was at the time," Marga says, "but I just absolutely fell in love with the job that Holly Hunter's character had—the TV producer. I just thought: it was so terribly exciting. There was just a sense of adventure, of curiosity, of this pursuit of knowledge, which I just found very, very attractive."
But it wasn't until she applied for an opening at a local TV network that she was thrust into the field. "At the time, they were looking for people because the first Gulf War had just broken out in Iraq, and 24-hour news was just beginning to hit its peak. So they needed more people to come in and help out," Marga says. "The newsrooms back then were very small; there were no 24-hour news channels in the Philippines, so they wanted people to come in and watch CNN. I applied, thinking it was just going to be one of those part-time gigs."
Of course, we know now that that would be the beginning of a long and notable career in journalism for Marga, which would then be succeeded by time in CNN and Al Jazeera. During her time in a local TV network, she was assigned to cover the 1991 Mt. Pinatubo eruption—her first major story, which involved her flying over the volcano's crater via military chopper. (Later that day, back in the newsroom, she would receive a phone call from her mother, asking her what exactly she was doing, flying over a volcano. Marga laughs at the memory.)
"That was my first experience of something like that," she says, "where you're in the thick of things. It's a breaking news event. I don't even want to call it adrenaline because it's not adrenaline, but because of the immediacy of what's happening in front of you, you don't have time to entertain your fears, or any anxieties. So you just focus on the present and you just get on with it. That was my first lesson in that."
From there, Marga would go on to work for Probe with broadcast journalist Cheche Lazaro, and would eventually find herself in London on scholarship. She also completed a Masters in Literature in the United Kingdom.
CNN, which was "always kind of the dream," would be next on her resumé, followed by Al Jazeera. She took matters into her own hands, landing a job as a staffer for these organizations by sheer will and perseverance (or, in Marga's own words, "kulit"). And of course, it doesn't hurt that at this point, she was already a rising journalist in her own right.
In her years of experience, she's also interviewed and been in conversation with a multitude of influential people—thought leaders, politicians, individuals who have "the power to influence the way things will go." But none of the conversations with these personalities, she says, stand out to her now—instead, what's stuck with her are the stories and conversations she's had with "ordinary" people.
When Typhoon Yolanda ravaged Tacloban in 2013, Rupert Makawili had lost 53 members of his family. That's when Marga met him, while she was covering the aftermath of one of the deadliest typhoons in the country's history. "I remember, he decided to drive us around," Marga says.
"That was what he was doing, he drove us around because he was able to find a car from a friend. I won't forget what he said to me. I [told him], 'Yeah, of course, you need to earn money.' He said, 'Money? Money means nothing. When you realize that all of your lives are like matchsticks that can just be blown in the wind, what is money? I am doing this to stay sane, to have a purpose.'"
"I did not expect that," Marga admits. "So I will never forget Rupert. Then I went back there a year after, I looked for him and I found him, and he had found his way. He had kind of rebuilt his house, he had found a place that he could move [...] who had remained of his family. And he was starting up a whole new business to try to move forward. It's people like that that have stuck with me. It's really the people that you might think are ordinary who I have found most influential when you speak to them."
And Marga has so many more stories like this from her time covering the Philippines, Baghdad, Mongolia, Japan, and everywhere else she'd gone to for work. But most recently, she's undertaken a creative project that is now ready to be seen by the world: next month, her book, The House on Calle Sombra - A Parable, is set to be released by Penguin Random House SEA. The book will follow "the fates and fortunes of the esteemed Castillo de Montijo family over three generations," in a Philippines where "truth blends with fiction."
Marga's hope for it, she says, is that "it mirrors the truths about society and about ourselves to ourselves." The House on Calle Sombra explores how things like greed and trauma are passed down from generation to generation, especially since, in Marga's own words: "If you look at the social strata, in many of the current political situations in the world, it all comes down to tribalism, to clannishness, to families, to groups of people that might be the smallest social unit saying, 'This is us. We don't want you.' It's not meant to offend; it's really just meant to hold up a mirror and say, 'Hey, look, I know you recognize this. Now what?'"
For all of Marga's renown in the field, she may still shy away from the word "journalist," but she will always be proud to call herself a storyteller. "This is just always who I am. I don't wanna call myself always a journalist but I am always a storyteller," Marga says.
"This is also almost the time I feel most wholly like myself. I am always a person who is curious, who wants to know, or who will be open to what's in front of her. I like digesting the human experience in such a way that I can then recount it in a story and hopefully, that will make somebody else pause, take a look, and then go, 'Ah!' I think that is always going to be who I am," she ends.
Photos courtesy of Marga Ortigas