Rachel Harrison Not Only Empowered Her Son With Autism, She Created Opportunities For People With Special Needs, Too!
In her book, there's no other way to live life but with fun and purpose
It was a bright, sunny morning when Metro.Style visited Rachel Harrison in the new branch of Zambales-born coffee shop Julyan Coffee Spot. Her new Manila business venture, located in Poblacion, Makati's creative hub and hip hangout destination, is a social enterprise. It's a part of her ever-growing list of initiatives whose cause zooms in on empowering people with special needs, providing employment to persons with disabilities (PWDs), and helping them develop their skills.
Rachel believes that "fun and purpose" can coexist, and that people can enjoy life while making a difference in a community. "The reason why I started everything that I do is to share my journey. If I'm able to do a difference to Julyan's life, maybe people can pick that up," she says.
She's talking about her son, Julyan, who was diagnosed with autism at only two years old. He was born in Hong Kong, but due to the nature of his father Keith's job as a banker, their family (he has two other brothers) lived in Switzerland and Singapore as well. Switzerland's environment proved to be good for Julyan's well-being. However, the hectic pace of Singapore was just incompatible with him. In 2010, that's when Rachel, an architect and former flight attendant, decided to bring her son to her hometown in the Philippines: San Narciso, Zambales.
Julyan is now 27 years old. With her family's support—his mom's, especially—he grew up with overflowing love, care, and guidance from those around him. He was surrounded by people who genuinely cared about him and have his best interests at heart. He may have lived with autism, but considering the circumstances, Julyan has led a life well-lived.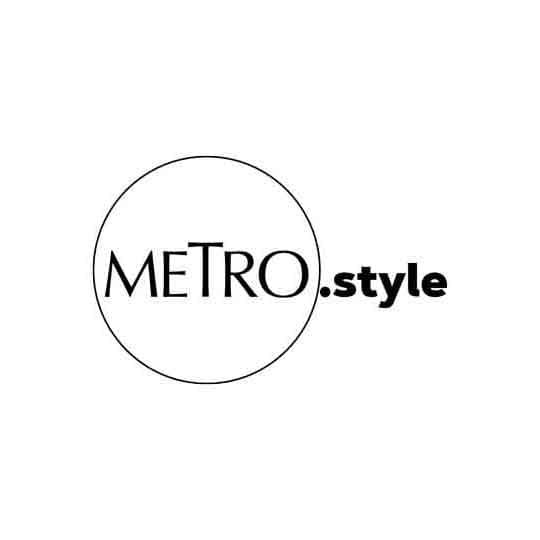 Rachel's son, Julyan | Photo from Rachel Harrison
Raising Julyan
"When you have a child, you just presume that everything is okay," Rachel shares. "When you notice that there's something wrong, you'll realize that life is really not as easy as you expect. It's so challenging that you cannot grasp how difficult it could ever be."
Back then, information and research about this developmental disorder weren't as accessible as they are now. She had to go through great lengths to educate herself about her son's condition. From burying herself in books she hoarded from the bookstore to hanging out in a library to read about autism, she was determined to equip and prepare herself to cope with this situation the best way possible. She needed to understand what Julyan is going through, so she would know the right ways to help him.
They learned it's best to allow him to live independently, so he can rely on himself and work through life just like everyone else does. When he turned 18, Rachel felt it was time for him to spread his wings. They settled in Zambales, where they own and manage a luxury resort and farm called Zambawood. "We decided to focus on training him with life skills. There's no more need for him to go to a special school. He may never be able to finish school, but he could be a great farmer!" she exclaims.
In Zambawood, Julyan had a mini garden that he was able to expand into a farm. The property was also extended to accommodate a five-bedroom space which they called Julyan's Surf BnB. Here, he also spends his time as part of the maintenance, kitchen, and housekeeping teams. "He doesn't get tired. He'll even finish the whole thing!" Rachel proudly says. In his spare time, he goes outdoors and sits down with a canvas and some paint on hand. It's during these times when Julyan's inner artist comes out.
Born to be an artist
Julyan has been fond of drawing ever since he was little. "Drawing is what he did everyday!" Rachel shares. This skill naturally transitioned to painting when he first held a brush a few years ago. Painting has since become his hobby. The repetition in this artistic routine resulted into his first works of art, which he had the opportunity to showcase for the first time at the "Fun and Purpose: Art Exhibit for a Cause" in 2016, which was held in support of artistic people with autism and other special needs and in collaboration with the Saturday Group of Artists and volunteer student artists from the College of St. Benilde; it took place in the month of April which happens to be the Autism Awareness Month. Julyan's painting, called "Elefish," is a vibrant, eclectic piece that merges a fish and an elephant.
The following year, Rachel found another opportunity to further enhance and engage her son into his craft. She met Erlinda Borromeo, the president of Autism Hearts Foundation in the US and founder of Fashion Art Autism Benefit. Through Erlinda's help, Julyan was able to showcase his artwork in two shows in New York in a single year—he represented the Philippines in an art exhibit for special people at the United Nations and a fashion show of hand-painted piña wearable art with Patis Tesoro and Anthony Legarda at the Philippine Center.
And just recently, the Arte Autismo Filipino, composed of the same group of people who flew for the aforementioned New York shows, mounted the first leg of "Kakaibang Sining" art exhibit, which was launched last January 16 and will run until the 26th at La Maison 'D David in Estancia Mall, Pasig City. The exhibit is set to be a series spread throughout the metro to raise awareness and create a platform for sustainability for the participants as well. The next legs will be staged in Podium and NCCA in the coming months.
For "Kakaibang Sining," Julyan's art focused on nature. His artworks are inspired by his sunflower field, the forest, and Mother Earth. "I think the art comes out because there's so much love put into it," Rachel muses. "You just know that it will be something interesting. Ang ganda!"
"I'm really happy that he found something to express himself and at the same time, people appreciate what he does. I hope we're able to inspire people through this," she adds.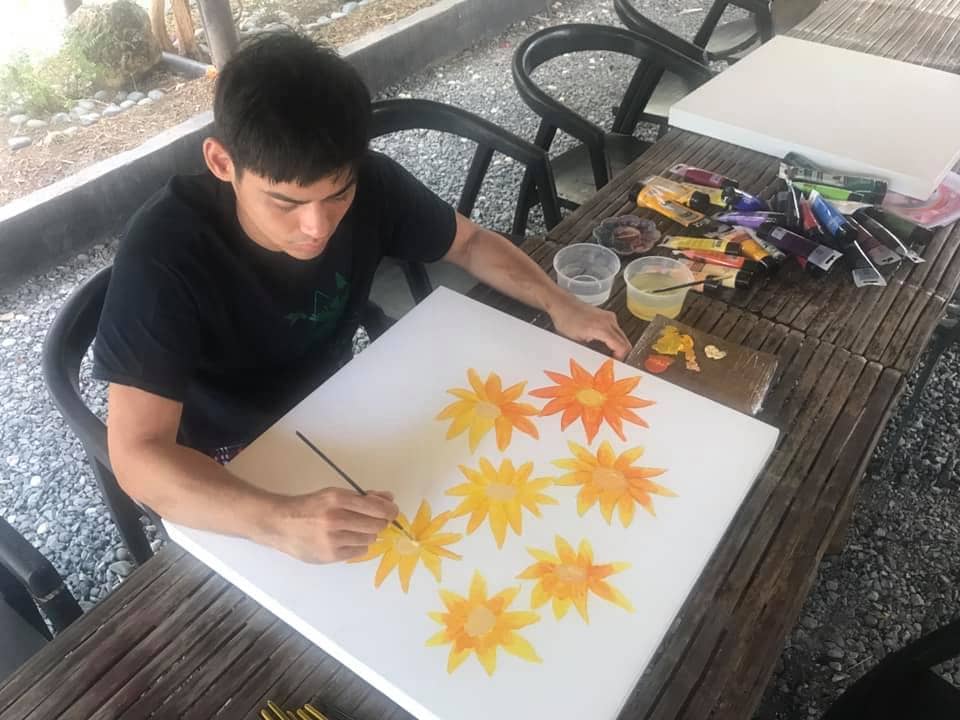 Building a community
This proud mother wants her son's art to reach more people and spread more happiness, so she even created merchandise that features Julyan's designs. From pouches and wallets, to mugs and greeting cards, those who prefer functional art will be delighted to come across these items, which may be purchased from Julyan Coffee Spot in Poblacion, Makati.
In this cozy nook in the heart of Makati, Rachel found a place where she can further spread the word about her advocacy. Just like in their Zambales branch, Julyan Coffee Spot hired deaf and mute baristas to work on its daily operations.
Dressed in bohemian-inspired furniture, this hangout has been considered a gem of a place since it opened last November. The coffee shop is a visual delight, and the design highlights are definitely the artworks of Julyan that pop out from the industrial interiors. Julyan Coffee Spot aims to provide a unique dining experience; it offers drinks like coffee and current favorite milk tea as well as delicious panini, pasta dishes and rice meals based on Rachel's recipes.
There are sign boards that teach customers how to order through hand gestures and assist them on how to properly communicate with PWDs. It's also a good way to expose their employees into such a vibrant environment and integrate them into the community, which has been Rachel's plan all along. It helps, too, that neighboring businesses are warm and welcoming, motivating her to further push for purposeful endeavors in this aspect.
In an interview with ABS-CBN, Rachel also says, "If we give people the chance to get skills and give them employment, they can be productive. This is what the advocacy is all about. We empower them, we're teaching them the skills, but that's not enough. We also have to create jobs, so this is why we are here."
And after everything she has accomplished so far, she won't stop still. "We want to keep educating them through vocational courses," Rachel shares. What she is gearing up for next is the launch of Julyan Hub sometime in March, which will offer pastry, bread making, bartending and barista courses as well as plant-based diet and nutrition workshops. Rachel also plans to put up more coffee shops around the metro to give more job opportunities for PWDs.
All of these, Rachel was able to do for
and
with Julyan. Any mother would be able to relate to how hard she worked to give her son a life where he can be at his happiest. The reward she has received for doing so is multiplied tenfold, because not only was she able to raise Julyan well and nurture his talents as a young artist, she was also able to help other people with special needs. She's a proud mother to Julyan, and to her employees, she also serves as a mother figure, someone who simply brings out the best in them.



Julyan Coffee Spot is located at 5936 Gloria St., Poblacion, Makati City. To enroll for the courses offered in Julyan Hub, you may send a message to 0917-6860895 or email rachel@zambawood.com.
Photographs by Jar Concengco (Julyan Coffee Spot), additional photos from Rachel Harrison and Arte Autismo Filipino