EXCLUSIVE: She Talks Asia And Mano Amiga PH's Lynn Pinugu Talks About Her Experience As An Obama Leader
The distinction doesn't stop with a fancy title to spruce up a resume. It signifies a once in a lifetime opportunity to be a vessel of change in one's country, and ultimately, in the world, and yes—Lynn met Barack and Michelle, too!
It can be hard to keep the passion well and alive, explains Mano Amiga Philippines and She Talks Asia co-founder Eleanor "Lynn" Rosa Pinugu.
See, even for the most driven and inspired individuals out there who have dedicated their lives to non-profit work, the truth is that there will be days that are tougher than usual, days when traces of uncertainty break through an otherwise impenetrable barrier of confident self-purpose.
"After 11 years in the nonprofit world, it's not always easy to sustain the fire I had when I was just starting. It's specially difficult on days when our impact on ever growing challenges seems minuscule, our ideals under attack in a climate that doesn't always allow for diverse voices, and our bodies always tired from stretching ourselves to compensate for limited resources," Lynn detailed on social media.
However, don't be deceived; Lynn's words are not a narrative of defeat and surrender, but rather a rallying cry for an even brighter future that lies ahead.
Yes, she gets tired, too. Yes, she feels self-doubt, too. But this month, this young leader got all the affirmation she needed and a refreshing dose of new motivation when she announced something huge.
She was chosen as an Obama Leader by the Obama Foundation, and met former US President Barack Obama and his wife, advocate and author Michelle themselves as she began her journey with the program! And guess what—Julia Roberts was part of the fun, too, and was there to share her thoughts on leadership and how to continue working passionately, joyfully, and resiliently.
The program chose 200 individuals from around Asia and the Pacific to participate in the year-long program that "seeks to inspire, empower, and connect emerging leaders" through community engagement opportunities and leadership-honing activities.
Knowing how one person has the power to change society and ultimately, the world, the Obamas put in the work to make programs to develop the potential of such individuals and keep the fire burning. What was once just an idea thought out loud in the beginning of 2019 has come into fruition over just a few months' time, and Lynn was right there as it was all unfolding, absorbing every little detail and experience to bring back to the Philippines with her.
The decisions that we make and how we lead other people ultimately stem from who we are at our core, and what the things that matter to us

are...

At the end of the day, while it's our sense of mission that gives us grit and resilience, it's our values that give us the clarity and resolve to choose what's right
"The programme focused on values-based leadership. It helped us to articulate what matters to us and what we stand for. It reminded us that while a sense of purpose is important, it's our values that lead to clarity. It gives us the wisdom & the resolve to choose to do what's right in the face of a challenge or an opportunity," Lynn shared.
Considering that her life's work has focused on the areas of women empowerment, universal access to quality education, and working to provide opportunities for public discourse, it's crystal clear that Lynn was more than deserving to become an Obama Leader.
President Obama also emphasized the importance of confidence and humility. A good leader is someone who is confident and humble enough to acknowledge that they don't know and can't do everything so they are not afraid to surround themselves with people who are better than they are and can tell them when they're wrong
See more photos of her Obama Leader program experience below!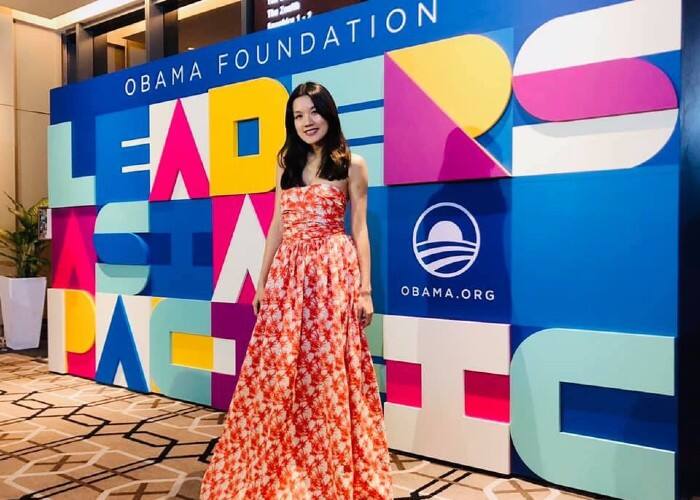 Held in Kuala Lumpur, Malaysia, the program immersed participants in interactive activities that allowed them to contribute to the progress of their host country, as well as discover shared passions and the kind of work they do, the goal of which was to help them connect in meaningful ways and lay the groundwork of future collaborations.
Some of the things that all 200 participants did to give back to Malaysia was to build furniture for two Malaysian schools in dire need of improvement. (Chairs, desks, and tables were on the agenda, and the Obamas and Julia Roberts also made sure to join!).
"I was inspired not just by the speakers, but also by the stories of every single leader in the programme. Their passionate commitment to social change made me realize that though we may not always see the fruits of our efforts, what matters is we do not stop believing in, and working toward the world as it can be. Through their warmth and friendship, they showed me that while the work that we do will always be tough and sometimes disheartening, it doesn't have to be lonely," Lynn said to conclude her post on the experience.
The Obama Leader program is not Lynn's first experience with international leadership programs. She has previously participated in a year-long youth ambassador program in Mexico, has been a United Nations Alliance Of Civilizations Fellow, and was a Philippine representative to the 2012 World Economic Forum.
While the work that we do deals with serious matters, we don't have to take ourselves too seriously. As what Mrs. Obama said, we need to plan for JOY, not just work. And I really loved that because I think it's our sense of wonder and our ability to find joy and humor in the smallest things that give us the resilience we need to overcome the challenges that life throws us
In this exclusive interview with Metro.Style, Lynn talked more about her incredible experience as an Obama Leader:
Tell us about how you got chosen for the program.
"I got this opportunity because I'm surrounded by amazing and supportive women. I learned about it from She Talks Asia CEO Sarah Meier and Teach for the Philippines CEO Clarissa Delgado (a 2018 Obama fellow). They both sent me the call for applications to the Obama Leaders program and encouraged me to apply because they thought I would be a good fit for it. Apart from sharing the social impact of my work in both Mano Amiga and She Talks Asia, I needed to submit three short essays on my views on leadership, social change, and dealing with failure. I was also asked to submit a brief video on what I think my main superpower is. I chose empathy—or the ability to put myself in another person's shoes—and to find common ground with someone no matter how diverse or polarizing our views may be on a particular topic. Out of thousands of applications from the different Asia Pacific countries, they chose 200, and I was very fortunate to be one of those who made it."
How did it feel to be among world leaders like the Obamas?
"[Former] President Obama and Mrs. Obama shared with us that their mission now is to support and empower the next generation of leaders. Having the chance to meet them and be able to ask them advice about the challenges that we're facing in our work and personal life, was surreal and very affirming.
"One of the major challenges about working in the development sector is burnout: the problems you're trying to solve just seems to get worse every year and the 'bad guys' always seem to win.
"Being with them, and learning about their own leadership journey, reminded me that the work that we do matters and that it is leading to incremental changes, and small but important victories. There will be days when we'll feel like we've hit a wall and that we'll be tempted to give up, so it's important to remember two things: one, that we do what we do not to get the validation from the world, but because it's what's right and just; and two, as President Obama said, 'the best we can do is to do our work and try to advance it the best we can, understanding that we will not finish the job' and that we'd need to pass it on someday to others who can continue to carry it forward."
Among the other 199 Obama leaders present there, who made the biggest impression on you?
"The delegates from the different Pacific islands (Samoa, Vanuatu, Micronesia, Marshall islands, to name a few) were very consistent in asking the prominent guests and speakers on how they plan to use their influence to address climate change. The Obama Leaders bore witness to the fact that though the residents of their islands did not contribute to the problem, they are the ones who are currently suffering most of its effects: they have lost their homes because the rising sea levels are swallowing up their islands, and changes in the rainfall patterns are harming the livelihood of the people and threatening their food and water supply.
"These Obama Leaders made a huge impression on me because of their collective bravery and persistence to communicate the urgency of the issue, and to connect with anyone from the programme who might have a solution. My conversations with them made me realize that I, too, though I already care about and consider myself fairly knowledgeable about climate change, have not done enough to understand its gravity and to amplify the stories and cries for help of our neighbors in the Pacific."
What lessons from the event will you apply to your work back home here in the Philippines?
"I'm excited to cascade the learning to the members of my team, and to as many young leaders as possible. I have already scheduled a training session in Mano Amiga where I'll be running some of the leadership workshops I had the chance to experience, particularly those focused on ethos and values, culture-building, and communication. I will also be spending a portion of my holiday break to provide leadership training to female journalists in Bhutan.
"A particular aspect I would like to impress upon my team in the Philippines is the importance of diversity. One of the things that I found very helpful during the convening was being grouped with Obama Leaders from different Asia-Pacific countries. Our community sessions involved several sharing and empathy sessions, where we were able to identify how similar and how connected our stories are, even if our context and backgrounds are very diverse. I believe that this is a crucial leadership lesson, specially at a time when it's easy to just stick to one's echo chambers, and to vilify anyone with a different opinion. We can only grow our understanding of the world by being exposed to someone with a completely different perspective and circumstance, so we should actively seek out people who are not like us. We should not tolerate hateful speech and polarizing messages. Differences should not keep us apart, we should see them as areas for learning, and opportunities for building bridges."
After the convening, what's the next step for you in this program? What are you looking forward to the most?
"I will be working closely with my community group for the rest of the year. We'll be having monthly check-ins and several skill-building sessions. There are also plans among the local Obama Leaders to get together regularly and to see how we can contribute each other's work. Apart from the skills and leadership lessons I learned at the convening, finding a strong support network made this programme extremely valuable. The work may be difficult, but it does not have to be lonely."
Photos from@lynnpinugu