EXCLUSIVE: Agot Isidro, #AgelessBeauty At 53, On The Cover Of Metro.Style
"I'm independent, fearless, and purposeful"—this "Call Me Tita" star is clearly enjoying her life now even more, in fact, when she was in her 30s and 40s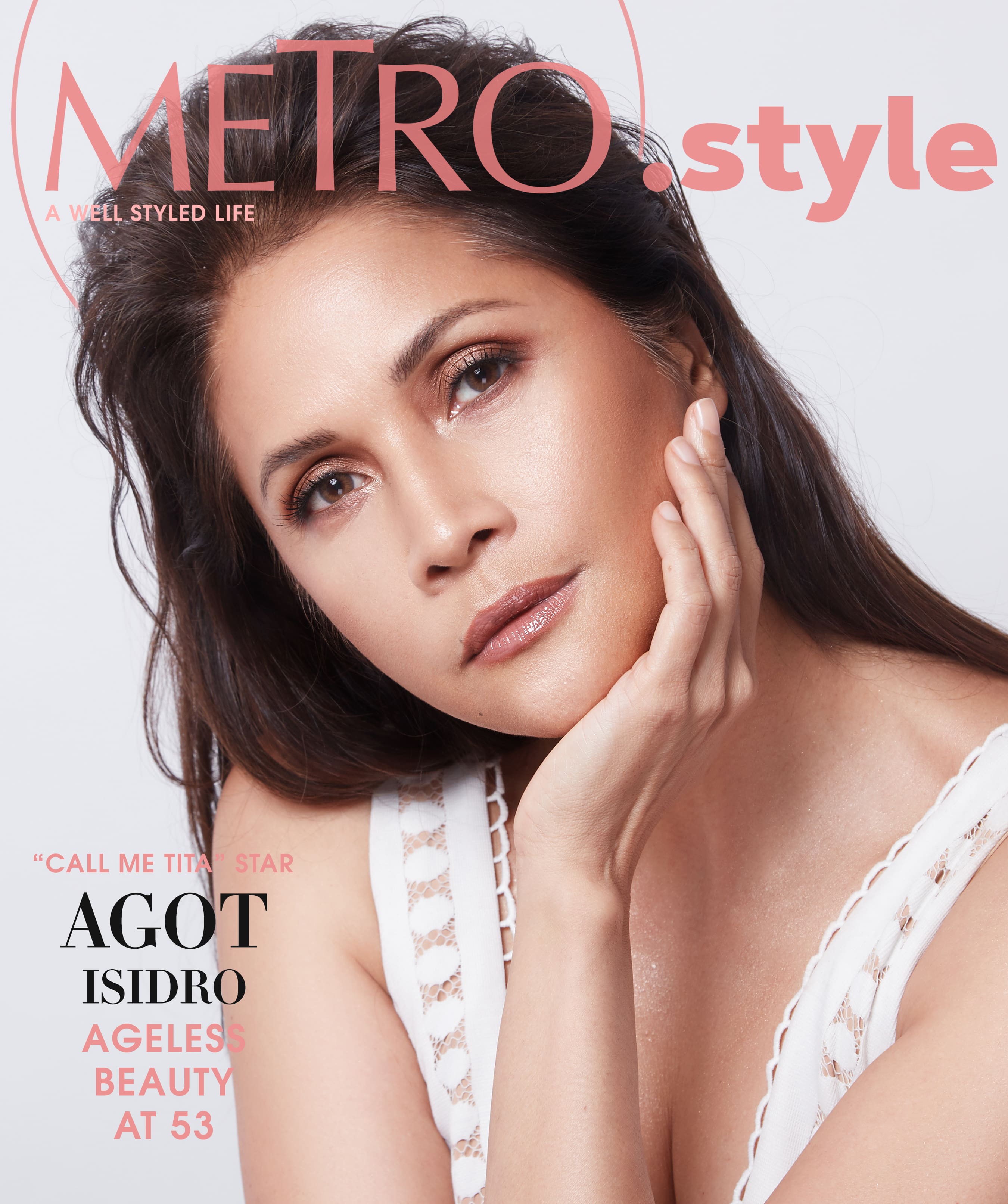 Metro.Style cover star Agot Isidro is "Media Savvy Tita" Celine in the new iWant original series "Call Me Tita" | Ria Regino
The most beautiful woman in the world, for Agot Isidro, is Audrey Hepburn.
The powerhouse actress is sitting in her makeup chair, her eyelids glittering of gold and her glorious mane teased and slicked back. "She's beautiful inside and out," Agot reasons. Hepburn is too often deemed an icon of style, class, and grace—beyond her unmistakable Holly Golightly updo and the kerchief that had adorned her neck as Princess Ann, the actress was a humanitarian volunteer who had lived well into her middle age.
Call Me Tita is a project that Agot has been involved with since the very beginning—she's friends with its director, Andoy Ranay, and several of her co-stars including Cherry Pie Picache and Mylene Dizon. In this iWant original series, which is co-produced by Dreamscape Digital and Heaven's Best Entertainment, women in their 40s and 50s find themselves at the center of a narrative that is lovingly developed by women who, too, are in their 40s and 50s. Their lives are reflected and mirrored in this multi-episode series where women of their age and experience are no longer relegated to a supporting role. It has happened enough: a quick gander at these actresses' bodies of work would show that they are often some young star's mother or guardian, or perhaps the monied antagonist that exists solely to make every character's life miserable.
What makes me a tita? I'm independent, fearless, purposeful. 'Tita' has become a negative connotation of aging. But I am embracing it. I am enjoying where my life is right now, more than when I was in my 30s or 40s
In the show, that is hardly the case. Each character—from Celine, Agot's character, to Josa, Lorna Tolentino's—is written like a real person, never a stereotype or parody. Though it's easy to cross that line, especially for the characters that are larger-than-life, the women are still, first and foremost, humans.
Take Celine, the "Cool and Media Savvy Tita," for example. She's a retired beauty queen and a failed starlet who broadcasts details of her life on social media, where she has quite the following. One of the most iconic lines in the show—"Shrimp shrimp!"—belongs to her. But Celine is more than just her 1 million followers, more than just the smartphone she's perpetually clutching in her perfectly-manicured hands.
"She's very true," Agot says of Celine. "In the end, she knows what really matters to her. It takes a while for her to find out because nagugulat siya sa money, fame, all that. But she's a good person and she knows that her family, her son, and her friends are the ones she values the most."
Celine longs for—nay, craves—acceptance and relevance. "Ang tawag at tingin sa'kin, kabit," she tells her partner, Steve (played by Nonie Buencamino) tearfully. She wants to be accepted by her partner's family and struggles with her own issues with acceptance when her only son, Santi (played by Nelsito Gomez), comes out to her as gay. Think Bree van de Kamp in Desperate Housewives.
Everything about me is 'tita' already, and there's really nothing with that... I'm independent, fearless, and purposeful
She faints, and it's comical, but it's not played up for cheap, easy laughs. The trailer is interspersed with moments of love and affection between Celine and her friends, who are Agot's friends in real life, too. "It's not work at all," she tells Metro.Style. "It's one big tita get-together all the time." This, without a doubt, is the same atmosphere and environment on set. "It's fun," Agot says. "It never feels like we're working even though pack-up is at 7 or 8. Normally, we'd be so cranky but we believe in the project. All of us are hands-on at embracing it so it was a lot of fun."
That's another thing that truly sets Call Me Tita apart. It's a story about a group of middle-aged women who are friends, and that's it. It's about the realities of aging and growing old, and how it's nothing to be worried about.
Agot stars in Call Me Tita alongside other fellow seasoned actresses—Cherry Pie Picache ("Thirsty Tita"), Mylene Dizon ("Demure Tita"), Joanna Ampil ("Hustler Tita"), Lorna Tolentino ("Missing Tita"), and Angelica Panganiban ("Tita in Training"). The series premiered on August 18 on iWant and ABS-CBN, and all its episodes may be streamed on iWant now or viewers may catch it every Sunday night on ABS-CBN.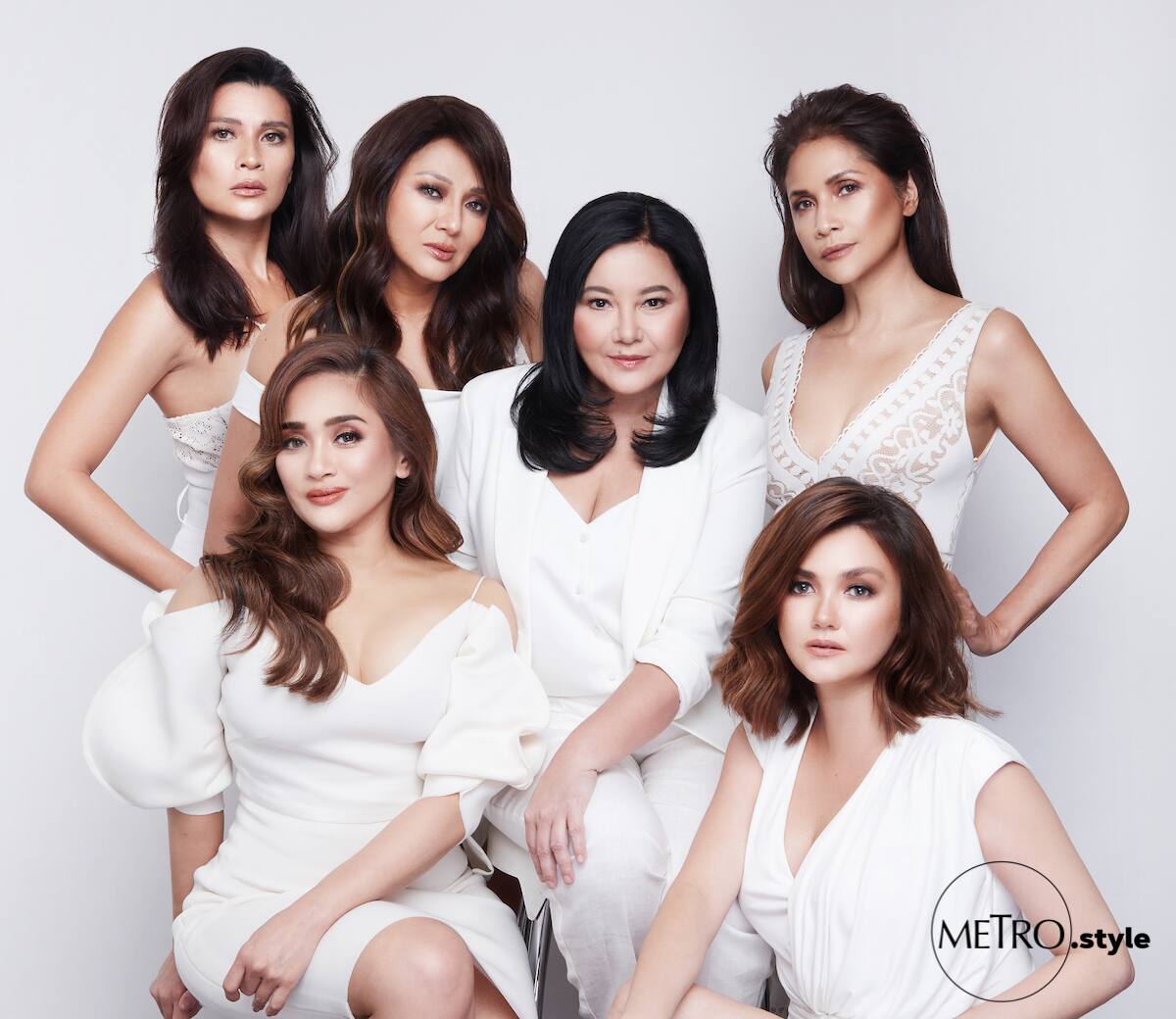 "Call Me Tita" stars Mylene Dizon, Cherry Pie Picache, Lorna Tolentino, Agot Isidro, Joanna Ampil, and Angelica Panganiban | Ria Regino
"There is a big population of titas out there who are scared," Agot points out. "The word 'tita' has become a negative connotation of aging. But sa amin, we are embracing it. I am enjoying where my life is right now, more than I did when I was in my 30s and 40s." And that, most of all, is what Call Me Tita wants to show—that there is life beyond your 30s, and it's not frightening. It's not the end of the world. It's fun and it's hard, but then again, what decade in one's life isn't?
"This body is 50 and fabulous," exclaims Celine, covered in suds and bubbles, a sparkling white in her hand. The woman who plays her lists all that is important to remain ageless even years after the age of 21: "Eat clean. Moisturize. Cleanse. Exercise. Regularly ha," she clarifies. "Not just once." When she has time for herself, Agot spends it working out in the gym, cooking, or binge-watching shows on Netflix.
When asked what makes her a tita, Agot simply smiles. "Everything about me is 'tita' already," she says. "And there's really nothing wrong with that."
"I'm independent, fearless, and purposeful."
Photography by Ria Regino
Sittings editors: Grace Libero-Cruz, Geolette Esguerra, and Judy Arias
Makeup by Justine Navato
Hairstyling by Jaymar Lahaylahay
Styling by Kat Cruz-Villanueva
Shoot assistants: Cara Tirona and Eli Montoro